Shooting portraiture doesn't need to be complicated. Top photographer Daniel Carson reveals how to capture beautiful portraits on location using just natural light.
---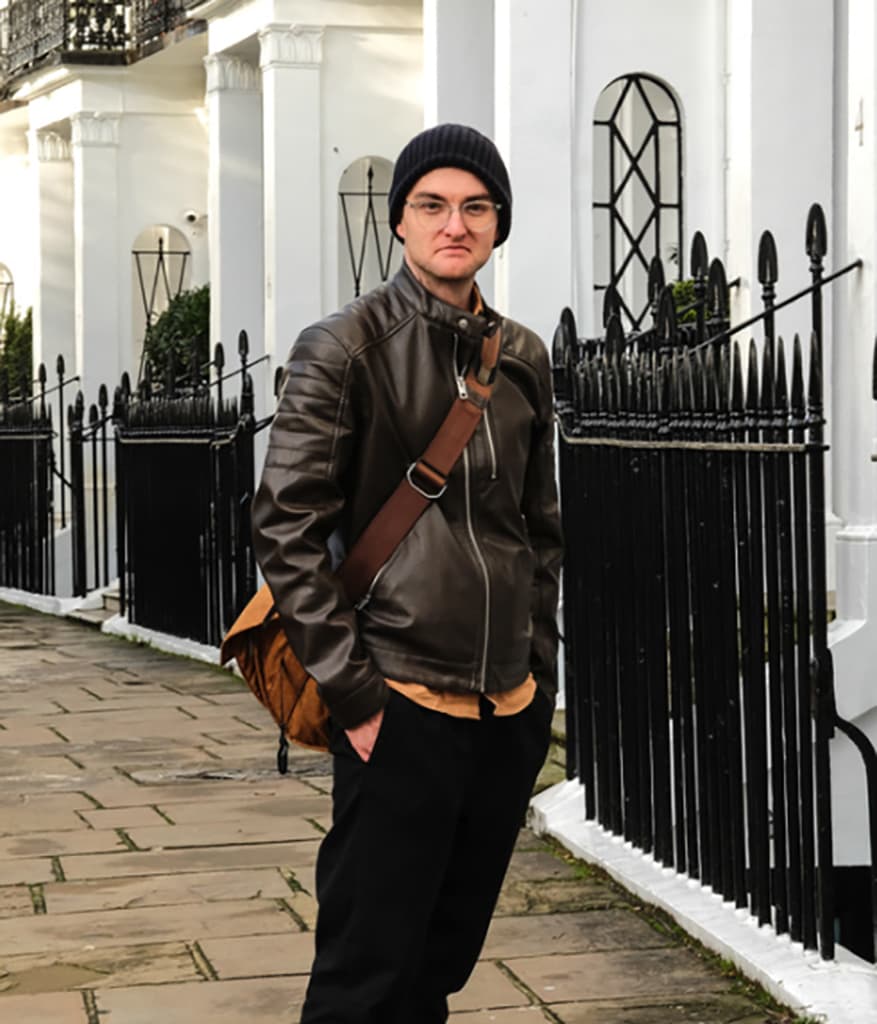 Your guide: Daniel Carson
Daniel Carson is a location portrait photographer living in London who loves capturing people using natural light. You can find out more at www.danielcarsonphotography.net or follow him on social media @danielcarsonphotography.
---
You may think that to take professional images you need loads of expensive lights and a large studio space; however, this is simply not the case. Daniel Carson is a photographer based in London and for the past four years he has been shooting professional portraits out on location using just natural light.
Originally from Cheshire, Daniel accidentally stumbled across photography ten years ago. After training in horticulture to do garden design Daniel found himself buying a digital camera (going halves with his mother) to record his cousin's RHS show garden. From that, his passion for the medium snowballed, and after completing a college course Daniel decided it was time for him to embark on his career rather than continuing to study the medium at university.
'My tutor at college thought that I should go to university, but I was in two minds about it,' he says. 'I already studied five years of horticulture at university, so I decided to carry on with photography myself, and that's where the portraiture started. I've never been that interested in the studio though,' he reveals. 'It was on location that I found my inspiration.'
In his kit bag Daniel has got the Canon EOS 5D Mk IV and loves to shoot with his 85mm f/1.4 lens. 'I use this lens 90% of the time,' he confirms. One of the hallmarks of Daniel's portraiture style is the beautiful blur he captures in the background and the bokeh effect he creates using wide aperture settings.
He also likes to come in close to his subject and to exclude much of the background clutter. 'When shooting at a wide aperture I know I need to be spot on with my focusing,' he says. 'I find f/1.4 a bit of a nightmare to get sharp,' he confesses, 'however often I'll shoot at f/1.8 for example.' To achieve pinpoint sharpness Daniel uses the single point AF setting and homes in on the eyes.
Even though Daniel is shooting portraits the location and background are both vitally as important as the main subject. Daniel loves to shoot in the urban environment during the day and uses the tall buildings and narrow alleyways to act like a big diffuser to capture that natural soft light. 'When you're in a narrow street or alleyway, the light is actually soft,' he says. 'This is sort of contrary to what people would think!' he continues. 'Like in an open outdoor setting it's much harder to achieve what I'm after, and on the whole, I tend to steer away from hard light and open spaces.'
When asked if he scouts his locations beforehand Daniel replies, 'Yes, I do sometimes. If I've got the time I like to go and have a look. I try to go around the time of the shoot because then you know the direction of the light and the conditions you will be shooting under. When I take my portraits, I'm looking for soft light on my subject's face. I'm trying to work out the direction of the light and use it to my advantage.'
Although many of Daniel's portraits may look like they are shot during the golden hour he tends to stay clear of this time and opts to find shady alleyways and narrow streets during the daytime instead. 'If you've got tall buildings blocking most of the light, you're guaranteed to get decent lighting,' he says. 'You're a bit limited with time when you shoot during the golden hour, as you've only a couple of hours to get what you need, and when the light is lower in the sky,
I find it can be a bit harsh.'
As well as thinking about light and location when you're shooting portraits, you've also got to factor in that the shoot is a collaboration between you and your model. The first task in any portrait shoot is finding a model (whether that be amateur or professional). When he was starting out Daniel mostly used Facebook to find models and found they ranged greatly in ability, yet he's always had the same approach whoever he's working with.
'I've worked with a range of models, some professional, some who are just starting out, and the public. When I first start my photo shoot, I don't have my camera ready to go!' he confesses. 'I tend to have a conversation with the model/s first. Because if you want your model to pose naturally, I think you have to show a bit of interest in that person first.'
As for posing and giving direction to his subject Daniel likes to keep it simple and to do his research and planning. 'I find it difficult to explain a pose in words, so I like to have examples of the poses on my phone beforehand to show,' he says. 'Many of the models I book have already looked at my work, so they know the kind of thing I'm after. The poses that I normally want are not that complicated. There are photographers that think you must do something weird, or something really cool when it comes to poses, but I think you don't have to. Keeping it simple, works better.'
---
Daniel's top tips for capturing successful portraits
Hunt for soft light
Daniel loves shooting in the urban environment during the day. He hunts the city streets for alleyways and shadowed places to find that lovely soft and diffused light. If he can do a recce to find the perfect location before the shoot, he will.
For the final part of the process Daniel brings his style and tone to his images using Photoshop. 'I remove the blemishes first and then I do some frequency separation. Next, I tend to do some dodging and burning, and then I'll edit the eyes. Then the final step is to tone and colour grade the image. Sometimes I like to bring more red into the shadows, and then maybe blue or cyan in the highlights – but you need to apply these adjustments subtly.'
Try out the background
Although the people in Daniel's images are the star of the show, don't forget the background is just as important. Daniel often shoots the scene blurred before bringing the model in to see how the colours and lighting are going to blend and work in the scene.
Aperture priority
Daniel prefers to shoot in aperture priority mode and then adjusts the ISO and exposure compensation setting accordingly. He often underexposes his image to avoid any blown highlights and then boosts the exposure in post production.
Shoot in raw
To get the most from his image file Daniel shoots in raw and edits in Photoshop. He goes through a procedure of steps from removing blemishes to toning and colour grading the scene. He advises making subtle changes to retain authenticity.
Connect with the eyes
Make sure you have the eyes in focus to connect to your subject, especially when you are shooting at those wide aperture settings. Daniel also likes to use a reflector to create a catch light to give his sitter that extra sparkle in their eyes.
Bokeh backgrounds
Look for lights in the background that will blur into bokeh. These soft shapes will add atmosphere and interest without distracting from the main subject. The rounder your lens's aperture blades (i.e. the more aperture blades there are), the better your bokeh will be.
---
Kit list
Canon EF 85mm f/1.4L IS USM lens
This is Daniel's go-to lens. The wide maximum aperture of f/1.4 is useful for those extra stops of light but also creates the magical bokeh background blur.
Sigma 50mm f/1.4 DG HSM Art
Although Daniel rarely uses this lens, he says it's useful when he wants to capture more of the sitters' environment in their portrait shot.
Reflector
Daniel has a reflector to hand to bounce light back into the shadows when he needs that extra lift. It also works well as a catch light in the model's eyes.
Prism Lens FX filters
This is a recent purchase for Daniel and the photographer is still in the experimental stages with these filters. From what he sees so far, he likes the results!
---