Neil Leifer grew up in the projects area of the Lower East Side of Manhattan, New York, and his interest in photography was sparked at the age of 13 by joining a camera club in one of the 'settlement houses', which provided education for low-income families. His big break came through sheer enterprise when, on his 16th birthday in December 1958, he volunteered to wheel a disabled person onto the field at the Baltimore Colts v New York Giants sudden-death championship game, which gave him field access. Leifer managed to capture the 'sudden death' match-winning touchdown, by the Colts' Alan Ameche, with his Yashica Mat camera and the image was picked up by a publisher – he has never looked back since…
Now, aged 74, he's on the phone from his New York home and, when quizzed on what inspired him, he replies, 'To be honest, I got used to seeing my name under a picture in the student paper, so that was it.' He is now arguably the best sports photographer to date, with his iconic heavyweight-boxing images of Muhammad Ali v Cleveland Williams, and Ali v Sonny Liston once voted number one and two best sports pictures of all time by the Observer Magazine.
Neil Leifer – Iconic overhead shot
The Ali v Cleveland Williams shot is an overhead image of Williams lying splayed on the canvas after being floored by Ali. Leifer explains, 'The funny thing about that picture is it's not the final knockout. You could never take a picture like that nowadays because the canvas is always coloured and is covered with advertising and TV network info. It's the only picture I've ever shot that I wouldn't change anything about.'
The image was shot remotely from 80ft up in the roof of the Houston Astrodome in Texas. 'It was, of course, set up,' Leifer continues. We didn't just turn up in the afternoon after a few drinks and take pictures. I was the one who figured out that this picture could be taken. It's the only picture of mine that hangs in my house – it's about 40in square and is hung as a diamond shape. It's unquestionably the best picture I've ever taken.' So, how did he do it?
It might come as a surprise to learn that Leifer didn't use a wireless trigger for the shot, for one good reason: he was concerned that the police's walkie-talkies outside the venue might set the camera off. With only 12 exposures to play with in his Hasselblad, and the camera being put in place two days before the fight, he couldn't run the risk of them all being used up inadvertently before the boxers had even entered the ring. As a result, he wired a remote trigger into the camera and controlled it from ringside. 'This particular arena allowed you to not have to use a fisheye lens to get the whole ring,' he adds. 'Normally the camera would be in the ring lights about 20ft above the ring, but the Astrodome's lighting gondola is also set for events like rock concerts and political conventions, so it's 80ft up.'
Leifer adds, 'Nobody had ever put a camera in the middle of the lighting rig before, because you couldn't get the whole ring, except with a fisheye. At Ali v Ernie Terrell the following year, there was a fight with six photographers trying to get the absolute middle spot for the camera, but they never got a knockout like Ali v Williams. It's my favourite shot ever.'
Neil Leifer – Ali v Liston image
Leifer's other famous boxing image shows Muhammad Ali motioning to Sonny Liston to get off the canvas after knocking him down during their WBC World Heavyweight Championship bout in Lewiston, Maine, in May 1965. Working for Sports Illustrated, Leifer captured the moment when Ali was shouting, 'Get up and fight, sucker,' to Liston after he had gone down to an apparently innocuous punch in round one. Leifer admits, 'This picture was down to luck. I happened to be on the right side of the ring. If you look at the picture, you'll see between Ali's legs is a bald-headed guy. He's Herb Scharfman, my Sports Illustrated colleague. Had the knockout happened on the other side of the ring, he would have got the shot.'
In those days Leifer was working with a Rolleiflex 21⁄4in-square camera with a sports finder and colour slide film. The actual image was taken at 1/500sec with strobe sync. He notes, 'The word "luck" in sports photography is so important – you have to be in the right seat. Sports Illustrated had two ringside photographers at Ali v Liston but the point is I didn't pick the seat and I didn't know Ali was going to down him [so early]. Herb Scharfman was a great photographer but here he could only get a shot of Ali's backside. The point is when you get lucky, don't miss.'
Neil Leifer – The 'Rumble in the Jungle'
Leifer's boxing photography looms large in a new Taschen book, The Fight, which also features images from the late Howard L Bingham and text by the legendary writer Norman Mailer. The fight in question is the iconic 1974 World Heavyweight Championship bout between the then champion, George Foreman, and the challenger, Muhammad Ali, which was held in Zaire (now the Democratic Republic of the Congo) and dubbed the 'Rumble in the Jungle' by promoter Don King.
Leifer recalls, 'About 350 US press people had flown to Europe for a stop-off on the way to Zaire. We heard that Foreman had got cut near his eye [in sparring]. I immediately rang the Sports Illustrated office in New York and they said to come back.'
The fight was postponed by five weeks and Leifer then travelled to spend around 10 days covering the pre-fight build up, the famous 'rope-a-dope' tactics by Ali during the fight and the aftermath. The fight was peppered with characters – Ali, Foreman, promoter Don King and even the menacing presence of the then President of Zaire, General Mobutu. So was this a gift for a photographer? 'Yes,' says Leifer. 'The funny thing is, Foreman had this fearsome reputation as a brooding champion with devastating punching, but away from the ring he was one of the nicest guys you could meet.'
He reveals, 'I stayed at the Sheraton Hotel in Kinshasa with Norman Mailer, who was working for Playboy, and a bunch of other press guys. It was the only hotel with air conditioning and in the evenings we would meet, have a few beers and tell stories. Howard Bingham stayed closer to Ali's camp at N'Sele.'
Leifer adds, 'During the fight, I was shooting with Hasselblads, using about two rolls of film (24 shots) per round. I also had a Nikon 35mm camera for shooting outside of the ring.' He also had an overhead camera rigged up to capture the fight action while also shooting through the ropes from ringside to ensure he captured everything, including Ali's knockout of Foreman in round eight.
For The Fight, Leifer worked closely with publisher Taschen for his input on picture choices and he explains, 'It's a great book. I spoke with Benedikt Taschen maybe two or three times – it's amazing that as head of the company he has the time to spend with you.'
The limited edition book combines the photographs of Howard L Bingham, who was a close personal friend of Ali, with Leifer's images and Norman Mailer's text, as well as memorabilia surrounding the fight and the odd still by photographers such as Lynn Goldsmith, Tony Triolo and William Klein. It is a fascinating memento of a moment in sports history that was also the subject of an Oscar-winning documentary 'When We Were Kings' and, given the proliferation of boxing titles and less well-known heavyweight fighters of today, is unlikely ever to be matched.
Neil Leifer – Favourite subject and ego
Unsurprisingly, when asked about his favourite ever subject Leifer swiftly replies, 'Muhammad Ali. He was a gift [for a photographer]. I photographed Muhammad from his early years [of fame], when he looked like a movie star, right through to even when he had Parkinsons. You would usually be told you had 20 minutes tops with him but often we would spend over an hour together and he would happily talk and pose for me.'
When asked if there's one thing that people don't know about him, Leifer ponders for a while and replies, 'I have an ego. People say to me "you're too modest", but it's been hard work to get to where I have. If you meet a modest photographer he's not really that good! Someone like [sports photographer] Walter Iooss is a natural but I had to work hard at it. What separates a really good photographer from the ordinary is, when things happen, when you get lucky, you don't miss. I didn't miss!'
---
Neil Leifer – The book
The Fight (ISBN 978-3-8365-1188-9) is published by Taschen at £450. It documents the legendary 1974 Rumble in the Jungle fight between George Foreman and Muhammad Ali, with text by Norman Mailer, and classic images of behind the scenes and the fight by Neil Leifer and the late Howard L Bingham.
To find out more, go to www.taschen.com.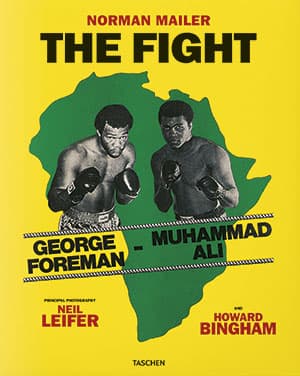 Neil Leifer is a US sports photographer and filmmaker who has been published widely since 1960 in publications such as Life, Newsweek, TIME and Sports Illustrated. He photographed 16 Olympic Games, the first 12 Super Bowls, 17 Kentucky Derbies and four FIFA World Cups.
Leifer's images have featured in 18 books and he also diversified into filmmaking, directing the sports-themed movies Yesterday's Hero and Trading Hearts before concentrating on shooting shorts.