Vanguard VEO 2 235CB at a glance
145cm maximum height
40.3cm folded length
1.2kg weight
6kg load
---
With cameras featuring ever-improving high-ISO performance and increasingly effective image stabilisation, it's often tempting to think that you can get away without using a tripod. However, there are still occasions when nothing else will do. If you don't want to lug around a heavy, full-size support, the Vanguard VEO 2 235CB is a really capable, lightweight option.
This mid-sized model in the VEO range uses five-section carbon-fibre legs to keep the weight and packed size to a minimum. Like many other tripods the legs fold around the head, but Vanguard uses a unique design where the column rotates 180° downwards, which is far quicker than folding all the legs upwards as with other travel tripods.
Set-up is really quick, as all five sections of each leg can be unlocked together with a single twist. The legs can each be set independently to either 20°, 45°, or 80° angles using large, easy-to-operate press-in locking buttons. In the lowest position, transferring the head to the supplied short centre column allows ground-level shooting.
You need a decent head too, and the VEO 2 BH-50 that comes in the kit is much better than those you'll fi nd on most other lightweight tripods. It has separate controls for the panning base, locking down the camera, and adjusting the ball friction. The latter is pretty rare at this price, and makes it easier to work with different size cameras and lenses. The square quick-release plate is Arca Swiss compatible and fi ts onto the clamp any way around, while a bubble level on the camera platform helps keep your horizons straight. Crucially, the head locks down firmly without nudging the camera away from your chosen composition.
---
Vanguard VEO 2 235CB – Key features
Suspension loop
Can be used with a carabiner for clipping the tripod onto a bag, or suspending a bag from the tripod for greater stability.
BH-50 head
The supplied head has separate controls for locking the camera, friction adjustment and the panoramic base.
Low angle
A short centre column is included for shooting at ground level.
Carry bag
A lightweight drawstring nylon bag with a decently long adjustable shoulder strap is included for transporting the tripod.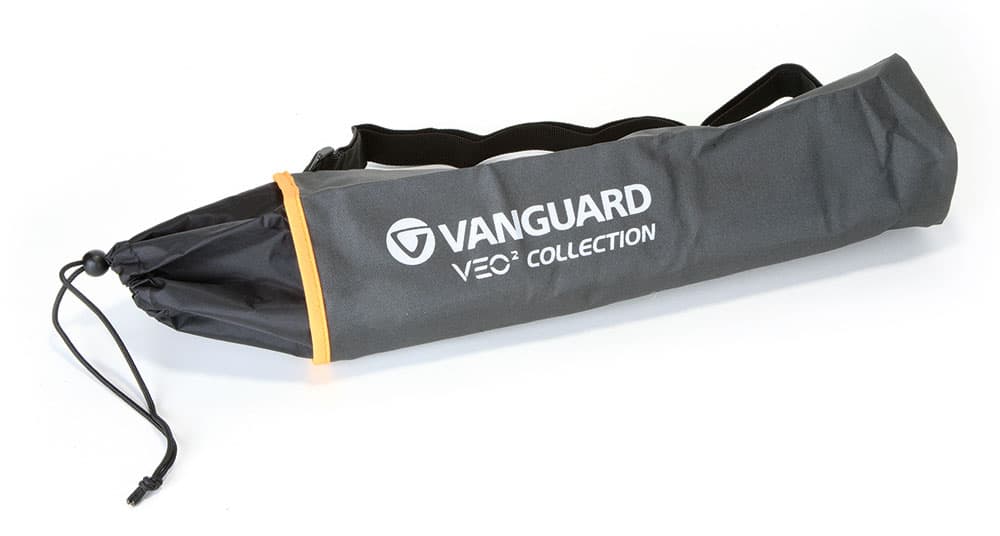 ---
Vanguard VEO 2 235CB – Our verdict
With so many travel tripods now on the market, it's difficult to stand out from the crowd. But Vanguard has made a really neat tripod that's quick to set up and capable of supporting a surprising weight. The construction and quality of materials are fine, while the grey, militaristic fi nish is unobtrusive, and won't reflect any unwanted colour cast onto your subjects. I'd be quite happy using this tripod with a mid-range DSLR or larger mirrorless camera and a medium telephoto zoom. Naturally it's most stable with the centre column dropped down, which gives a working height just shy of 120cm, so if you need to support the camera at eye level it'll likely be too small. That aside, it's a great choice for when you need to travel light.
---
The VEO 2 tripod range
Vanguard makes its travel tripods in a range of sizes and in a choice of materials, starting with the 4-section aluminium 204AB (99), ranging up to the largest carbon-fibre 265CB (£249). All use the same basic design, with rotating columns and twist locks. If you prefer lever-type leg locks, these are available on the older VEO models.