Tamron 18-400mm f/3.5-6.3 Di II VC HLD review: Introduction
Superzoom lenses have been, and always will be, a popular choice for many photographers. They're often the first lens people look at after growing out of a standard kit lens and are typically defined by a moderate wideangle start and a reasonably long telephoto finish, differentiating from standard zooms which end at a short telephoto length and tele-zooms which start and end entirely in the telephoto range.
The strong interest from those who want to enjoy wideangle to ultra-telephoto photography using a single lens has seen many lens manufacturers develop their line-ups – the most recent being Tamron which has just announced the world's first ultra-telephoto all-in-one zoom lens for APS-C DSLR cameras, which covers an astonishing focal length range of 18-400mm.
Unlike your average superzoom that typically offers a focal length of 18mm at the wide end to anything from 125mm to 270mm at its longest telephoto zoom setting, the lens we're focusing on here brags a 22.2x zoom ratio and boasts an effective range that's equivalent to 27-600mm in 35mm terms when the 1.5x crop factor is considered. On Canon APS-C DSLRs, which enforce a 1.6x multiplication factor, it's equivalent to a slightly longer 29-640mm zoom.
Ever since Tamron launched its first superzoom in the form of the AF 28-200mm f/3.8-5.6 Aspherical lens in 1992, we've seen the manufacturer strive to develop a stronghold in this zoom category. This latest all-in-one zoom exemplifies how far lens design has come in 25 years, but can a lens that attempts to be successful across such a broad focal range produce acceptable results and a level of performance that meets our expectations? With one of the world's first working samples in our possession, we gave it a thorough test to find out how it performs.
Tamron 18-400mm f/3.5-6.3 Di II VC HLD review: Features
Favoured by photographers who'd like to switch from wideangle to ultra-telephoto without changing lenses, superzoom lenses are considered highly versatile optics well suited for a wide range of subjects including travel scenes, wildlife, action sports, portraits, landscapes, cityscapes, and food photography. Being a lens that's intended to be popular for travel and everyday use, Tamron has made a conscious effort to make it as lightweight and compact as possible. It weighs 705g, which works out at 250g more than Tamron's 18-270mm f/3.5-6.3 Di II VC PZD lens, and has a total length of 121.4mm when fully extended.
A new lens barrel design utilising three-step extensions had to be designed to enable the necessary elongation to produce the 22.2x zoom ratio, with the optical construction seeing 16 glass elements arranged in 11 groups. As well as featuring two moulded glass aspherical elements and one hybrid aspherical element, the optical design includes three low dispersion (LD) elements to help minimise chromatic aberrations and distortion, which is often a bugbear on this type of lens. The optics are also designed to be resistant to flare, aided by the application of Tamron's broad-band anti-reflective (BBAR) coating.
With a maximum magnification ratio of 1:2.9 and a minimum focus distance of 45cm, the lens doubles up as a useful lens for tele-macro photography and shooting close-ups. Elsewhere, the lens features Tamron's latest HLD (High/Low torque modulated Drive) motor that's designed smaller to take up less space and ensure the lens goes about its business accurately and quietly. To keep handshake in check it also benefits from Tamron's VC (Vibration Compensation) system, which allows users to shoot up to three stops slower than would otherwise be possible.
Tamron has added some other user-friendly features too, including moisture-resistant construction with five internal weather seals. This will be well received by outdoor photographers who may get caught out in adverse weather conditions. Nikon users will find that the lens uses an electromagnetic diaphragm, which brings a number of operational benefits for live view and video. However, while this will work on all Nikon DSLRs introduced from 2010 onwards, it's worth noting that it won't work with any that pre-date 2007. The lens is consequently incompatible with the D2-series, D1-series, D200, D100, D90, D80, D70-series, D60, D50,D40-series and D3000 DSLRs.
At the front the lens accepts screw-in filters and adapters via a 72mm thread. It also has a bayonet mount to accept the supplied petal-type plastic lens hood, which can be reversed when not in use without hindering the operation of the zoom ring.
Tamron 18-400mm f/3.5-6.3 Di II VC HLD review: Build & Handling
The appearance of the lens is in keeping with Tamron's current line of premium SP lenses, though as one might expect for a lens of its stature it doesn't have quite the same solid feel. The matte black barrel with its clear white numbering and lettering looks smart and its plastic finish contributes to its lightweight appeal. Towards the rear you get an additional seal around the lens mount to prevent dust and moisture creeping into the camera body and there's a zoom lock that can be engaged at its widest zoom setting. This was rarely used as our test sample showed no signs of zoom creep in the zoom range when it was carried over the shoulder or pointed down.
On the opposite side of the barrel you're presented with two switches that are easy to access with your thumb from behind the camera. The lower of the two is used to turn the lens's vibration compensation system on and off, with the switch above it used to control AF/MF. Ahead of these is the large rubberised zoom ring that benefits from a short rotation of just over a quarter turn to operate it from its widest focal length to full telephoto. What this means in practice is that you can shoot wideangle shots one minute and quickly extend to full telephoto images the next with a single hand movement.
Though the zoom does operate smoothly between 18-70mm, a little extra effort is required to shift the optics between 70mm and 250mm. It gets a little easier again beyond 250mm to its maximum 400mm setting. As for the focus ring, this is found just in front of the focal length markings. The plastic is ribbed to enhance grip but isn't rubberised like the zoom ring. It doesn't offer the same level of resistance as the zoom ring either and works across the focus range with 45° of rotation.
The lens extends by approximately 110mm when it's used at the long end. When you use the lens handheld at 400mm it's best to rest the centre of the lens in your palm and pull your hand back slightly when the focal length needs to be adjusted. Support the lens too closely to the camera and you're unlikely to muster the same level of stability.
Overall, the build quality and finish is of a good standard and it feels adequately robust for the audience it's aimed at. You don't get premium features like a focus distance window or a lens collar, but then again these features are rarely found on superzooms and are typically found on heavier tele-zooms at a higher price point.
Tamron 18-400mm f/3.5-6.3 Di II VC HLD review: Autofocus
The latest generation of Tamron lenses have come on a long way in terms of their autofocus performance. Though the High/Low torque-modulated Drive (HLD) isn't wholly silent and does make low frequency whirring noises when focusing between near and far subjects, you'll be hard pushed to trace it in movie footage unless you're working in quiet surroundings with virtually no ambient sound.
The lens locks onto static subjects hastily at wide focal lengths where focus distance shifts tend to be small and it demonstrated that it's reasonably snappy at acquiring focus at longer focal lengths in combination with the Nikon D5600 we tested it with.
Tamron 18-400mm f/3.5-6.3 Di II VC HLD review: Image Quality
Before analysing image quality, I conducted several image stabilisation tests throughout the focal range. The lens's VC system performs admirably and I had no difficulty shooting sharp handheld shots at as slow as 1/8sec at the wide end of the zoom. Pushing to the furthest extent of the zoom, I also managed to shoot a number of sharp frames of a static subject using a shutter speed as low as 1/25sec.
After inspecting images taken with the lens, I analysed our lab results, which matched my real-world findings. The lens produces its sharpest results at the widest end of the zoom range, with edge-to-edge sharpness peaking at f/5.6. Zooming in to around 70mm sees a slight drop in sharpness that is most noticeable at the corners. Stopping down to f/8 does improve centre and edge sharpness at this focal length, but the impact of diffraction does soften overall sharpness beyond f/11.
There's usually a compromise you have to make on choosing a lens that covers such a wide focal range and this comes in the form of sharpness at the long end of the zoom. As the sample images that support this review show, it is possible to walk away with usable results from using the lens at 400mm, however users shouldn't expect to be overwhelmed by the level of sharpness at the long end. In general, this lens offers its best results with the aperture set between f/5.6 to f/11. Avoid pushing to f/16 and beyond and you'll reduce the risk of diffraction softening overall sharpness.
With regard to distortion, there's obvious barrel distortion at the wide end that turns to pincushion distortion rather rapidly in the focal range. Unfortunately there's no way for third-party lenses to benefit from in-camera distortion correction with either Canon or Nikon DSLRs, meaning you're best off shooting in raw so you can correct for it easily later in post-processing as soon as a lens profile becomes available.
As for vignetting, this is quite obvious when shooting wide-open, particularly at the widest end of the zoom where it's at its most severe. Stopping down to f/5.6 does see an improvement, but stopping down to f/8 can minimise it further. Again, it's advised to shoot in raw so the light fall-off towards the corners can be rectified easily with a one-click fix in your raw converter.
A close examination of raw files revealed the lens exhibits quite obvious chromatic aberration through its zoom range too. At wideangle settings I noticed traces of green and purple fringing along high-contrast edges and at longer focal lengths there were signs of blue and yellow fringes of colour. Aberrations were brought under control by placing a tick in the Remove Chromatic Aberration box that's found beneath the lens corrections tab in Camera Raw. All things considered and to get the best out of this lens, we'd advise shooting in raw so you have the best chance of correcting its flaws.
Tamron 18-400mm f/3.5-6.3 Di II VC HLD review: Resolution, shading and curvilinear distortion
Resolution
Our Image Engineering Tests tell us the lens is at its sharpest when it's used at the wide end of the zoom and gets progressively less sharp as you zoom in. For the sharpest results at 18mm you'll want to use the lens around f/5.6, whereas at 70mm you'll want to close down to f/8 to see an improvement in corner sharpness. The level of sharpness drops off quite noticeably when you push towards 400mm, with diffraction visibly softening images throughout the focal range from f/16 onwards.
Shading
Use the lens at any point in its zoom range at its maximum aperture setting and you'll notice the corners appear darker than the centre. Vignetting is at its strongest at 18mm, but improves considerably by stopping the lens down a few stops to f/8. Corner shading is less of a concern at around 70mm, but gets more obvious again at longer telephoto lengths. Stop the lens down from f/6.3 to f/11 at 400mm and the light fall off towards the corners subsides.
Curvilinear Distortion
At 18mm, the lens displays strong signs of barrel distortion, whereby straight lines towards the edge of the frame bow outwards. The amount of barrel distortion subsides as you begin to extend the zoom; however you'll find it very quickly turns to pincushion distortion. Users will find they're able to correct distortion by applying lens profile corrections, however at the time of testing a lens profile wasn't available.
Tamron 18-400mm f/3.5-6.3 Di II VC HLD review: Verdict
With this latest addition in its lineup, Tamron has created a new breed of superzoom lens that will appeal to hobbyists and amateurs who'd like to carry one lens to cover all bases. The way it covers such a broad focal range makes it more versatile than other superzooms and by equipping it with an effective vibration compensation system and weather-resistant seals, it allows users to shoot sharp handheld images with slow shutter speeds in low-light, or adverse weather conditions.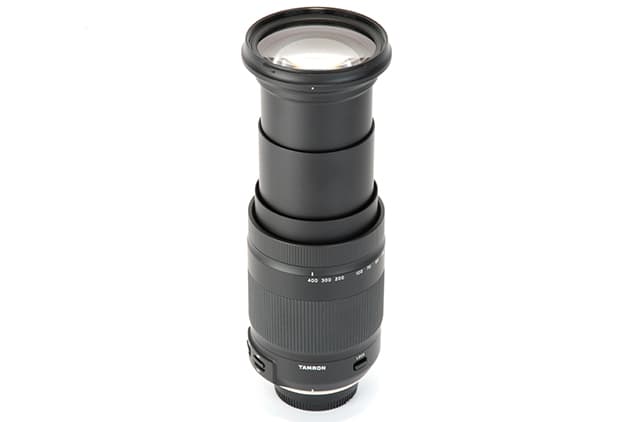 Compromises do always have to be made choosing an all-in-one lens that attempts so much across its range. Results at full telephoto are usable, but not spectacular. The visible distortion and chromatic aberration is rather offensive too, but shooting and editing in the raw format can remedy these optical flaws. For those after an all-in-one lens suitable for travel, safari and a multitude of different uses it's certainly worth a closer look.