Tamron 14-150mm f/3.5-5.8 Di III at a glance:
$609/£494
Micro Four Thirds lens mount
28-300mm equivalent zoom range
17 elements in 13 groups
50cm minimum focus distance
295g
Over the past decade, mirrorless cameras have dramatically changed the landscape in the photographic equipment market. The likes of Canon, Nikon, Fujifilm, Olympus, Panasonic and Sony have built up compelling alternatives for photographers fed up of dealing with the size and weight of DSLRs, but unwilling to sacrifice image quality. Third-party lens manufacturers were initially cautious about producing their own mirrorless lenses, but now there's a wide selection available, which continues to grow.
Users of Panasonic and Olympus mirrorless cameras are well catered for when it comes to lenses. For more options have a look at the best Micro Four Thirds lenses. Those looking for a lens that balances good performance with excellent value for money may wish to consider the alternatives from the likes of Sigma and Tamron first.
The 14-150mm f/3.5-5.8 Di III – which is the lens on test here presents an attractive saving over other long-range superzooms such as the Olympus M.Zuiko Digital ED 14-150mm f/3.5-5.6 II ($739/£599) and Panasonic Lumix G Vario 14-140mm f/3.5-5.6 O.I.S. ($764/£619). What's the catch? Unlike Olympus and Panasonic's offerings, the Tamron 14-150mm f/3.5-5.8 Di III doesn't include weatherproofing or optical stabilisation. So why even consider the Tamron you might ask.
Well, it comes back to price. Micro Four Thirds users who want a flexible all-in-one travel lens and expect to use it in benign conditions, on paper it offers the best value. With a practical 28-300mm equivalent zoom range, it's suitable for shooting a huge range of subjects, plus it's extremely compact (80.4×63.5mm) and incredibly lightweight (295g).
Before studying how the lens performs optically let's take a closer look over the Tamron 14-150mm f/3.5-5.8 Di III's key features.
Tamron 14-150mm f/3.5-5.8 Di III review: Features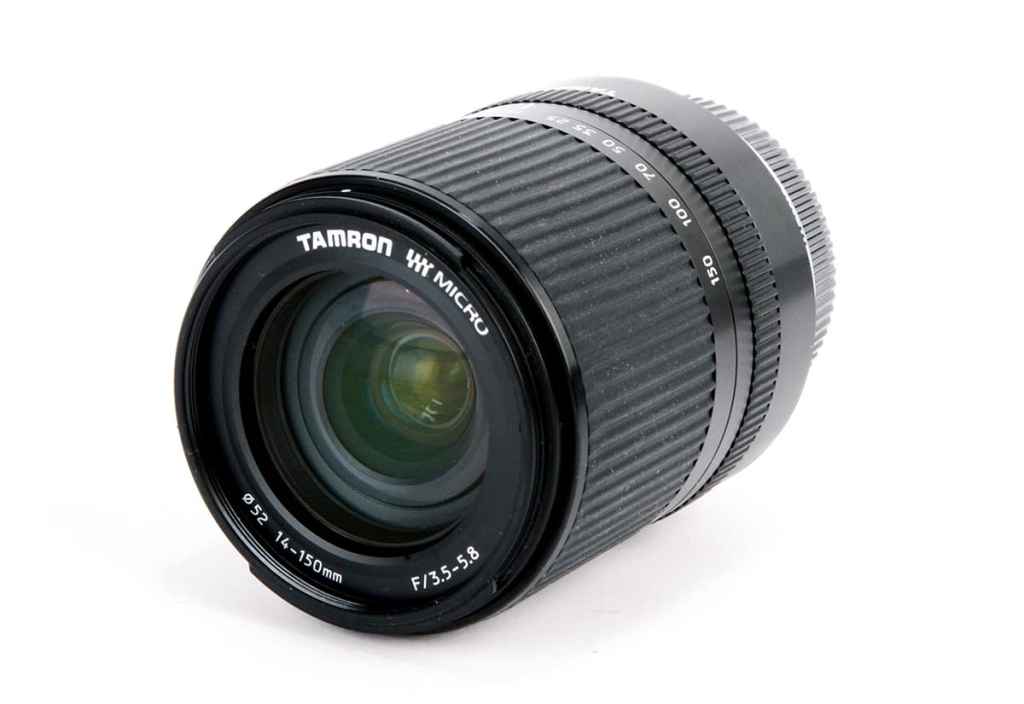 Comprising 17 elements in 13 groups and including one low-dispersion glass element, two anomalous dispersion glass elements, two glass-moulded aspherical elements and one hybrid aspherical element, the 14-150mm has the most complex optical design among Micro Four Thirds superzoom lenses. In principle, this should help reduce the optical aberrations to which lenses with such an ambitious zoom range tend to be prone.
Despite all this glass, the 14-150mm is surprisingly compact, with a barrel diameter of 63.5mm and a length of 80.4mm from the mount to the front of the non-rotating 52mm filter thread. In context, it's smaller than Olympus's budget M.Zuiko Digital 40-150mm f/4-5.6 telezoom and barely larger than 18-55mm kit zooms for APS-C DSLRs. At 285g it's not especially heavy, either.
I'm pleased to say the lens is supplied with a bayonet-fitting petal-type plastic lens hood. Even better, it reverses neatly when not in use, fitting closely around the barrel. Packing up small is a real asset for this kind of travel lens.
Tamron 14-150mm f/3.5-5.8 Di III review: Build and handling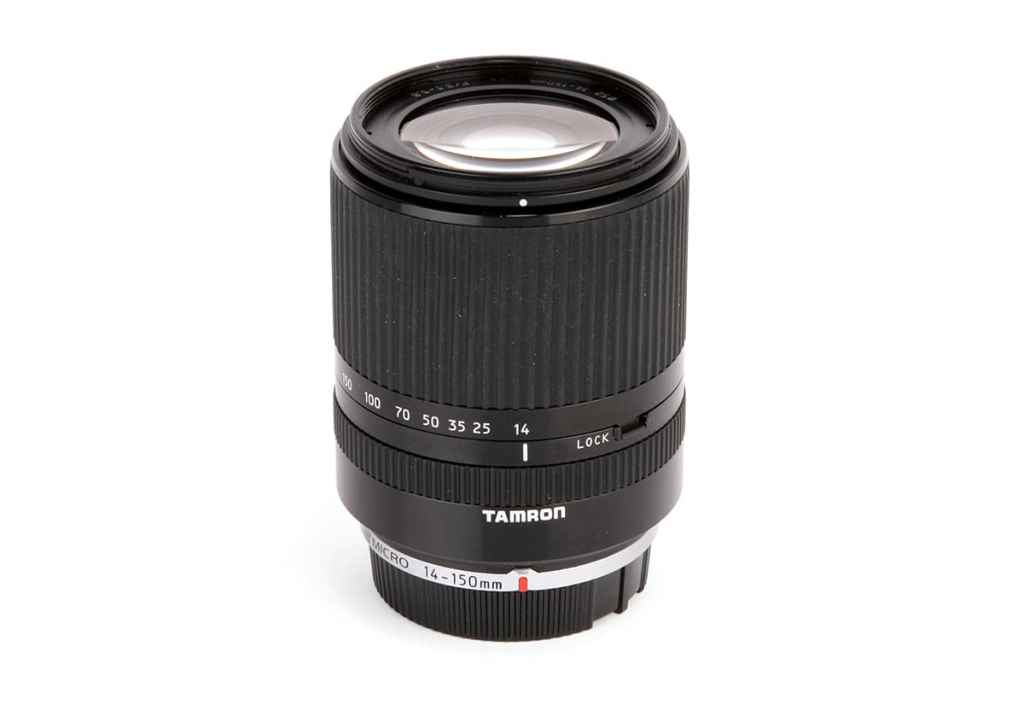 When I first unboxed the 14-150mm, I was pleased to find that it doesn't feel cut-price at all. With a metal outer barrel and rear mount it comes across as gratifyingly well made – an impression reinforced by the smooth rotation of the zoom and focus rings. The switch for locking the zoom at its wideangle position is somewhat small and fiddly, but I found it to be superfluous anyway, as the lens isn't at all susceptible to zoom creep (extending or retracting under its own weight). When you turn on the camera, the lens makes a disconcerting rattling noise, which appears to be the aperture diaphragm going through a start-up cycle.
My sample had an attractive black paint finish with a contrasting silver ring next to the mount; a silver version is also available. The understated white barrel lettering makes the lens look classier than the gold markings used on older Tamron designs. One minor criticism is that both the front and rear lens caps are quite thick, while in contrast both Olympus and Panasonic use slender designs to maximise the size advantage of Micro Four Thirds.
It's fair to say this lens is much better suited to some Micro Four Thirds cameras than others. Long lenses such as this tend to work better on cameras that have eye-level viewfinders, as this enables a more stable shooting stance. Its maximum aperture in the telephoto range is also decidedly slow (ranging from f/5.2 at 50mm to f/5.8 at 150mm), and this means that if you use it on a Panasonic body without in body image stabilisation (IBIS), you'll need either lots of light or high ISO settings to achieve the high shutter speeds needed to avoid blur from handshake.
The upshot is that while the Tamron works particularly well on Olympus's OM-D cameras and Panasonic Micro Four Thirds mirrorless cameras that feature in-body image stabilisation, it's poorly suited for use on small bodies without viewfinders, such as Panasonic's GF series. Indeed, most Panasonic owners would be better served by the company's optically stabilised Lumix G Vario 14-140mm f/3.5-5.8 OIS – a lens that was updated in 2019, adding a degree of splash and dust resistance. Meanwhile, Olympus owners who often shoot in wet conditions should take a look at the weather-sealed M.Zuiko Digital ED 14-150mm f/4-5.6 II.
Tamron 14-150mm f/3.5-5.8 Di III review: Focusing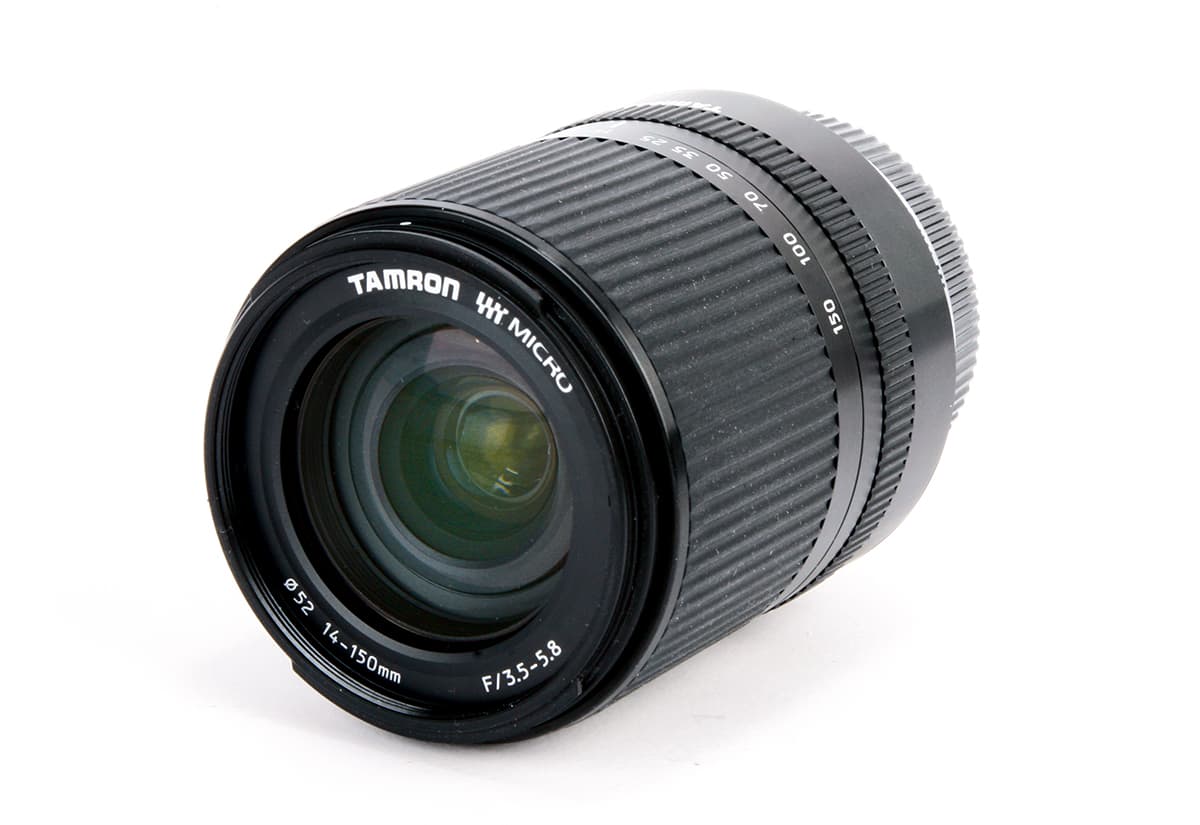 With a stepper motor employed to drive the focus group, the Tamron autofocuses silently and accurately. The slow maximum aperture at the telephoto end means it will often be rather slow when focusing in low light, but in daylight it's pretty snappy. Manual focusing works well, and the camera's focusing aids engage automatically when the focus ring is turned. With a minimum focus distance of 50cm, the lens is capable of impressive close-ups.
Tamron 14-150mm f/3.5-5.8 Di III review: Image Quality
Conventional wisdom tends to state that superzoom lenses of this type are all about convenience and give inferior results to pairing standard and telephoto zooms. But the reality is a bit more complicated than that. In fact, the 14-150mm is pretty sharp towards the wide end of its range (although it's noticeably soft in the corners at 14mm), giving comparable or better results compared with the 14-42mm f/3.5-5.6 kit zooms supplied with many Micro Four Thirds cameras. However, as you zoom beyond 50mm it gets progressively weaker, and at the long end it's noticeably soft, rendering little in the way of really fine detail. But with careful shooting and processing it's still good enough for a nice 12x8in print.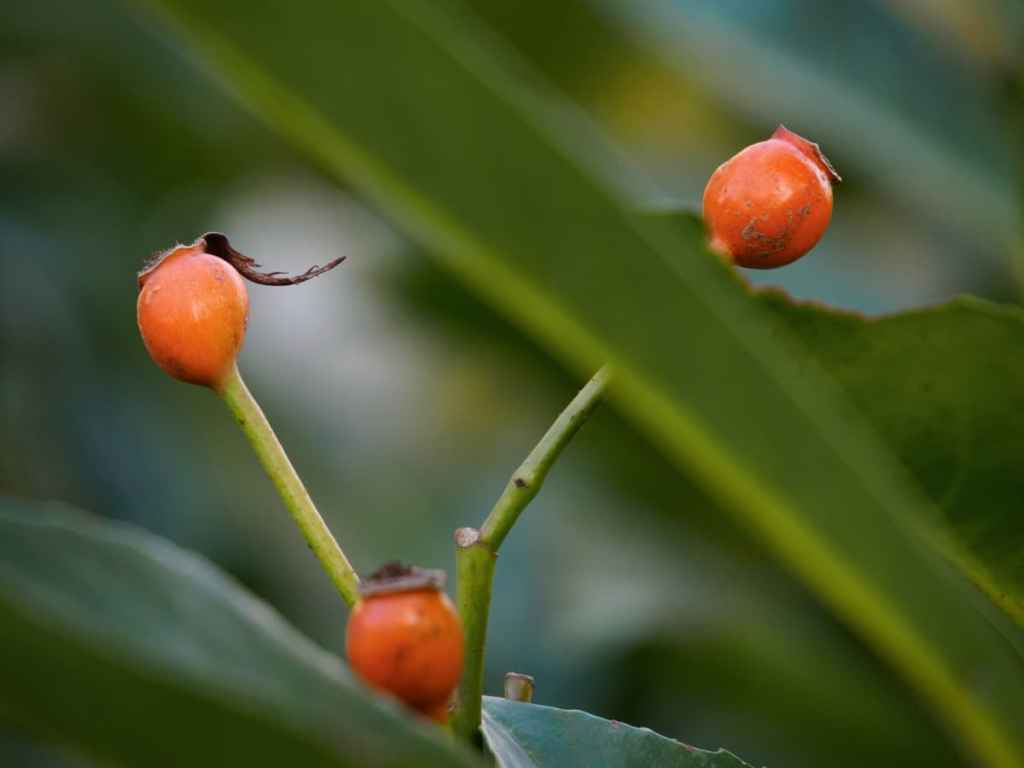 One advantage of mirrorless systems is the ability to integrate software distortion correction into the lens design. This means that images contain none of the disturbing barrel distortion at wideangle that plagues superzoom lenses for DSLRs. Unusually for Micro Four Thirds, however, there is visible pincushion distortion at focal lengths longer than about 25mm (that is, 50mm equivalent), which is most pronounced around the 50mm setting. This is disappointing for JPEG users, although it's easily corrected when processing raw.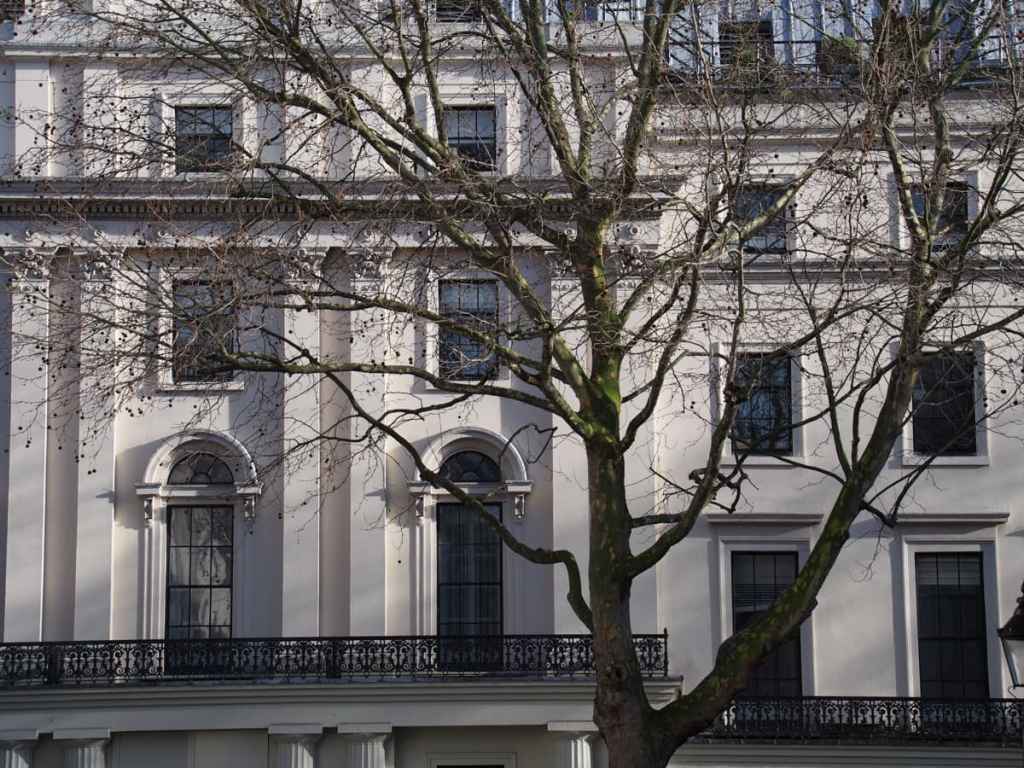 Most Micro Four Thirds cameras also have the ability to correct lateral chromatic aberration in software. Unfortunately, the Tamron 14-150mm doesn't play nicely in this regard, meaning that if you look at your images closely you'll see unsightly green and magenta fringing towards the corners of the frame in your JPEGs that's most pronounced towards the extremes of the zoom range. However, this can also be cleaned up easily enough if you shoot raw.
Tamron 14-150mm f/3.5-5.8 Di III review: Resolution, shading and distortion
Resolution
Examining the MTF readings from our Applied Imaging tests, we see that the lens gives sharp results in the centre of the frame at 14mm, although the corners are weak. Zoom in to 50mm and sharpness is still very acceptable, becoming more even across the frame. However, at 150mm, images are noticeably softer. Best results are generally obtained at f/5.6-8.
Shading
Not surprisingly for a complex lens in a compact package, the 14-150mm gives noticeable vignetting at the extremes of its zoom range. But it's not overly intrusive and in effect disappears when the aperture is closed down a stop. Overall, there's little to worry about.
Curvilinear distortion
Thanks to Micro Four Thirds' integration of software distortion correction, users should see perfectly corrected images at 14mm, with no visible barrel distortion. Elsewhere in the range, however, pincushion distortion is evident even in JPEG files, being strongest around the 50mm position.
Tamron 14-150mm f/3.5-5.8 Di III review: Verdict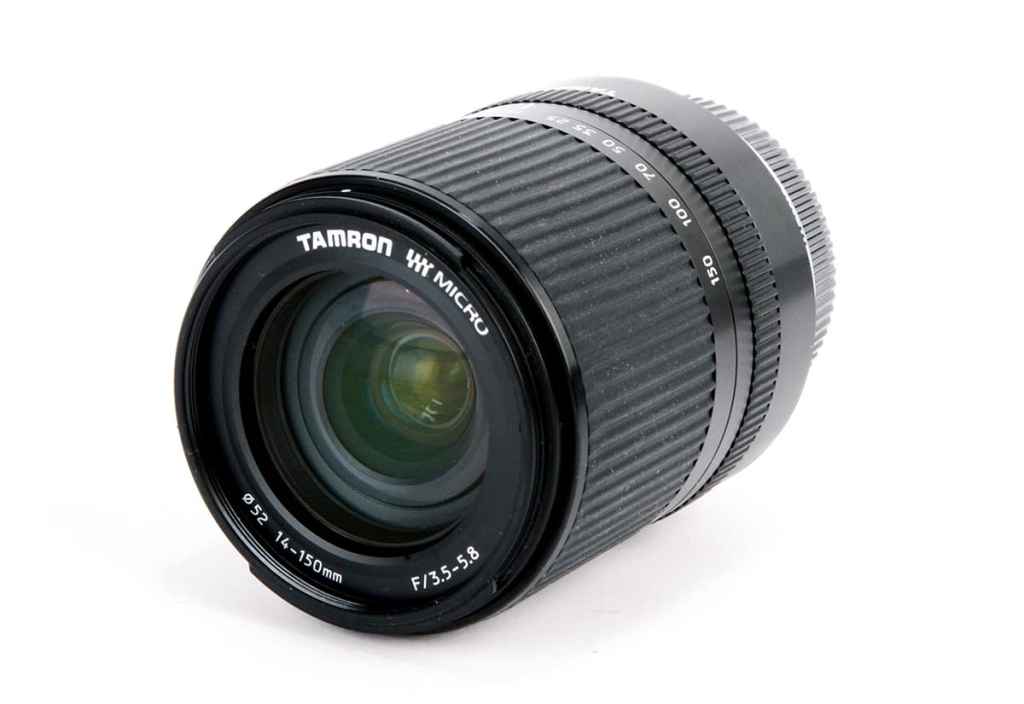 Tamron has a lot of experience in making superzoom lenses, and the 14-150mm f/3.5-5.8 Di III is a good example of the genre. It's compact, nicely made and autofocuses well. As usual for this kind of optic it's something of a compromise, with perfectly decent image quality at wider settings, but slightly less satisfactory results at the long end. Combined with its slow maximum aperture at telephoto, this means that if you expect to shoot distant subjects a lot – sports or wildlife, perhaps – a telezoom would be a better choice.
The lack of optical image stabilisation may keep costs down, but it means some users of Panasonic mirrorless cameras who don't have IBIS to rely on may encounter camera shake at the long end of the zoom. Overall, though, there's no denying this lens's appeal as an all-in-one travel lens – the combination of long zoom range and decent close focusing gives huge compositional flexibility. Most importantly, it also offers decent results at an attractive price.
For more options have a look at the best Micro Four Thirds lenses.