Sigma 85mm f/1.4 DG HSM Art review: Introduction
Towards the back end of last year, we were inundated by a flurry of new releases from lens manufacturers. This included Sigma, who presented three full-frame optics for us to get excited about.
In recent months we've reviewed the Sigma 12-24mm f/4 DG HSM Art and the monstrous Sigma 500mm f/4 DG OS HSM. Now, it's time to turn our attention to the third lens we've been longing to test.
It was widely reported that Sigma would launch a new 85mm f/1.4 prime to replace the company's ageing 85mm f/1.4 EX DG HSM, but what was less well known was how the Sigma would improve it.
With the Sigma 85mm f/1.4 EX DG HSM looking rather dated alongside the company's latest lenses in the 'Art' lineup, we assumed its replacement would receive similar treatment in terms of its styling. Something we didn't predict was a radically new optical design, which has resulted in it being a considerably larger and heavier lens.
Full-frame users specialising in portraiture have always had a fondness for the 85mm focal length. While some photographers may be tempted by the affordable f/1.8 alternatives out there, this lens falls into the high-end f/1.4 camp where paying a premium gets you a faster aperture with stellar optical quality.
The fact it comes with a four-figure price-tag of £1,199 doesn't make it an easy pill to swallow, but when you start to compare it with its closest competition you appreciate it costs less than the Nikon AF-S 85mm f/1.4G (£1,349), Zeiss Milvus 85mm f/1.4 (£1,379) and Sony FE 85mm f/1.4 G Master lens (£1,500). It also has to compete against the Canon EF 85mm f/1.2 L II USM as Canon doesn't offer a 85mm f/1.4 in its EF lens lineup.
Sigma 85mm f/1.4 DG HSM Art review: Features
With the resolution of today's sensors continuing to rise and photographers demanding the finest image quality, Sigma has looked to future-proof its lenses by designing them for today's era of ultra-high resolution cameras.
To achieve the goal of creating first-class lenses for full-frame DSLRs offering a 50-million-pixel resolution, Sigma's engineers have returned to the drawing board. In the case of this lens, an entirely new optical formula has been designed, which unites 14 lens elements in 12 groups – a rather more sophisticated construction than the 11 elements in 8 groups you get inside the older Sigma 85mm f/1.4.
By pairing special low dispersion (SLD) glass elements with an aspherical lens, Sigma claims to have been successful in achieving the finest image rendition, undiminished by residual chromatic aberrations.
The lens represents the fifth large-diameter f/1.4 model Sigma has introduced for cameras with full-frame sensors. It features Super Multi-Layer Coatings to prevent flare and ghosting causing issues when shooting directly towards the light and as we've seen many times before, the lens is equipped with Sigma's Hyper Sonic Motor (HSM), which performs autofocus duties and enables full-time manual focusing – a process whereby users can adjust the focus manually at any time without having to flick the AF/MF switch to manual first.
The lens's nine-bladed aperture diaphragm offers settings from f/1.4 to f/16. With their curved edges, these nine blades are designed to create attractive out-of-focus backgrounds. Other features to note include a minimum focusing distance of 85cm and compatibility with Sigma's USB docking device, which allows users to update firmware and refine the focus settings manually using the company's Optimization Pro software.
The lens is presented in a protective lens case and comes with a large petal-shaped hood to prevent flare across the front element. Like many of the lenses Sigma has released recently, it's available in three lens mounts, catering for Canon, Nikon and Sigma users.
Sigma 85mm f/1.4 DG HSM Art review: Build and handling
The first thing that strikes you when you get the lens in your hands is that it's quite a different proposition to the now discontinued Sigma 85mm f/1.4 EX DG HSM. It's no longer what we'd class as an average size full-frame lens and is quite a brute when paired up with a full-frame DSLR. Those looking at it as a potential update from the older model will notice that it extends much further from the front of the camera and has quite a thickset barrel. It's 400g heavier too, so you definitely know when it's packed as part of your kit.
The front element is larger than the one on the lens it replaces. Instead of accepting filters and adapters via a 77mm thread, it now has a much larger 86mm filter thread.
The overall build quality is comparable to other Sigma lenses that have the letter A engraved in a silver circle on their barrel. The section of the barrel adjacent to the camera is made from metal, just like the large manual focus ring at the front of the lens, whereas the middle section of the barrel and lens hood are formed of high-quality plastic.
The focus distance window displays its information clearly and there's no slack when the manual focus ring is turned one way and then the other. This ring offers a delightful smooth feel with just the right level of resistance and it functions across its focusing range with a 140° rotation. Switches are kept to a minimum, and the switch to control AF/MF is easy to locate and offers a reassuring click when it's used.
Sigma 85mm f/1.4 DG HSM Art review: Image quality
During our recent visit to the CP+ Camera and Photo Imaging Show we were told that this lens sets a new benchmark for optical quality in the Art series. With a statement like that we were expecting some remarkable results.
A few days after running it through a series of stringent lab tests mounted to an EOS 5D Mark III, I got the opportunity to pair it up with Canon's 50MP EOS 5DS R. Inspecting my real-world images alongside our Applied Imaging chart indicates that it resolves outstanding sharpness in the centre when it's used wide open (f/1.4) and things only get better when it's closed down.
It transpires that it's as sharp in the centre at f/1.4 as it is at f/11. Edge sharpness improves as the aperture is closed down and if you want to find the perfect sweet spot between centre and edge sharpness you're best using it at f/5.6. Users can be confident of producing sharp results at f/8 and f/11, but the impact of diffraction does soften overall sharpness a little, particularly at f/16.
The aesthetic quality of the bokeh at f/1.4 is sublime. The dreamy blur can really accentuate subjects that you'd like to stand out from their surroundings and although vignetting is obvious at the lens' maximum aperture, it's not as severe as you might expect.
Edges appear approximately 1.3EV darker than the centre at f/1.4 and disperses completely by f/2.8. Optical performance isn't compromised by distortion and it manages to control chromatic aberrations along high-contrast edges exceptionally well.
At the widest aperture there was just a hint of green fringing along a few edges of our test images, however this was a one-click fix using the Remove Chromatic Abberation tick box located beneath the lens corrections tab in Lightroom CC.
Sigma 85mm f/1.4 DG HSM Art review: Resolution, dynamic range and distortion
The lens was paired with a Canon EOS 5D Mark III during our Applied Imaging tests.
Resolution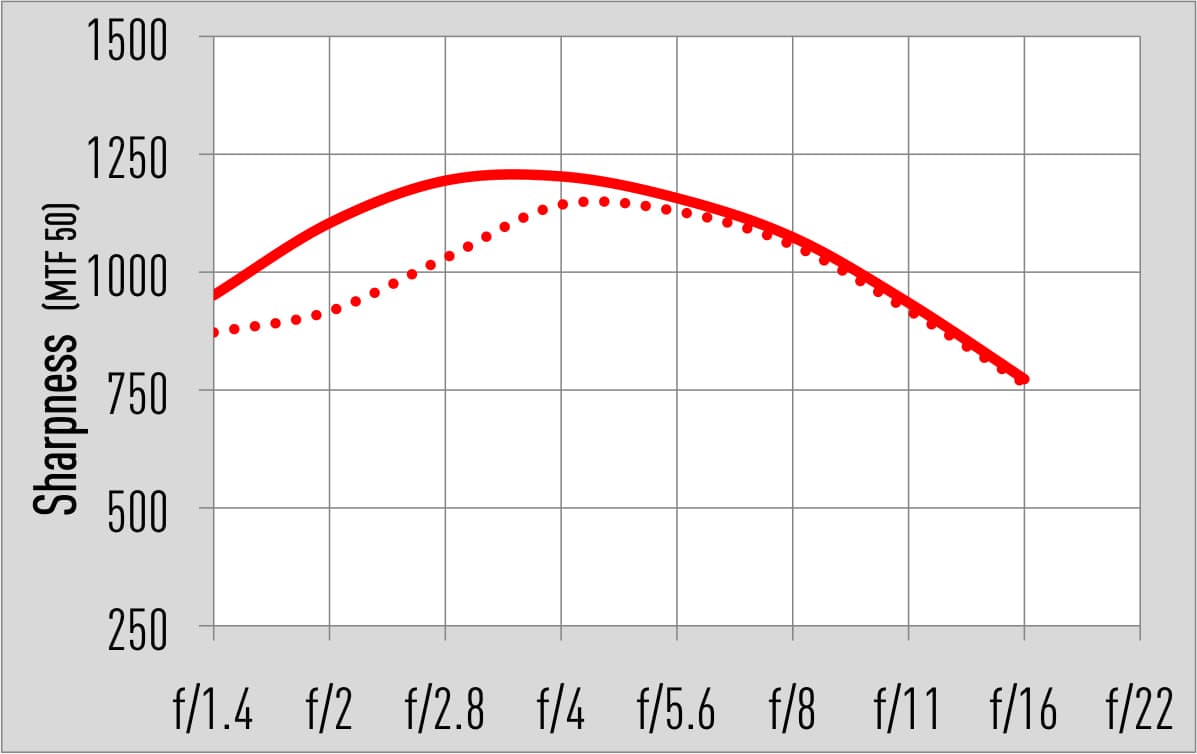 As the results show, it manages to resolve a similar level of sharpness in the centre at f/1.4 as it does when it's stopped down to f/11. The peak of sharpness in the centre is best at around f/4, with the sweet spot between centre and edge sharpness located closer to f/5.6. Close the aperture down beyond f/11 and diffraction starts to play its part in softening images slightly. Overall, an impressive MTF performance.
Shading
The lens shows signs of vignetting (shading) when it's used at its maximum aperture, with corners appearing approximately 1.3EV darker than the centre at f/1.4. You'll find corner shading disappears quickly as the aperture is closed down. Corners are 0.5EV darker than the centre at f/2. Close down to f/2.8 you'll be hard pushed to notice it in real-world images.
Curvilinear distortion
The curvilinear distortion performance is just as good as you'd expect for a short telephoto prime. You don't have to fret about barrel or pincushion causing any issues. As the result from shooting our distortion chart above shows, straight lines appear straight on both the horizontal and vertical axes.
Sigma 85mm f/1.4 DG HSM Art review: Verdict
After testing this lens extensively and putting it through its paces to shoot portraiture, a wedding and street scene images, I'm left utterly bowled over by its performance.
I previously thought the Sigma 85mm f/1.4 EX DG HSM was a fine lens, but this new optic goes to a whole new level and then some. Yes, it's bulkier and considerably heavier than its predecessor, but as Sigma's CEO Mr Kazuto Yamaki has pointed out on more than one occasion, you can't break the basic laws of physics when it comes to delivering the finest optical quality.
You could argue there are smaller, cheaper and lighter 85mm primes available and there are even some that feature optical stabilisation, but if it's the finest image quality you're ultimately after, short telephoto prime lenses simply don't get much better than the Sigma 85mm f/1.4 DG HSM Art. It thoroughly deserves our highest rating and Gold Award.