Sigma 28mm F1.4 DG HSM Art review: Introduction
Up until late last year, Sigma's lineup of large-diameter wide-angle prime lenses consisted of four excellent examples. These ranged from the ultra-wide 14mm F1.8 DG HSM to the seven-year-old and still popular 35mm F1.4 DG HSM Art. Sitting in-between these two are the magnificent 20mm F1.4 DG HSM Art and 24mm F1.4 DG HSM Art – two lenses that both picked up acclaimed Gold Award status in their respective reviews back in 2015.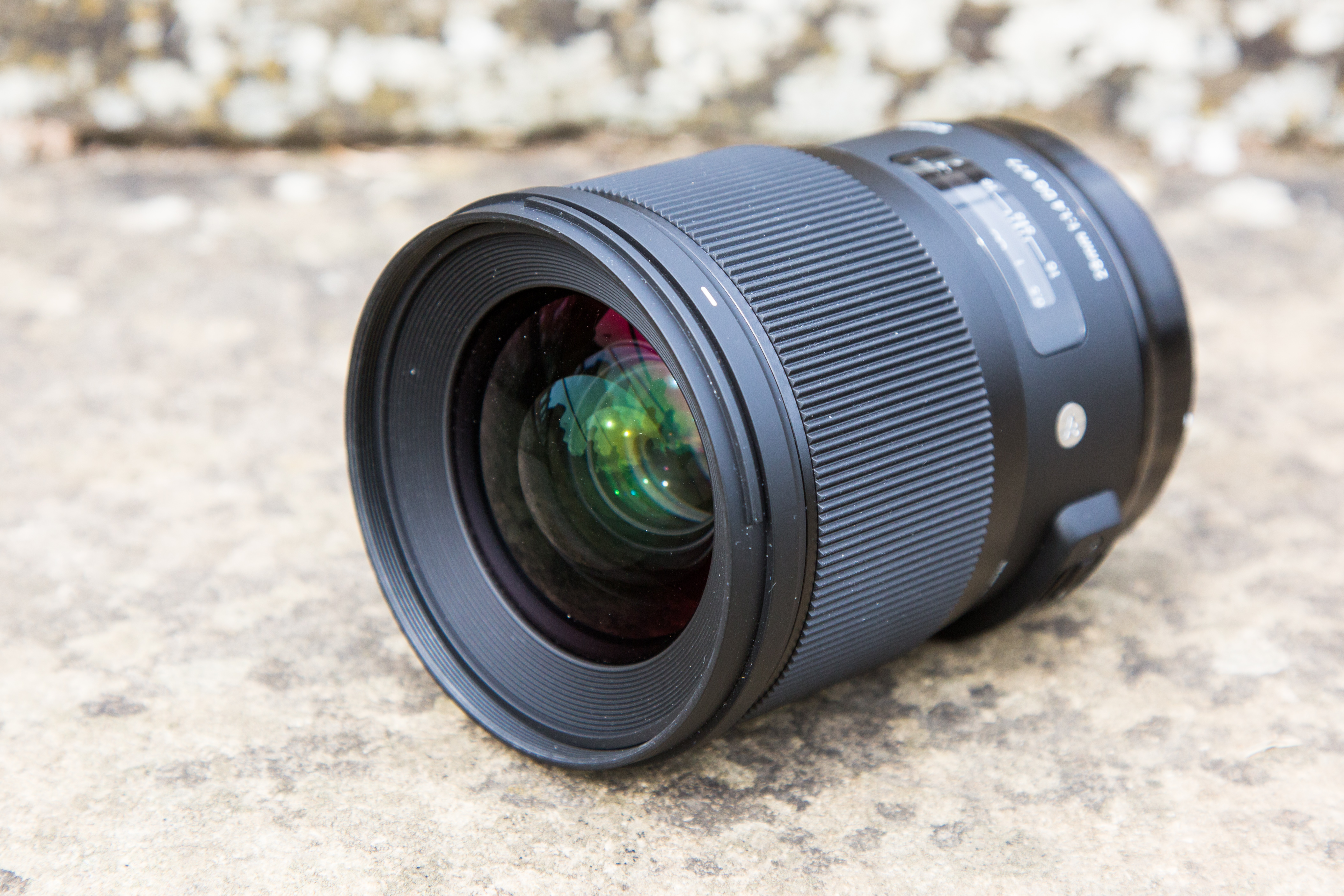 The newest addition to Sigma's range of wide-angle primes, which was announced at Photokina last September, is the 28mm F1.4 DG HSM. With a wider field of view than the 35mm F1.4 DG HSM Art and being slightly longer than the 24mm F1.4 DG HSM Art, it fills a gap in the lineup and offers the classic focal length that so many street, travel, wedding and reportage photographers love to use.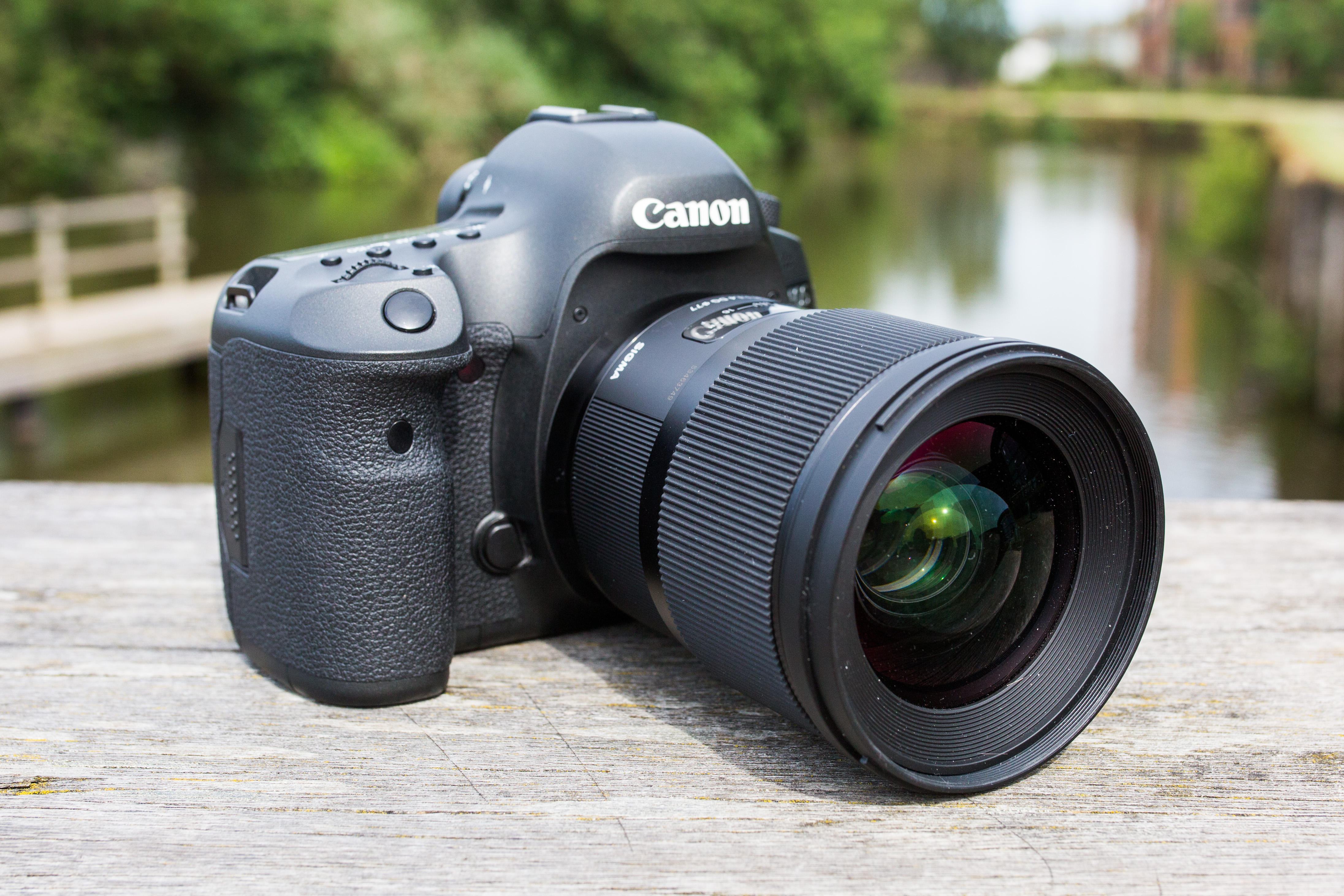 With a complex optical design and claim of best-in-class performance, it looks set to be another impressive release from Sigma. It's an optic we've wanted to lay our hands on for a while and now it's time to find out if it's one of the finest optics in Sigma's Art line.
Sigma 28mm F1.4 DG HSM Art review: Features
After reviewing the hulk that is the Sigma 40mm F1.4 DG HSM Art, it's somewhat of a relief to be testing a lighter prime lens that weighs less than a kilogram. That said, the lens we're looking at here isn't exactly small and is both larger and heavier than Sigma's 24mm f/1.4 and 35mm f/1.4 primes.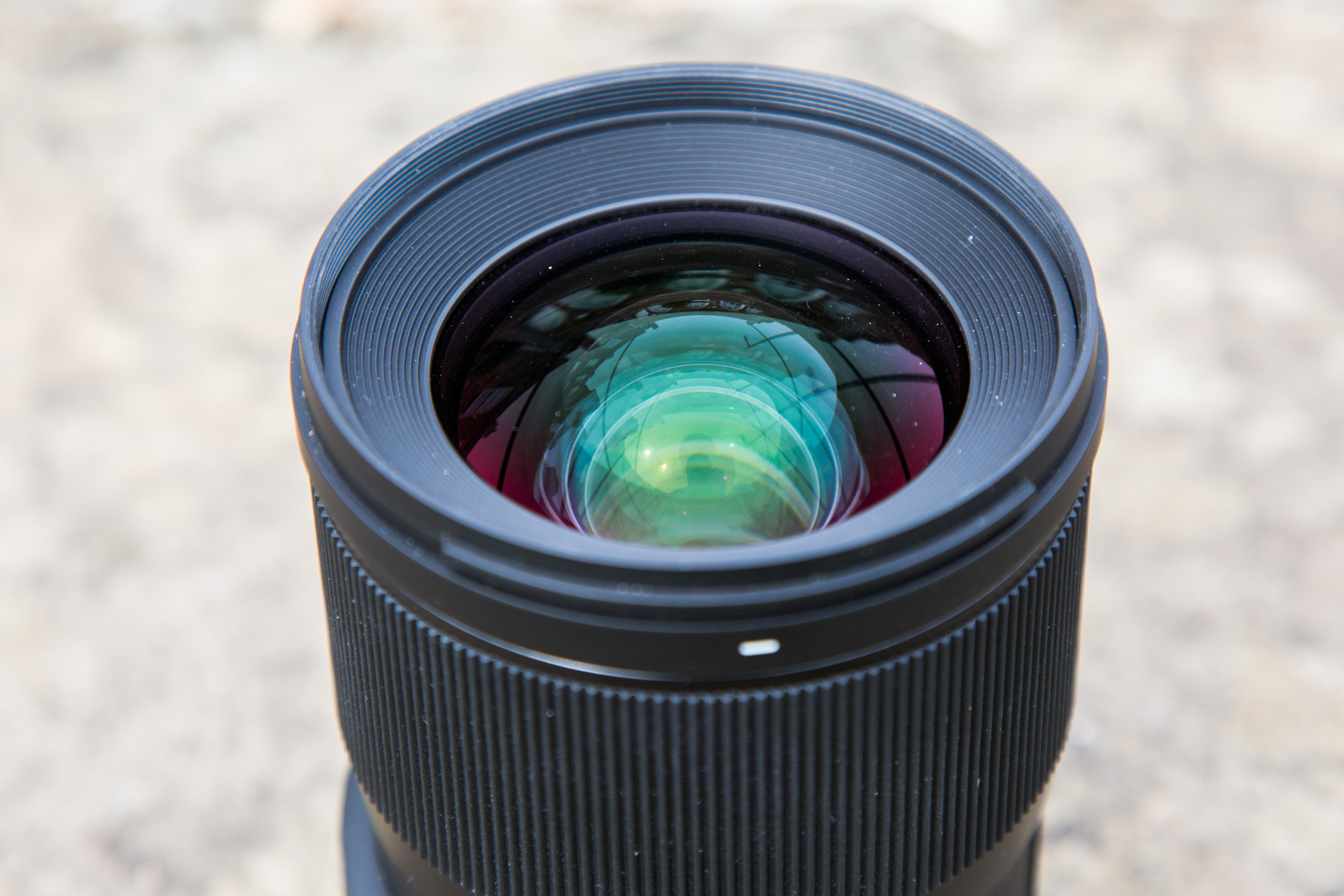 The reason for this is the sheer amount of glass that's used in its optical construction. It arranges 17 glass elements in 12 groups, which includes two FLD ('F' Low Dispersion) glass elements and three SLD (Special Low Dispersion) glass elements. The three aspherical lenses, which include a large-diameter aspherical lens just behind the front element, are designed to prevent chromatic aberration and sagitatal coma flare whilst keeping curvilinear distortion under control.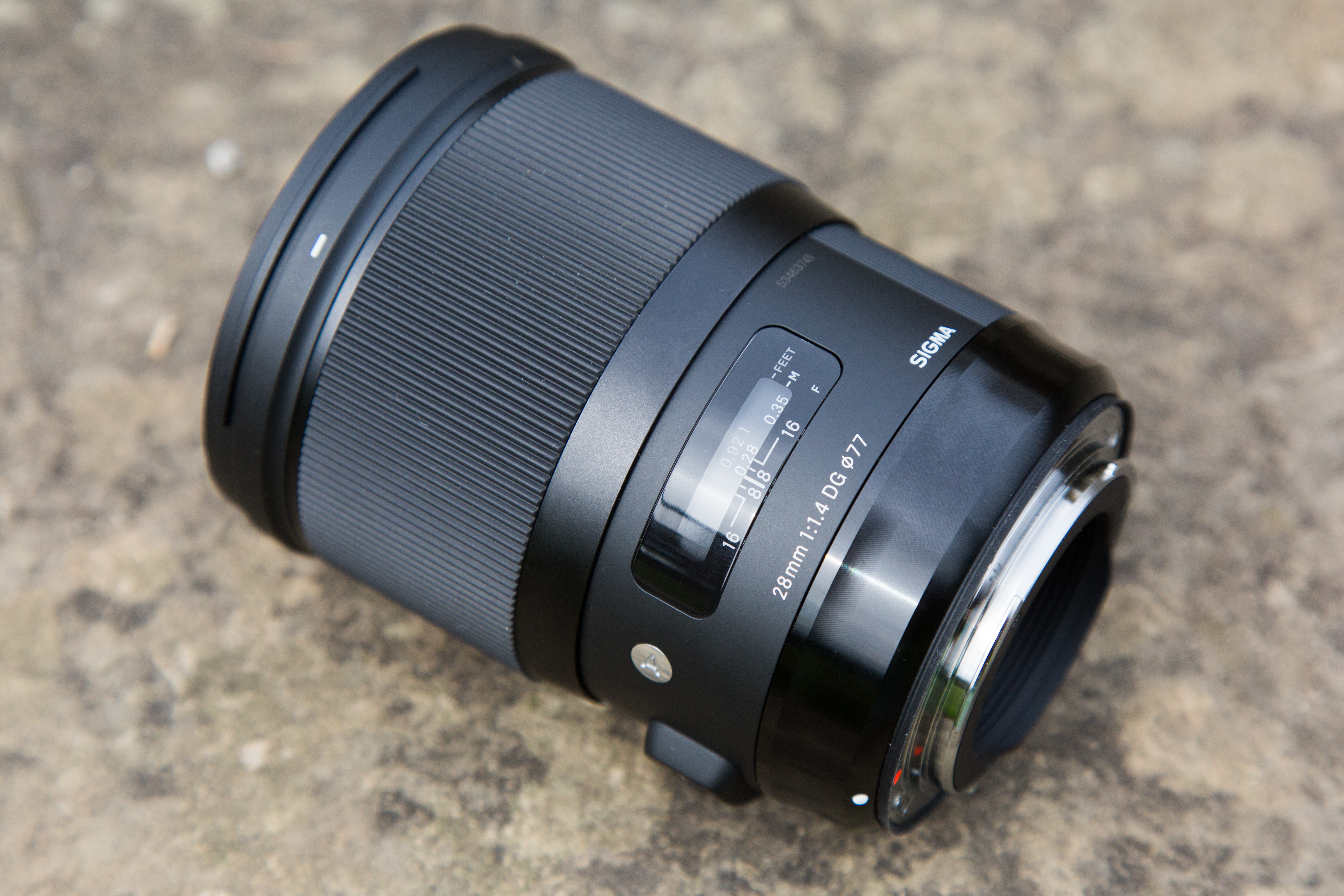 With a more complex optical construction than the 15 elements in 11 groups you find inside the 24mm F1.4 DG HSM Art and the 13 elements in 11 groups you get inside the 35mm F1.4 DG HSM Art, it'll come as no great surprise that it is indeed heavier. With the 24mm F1.4 DG HSM Art and 35mm F1.4 DG HSM Art both weighing 665g, the 28mm F1.4 DG HSM at 865g works out 200g heavier.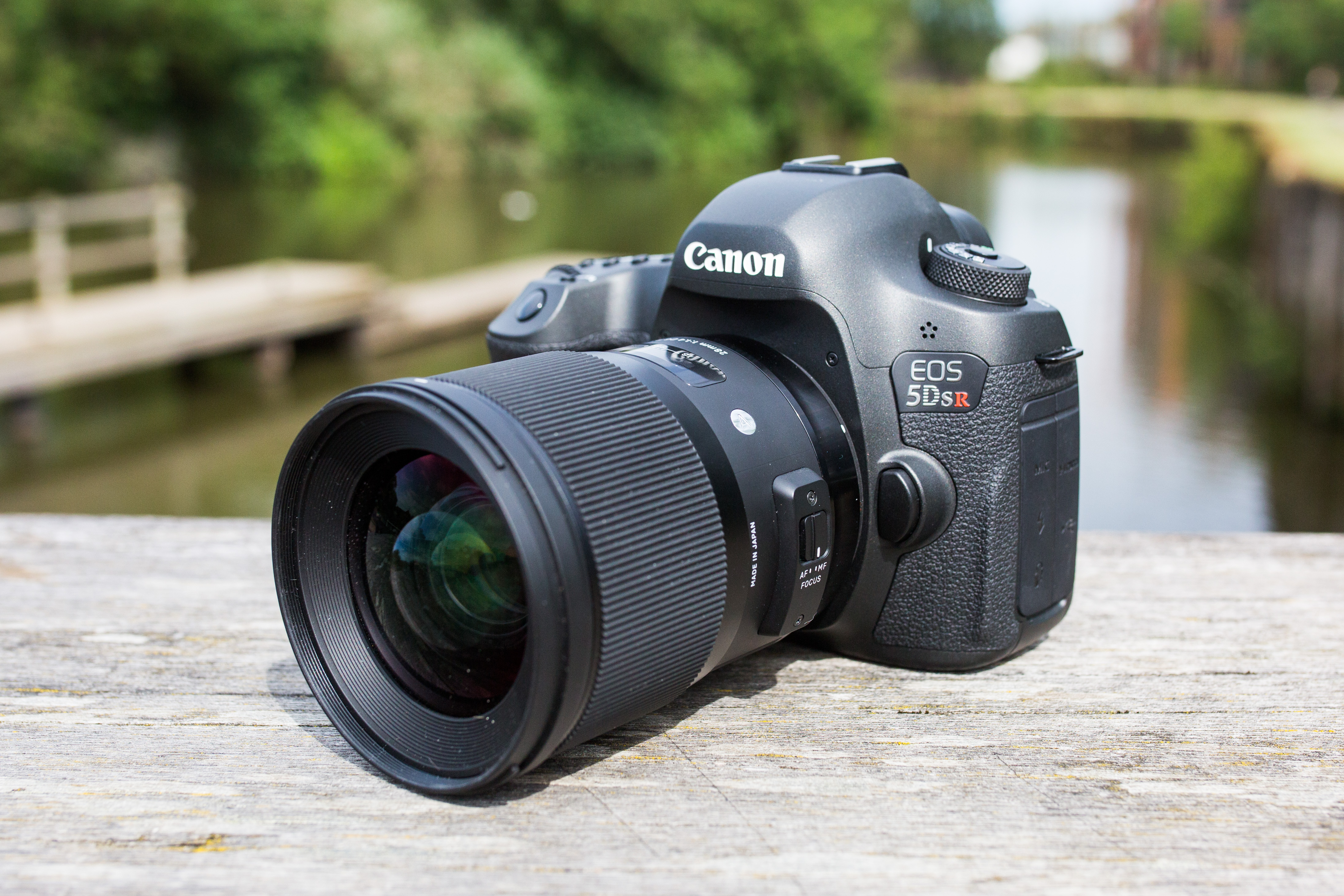 Like Sigma's other fast wide-angle primes, the lens features the manufacturers Super Multi-Layer Coatings to prevent flare and ghosting causing issues when shooting directly towards the light. These are also designed to maximise high contrast images in backlit conditions. A water-and-oil-repellent coating is applied to the front and rear elements too, allowing water to be wiped away easily and prevent any oil or grease sticking to the surface.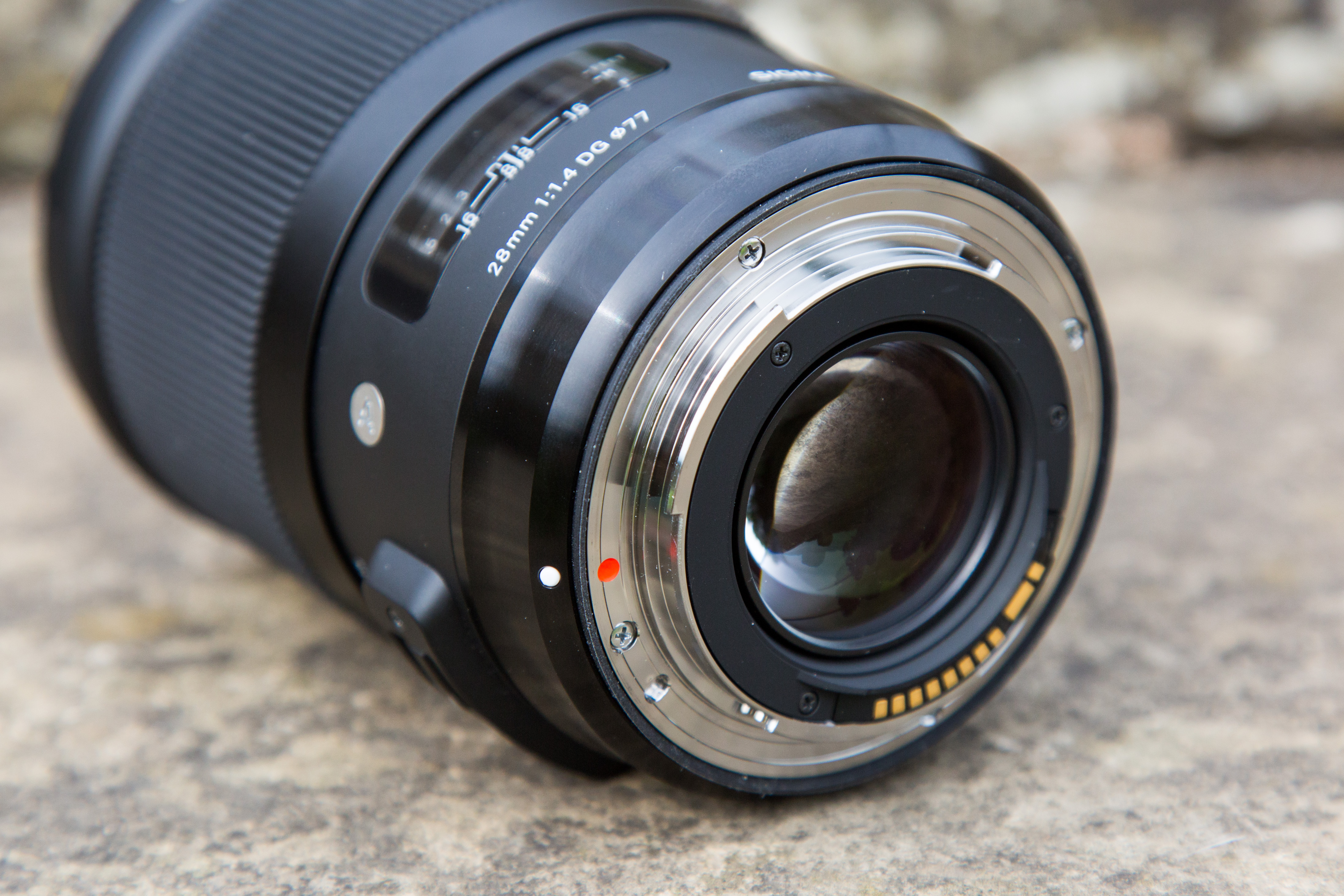 Photographers who find themselves shooting in wet weather or demanding environments will be pleased to read that it features a dust and splash proof structure, with special seals at the mount connection, manual focus ring, zoom ring and cover connection. As we're used to seeing, the lens incorporates Sigma's Hyper Sonic Motor (HSM), which performs autofocus duties and supports manual override (MO), allowing you to switch to full-time manual focus at any time without having to flick the AF/MF switch to manual first.
The nine-bladed rounded diaphragm can be set across an aperture range of f/1.4-f/16. Used at its maximum aperture, these nine aperture blades are intended to create attractive blur in the out-of-focus areas of an image, with pleasing spherical bokeh in the highlights. The minimum focus distance is 28cm/11in and what with being physically larger than the 35mm F1.4 DG HSM Art, screw-in filters and adapters are mounted via a 77mm thread size as opposed to a 67mm thread.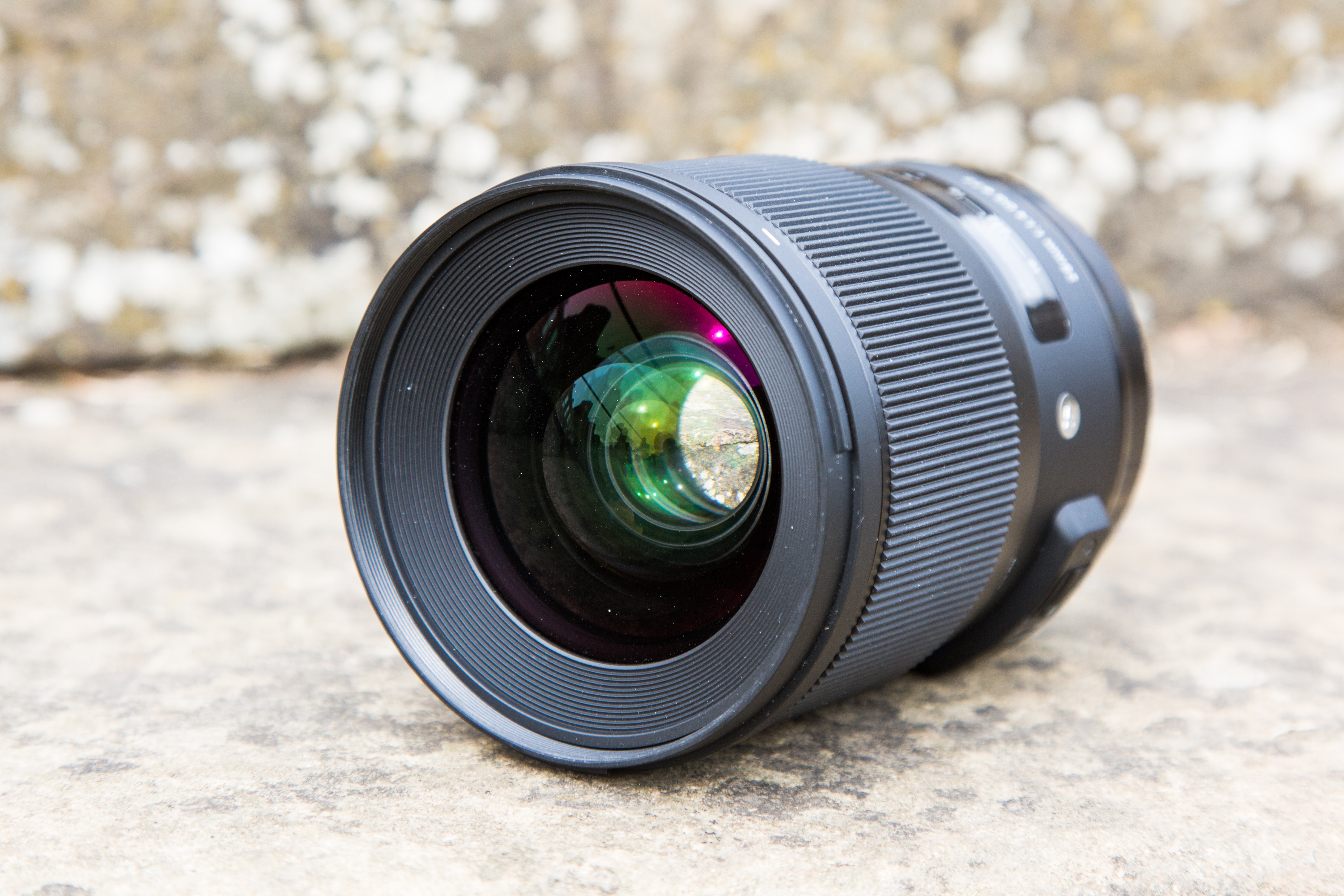 As well as being made in Canon, Nikon and Sigma mounts, it's one of Sigma's Art lenses to be offered in E-mount for Sony users and L-mount for Leica and Panasonic cameras. By making the lens available in E-mount and L-mount it rules out the need of a Sigma MC-11 or MC-21 converter, plus it opens up the possibility of being able to use the lens in combination with Sony, Leica and Panasonic's continuous AF modes. The E-mount and L-mount examples also work with in-camera image stabilisation and in-camera lens correction.
Sigma 28mm F1.4 DG HSM Art review: Build & Handling
The 28mm F1.4 DG HSM is the third heaviest wide-angle prime in Sigma's current collection of lenses behind the 14mm F1.8 DG HSM (1170g) and 20mm F1.4 DG HSM Art (950g). Although the size difference between it and the Sigma 35mm f/1.4 doesn't look huge when the two are viewed side-by-side, the difference in weight is discernible.
Most of my time was spent testing the lens with a Canon full-frame DSLR, but out of curiosity I did try handling it with a smaller Canon APS-C DSLR with which it was equivalent to 44.8mm. This combination confirmed what I thought would be the case in that it can make smaller cameras feel a touch nose heavy.
There are no surprises in terms of build quality. You only need glance at it to tell that it shares a common likeness to Sigma's other primes in the Art range. The section of the barrel adjacent to the camera body is made of metal, with the rest formed of high-quality plastics.
Around the circumference of the metal mount you'll find a rubber seal that compresses against the mount of the camera to prevent dirt and moisture working its way between. Just beyond the focus distance window that displays its information in feet and meters is a large, rubberised manual focus ring that operates fluidly with sufficient resistance to make precise manual focus adjustments. Just over a quarter turn is all that's needed to get from infinity to minimum focus.
The AF/MF switch is raised from the barrel and is easy to locate with your thumb when the viewfinder is lifted to your eye. In its forward position it's set to autofocus and a white background behind the switch acts as a useful reference when you want to glance to see what it's set to in low-light. The switch offers a reassuring click so you clearly know when you've engaged manual focus or autofocus.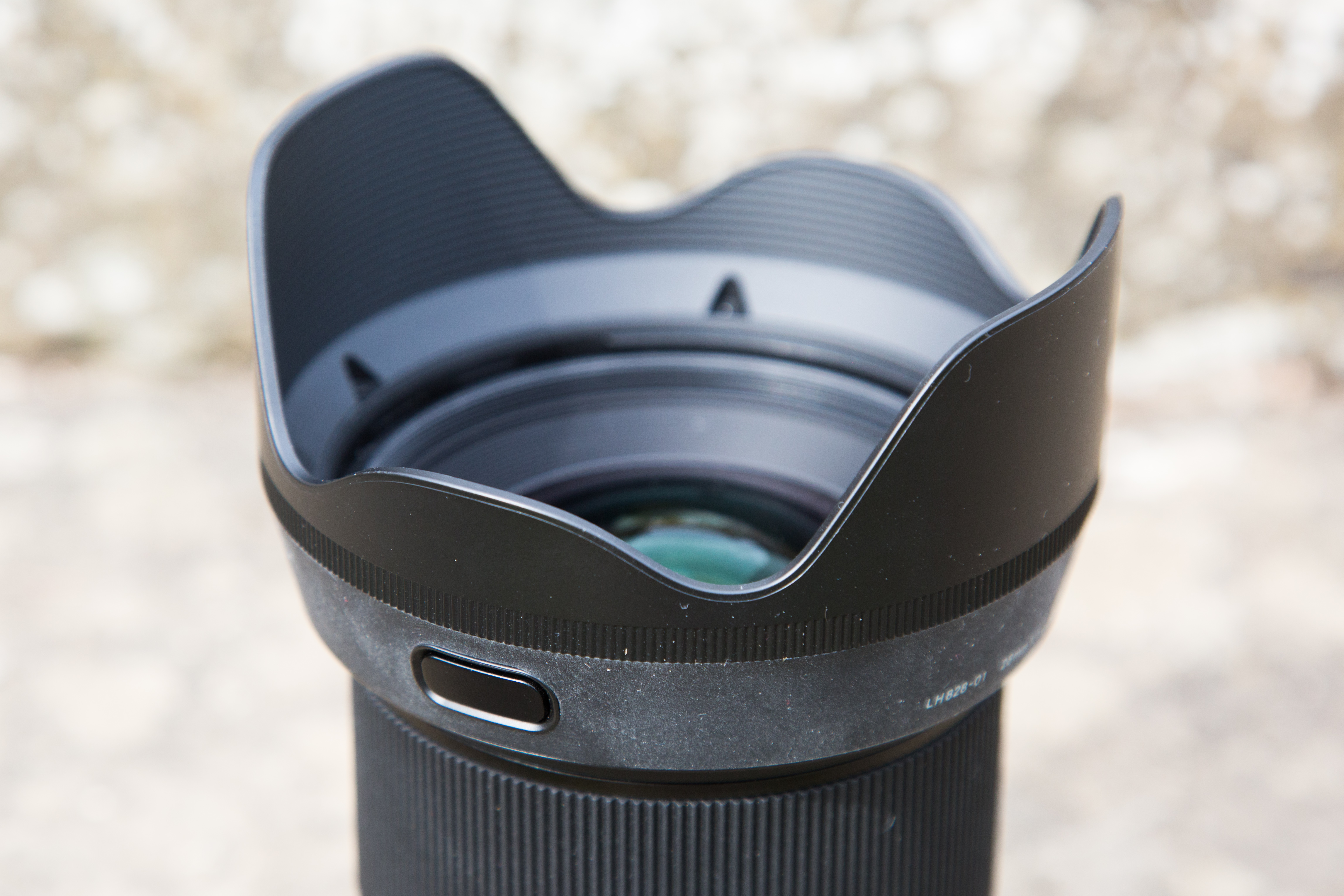 Sigma has started to introduce the locking type of hood with their latest lenses. The LH828-01 hood that's supplied has just that. It's the bayonet type and secures with a 90-degree twist, but can't be removed until a small release button is depressed. The hood also has a strip of rubberized texture to make it easier to grip when your hands are wet. This is a good idea in principle, however it is prone to getting marked and does attract dirt and dust.
Sigma 28mm F1.4 DG HSM Art review: Image Quality
Like all of Sigma's Art-series f/1.4 prime lenses, the 28mm F1.4 DG HSM Art has been optimised for use with today's high-resolution DSLR and mirrorless cameras. I had originally hoped that I might be able to test an L-mount version of the lens on the Panasonic Lumix S1R, however this isn't due to arrive until later in the year, possibly December. Instead I opted to test a Canon-fit sample with the 50-million-pixel Canon EOS 5DS R and 22.3-million-pixel Canon EOS 5D Mark III.
A wide-angle lens might not be the first on your radar for shallow-depth-of-field work, but shoot close to subjects wide open at f/1.4 and the lens is capable of creating a pleasing separation with lovely blurred backgrounds. You don't need to shoot quite as close as you do with a 24mm f/1.4 prime for background blur to be obvious, but you do need to be watchful of your focusing technique when shooting wide open. It's no bad thing to fire off a few frames of the same scene to ensure you bag one that's pin-sharp as any small shift in movement is enough to throw the focus slightly off.
Nail the focus wide-open at f/1.4 and you'll get some very satisfying images that stand apart from wide-angle shots taken at the same focal length on a standard f/4 zoom lens. I wouldn't go as far as saying that it's outstandingly sharp in the centre at f/1.4, and it is perceptibly softer in the corners than the centre, but stop down and you do start to notice how it sharpens up across the frame. While the centre of the frame is sharpest at f/4, users will want to dial in an aperture of f/5.6 to locate the sweet spot from edge to edge. Stop down to f/11 and f/16 and the image slightly, but visibly, softens due to diffraction. It makes sense that f/16 is limited as the minimum aperture.
Great strengths of this lens are the way it controls chromatic aberration and distortion. I noticed a hint of green and purple fringing along high contrast edges at wide apertures when inspecting images at close magnification, however this was quickly resolved by increasing the purple and green amount Defringe sliders to a value of 5 in Adobe Camera Raw.
Barrel distortion is low with a slight bend of straight lines towards the edges of the frame, but again it's not immediately obvious in real-world images. As for vignetting, there's an obvious fall off in brightness towards the edge at f/1.4, which is clearly illustrated in the sample image above. Stopping down to f/2 sees a big improvement and by f/2.8 corner shading is virtually eliminated.
Sigma 28mm F1.4 DG HSM Art review: Resolution, shading and curvilinear distortion
Resolution
Our Image Engineering MTF tests were carried out with the lens coupled to Canon's 50-million-pixel DSLR, the EOS 5DS R. The solid red line shows that there's an improvement when you stop down from the maximum aperture, with centre sharpness peaking around f/4. Corner sharpness peaks slightly later in the aperture range and to find the sweet spot of edge-to-edge sharpness users will want to use the lens at f/5.6. Push beyond f/8 to f/11 or f/16 and you'll begin to notice softening from diffraction.
Shading
Shoot wide open at f/1.4 and you'll be able to make out gradual vignetting at the edge, which measures approximately 1.7EV darker than the centre of the frame. Stop down to f/2 and you'll find it reduces considerably, and by f/2.8 it's essentially gone altogether. If the vignetting at large apertures disturbs you, it can be fixed in post-processing using programs such as Adobe Lightroom or DxO Optics Pro.
Curvilinear distortion
The results from our distortion tests reveal that the lens does exhibit barrel distortion, however it's well controlled and crucially doesn't drop below a figure of -1.0 TV SMIA [%]. The recorded figure (-0.9 TV SMIA [%]) isn't quite as impressive as the the Sigma 24mm F1.4 DG HSM Art (-0.7 TV SMIA [%]), however you'll find that the barrel distortion is barely visible in real-world images.
Sigma 28mm F1.4 DG HSM Art review: Verdict
Full frame photographers are well served by fast wide-angle prime lenses that cover the 24mm and 35mm focal lengths. The less common 28mm focal length isn't for everyone, but for those who find a 35mm a little too long and 24mm a fraction too wide; it fits the bill nicely.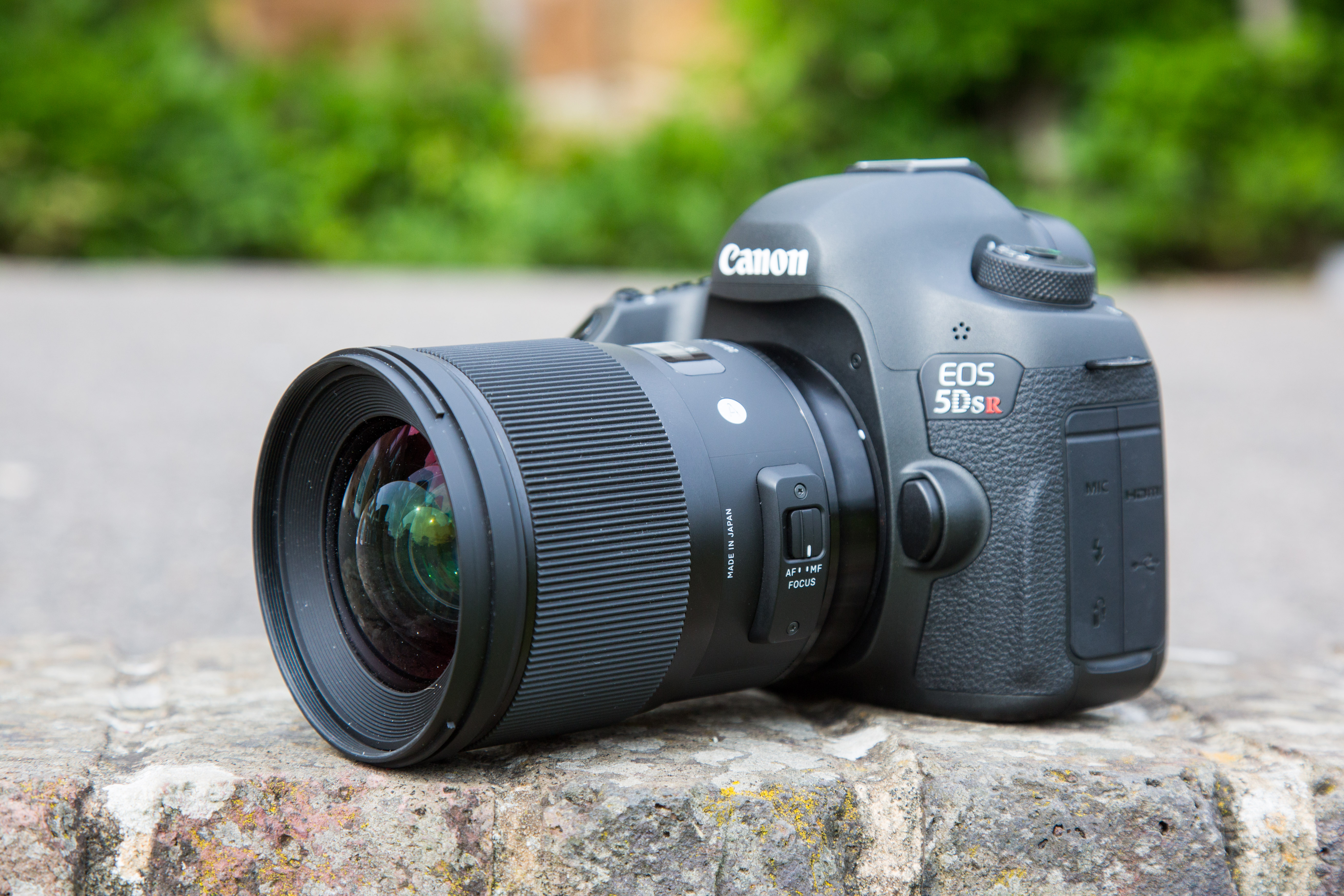 If you're after a fast 28mm prime the number of options available to you are quite limited. Canon offers the small and lightweight EF 28mm f/1.8 USM (£464) and EF 28mm f/2.8 IS USM (£474), but lacks a 28mm f/1.4 in its L-series. Nikon has the Nikkor AF-S 28mm f/1.4E ED, but at £1,749 it's expensive. There's the sensationally sharp Zeiss Otus 28mm f/1.4 (£3749) and compact Summilux-M 1:1,4/28mm ASPH (£5300) from Leica, but again you need deep pockets and both are manual-focus only. Based on this selection you can see why Sigma were keen to make their own and deliver it in all the major mounts, including E-mount and L-mount.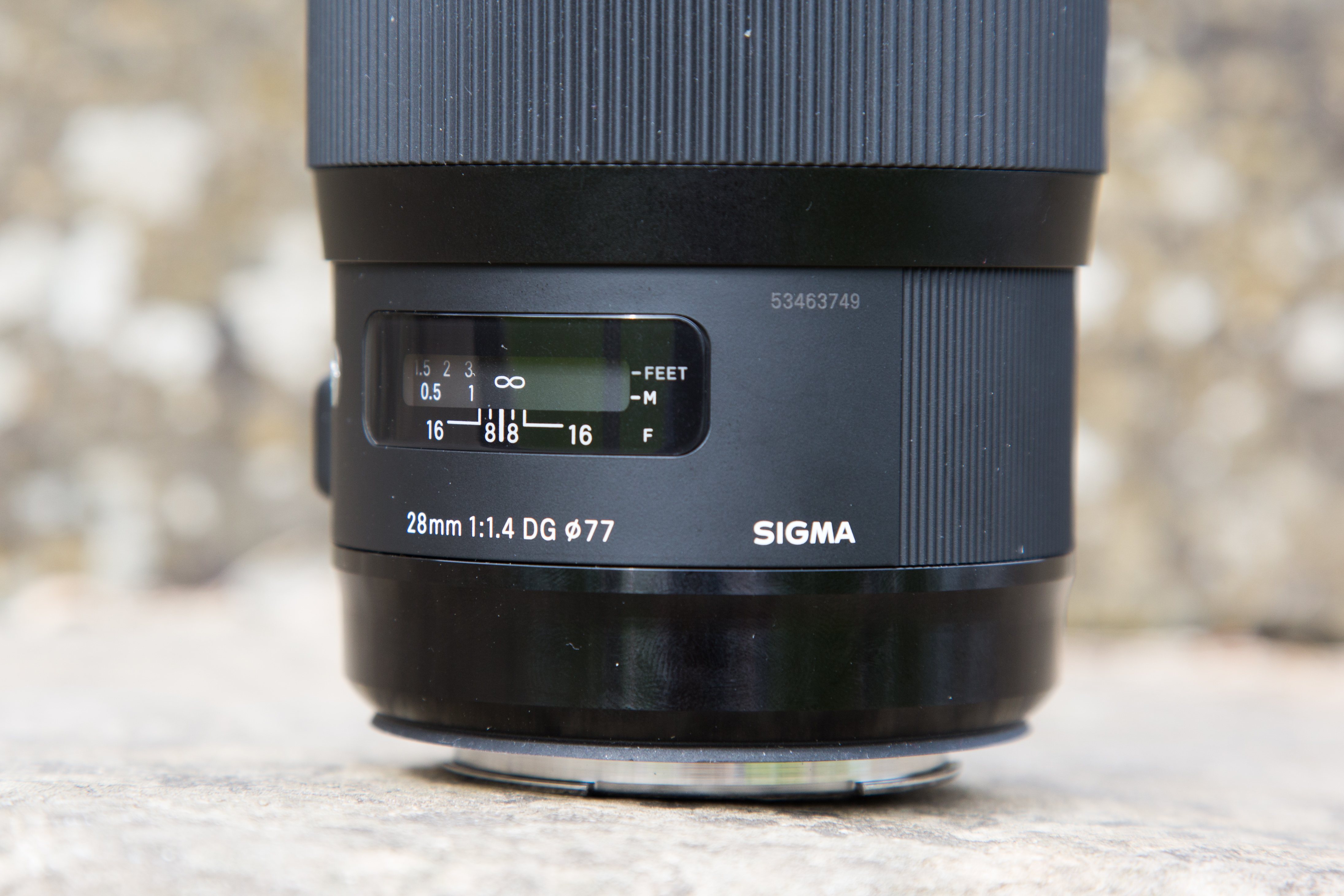 Optically, the lens is very good. I expected it to be a touch sharper at f/1.4, but as I discovered, it is quick to sharpen up when you stop down. I can't see it being in demand as much as Sigma's 24mm f/1.4 and 35mm f/1.4 primes, which are both 200g lighter and £470 and £450 cheaper respectively, however it's a great optic to see added to the Art-series and fulfils a missing lens in Sigma's established wide-angle collection.