Sigma 24-35mm f/2 DG HSM | A Review – Introduction
Three years ago, Sigma released three new product lines (Contemporary, Art and Sport) with the intention of streamlining its lens range while simultaneously bringing its products up to date. The first three lenses to be announced, one of which is the highly regarded 35mm f/1.4 DG HSM | A, featured a clean and modern design – a characteristic that's played a big role in redefining Sigma's lenses and makes them particularly attractive for today's enthusiast and professional photographers.
Sigma has continued to add some highly impressive new lenses to its three product lines in the past couple of years. Two examples include the 18-35mm f/1.8 DC HSM | A and the 50mm f/1.4 DG HSM | A – the former scooping the zoom lens of the year at the AP awards in 2014 and the latter picking up the fixed focal length lens award earlier this year. We've recently been presented with another Sigma lens that looks as if it will follow in the footsteps of its predecessors: the 24-35mm f/2 DG HSM | A. Designed to appeal to photographers who are after an all-in-one wideangle zoom with a fast aperture, I'm eager to find out how it compares, both in terms of its optical performance and versatility, to Sigma's 24mm f/1.4 DG HSM | A and 35mm f/1.4 DG HSM | A lenses.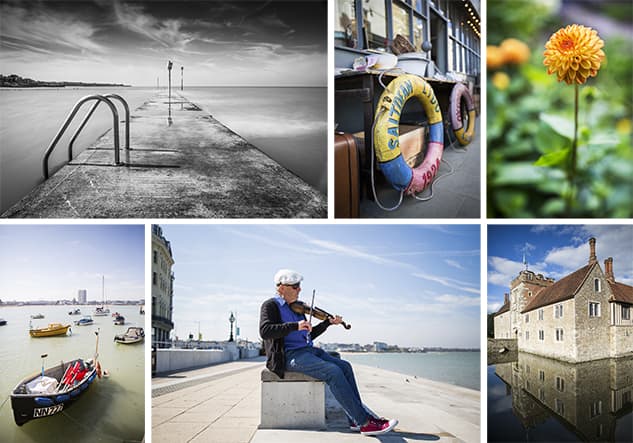 View our Sigma 24-35mm f/2 DG HSM | A sample image gallery
Sigma 24-35mm f/2 DG HSM | A Review – Features
With a complex construction that's made up of 18 elements in 13 groups, the 24-35mm f/2 DG HSM | A is neither a small nor a lightweight lens. It shares a likeness to Sigma's 24mm f/1.4 DG HSM | A and 35mm f/1.4 DG HSM | A in that it features nine aperture blades, but the similarities end there. The arrangement of large-diameter aspherical lens elements, one FLD low-dispersion element and as many as seven SLD (special low dispersion) glass elements are designed to guard against aberrations, with Sigma's super multi-layer coating counteracting ghosting and flare.
In terms of size, it's a fairly bulky lens and quite a brute to carry around. It tips the scales at a hefty 940g, which adds an extra 275g to your camera and lens combination than if you were to pair it with the 24mm f/1.4 DG HSM | A or 35mm f/1.4 DG HSM | A.
The headline feature is undoubtedly the fast f/2 aperture that's available throughout its focal range, but there's plenty more to comment on besides this. With a minimum focusing distance of 28cm and a maximum magnification ratio of 1:4.4, it'll satisfy the needs of those who like to get up close and personal with their subjects, while the HSM abbreviation in its name specifies the use of Sigma's Hyper Sonic Motor. This drives the autofocus system and offers full-time manual focusing; allowing users to adjust the focus manually at any time without the need to flick the AF/MF switch to manual first.
Being a third-party optic, Sigma produces the 24-35mm f/2 DG HSM | A in three mounts to cater for Canon, Nikon and Sigma users. Though it's predominantly intended for use with full-frame DSLRs, there's nothing to say it can't be paired with APS-C DSLRs. On an APS-C DSLR with a 1.5x crop factor it covers the 36-52.5mm range, while on Canon APS-C DSLRs it's equivalent to 38.4-56mm.
Sigma 24-35mm f/2 DG HSM | A Review – Build and handling
Sigma has really upped its game in terms of build quality in recent years and the 24-35mm f/2 DG HSM | A continues this progress. The quality of the lens's finish is in the same league as the excellent 50mm f/1.4 DG HSM | A and all other lenses recently added to Sigma's Art product range. Though it does feature seals to keep dirt and moisture at bay, it's not a fully weather-sealed optic, so you'll want to avoid getting caught out in a prolonged downpour.
As I briefly touched upon earlier, the fact it's heavy and just shy of 1kg could potentially lead some photographers to choose a lighter prime instead, but having said that, if it delivers superb image quality and offers superior versatility, a couple of hundred grams in extra weight is a compromise that many photographers will be prepared to make.
With its complex internal construction and large front element, the barrel is quite thick set, but it doesn't feel any chunkier in the hand than many full-frame standard zooms. Filters and adapters are attached via an 82mm filter thread and, as you run your hand back from the front of the lens, you quickly come across the large manual-focus ring that operates across its focus distance range in just under half a turn. The focus distance window, which is located between the focus and zoom rings, displays distance information clearly, with the thicker grooved rubberised zoom ring offering a slightly different feel to that of the focus ring, which helps differentiate between the two when you're working from behind the camera.
The lens operates across its range with a short twist of the zoom ring and feels fluid as it's rotated, but with sufficient resistance to make extremely precise focal length adjustments. In use, I found the AF/MF well positioned for operation with my thumb. It's nicely raised from the barrel, making it easy to find even if you happen to be wearing gloves, and the white background that's revealed behind the switch when it's set to AF acts as a useful reference, especially in low light.
Sigma 24-35mm f/2 DG HSM | A Review – Image quality
An inspection of real-world images taken at 24mm with the aperture set to f/2 reveals excellent sharpness in the centre. The edges of images at these settings are perceptibly softer than the centre, but things quickly sharpen up as soon as you approach f/2.8 and push towards f/4. The sweet spot of centre and edge sharpness at 24mm is found at f/8. Our lab results confirmed our real-world findings that there's the faintest drop in sharpness in the centre at 30mm, however the edge sharpness remains impressive at this focal length when it's opened to f/2. Pushing the zoom to 35mm sees the centre sharpness rival that recorded at 24mm beyond f/4, with optimum sharpness once again being found in the region of f/8.
Vignetting is most obvious at 24mm. There is a gradual improvement as the aperture is closed from f/2 to f/4, with virtually all traces of corner shading disappearing by the time you reach f/5.6. It's a similar story at 35mm, though the fall-off of illumination at f/2 isn't quite as dark as it is at 24mm. Some red and green chromatic aberrations were noted at the edge of some shots, but it's by no means severe and should be a relatively easy fix by applying the relevant lens profile in Camera Raw and Lightroom when it becomes available. Our distortion chart also flagged up evidence of some barrel distortion towards the corners at 24mm and some pincushion distortion at 35mm.
To answer my earlier question of how it compares to the Sigma's 24mm f/1.4 DG HSM | A and 35mm f/1.4 DG HSM | A: the 24-35mm f/2 DG HSM | A resolves impressive sharpness, but a side-by-side comparison of our Applied Imaging charts revealed a slightly superior sharpness from both primes in the centre with less obvious distortion at the corners. As for corner shading, this lens displays more vignetting when it's used wide open than when both primes are set to the same aperture setting of f/2.
Sigma 24-35mm f/2 DG HSM | A Review – Test Results
Resolution
Our new graphs from our Applied Imaging tests show the lens produces impressive sharpness at the wide end of the zoom when it's set to f/2. You can expect a drop-off in sharpness at the edges, but closing it down to f/2.8 and f/4 sees sharpness in the corners improve. There's a slight drop of in sharpness at 30mm and to achieve optimum sharpness from the centre to the edge, you'll want to shoot between f/5.6-f/8.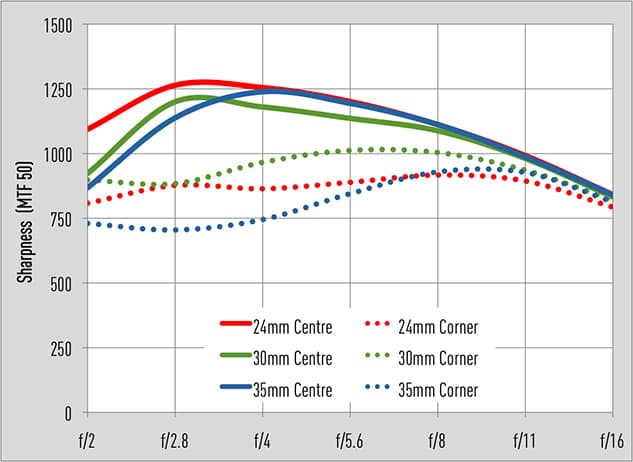 Shading
Shooting wide open at the maximum aperture (f/2) creates strong vignetting in the corners. Stopping the lens down to f/4 sees the affect of vignetting reduce significantly and things only get better when you set the lens to f/5.6 and beyond. While the vignetting won't be to everyone's taste, it can be used effectively to draw viewer's eyes to a central subject in the frame.
Curvilinear distortion
Our test charts reveal moderate levels of barrel distortion at 24mm, with straight lines towards the edge of the frame bowing outwards. This isn't unusual for a wideangle lens and isn't anything we expect the forthcoming lens profile won't be able to correct for. There were also signs of pincushion distortion at 35mm.
Sigma 24-35mm f/2 DG HSM | A Review – Verdict
The 24-35mm f/2 DG HSM | A covers three popular focal lengths (24mm, 28mm and 35mm) and maintains a fast aperture throughout its range. It's not quite as fast as most wideangle primes, but what it lacks in speed it more than makes up for in terms of convenience. Having to swap a 35mm prime for a 24mm prime or vice versa can be time consuming on a shoot, and having the 24-35mm f/2 DG HSM | A attached to the front of your DSLR is one way of ensuring you never get caught out by missing a shot.
If you're sitting on the fence debating whether to buy a wideangle prime or this wideangle zoom, you'll want to ask yourself whether speed or flexibility is more important. If you regularly find yourself working in low-light environments where you need to shoot at f/1.4 and are prepared to move your feet a bit more to get into position, then you'll probably veer towards the Sigma 24mm f/1.4 DG HSM | A or the 35mm f/1.4 DG HSM | A. If it's the extra flexibility you want and you're prepared to carry a slightly heavier lens, the 24-35mm f/2 DG HSM | A makes a great choice and it arrival is a welcome addition to Sigma's ever-expanding range.