Samsung NX1 Review – Introduction
At a Glance
28.2-million-pixel BSI APS-C sensor
4K video recording
15fps burst mode with continuous AF
Hybrid AF with 205 points
Magnesium alloy frame
3in, 1.04-million-dot LCD touchscreen
Price £1,299 (body only)
Andy Westlake, AP's technical editor, described the Samsung NX1 as one of the stars of the show at Photokina 2014, and after handling it myself I agree that on first impressions it appears to be a very exciting camera indeed.
The past 12 months have seen the introduction of some fantastic camera models in both the DSLR and compact system camera categories, including the Panasonic Lumix DMC-GH4, Sony's Alpha 5100 and 6000, Fujifilm's X-T1 and Olympus's OM-D E-M10. Given this competition, Samsung must do something special to save itself from slipping further behind after failing to make a significant impact on the enthusiast camera market with the NX20 in 2012, and then the Android-powered NX smart camera hybrid the following year.
In the NX1, Samsung has shied away from trying to bridge the smartphone/camera divide and has instead focused on trying to deliver the very best in image-capturing technology – so this is a camera with some truly attention-grabbing specs.
Samsung NX 1 Review – Features


Samsung has developed the world's first-ever APS-C-sized, backside illuminated (BSI) CMOS sensor, meaning it should be able to capture more light and deliver better low-light performance than traditional CMOS sensors found in other APS-C cameras. Previously, the largest sensors to feature BSI sensor technology were the 1in-type units found in cameras such as Canon's PowerShot G7 X and the Sony Cyber-shot DSC-RX100 series, so it's a noteworthy achievement for Samsung to have created the 28.2-million-pixel, BSI, CMOS APS-C sensor that sits at the heart of the NX1. As well as being the most innovative, it's the highest-resolution APS-C camera currently on the market, and Samsung has decided not to include an anti-aliasing filter.
To further boost the NX1's low-light capabilities, the camera also has a native ISO sensitivity range of 100-25,600, extendable to 51,200. Samsung's new Drime V multi-core processor gets its first run out in the NX1, and according to the manufacturer, it's almost 3x faster than the Drime IV. The extra processing power means the NX1 is capable of shooting full 28.2-million-pixel-resolution images at up to 15 frames per second with continuous autofocus, which is significantly faster than even the flagship press/sports DSLRs from Canon and Nikon. If that's not impressive enough, how about the fact that the NX1 uses a hybrid autofocus system with 205 phase-detection AF points, 209 contrast points and up to 153 cross-type detection sites covering almost 100% of the frame?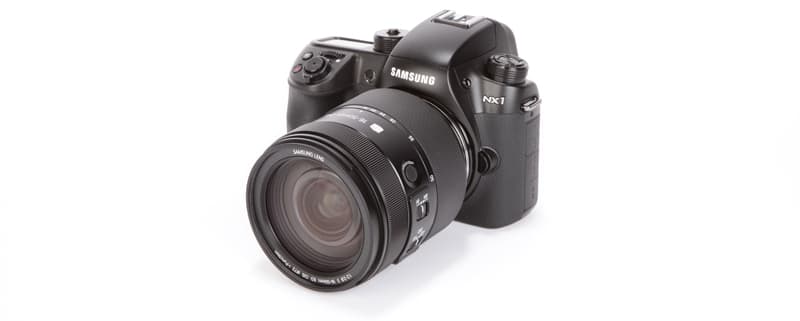 The Drime V processor is UHS-II and UHS-I SD-card-compatible and its processing speed opens up the possibility for DCI True 4K (4096 x 2160-pixel) 24p video recording internally, as well as 4K UHD and full HD video. Advanced filmmakers will also be pleased to learn that the NX1 uses easy-to-work-with H.264 compression and is capable of outputting a 4:2:2 8-bit 4K signal via HDMI cable to an external device.
Although we're still a little while away from 4K recording becoming the standard for video and display, Samsung has made it possible to play back 4K footage through HDMI 1.4 or 2.0, or wirelessly transfer UHD-quality video to its own UHD monitor. However, I do expect 4K displays to become a lot more common over the next year.
Another intriguing wireless capability of the NX1 is live streaming of full HD footage from the camera. There will be limited uses for such a feature among the general consumer population, but it is a feature that may be attractive in events and other professional settings. Beyond UHD playback, 4K video recording can have some benefits for stills photography as well, as we demonstrated in AP 20 September when a still image taken from a 4K recording was on the front cover of the magazine.