Photokina 2014 brought us an array of exciting new cameras, from large-sensor zoom compacts to top-end SLRs. But one of the real stars of the show came from a less likely stable – the Samsung NX1.
The NX1 is a high-end compact system camera that's designed to appeal to advanced enthusiasts. This places it in the same bracket as current standout cameras including the Fujifilm X-T1 and Olympus OM-D E-M1. But on paper, the NX1 offers the most impressive feature set of the lot.
Let's just look at the headline spec. The NX1 has a 28-million-pixel APS-C CMOS sensor, with a hybrid autofocus system that includes phase detection elements arrayed across almost the entire frame. It can shoot at 15 frames per second with continuous autofocus, and with a 70-frame JPEG buffer. It also joins a select group of cameras that offer video recording at 4K resolution.
For viewing, the NX1 incorporates a large 2.36-million-dot electronic viewfinder, a 3in Super-Amoled tilting touchscreen, even a top-plate LCD panel of the type normally reserved for enthusiast DSLRs. The camera's body is made of magnesium alloy, and is dustproof and splashproof. Naturally Wi-Fi with NFC is built-in, but Samsung has also added Bluetooth to give easy setup with a range of devices.
This is all pretty mouthwatering stuff, with the NX1 out-gunning the other top-end APS-C announcement at Photokina, the Canon EOS 7D Mark II, at least in terms of specification. Samsung believes this camera will be a game-changer for the industry, and it's easy to understand where that enthusiasm comes from.
Sensor and image processor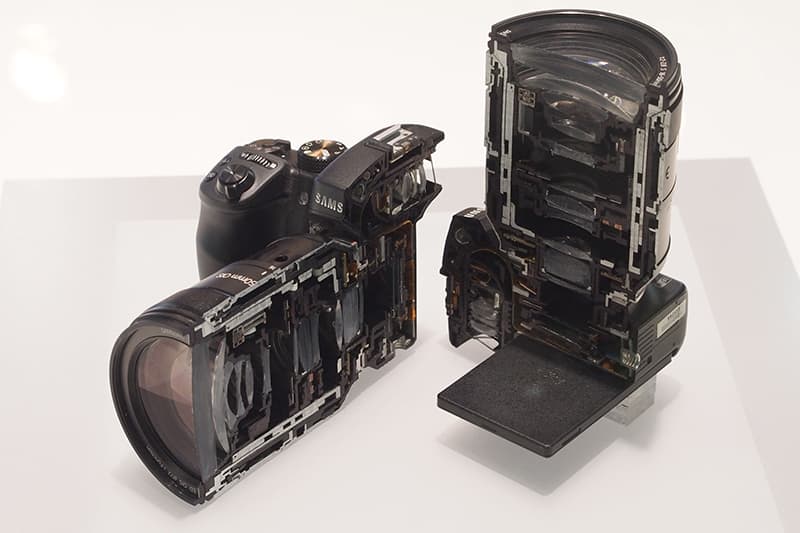 The NX1 is based on a completely new 28-million-pixel sensor, which is the first APS-C sized unit to employ back-side illumination (BSI) technology. Samsung says this increases sensitivity, so that each pixel can record as much light as those on its previous 20-million-pixel sensors. In principle the technology also reduces lens shading effects. The available sensitivity range runs from ISO100 up to ISO 25,600 or ISO 51,200 in extended mode, an impressively high value that is usually the preserve of full frame SLRs.
The sensor includes no fewer than 205 phase detection elements for autofocus covering a wide area of the frame, which work in concert with 209 contrast detection elements in the hybrid autofocus system. Of these, 153 are cross-type, sensitive to both horizontal and vertical detail. What's more, Samsung claims the system can track moving subjects while shooting at 15fps, and focus in just 55 milliseconds. It can also operate during movie recording. Our initial impressions from trying the camera out at Photokina are pretty positive – the NX1 focused quickly and decisively in Samsung's reasonably well-lit demo area.
Image processing employs the DRIME V, Samsung's most powerful processor yet. It uses a multi-core processor to achieve speeds 2.8x faster than its predecessor. Like the sensor, Samsung says it's more power-efficient than previous designs, which helps allow a battery life of 500 shots per charge by CIPA standard testing – unusually high for a compact system camera.
Build and handling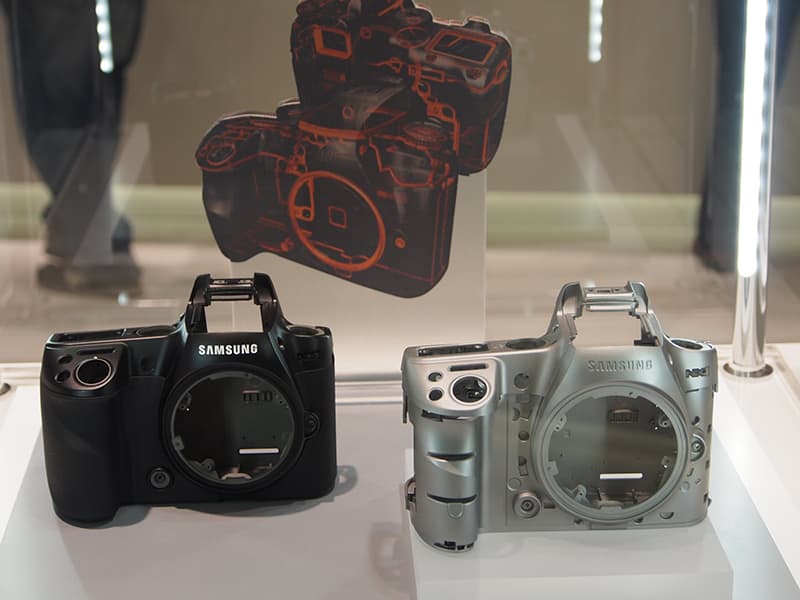 The NX1 closely resembles a mid-size SLR in terms of design, with a central housing for its electronic viewfinder, a prominent handgrip, and a body that's peppered with buttons and dials. It feels pretty solid in your hand, but doesn't quite exude the same sense of bomb-proofing that you get from its most direct Photokina rival, the Canon EOS 7D Mark II.
One nice touch is a toggle lock on the exposure mode dial, similar to those on the Olympus OM-D E-M1 and Panasonic Lumix DMC-GH4. On the other hand, the top-left buttons for autofocus mode, metering, white balance and ISO are all rather small.
Video
Samsung is keen to stress that the NX1 is equally capable of shooting video as well as stills. Its 4096 x 2160 pixel resolution 4K video is encoded using the H.265 codec, which is twice as space-efficient as the standard H.264 used by most cameras. The NX1 records at 80Mbps to its own SD card, so there's no need for an external recorder, and has an input socket for an external microphone.
Accessories
Samsung has also announced a raft of accessories for the NX1 which reveal the full extent of its ambitions. There's a premium 50-150mm f/2.8 'S' series lens to complement the existing 16-50mm f/2-2.8, and the high-power ED-SEF580A flash unit with a maximum guide number of 58. The ED-VGNX01 vertical grip replicates all of the NX1's main controls for portrait format shooting.
First Impressions
The NX1 sees Samsung aiming higher than it ever has before, offering a true top-end model to rival cameras like the Olympus OM-D E-M1. On paper it's a startlingly impressive camera, and one that looks worthy of serious attention. Samsung's biggest problem to date has been one of brand perception, and convincing potential buyers that it's a 'proper' camera maker. The NX1 might just change all that, and we're really looking forward to trying it out properly later this year.