Pentax KP review – At a glance
24.3-million-pixel APS-C sensor
PRIME IV imaging engine
Pentax K mount
ISO 100-819,200
7fps continuous shooting
3.5mm headphone socket
We often get asked questions about when a replacement model for a camera might be due. The truth is we're no better informed than you, the AP reader, when it comes to knowing what products camera manufacturers are working on and when they might arrive. Researching the life cycle of a product is one way of getting a clue as to when we might expect a new model to emerge, but occasionally a new camera appears from nowhere without warning, completely out of the blue.
One camera announcement that caught us slightly off guard in the first quarter of this year was the Pentax KP – a DSLR that presents a slightly different proposition from the two-year-old Pentax K-3 II. It inherits features from the full-frame Pentax K-1 as well as the mid-range K-70 and is out to target keen enthusiasts who are committed to photography and insist on advanced features in a solid, weather-resistant body. Its launch price and specification puts it the same league as popular models like the Canon EOS 80D and Nikon D7200, but unlike its rivals it presents many desirable features that these models don't have. There's no shortage of things to say about the KP, but it has a lot to do if it's to tempt people away from the big-brand alternatives and be considered as a serious contender in its field.
Pentax KP review – Features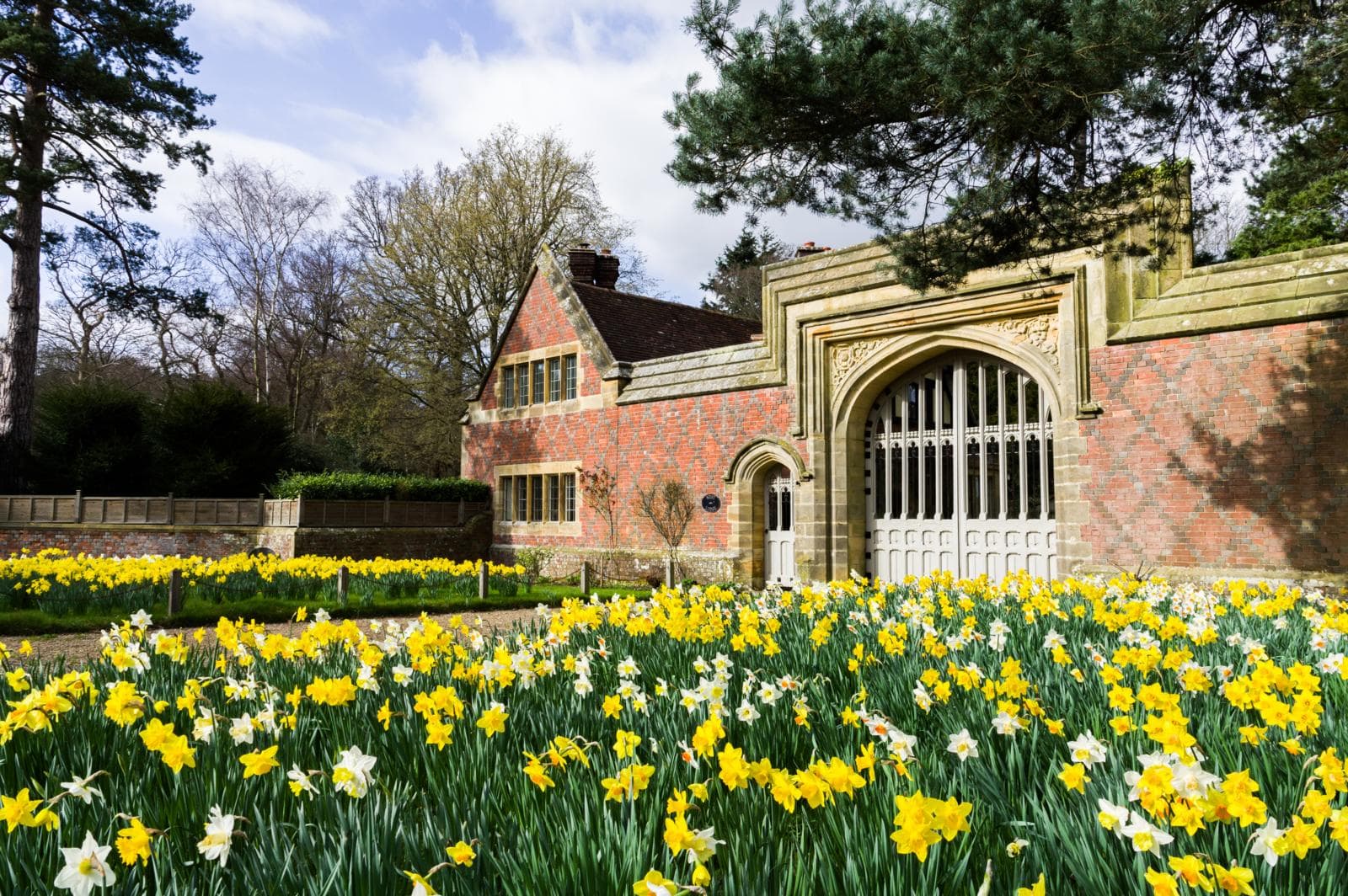 The KP incorporates a new-generation APS-C size CMOS image sensor with a 24.3-million-pixel resolution. By pairing this new sensor with the company's latest PRIME IV imaging engine, the same processor as used within the flagship K-1, it has enabled the upper limit of the sensitivity range to reach new heights. The camera operates over a native sensitivity range of ISO 100-819,200, and by forgoing an optical anti-aliasing filter should match or exceed its competitors in terms of the level of detail it resolves. To minimise the risk of imaging artefacts such as aliasing, false colour and moiré, the KP is equipped with the same AA-filter simulator as found on the K-1 and K-70. This works with the in-body shake-reduction system to eliminate adverse effects by slightly blurring the image, emulating the role of a conventional anti-aliasing filter.
Unlike its Canon and Nikon rivals, which both rely on in-lens stabilisation, the KP's in-body image stabilisation is much more sophisticated and compensates for types of shake a photographer's skills alone cannot correct. The Shake Reduction II (SR II) five-axis mechanism not only compensates for common camera shake caused by pitch and yaw, but also for blur caused by horizontal and vertical shift as well as that caused by roll, which is impossible to correct by lens-installed stabilisation systems.
The other great benefit is that it can correct for shake with any lens, including fast primes and wideangle zooms that don't often feature optical stabilisation. The benefit of the KP's in-body IS system doesn't end here either – it allows users to create super-high resolution images by shifting the image sensor by a single pixel for four shots before synthesising them into a single composite image. In addition, the IS unit can make tiny rotational adjustments to the image sensor to compensate for skewed horizons when the Auto Horizon Correction function is enabled, and when the KP is used with the optional O-GPS1 GPS unit the camera can move the sensor to keep track of star movements during long-exposure shots of the night sky.
Sensor and stabilisation aside, the KP offers a compelling set of additional features. Its SAFOX 11 AF sensor module has received an update to its autofocus algorithm that promises faster response, and you get a 27-point AF system that includes 25 cross-type points towards the centre that are sensitive to horizontal and vertical detail for greater accuracy. The working range of the AF system (-3EV-18EV) falls in line with its Canon and Nikon peers.
The KP provides a choice of mechanical and electronic shutter modes. In electronic mode the shutter produces very little noise and vibration during shutter-curtain operation, making it ideal for shooting at locations where silence is required. Since this mode provides a top shutter speed of 1/24,000sec – considerably higher than the mechanical shutter's 1/6,000sec limit, it also comes in handy when you'd like to use a wide aperture in bright, sunny conditions. It's worth noting that the shake reduction (SR) mechanism and the AA filter simulator are inoperable in the electronic shutter mode. Keeping on the subject of speed, the KP reaches a top speed of 7fps like the Canon EOS 80D, but also lets you choose from two slower frame rates (0.8fps and 3fps).
As is expected on a camera of the KP's pedigree you get a whole array of features, such as in-camera raw conversion, digital filters, button customisation and live view capture tools that includes a new extract edge function that emphasises the focused section of a subject's outline for speedy manual-focus operation.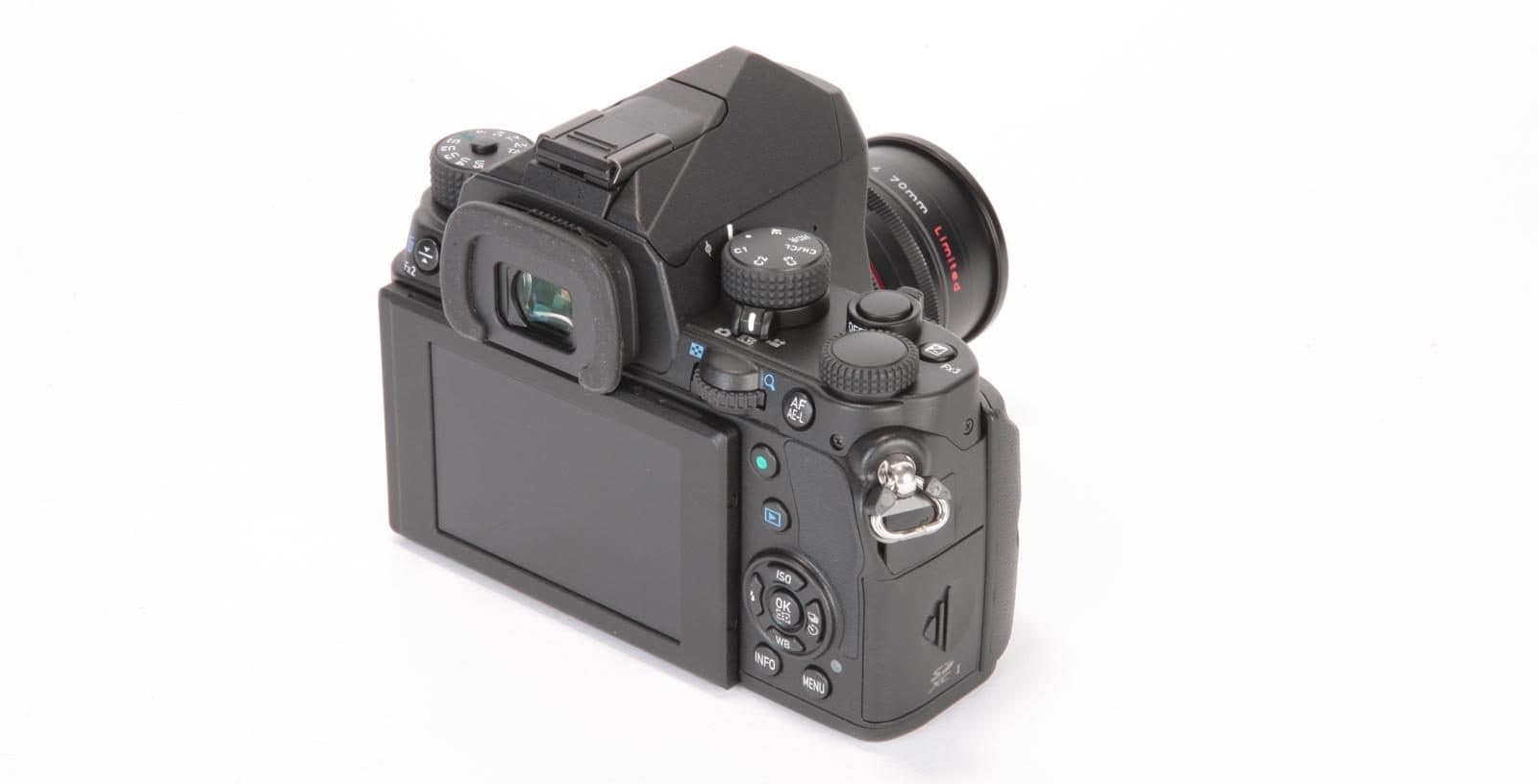 At the rear there's a large, bright pentaprism viewfinder offering 0.95x magnification and 100% coverage, while just below it you'll find a 3:2 aspect ratio 3in, 921k-dot tiltable LCD monitor.
Those interested in movie recording will find that the KR can capture full HD footage at 60i/50i/30p/25p/24p and it has a 3.5mm port for attaching an external microphone. It enables the use of continuous AF (AF.C), the shake reduction (SR) mechanism and image-capture tools whilst recording video, but the lack of a touchscreen means that it can't offer features such as touch focus.
To be expected, the KP incorporates a Wi-Fi module to support wireless operations between the camera and smartphones or tablets. You do need to download the free Image Sync app that's available for iOS and Android first, but once done you can browse captured images, transmit them to your mobile device or remotely control camera operations such as exposure and focus, in addition to the shutter release.
Pentax KP review – Build and handling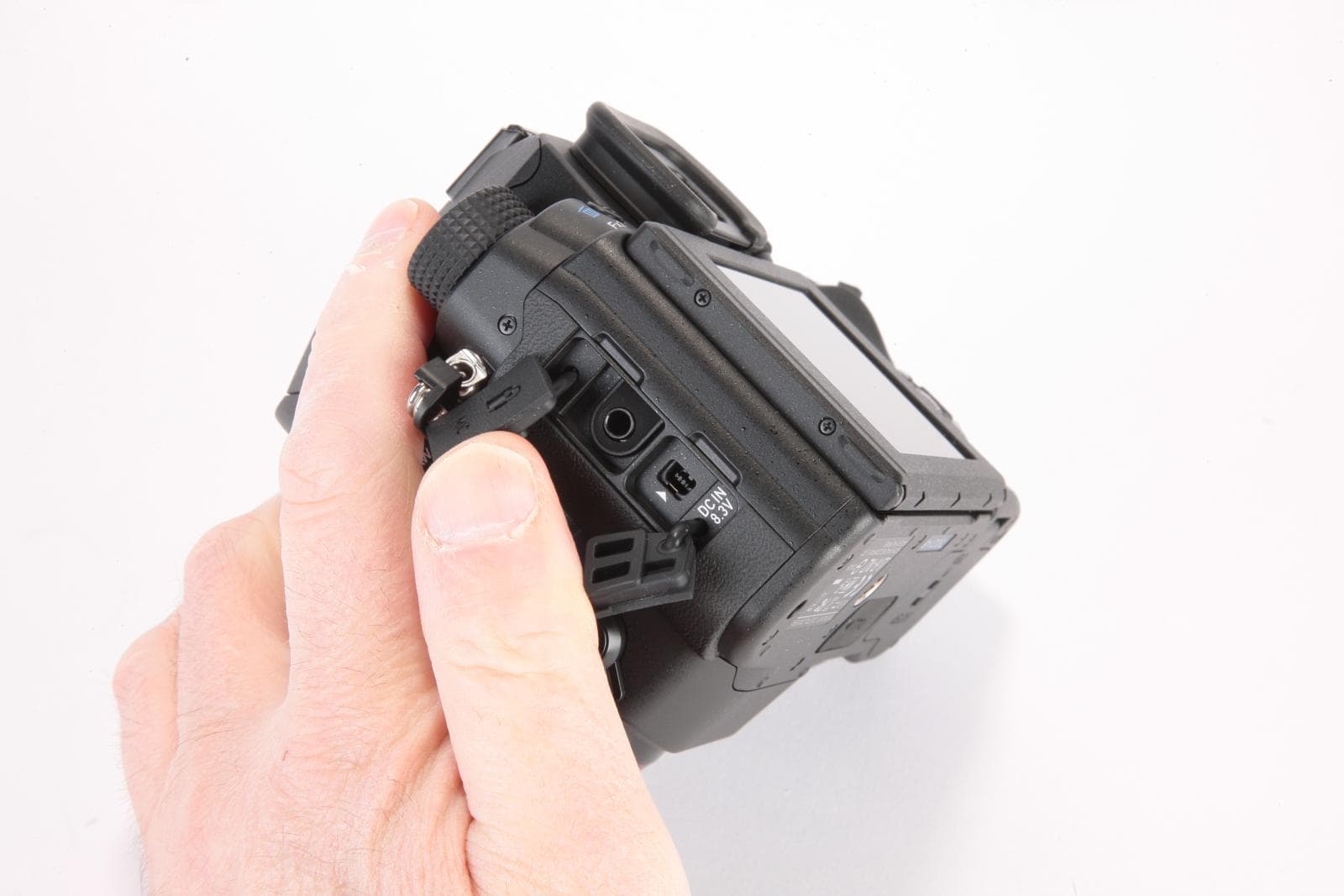 You'll notice the KP has a different look from previous Pentax DSLRs and has been designed to be more compact and less cumbersome than the K-3 II. To make sure it conforms to what the majority of users want, a camera that's small, light and convenient to carry, Pentax has rethought the layout of buttons and dials to make the best use of available space. The first thing you notice at the front is the vertically mounted front control dial that's found next to the AF assist beam. This may look slightly peculiar and doesn't do much for the overall aesthetics, but it's comfortable to use and offers good feedback when you're adjusting shutter speed or cycling through images in playback mode.
The top-plate looks incredibly busy with its three dials and on/off switch. The mode dial is located hard up against the left edge of the viewfinder, and on the opposite side the KP inherits the function dial and setting dial from the K-1, which Pentax calls its 'Smart Function'. The idea is that it takes away some of the hassle of finding what you need quickly from the main menu. Although it doesn't offer a quick access to ten functions like the K-1, it does allow you to cycle through the KP's metering modes, HDR capture modes and continuous shooting modes, with the option of assigning your most frequently used functions to three custom positions (C1 to C3). This is just one area where the KP offers excellent customisation.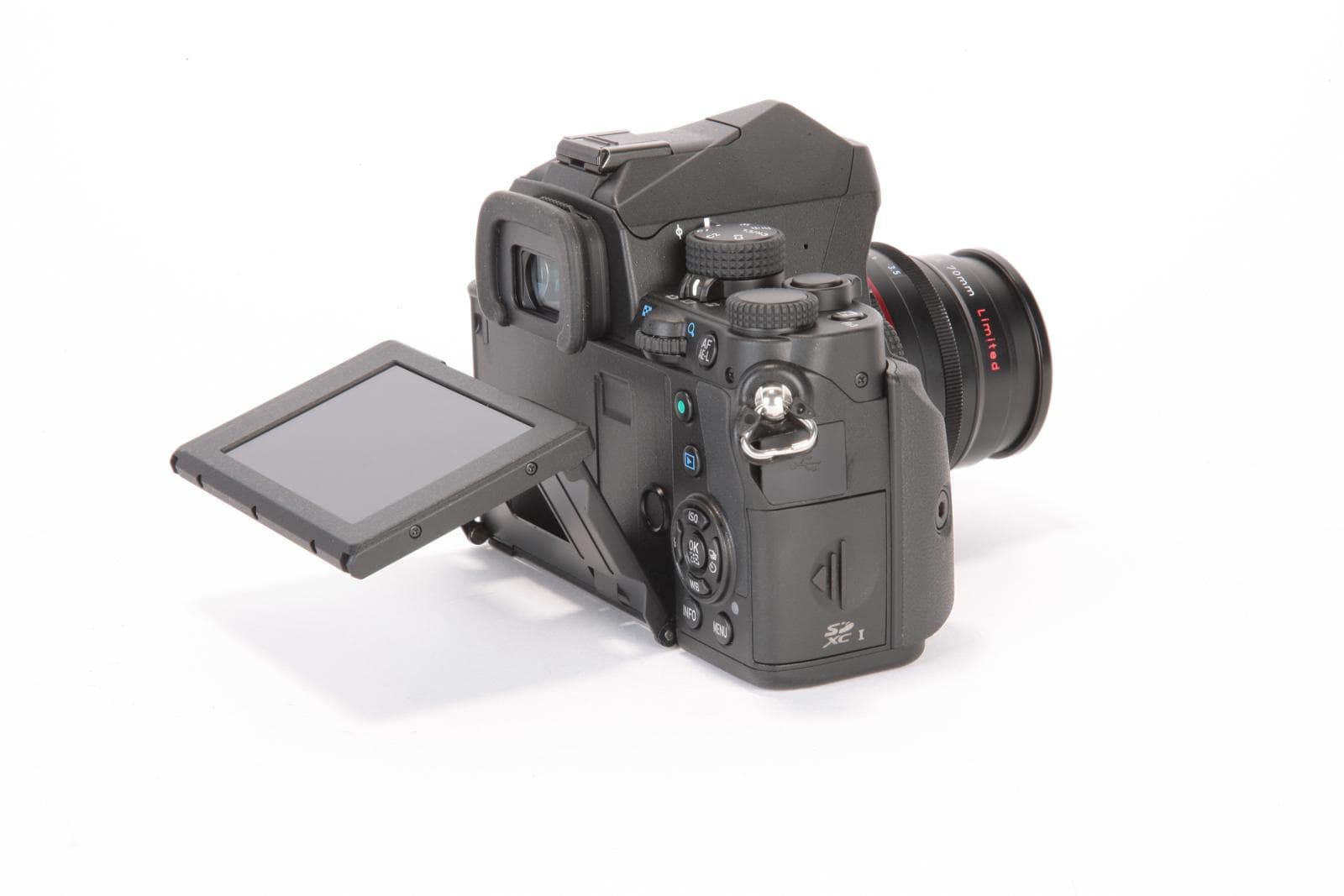 In addition, there are five user mode settings, to each of which you can assign a selection of desired functions. There are also three customisable Fx buttons across the body, you can adapt the function of the AF/AE-L button, and you can even assign a different set of functions to the front and rear command dials for each exposure mode if you wish. The customisation possibilities are endless.
Something rather unusual about the KP is the way it allows you to tune the feel of the camera to your personal taste by unscrewing the grip and replacing it with another. There's no such thing as 'one size fits all' when it comes to the way a camera fits and feels in an individual's hand, so it's good to see Pentax trying to cater for everyone by offering interchangeable handgrips. There's a large grip to accommodate heavy lenses, a medium grip that doesn't protrude quite as far from the body and a small grip for those who'd like to keep it small when travelling or using it with lightweight primes.
I started by using the KP with smallest grip, which is adequate for casual shooting. When you attach slightly heavier and longer lenses you want a bit more to wrap your hand around and this is where the medium-size grip comes in. This offered better balance and stability with the supplied Pentax 16-85mm f/3.5-5.6 ED DC WR HD DA lens. Replacing the medium grip for the large grip using the Allen key provided took less than 20 seconds and will be the preferred choice for those with medium to large sized hands. It's convenient having the option to change the grip to a larger one or vice versa, particularly if the camera is going to be shared between two people with different sized hands. Each grip secured tightly and didn't creak when squeezed. Out of the three, the largest handgrip was my favourite and became my go-to option.
The body of the KP is made from magnesium alloy and has no fewer than 67 weather seals to prevent intrusion of water and dust. Those who'd like to extend their shooting sessions between battery changes will be pleased to hear the optional D-BG7 battery grip is built to the same weather-resistant standard. During testing
I used the KP in an almighty downpour and experienced no issues or problems with performance. Pentax has built up an excellent reputation for making extremely robust DSLRs and I'm glad to report the KP continues this trend. The way it has been built to such solid standards gives you confidence that the camera will offer good service over a number of years. One criticism of its build is that the shutter button feels too spongy for my liking and doesn't offer the level of feedback I expect when it is half depressed.
Pentax KP review – Autofocus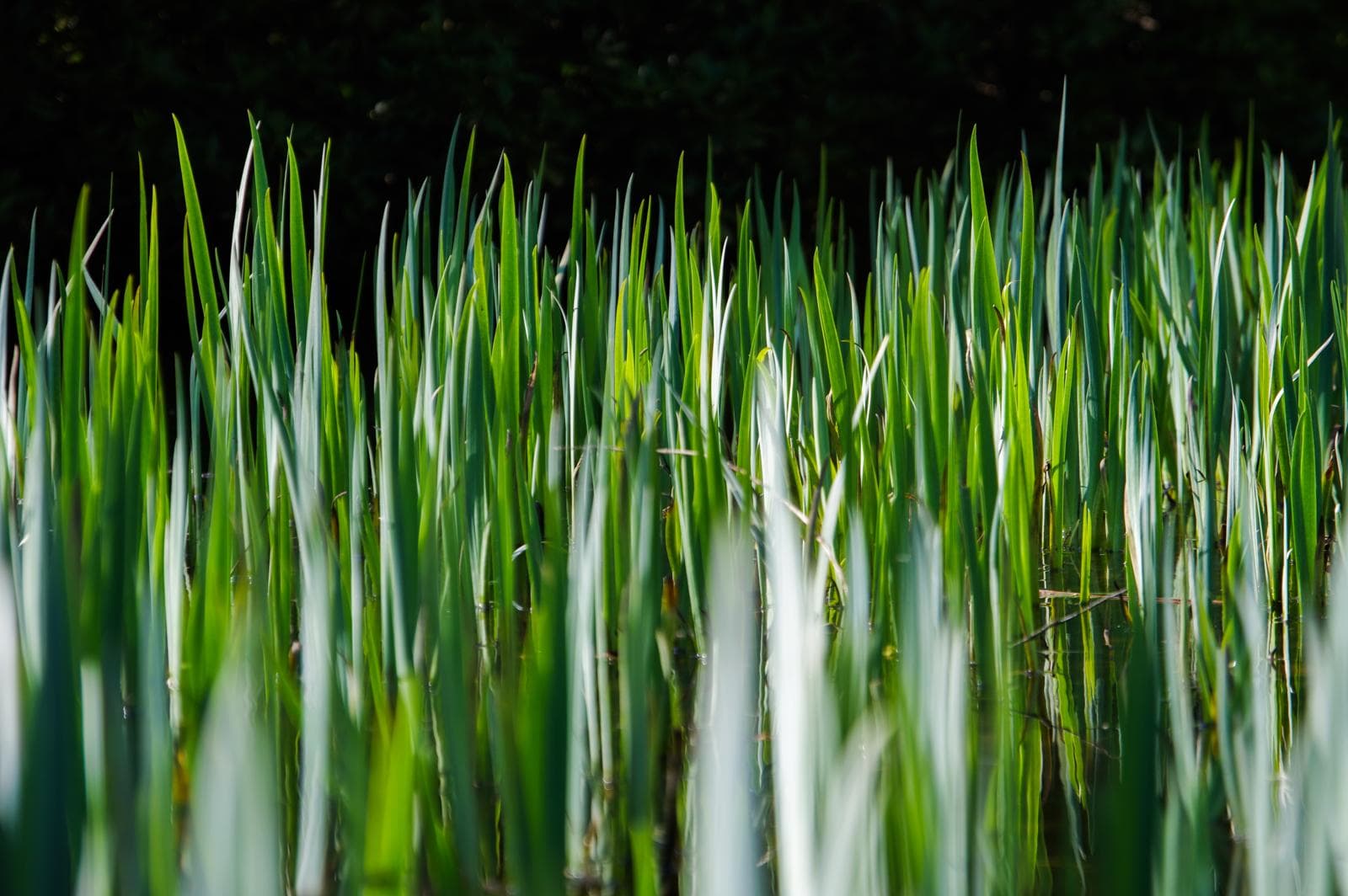 Pentax DSLRs have picked up some negative criticism in the past for lagging behind their peers with regard to their autofocus performance, so how does the KP fare? The SAFOX 11 AF system it uses isn't as advanced as the SAFOX 12 system you'll find in the Pentax K-1, but does benefit from a new AF algorithm that's been fine-tuned in an attempt to improve autofocus speed.
You're provided with 27 phase-detect points in total and of these, 25 are the cross-type variety. The two remaining linear AF sensor points are positioned either side. The central point, including those directly above and below it, are sensitive to f/2.8 and work in light as low as -3EV.
In use, I found the central 5×5 arrangement of central AF points sensitive enough to bring subjects into focus in a respectable time when shooting in bright conditions, but when the light levels drop you notice it takes longer for it to go about its business of acquiring focus and this is where the green AF assist beam can come into its own. It manages to track slow-moving subjects in its continuous focus (AF-C) mode provided you're able to keep the central area of the frame over your subject; just don't expect the same success rate as you'd get on a DSLR that's built for speed and action like the Nikon D500 or Canon EOS 7D Mark II.
As we've mentioned before on other Pentax models, one distinct failing is the red targets that indicate the active AF area in the viewfinder. Not only are they tiny, they're difficult to see in high-contrast conditions. On more than one occasion I found myself repositioning the AF point back to the centre simply because the off-centre position of the AF point wasn't immediately obvious.
Switching between AF modes is simple enough – simply hold the AF mode button and use the rear command dial to scroll between Auto (27 points), Zone Select (nine points), Select (a user-selected single point), or Spot (the centre point). There's also a select-area expansion mode for those who'd like to track a moving subject and let the camera follow the movement whilst automatically refocusing on it with the help of neighbouring points.
The performance of Autofocus in Live View is a similar affair to the Pentax K-70. It's rather clunky, feels sluggish and has nothing on its mirrorless competitors or Canon DSLRs that boast Dual Pixel AF and deliver impressive continuous autofocus in Live View.
The viewfinder on the KP is really rather good and it's great to know that what you see is what the sensor records thanks to its 100% field of view. The shooting settings don't rotate in portrait mode like they do on many mirrorless cameras, but there is the option to swap the exposure scale for a sensitive electronic level to prevent shots being taken askew without taking your eye off the subject.
Pentax KP review – Performance
Use the camera set to its auto white balance setting and you can expect results to be more on the cool side than they are warm. Some may prefer this feel, but I got into the habit of warming my shots up a touch using the temperature slider in Lightroom. The 86,000-pixel RGB light-metering sensor delivers acceptable exposures, but I did occasionally apply +0.3EV or +-0.7EV of correction to prevent my images appearing a fraction underexposed. The HDR mode can be used to produce natural-looking shots when the bracketing value is kept below +2EV.
The fact that the KP lacks a top-plate LCD means you're dependent on the screen and viewfinder when it comes to glancing at your camera settings. Though the KP's screen is a little behind the times in terms of its resolution, the colourful info display with its large font makes it easy to read exposure settings. The main menu isn't overly convoluted or difficult to navigate, but you get the impression it could be made more intuitive if it supported touch functionality.
If I had to sum up the KP's performance in one word I would say it is satisfactory. It delivers acceptable results that you're unlikely to be disappointed with, but you can't help but feel it's not as refined or as well-polished as some of the competition.
Pentax KP review – Pixel shift resolution
The Pentax KP features the same Pixel Shift Resolution system that we've seen previously on the K-3 II, K-70 and full-frame K-1. In almost all cameras, the light-sensitive pixels capture red, green or blue light, and a full-colour image is built up using a clever process of interpolation between them. But this can give rise to softness and artefacts when examining images closely at the pixel level.
The Pentax KP's Pixel Shift Resolution mode captures four images of the same scene by shifting the image sensor by a single pixel for each image, then combines this information into a single composite image. By obtaining colour information in each pixel, the KP can deliver higher-resolution images that assure true-to-life colour reproduction. The camera has to be locked off on a tripod for it to work and you're provided with a motion-correction setting that takes into account subjects that move between the exposures.
In practice, the system works well. Images taken in Pixel Shift Resolution mode show visibly finer detail as illustrated below and the motion-correction setting dramatically reduces image artefacts on moving leaves or water, although it doesn't quite eliminate them. Because of this, it's best used for static subjects such as still life or architecture.
Pentax KP review – Dynamic range, resolution & noise
Our lab tests tell us the KP resolves the level of detail we'd expect from a 24-million-pixel sensor without an optical aliasing filter and you can confidently use the camera at up to ISO 6400 without too much concern. You'd get away with pushing to ISO 25,600 in an emergency, but the headline-grabbing ISO 819,200 should be steered well clear of. Raw shooters will appreciate that it records in Adobe's DNG format, which means that unlike other new models, you shouldn't need to update your software to handle its files.
Dynamic range
At ISO 100, the KP's dynamic range result measures 12.7EV – a figure that's higher than the 12.3EV we previously recorded on the Pentax K-70, but not quite as high as the Pentax K-1 that records 13.8EV at the same sensitivity. It manages to stay above 12EV until ISO 800, after which it drops down to a still respectable 11.4EV at ISO 1600. Results at ISO 3200, 6400 and 12,800 drop to 10.4EV, 9.3EV and 8.1EV respectively, with shadowed areas gradually getting noisier as you push towards ISO 25,600. It's highly impressive to see the KP recording figures above 6EV right up to ISO 51,200.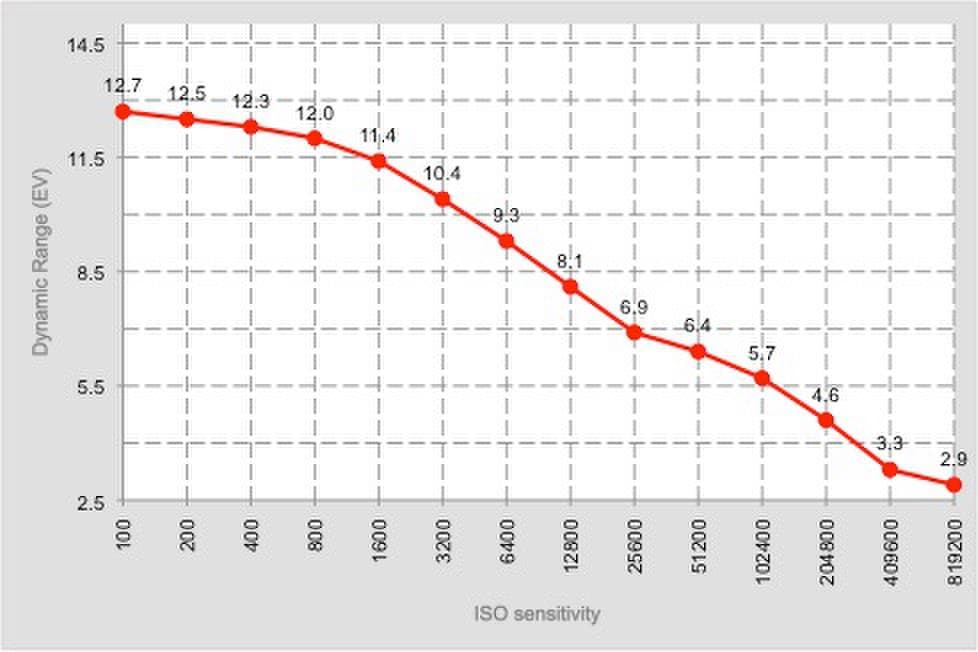 Resolution
The results above show the level of detail the KP resolves by shooting in raw with the pixel-shift resolution mode and AA Filter Simulator switched off. The sensor can resolve 3,600l/ph at ISO 100 just like the Pentax K-70, but traces of moiré and false colour are suppressed heavily by JPEG processing, leading to a noticeable drop in resolution. To resolve the finest detail, shooting in the raw format is imperative. Push past ISO 25,600 and the detail deteriorates quickly, with the highest settings being too poor to be worth illustrating here.
Noise
Both raw and JPEG images taken from our diorama scene are captured at the full range of ISO settings. The camera is placed in its default setting for JPEG images. Raw images are sharpened and noise reduction applied, to strike the best balance between resolution and noise.
At low ISO sensitivities, the KP's image quality is excellent; fine detail is rendered in its raw files thanks to the lack of an optical low-pass filter, and there's no visible noise between ISO 100 and 800. Luminance noise does start to appear at ISO 1600 but it's by no means detrimental and you can create usable results at ISO 3200 and ISO 6400 by applying a little noise reduction. If a shooting situation forces you to go higher than ISO 6400, pushing the KP to ISO 25,600 isn't out of the question but should be seen as the upper limit you'll want to push it to in an emergency. Saturation takes a hit at ISO 51,200. At ISO 204,800 you can just about make out the outlines of a subject but at ISO 409,600 images suffer so severely from noise you're not quite sure what you're looking at.
Pentax KP review – Verdict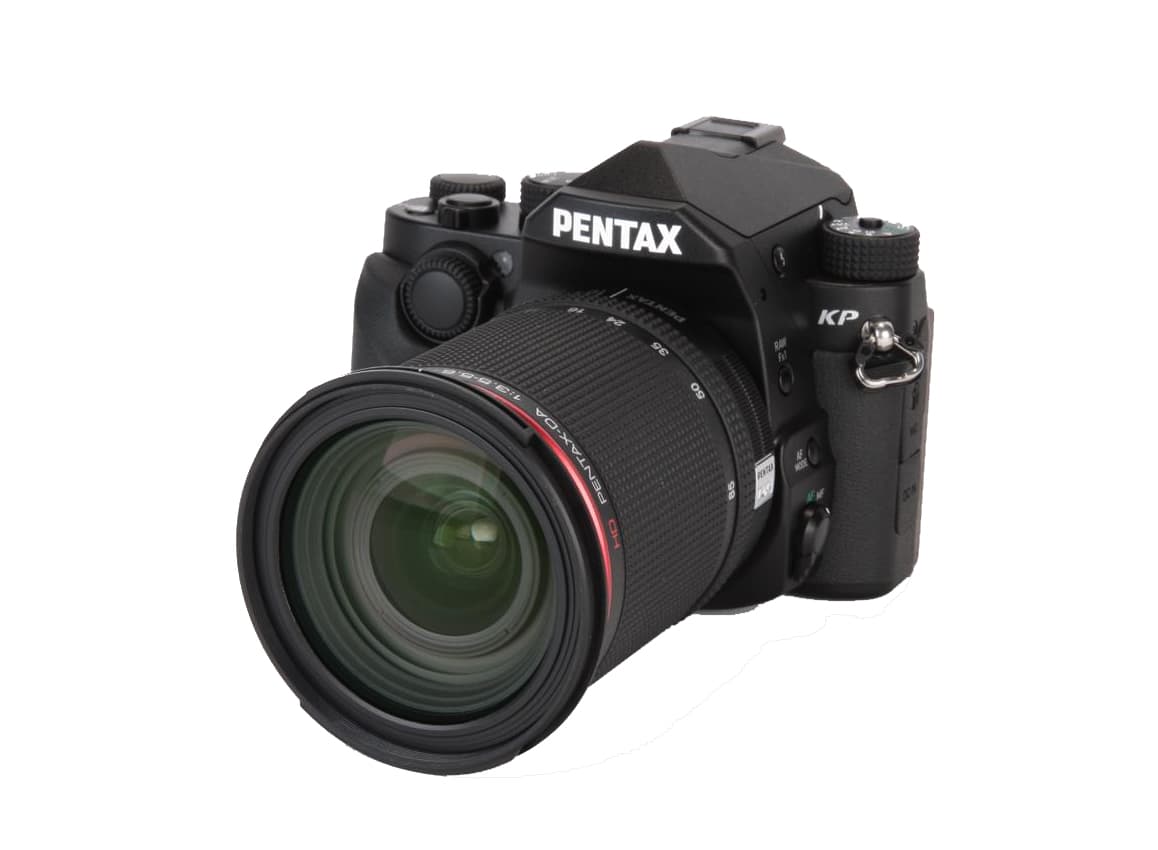 The KP is an interesting proposition. It inherits many of the things we admired about the flagship Pentax K-1 and shrinks a number of its advanced features in a more compact body that's built to the same robust, weather-sealed standards we associate with the brand. It shoots slightly faster and offers a greater number of AF points than the K-70, but doesn't adopt everything from the K-3 II. The KP lacks a top-plate LCD, dual card slots, has a lower battery life and can't shoot at 8.3fps. When you take this into account you realise the KP isn't the most advanced APS-C DSLR going and sits off to one side of the K-3 II, presumably until its successor arrives.
There is quite a lot to like about the KP. The dynamic range is excellent for this size of sensor, it's not difficult to use despite having a plethora of buttons and dials, and the interchangeable grip design gives the user choice over the way the camera handles and feels with different lenses – something we rarely see. The KP's standout feature though is its in-body stabilisation system. With a steady hand you can shoot sharp shots as slow as 1/5sec and stabilise the camera with any lens that's attached. We have it to thank for the AA simulator, Pixel Shift Resolution, and automatic horizon correction modes too.
Sadly, it's not all good news, and the KP's autofocus performance leaves quite a lot to be desired. While it's fine for shooting static or slow-moving subjects, it has its work cut out keeping up with fast-paced action and struggles to offer the same responsiveness as its close rivals in Live View. If you regularly shoot sport, action or wildlife there are better options out there for less money.
For those who've bought into the Pentax K-mount and want to advance from entry-level Pentax DSLRs, the KP serves up an attractive set of features, impressive image quality and excellent customisation in a convenient, if not slightly unusually styled body. It will satisfy some Pentax users, but at over £1,000 it struggles to offer the same value as some of its closest competitors at its current launch price.
For more options, have a look at the best Pentax DSLRs.