At a glance
£559 body only / £799 kit with 18-135mm lens
24.2MP APS-C CMOS sensor
Pentax K mount
ISO 100-102,400
6fps continuous shooting
In-body image stabilisation
Pentax K-70 review – Introduction
I have to admit to having a soft spot for Pentax DSLRs; I've used them on and off for almost a decade, and have always found them capable and pleasant to shoot with. But one thing I really don't understand is their naming convention.
The subject of this review, the K-70, isn't an update to the three-year-old K-50, as might be expected. Instead, it takes last year's K-S2 and upgrades it with a 24.2-million-pixel sensor (from 20.2 million pixels), while adding a smattering of extra features, including the Pixel Shift Resolution system seen in other recent Pentax SLRs. But in terms of body design, it's a dead-ringer for the K-S2, aside from a few small cosmetic changes. The logic of the naming progression escapes me completely.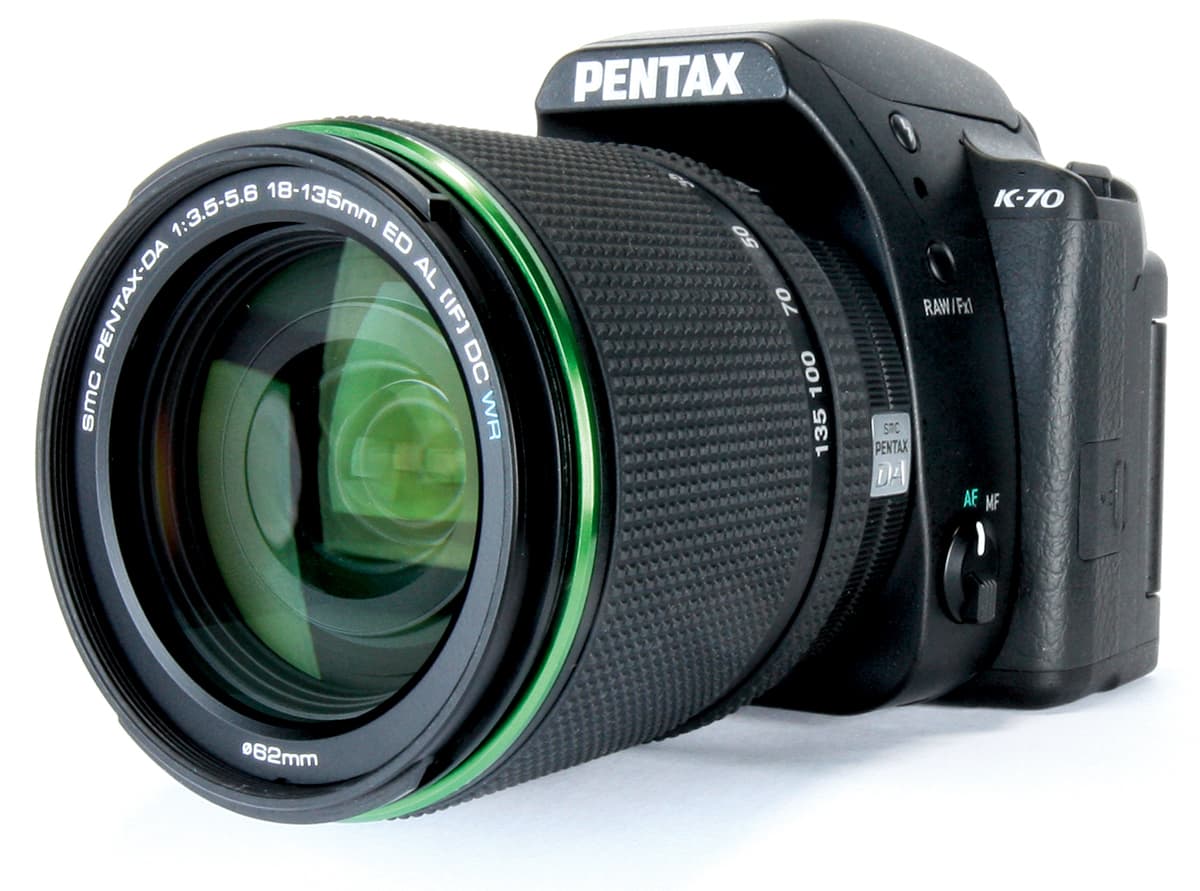 Having got that out of the way, though, it's clear that when you look at its specification, the K-70 follows both its predecessors in offering an awful lot of camera for your money. In terms of pricing, it's up against mid-range DSLRs such as the Nikon D5500 or Canon EOS 750D/760D twins, but throws in lots of desirable features that they lack. From in-body image stabilisation that works with every lens you can mount, through twin control dials and extensive customisation options, to the large, bright pentaprism viewfinder with 100% coverage, it outscores its rivals in almost every respect. However, it's bulkier and heavier than its rivals, and lacks a touchscreen. Unusually, it's not sold with an 18-55mm kit zoom, but instead is available either body only, or with an 18-135mm lens that offers a useful 27-200mm equivalent range.
Despite the brand's rich photographic heritage and undoubted value for money, Pentax DSLRs have struggled to gain market traction in recent years against the twin behemoths of Canon and Nikon. So does the K-70 offer anything sufficiently compelling to reverse that trend?
Pentax K-70 – Features
With the addition of a 24.2-million-pixel APS-C sensor, the K-70's pixel count is now on a par with its main rivals. In truth, the difference in resolution compared to the K-S2 is inconsequential, but there's no underestimating its importance in marketing the camera to first-time buyers. With no optical low-pass filter, the K-S2 should match or exceed its competitors in terms of detail rendition, although with a greater risk of imaging artefacts such as aliasing, false colour and moiré. But like other Pentax cameras, the K-70 has a trick: it can use its in-body image-stabilisation system to eliminate these flaws by slightly blurring the image, emulating the role of a conventional anti-aliasing filter.
Indeed, it's the in-body image stabilisation, along with its associated features, that really marks the K-70 out from the competition. The system brings some key advantages compared to Canon and Nikon, which both rely on in-lens stabilisation. It works with every lens you can fit onto the camera, including types that usually don't include optical stabilisation, such as fast primes and wideangle zooms. It's also capable of correcting for rotation around the lens axis, which can contribute significantly to image blurring during long exposures. However, in-body stabilisation is less effective when it comes to shooting with long telephotos, because the sensor movements required become ever more extreme. The viewfinder image isn't stabilised, either, which can make composition more difficult.
The IS unit brings some extra useful features. First is Pixel Shift Resolution mode, which combines four exposures, made by moving the sensor by precisely one pixel between each. This allows the sampling of full-colour image information at each pixel location, which promises improved image quality. We'll look into this later.
Second is horizon correction: because the IS mechanism can rotate the sensor, it can be set to ensure that the horizon is always kept level even if you hold the camera slightly askew, which can be handy for landscape shooting.
Third is Pentax's Astrotracer function: in conjunction with the O-GPS1 GPS unit, the camera can move the sensor to keep track of star movements during long-exposure shots of the night sky. This is complemented by a newly added 'night-vision' LCD mode, that uses a low-contrast red display to avoid dazzling your eyes during night-time shooting.
Aside from all this cleverness, the K-70 offers a very solid core feature set. Its 11-point AF system includes nine cross-type points towards the centre, which are sensitive to both horizontal and vertical detail for greater accuracy. It's capable of continuous shooting at six frames per second, which is faster than its main rivals. Its top shutter speed is likewise a little swifter, at 1/6000sec compared to 1/4000sec, which is handy if you want to freeze action or shoot with fast lenses in bright light. The sensitivity range covers a remarkably broad ISO 100-102,400, but as we'll see later, the top settings aren't great.
However, it's when we look further that the K-70 really outshines its rivals. You get a whole array of features usually only found on more expensive models, such as in-camera raw conversion, autofocus micro-adjustment, and the ability to use the aperture ring on old Pentax K-mount lenses. Unlike the Nikon D5500, the K-70 can autofocus with older lenses that don't have built-in AF motors. You also get a dual-axis electronic level to help keep your compositions straight, although only in live view: in the optical viewfinder, the exposure-compensation scale can be repurposed as a horizontal level.
Those interested in video will find that the K-70 can record in full HD at up to 30fps. Pulling the power switch beyond the 'On' position engages video mode, complete with the requisite 16:9 live view display, and there's a 3.5mm stereo socket for using an external microphone. You can record in any exposure mode you want, including full manual. For video, the in-body IS is a bonus, but the lack of a touchscreen means that the K-70 can't offer features such as touch pull-focus, or silent adjustment of camera settings.
As we'd expect these days, Wi-Fi is built in, allowing remote control of the camera from a smartphone or tablet with a decent level of manual control. You can also transfer images from the camera to your phone for sharing on social media. The free Image Sync app is far from intuitive to set up and use, but once you've got the hang of it the app works well enough.
If you prefer a conventional remote release, the K-70 is equipped with an infrared receiver for use with the Remote Control F. Its 3.5mm microphone socket also accepts the matched Cable Switch CS-310, or it can be used with older Pentax-compatible remote controls that have a 2.5mm plug via a simple adapter.
Pentax K-70 – Viewfinder and screen
One area where the K-70 is far ahead of its peers is in its optical viewfinder. Compared to the pentamirror set-ups used by Canon and Nikon, it uses a pentaprism that gives a significantly larger view with practically 100% coverage of the final view. As you might expect, this improves the shooting experience no end. An information panel below the focusing screen displays key exposure data in a logical, easy-to-read fashion.
The rear screen appears to be the same 3in, 921,000-dot fully articulated LCD as that found on the K-S2. It's sharp and detailed, and its flexibility makes it great for shooting at odd angles, or when using a tripod. The lack of touch sensitivity makes little practical difference when shooting with the viewfinder, but slows down operation in live view or playback.
Pentax K-70 – Build and handling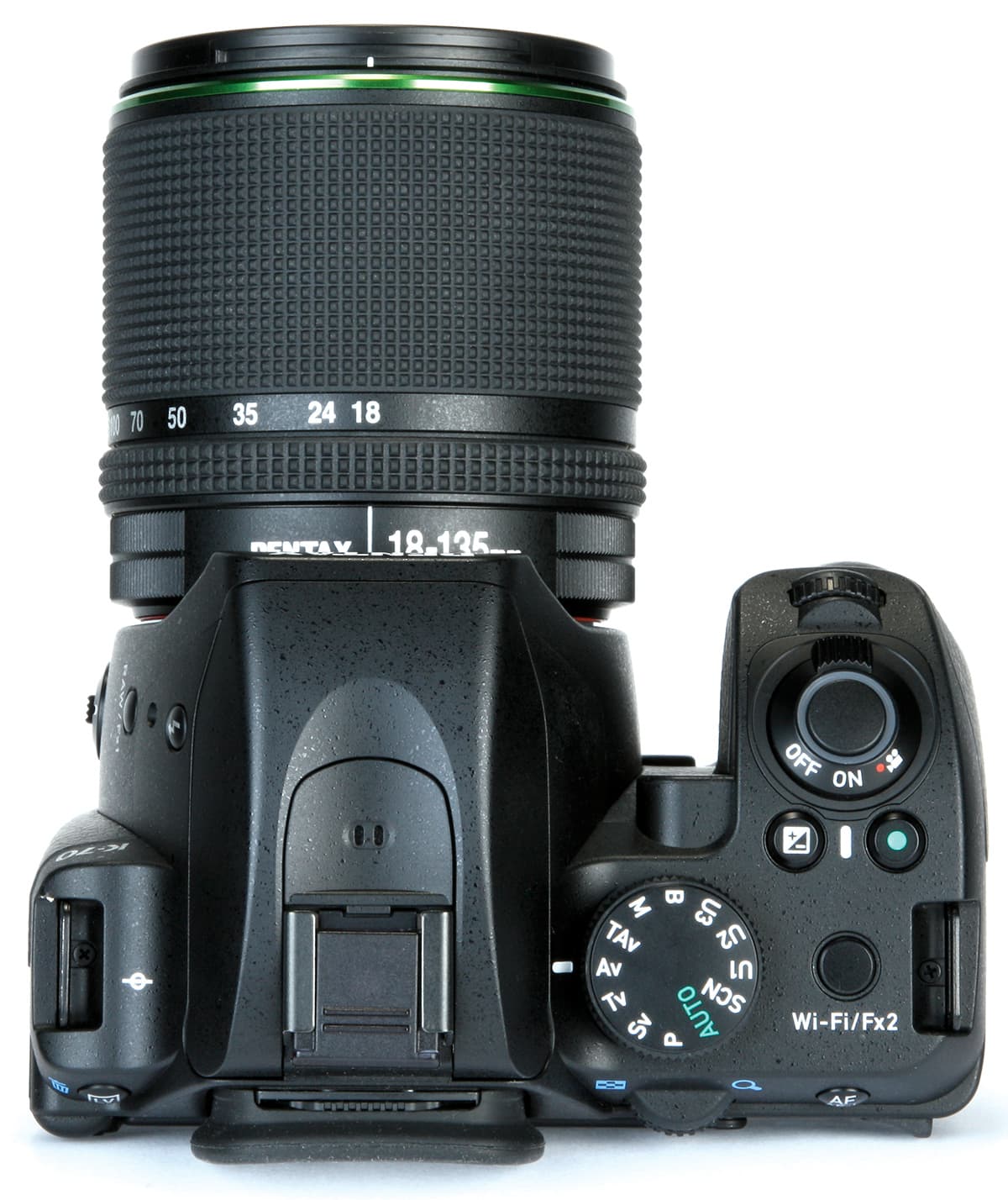 As we'd expect for the price, the K-70's body is constructed mainly of plastic; it has a softer, more rounded look than the angular K-S2. There's nothing to complain about in terms of fit and finish, and unlike its rivals the camera is dust and splash-proof when used with one of the wide range of WR-designated Pentax lenses.
The K-70 is unusually shaped, with a small frontal area but larger-than-usual depth from the lens mount to the screen, to accommodate the image-stabilisation unit. Its grip is also very large – almost 3in deep front to back – which will be welcome to those with larger hands. The chunky rubber coating and pronounced 'hook' for your middle finger gives a very secure hold, especially with larger lenses, and I was quite happy to carry the camera around one-handed for extended periods, which isn't often the case with small DSLRs.
The large grip gives plenty of space for controls, and the K-70 makes use of it by including twin electronic control dials front and rear, in contrast to most other cameras at this price point which usually only have one. The front dial is placed rather far forward of the shutter button, while the rear dial is perhaps too close to the viewfinder, so operating them can be a bit of a stretch. But usefully, their functions can be customised for each exposure mode, which is unusual at this price and means photographers should be able to set the camera up to their liking.
Like the K-S2, the D-pad on the camera's back serves double duty. The directional keys provide quick access to ISO, white balance, flash and drive modes, but can be toggled to give direct control of the AF area by holding down the OK button in their centre. I find this to be a great system compared to either the Canon EOS 750D, which requires lots of thumb movement to move the AF point, or the Nikon D5500, which demands extra button prodding to change those secondary settings.
Perhaps the K-70's best feature, though, is the Info button on the back. Pressing this calls up a grid of a further 20 settings that can be changed by selecting the relevant icon and rotating the rear dial. It's simply laid out and easy to understand, and means you'll only rarely have to venture into the menus.
Alongside the usual set of exposure modes, the K-70 incorporates some that are unique to Pentax. The TAv mode lets you fix the shutter speed and aperture, then have the camera adjust the ISO to match, taking into account any exposure compensation you wish to apply. Other brands now offer much the same concept with auto-ISO in manual-exposure mode, but the Pentax approach is arguably more logical.
Pentax K-70 – Autofocus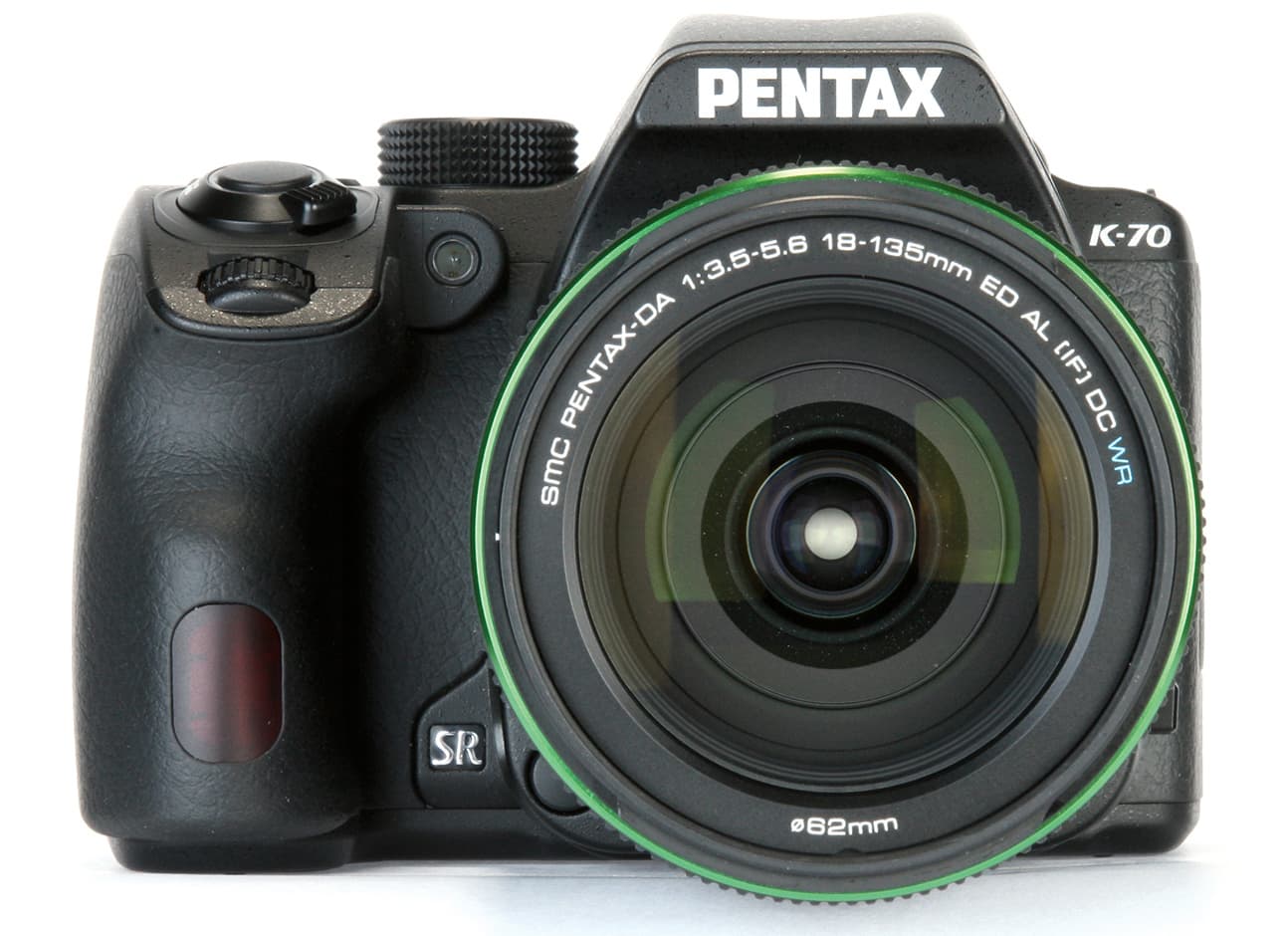 If there's one area where the K-70 lags behind its peers it's autofocus. It's not terrible, but the 11-point system feels dated, particularly when compared to the Nikon D5500's 39-point set-up that's more densely packed and covers a larger area of the frame. This makes the biggest difference when trying to track moving subjects, and is much less important if you mainly shoot static ones. One distinct flaw is the red marker for the active AF area, which is dim and difficult to see in bright light. This makes it too easy to find yourself using the wrong focus point and risking misfocused shots.
When it comes to working in live view, the K-70 is the first Pentax DSLR to include on-sensor phase-detection elements to provide a hybrid focusing system. In reality, these seem to do very little; the K-70 doesn't seem much improved over the K-S2. It's not too bad as DSLRs go, but it's much slower autofocusing in live view than any mirrorless competitor, and personally I found it too clunky for normal use. This is compounded by the camera's insistence on flipping the mirror down and up again to take a picture in live view, which feels about a decade out of date.
If you wish to focus manually, however, the K-70 provides a somewhat better experience than its competitors. The large, bright viewfinder makes judging correct focus easier, while almost all lenses include 'Quick Shift' manual focus by turning the focus ring, even in AF mode. In live view you get an optional focus-peaking display, and you can access magnified view simply by pressing the OK button.
Pentax K-70 – Performance
In real-world use the K-70 turns out to be a pretty capable camera. Its metering is generally reliable, but as is often the case you'll probably find yourself having to apply exposure compensation with unusually light or dark subjects. However, auto white balance tends too much towards the cool side for my tastes, and I generally preferred using a preset such as 'daylight' or 'cloudy'.
If you want to use JPEGs out of the camera, then it's worth taking time to understand the settings and decide which you prefer. For example, I find the default 'bright' colour mode over the top and prefer to use 'natural' instead. If you'd like to retain as much detail as possible, then it's best to switch the sharpness mode to Fine, as the standard setting gives rather mushy results. Shooting raw gives the freedom to adjust this all after the event, using the well-designed in-camera raw converter.
The weather-resistant Pentax 18-135mm lens complements the K-70 pretty well. Like most superzooms, it's sharpest in the middle of its range but much weaker towards either end, with visibly softer corners.
Pentax K-70 – Pixel Shift Resolution
The Pentax K-70 includes the Pixel Shift Resolution system previously seen on the K-3 II and full-frame K-1. In almost all cameras, the light-sensitive pixels capture red, green or blue light, and a full-colour image is built up using a clever process of interpolation between them. But this can give rise to softness and artefacts when examining images closely at the pixel level.
Pixel Shift Resolution mode, however, combines the information from four exposures that are made by moving the sensor by precisely one pixel between each in a square pattern. This allows the sampling of full-colour image information at each pixel location in the final image, which gives much-improved image quality. The camera has to be fixed on a tripod for it to work, but like the full-frame K-1, the K-70 includes a motion-correction setting that takes into account subjects that move between the exposures.
In practice, the system works well, although naturally you'll need a good lens to make the most of it. Images taken in Pixel Shift Resolution mode show visibly finer detail, and the motion-correction setting dramatically reduces image artefacts on moving leaves or water, although it doesn't quite eliminate them. Because of this, it's still best suited to static subjects such as still life or architecture.
Pentax K-70 review – Dynamic range, resolution and noise
With its 24-million-pixel APS-C sensor, the K-70 offers image quality that's at least a match for its peers and can only really be surpassed by much more expensive full-frame models. With a good lens, it records lots of detail at high ISOs, and image quality stands up really well as the ISO is raised. I was quite happy shooting at ISO 3200, and could live with ISO 25,600 at a pinch, but would avoid the top two settings. Raw shooters will be pleased to find that it can record using Adobe's open-standard DNG format, which means that unlike other new models, you probably won't need to update your raw conversion software to handle its files.
Dynamic range
The K-S2 delivers very acceptable results in our Applied Imaging tests, broadly in line with its bigger brother the K-3 II, which also uses a 24-million-pixel APS-C sensor. Starting at 12.3EV at ISO 100, the readings initially decline only slowly to ISO 1600, where we still record almost 11EV. Beyond this, fall-off is more marked, indicating rapidly increasing noise levels, particularly in the shadows. By ISO 25,600, dynamic range has declined to a barely acceptable 6.3EV, with the higher ISO settings recording even lower readings, confirming their very marginal quality.
Resolution
When shooting in raw, the K-70 can resolve at least 3600 lines/picture height. But the lack of a low-pass filter means that this comes with some moiré and false colour. This is suppressed by the camera's JPEG processing, resulting in a clear drop in resolution to around 3200l/ph. Increasing the ISO further reduces resolution, to around 3000l/ph at ISO 6400 and 2600l/ph at ISO 25,600. The AA Filter Simulator reduces resolution to 3400l/ph at the Type 1 setting and 3000l/ph at Type 2, while reducing imaging artefacts.
Noise
Both raw and JPEG images taken from our diorama scene are captured at the full range of ISO settings. The camera is placed in its default setting for JPEG images. Raw images are sharpened and noise reduction applied, to strike the best balance between resolution and noise.
Looking at our standard test scene, the K-70 delivers detailed, noise-free results at ISO 100, which are a match for any current APS-C camera. As the sensitivity is raised, noise gradually increases, with the finest detail starting to suffer at around ISO 800. Even so, settings up to ISO 3200 are still eminently usable, and it's only at ISO 6400 that low-frequency colour noise can start to creep into the camera's JPEG files. At higher settings this gets more visible, as does luminance noise in the midtones, and personally I'd steer clear of ISO 51,200 and 102,400 unless it's absolutely necessary, as the image quality at these settings is very marginal indeed. Switch to shooting raw and you get more control over noise reduction, which means that those top two sensitivity settings become slightly more usable, if still very much for emergencies only.
Pentax K-70 – Verdict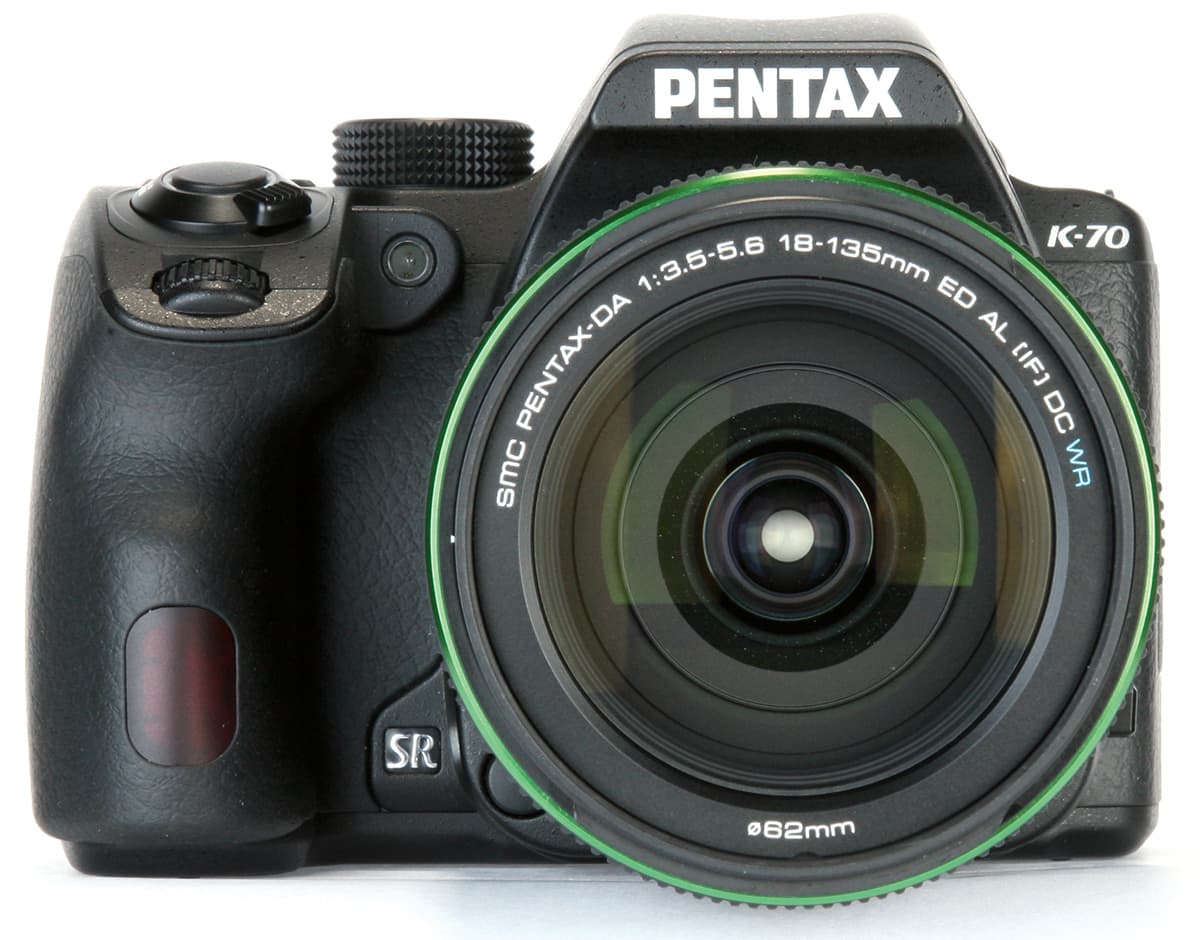 Pentax DSLRs traditionally offer serious value for money, and the K-70 very much follows suit. At a price point that places it in direct competition with the Nikon D5500 and Canon EOS 750D and 760D, it offers a very tempting feature set. It's not as attractively styled, and its chunky grip may not feel as immediately comfortable in your hand, but this is more than made up for by its larger viewfinder, twin control dials and weather-resistant build, which make it much more pleasant and versatile to shoot with.
The K-70's key feature, though, has to be its in-body stabilisation system. This works with every single lens that can be used on the camera, and therefore a vast array of K-mount optics dating back to the mid-1970s. Crucially, this includes a range of lens types that aren't available in optically stabilised versions for other systems. Not only is the in-body IS great for low-light shooting, but it also lets you use slow shutter speeds creatively for motion-blur effects, or stop down for extra depth of field without having to raise the ISO as much. Its associated features, such as the anti-aliasing simulator, Pixel Shift Resolution, and automatic horizon correction count as nice to have, too. The flip side is that it's not such a great system for working with long telephoto lenses.
If the K-70 has one weakness, it would be autofocus. It works absolutely fine with static subjects, but the more sophisticated systems on its rivals give them the edge with moving subjects. If you were planning to shoot a lot of sports, action or wildlife photography using telephoto lenses, then it's probably not the best choice. The lack of a touchscreen is also worth noting, although this being a DSLR that works best when shooting with the optical viewfinder, I honestly didn't miss it that much.
Overall, the K-70 offers great value and a solid set of features in a compact body that should be easy to use for beginners. But equally, it will keep budding photographers happy for longer as their experience grows and they start to experiment with the more advanced features that it includes in abundance. For the price, the K-70 is hard to beat.
For more options, have a look at the best Pentax DSLRs, and best Pentax K-Mount lenses.