Panasonic Lumix S1R: At a Glance
£3,399.99 (body only)
47.3MP full-frame CMOS sensor
Venus Imaging engine
ISO 100-25,600 (expandable to ISO 50-51,200)
Dual I.S. image stabilisation system
5.76-million-dot OLED EVF
4K 60p/50p video recording
Dual card slot (XQD& SD)
Weatherproof construction
What a difference a year makes. This time twelve months ago Sony had the full-frame mirrorless market virtually all to themselves and both Nikon and Canon were yet to strike back with their respective Z 7/Z 6 and EOS R cameras. As the full frame mirrorless market started to build serious momentum, rumour had it that Panasonic might also join the party. This initially came as a surprise after showing little interest in taking the full-frame route before and being fully committed to its Micro Four Thirds system for more than a decade. So why the change and why now?
While there still is and will continue to be demand for smaller and lighter cameras, Panasonic clearly feels the need to satisfy more than just the general consumer by offering a full-frame system of its own. By forming the 'L-Mount' Alliance' with Leica and Sigma, Panasonic has set its heart on developing a desirable, professional series for those who haven't yet found their perfect full frame camera and photographers who are open to the idea of joining a new full frame system. But is Panasonic simply after a share of the full frame market or are they onto something special with their new S-series?
Panasonic Lumix S1R: Features
The Lumix S1 and Lumix S1R share an identical body design, but employ different sensors to cater for different audiences. The 47.3-million-pixel CMOS sensor located behind the S1R's large diameter L-mount doesn't break the 50-million-pixel barrier, but its high 8368×5584 pixel count places it above its high-resolution rivals such the 45.7MP Nikon Z 7 and 42.2MP Sony A7R III.
The high-resolution possibilities don't end here. Enormous 187-million-pixel images can be produced using its high-resolution mode, which stitches together image information recorded from eight exposures taken as the in-body image stabilisation system makes subtle adjustment to the position of the sensor. Panasonic has refined this mode too, introducing Mode 2 that's designed to minimise motion blur associated with moving objects such as greenery landscape scenes. More on this later in the review.
The S1R's standard sensitivity range of ISO 100-25,600 is expandable to ISO 50-51,200 equivalent, and with Panasonic's new Venus Engine processor on board it can shoot up to 9fps with fixed autofocus (AFS), or 6fps using continuous AF (AFC). If this isn't fast enough there are the S1R's 6K/4K Photo modes to fall back on. These can be used to extract 18-million-pixel JPEG images at 30fps, with 4K Photo offering sequences at 30fps or 60fps at a lower 8-million-pixel resolution.
Switching from the mechanical shutter (60secs-1/8000sec) to the electronic shutter (60secs-1/16,000sec) permits silent shooting, with a direct silent mode setting also available from the menu. 

Another familiar feature is the 5-axis Dual I.S II image stabiliser, which offers 6 stops of compensation to counteract camera shake when shooting stills or movies. It works in the same way as the Dual I.S II system found inside the Lumix G9, combining 2-axis stabilisation from the lens with 5-axis stabilisation in the camera. Added to this, Panasonic has introduced what's called an I.S. Status Scope to help photographers identify camera shake easily by displaying a graphic interpretation of the vibration.
For autofocus, Panasonic has used its formula of contrast detection and Depth From Defocus (DFD) technology again, with the Venus Engine, CMOS sensor and Lumix S lenses all communicating at a rapid 480fps. The lock-on acquisition speed of autofocus (0.08secs) isn't as quick as the Lumix G9 (0.04secs), but the focus tracking has been refined with 'advanced artificial intelligence technology' that can now detect the difference between humans, cats, dogs and birds. The camera's low light performance also boasts an impressive AF working range of -6EV to 18EV.
The S1R presents 4K video recording at 50/60p, with high-speed video options to record 2x slow motion at 60fps in 4K and settings down to 6x slow motion in Full HD at up to 180fps. The S1R's sister model, the Lumix S1, offers better the better video spec for moviemakers, allowing full-pixel readout using the full width of the sensor at 30p and 4K 60/50p 4:2:0 8 bit recording direct to an SD or XQD-card.
Panasonic will also provide a paid-for software key later this year for the Lumix S1. This will unlock the option to record 4K 60/50p 4:2:2 10 Bit via HDMI-output and 30/25/24p in 4:2:2 10 Bit internal, with V Log included.
Back to the camera in question, the Panasonic Lumix S1R provides a 2.5mm remote port, with a 3.5mm mic socket and headphone port located behind a separate hinged door. Advanced audio quality is available too using Panasonic's optional DMW-XLR1 microphone adapter, allowing pro-spec microphones and XLR input sources to be connected. It's good to see the S1R providing dual-card slots (SD and XQD) and it's UHS-II compatible too. Bluetooth and Wi-Fi connectivity options are also present and let you pair and transmit images to smartphones running Panasonic's new Lumix Sync app that's available for iOS and Android.
Panasonic Lumix S1R: L-mount lenses
It's early days for the S-series. Although Panasonic only currently offers three lenses, comprising the Lumix S Pro 50mm f/1.4 (£2,299), Lumix S Pro 70-200mm f/4 O.I.S (£1749) and Lumix S 24-105mm f/4 MACRO O.I.S (1,299), we can expect many more S-series lenses based on the Leica L-mount to arrive in the coming months and years.
The beauty of the 'L-Mount' Alliance' is that photographers have the flexibility to mix and match Panasonic, Leica or Sigma cameras with L-mount lenses from each manufacturers product portfolios. Sigma has been forthcoming with their plans to support the L-mount, making it known that 11 of their primes from its high-quality 'Art' line will be optimised to work with L-mount cameras such as the S1R, covering focal lengths from 14mm to 135mm. As well as these lenses, Sigma will also make a new mount adapter (MC-21). This will allow Sigma SA mount and Canon EF mount lenses to be used with L-mount cameras. Better still, it'll work with the auto crop function, enabling APS-C format lenses to be used with a full frame sensor too.
While the L-mount might not be supported by the wide range of lenses that other full frame mirrorless systems offer at present, the future of the S-series and L-mount certainly looks bright.
Panasonic Lumix S1R: Build & Handling
A lot has been reported about the size of Panasonic's S-series models. Compared to Canon, Nikon and Sony who've made a clear effort to keep their full frame mirrorless offerings as small and lightweight as possible, Panasonic's approach is quite different. The S1R is the largest full frame mirrorless cameras we've tested since the Leica SL.
It's quite a beast in the hand and doesn't give you an instant impression of having a size or weight advantage over many full frame DSLRs. The body on its own weighs a substantial 1020g and when this is paired with a pro-spec lens such as the Lumix S Pro 50mm f/1.4 (955g), it's actually heavier than some full-frame DSLR and lens combinations. The Nikon D850 (1005g) with the excellent Sigma 50mm f/1.4 DG HSM (815g) is just one example of a setup that weighs less.
One theory for making the body big is to ensure the S-series is quite different from Panasonic's G-series cameras. When you inspect the S1R closely though, you realise it's closely related to the Lumix G9, with its top plate LCD, large handgrip and general arrangement of buttons and dials sharing much of a likeness to its G-series cousin. The size of the body does present a few benefits. There's ample space for large buttons, you get a rectangular top plate LCD display and a 3050mAh battery, which supplies enough power for 1100 images in its power save LVF mode. The battery level can also be set to show its remaining capacity as a percentage.
The lockable mode dial has a switch around its base, giving users the option of customising burst settings to drive mode I or II, including the option to setup and shoot using the 6K/4K photo modes. Between these drive modes and the self-timer mode there's the option to create a time-lapse or stop motion animation in-camera. On the opposite side of the top plate, white balance, ISO and exposure compensation all get their own dedicated buttons, but rather than uniting the On/Off switch with the shutter button, it's shifted further back. One reason for this is due to the front dial being positioned ahead of the shutter button, rather than behind it as on the Lumix G9.
At the rear of the body, the AF mode button merges with the focus mode switch. This is a little plasticky though and neither the button or the switch feels quite as robust as the rest of the body. There's a lock switch alongside the playback button too, which can be assigned to instantly disable the cursor, joystick, touchscreen, dials or DISP. button. The AF-ON button falls nicely to hand for those who like to use back button focusing, as does the joystick, which is used to select and nudge the AF point quickly across the frame without having to stretch your thumb too far. My only other criticism at the rear is the control dial, which feels a tad plasticky and a touch on the small side. Five buttons at the rear can be setup to illuminate in the dark, however the three key buttons behind the shutter button on the top plate do not illuminate.
Studying the body from the front, you'll notice two function buttons (Fn1 and Fn2) beside the lens mount. Head to the Fn button set option in the menu and you'll find different functions can be set to a variety of buttons in both record and playback modes. Another handy feature is the Fn lever, at the front of the body. This can be used to quickly select different shooting functions and from the menu you're given 19 options in total, including AF mode, photo style, image quality, self-timer, shutter type and focus peaking. The S1R's level of customization is excellent, allowing users quick and easy access to setting it up exactly as they'd like to use it.
As for the S1R's magnesium alloy die-cast front and rear panels, these give the body a good sense of strength and robustness. It has a high-end, premium feel to it that all serious and professional photographers look for and with weather seals at every joint, dial and button, it has the protective measures in place to let you keep shooting whatever the weather. It can even be used in temperatures as low as -10°C. The shutter meanwhile is very sweet sounding and is made to endure 400,000 actuations.
Panasonic Lumix S1R: Viewfinder & Screen
It's quite a statement, but the S1R has the most impressive electronic viewfinder of any camera we've ever tested. Like the Lumix S1, it's the first camera in the world to debut a 5.76-million-dot OLED EVF – a resolution that's exceeds the 3.6-million-dot EVF units you get on Nikon's Z-series cameras and even the 4.4-million-dot EVF on the Leica SL.
With a 10.000:1 contrast ratio, minimum lag time of 0.005secs and refresh rate of 60fps that can be increased to 120fps, it displays a sensationally sharp and accurate view to the point you're left wondering if it's possible for EVFs to get any better. The default magnification (0.78x) can be reduced to 0.74x and 0.7x using the V-Mode button for users of glasses who may struggle to view the corners of the frame and there's no viewfinder blackout beyond the first frame, making it easier to track and follow fast and erratic subjects during a high speed continuous burst.
The 3.2in, 2.1-million-dot touch screen is a slim unit and doesn't protrude too much at the rear. Being the triaxial tilting type, it's designed to withstand rugged professional use and doesn't block any of the ports at the side in any tilted position. It's very similar to the type of three-way screens we've seen before on Fujifilm's premium X-Series cameras and with a press of a button at the side it's possible to pull it out and tilt it to aid with high and low angle shots in the portrait format.
The panel is sensitive to light touches, letting you navigate through the new two-tier menu system quickly and precisely. The same can be said for reviewing images in playback. A double tap of the screen takes you to 2x-magnified view, with the rear dial allowing you to zoom up to 16x magnification.
Panasonic Lumix S1R: Autofocus
Panasonic have once again put faith in their Contrast AF with DFD system, which during our testing demonstrated excellent accuracy, with no sign of hesitation when asked to focus in favourable lighting conditions on static subjects in AFS mode. But what about its performance in low light or when asked to track moving subjects?
Using the S1R in a gloomy bar where contrast was lacking was a much tougher test. Here, focus lock on wasn't instantaneous and signs of hunting were observed. Though a majority of the time it would find focus, occasionally requiring a second attempt, it relies heavily on the help of its bright orange AF assist beam in this type of environment.
Switch the camera across to continuous AF (AFC) and you'll also become aware of a certain pulsing as the AF system constantly attempts to focus. Despite capturing some pleasing high-speed action shots, a couple of opportunities were missed when it either failed to lock-on fast enough or struggled to keep up with the high speed subjects it was asked to track.
The AF mode is changed between single AF (AFS) and continuous (AFC) using the switch that surrounds the AF area button, but as previously mentioned this is somewhat plasticky and would have been better had it been machined from metal. Pinpoint AF is great for extremely precise focusing and face/eye/body/animal detection works well provided the person, people or animal you're photographing aren't too distant or appear too small in the frame.
There are tracking and 225-area AF modes too, with the S1R's 1-area AF mode letting users define the position of the AF point in up to eight sizes with the two zone modes being a good option for moving subjects in combination with AFC mode. You can choose from a vertical/horizontal arrangement of AF points or an oval setting, with the option to enlarge the coverage and change its position using the control dial and AF joystick. After receiving criticism about the position of the Lumix G9's joystick, I'm glad to report the S1R's joystick is better placed at the rear of the camera.
Panasonic Lumix S1R: Performance
As one would expect from a pro-spec body costing £3,399, the S1R puts in a very creditable performance. The Venus image processing engine showed that it's up to the task of handling huge volumes of data from the powerful full-frame sensor and with high performance memory cards like the Sony 64GB G Series XQD card we used it with for our testing, there's no hesitation between shots in single shot mode.
Speed tests set to continuous shooting resulted in the S1R being able to record 35 Raw and Fine JPEG files at 9fps, increasing to 40 frames when shooting in Raw and 55 frames when set to Fine JPEG. Switching the focus mode to continuous (AFC) sees the burst rate drop to 6fps – slower than the 10fps with continuous AF offered by the Sony A7R III. At this speed, 42 Raw and Fine JPEG files were recorded before the buffer required a breather.
The burst shot settings are easy enough to locate from the menu, however the descriptions fail to tell you how many frames per second the camera shoots at in each mode. Adding this or combining it within the continuous high-speed shooting icon onscreen would be useful for referral.
The camera fires into life very quickly from a flick of the on/off switch, which is great for instantaneous moments that may present themselves. I did however find the delay between reviewing an image on the rear screen in playback mode and then entering shooting mode a little irritating and felt that this transition could be made faster, which would further rule out the chance of any spur of the moment opportunities being missed.
The icon in the top right hand corner of the screen and EVF, which displays the function of the image stabiliser is very useful to glance at and changes automatically based on the lens you're using. The effectiveness of the image stabiliser is such that I managed to capture a few sharp handheld frames at 1/15sec at a 200mm focal length. It can be setup to be always active or activated on a half press of the shutter, with the latter being the better option if you'd like to preserve battery life.
Occasionally we see something introduced onto a camera that's so good and so useful, it makes you wonder why we've never seen it before. The way the ISO button can be tapped continuously to incrementally increase ISO without having to use a dial is a brilliant idea. When you get to the maximum ISO setting one more tap of the ISO button takes you to Auto ISO, with a second tap taking you to the lowest ISO setting.
Tapping the White Balance button works similarly and takes you through the various white balance settings very quickly. Trying out the new AWBw Auto White Balance mode showed that it too works effectively, reproducing a slightly more rosy skin colour to portrait shots than the standard AWB and AWBc (cool tint) modes.
A couple of other shortcuts I found during use included the AF ON button doubling up to rate/protect images in playback mode, holding the Q button in shooting mode takes you straight to the video settings and holding the AF area button in playback lets you swap to viewing images on the second card if one is loaded. I also noticed the shutter button isn't quite as sensitive as the one on the Lumix G9, which required the lightest of presses beyond a halfway press to take a shot.
The S1R's high-resolution mode is very user friendly, being both quick and easy to setup and use. To minimise risk of blur caused by knocking the camera during the start of an exposure there's the option to delay the recording process from nine settings (1/8sec to 30secs). You also get the option to simultaneously record a normal image in the raw or JPEG format. I did find one small glitch however whereby the preview of the normal raw image directly after the high-resolution image was poorly rendered on the screen at high magnification in playback. Hopefully this will be addressed with a future firmware update.
With a fast shutter speed, the S1R takes eight consecutive shots in quick succession before merging this data to create one huge 187-million-pixel high-resolution image – a process that against the clock takes 18 seconds from start to finish. It's important to note though that it's not possible to change settings or recompose using the screen or EVF until the process is fully completed so an element of patience is required.
Interested to find out how High Resolution mode fares in situations where moving subjects are included in a scene, I switched it over to Mode 2 and attempted some high-resolution images on a blustery day where trees and greenery were blowing in the wind. The internal image rendering applied by the camera in this mode proved to be very effective in this situation, managing to keep branches and shrubbery sharp with no obvious traces of motion blur on close inspection. How it manages to do this is witchcraft. We intend to follow up with a more in-depth article all about the S1R's high-resolution mode, how it works and the results you can expect from using it in due course.
Panasonic Lumix S1R: Image quality
To maximise the fine level of detail the Lumix S1R's sensor is able to record it goes without an anti-aliasing filter and employs aspherical micro lenses over each pixel to enhance its light-gathering ability. The level of fine detail the sensor resolves when it's used with incredibly sharp lenses such as the Lumix S Pro 50mm f/1.4 is quite astonishing when you start to zoom in and inspect images closely. Editing many raw files after converting them using Adobe DNG converter revealed that the sensor has a wide dynamic range, offering good leverage when it comes to returning detail to the deepest shadows in a scene. Noise is also very well controlled right up to ISO 12,800, preserving excellent detail in high ISO images.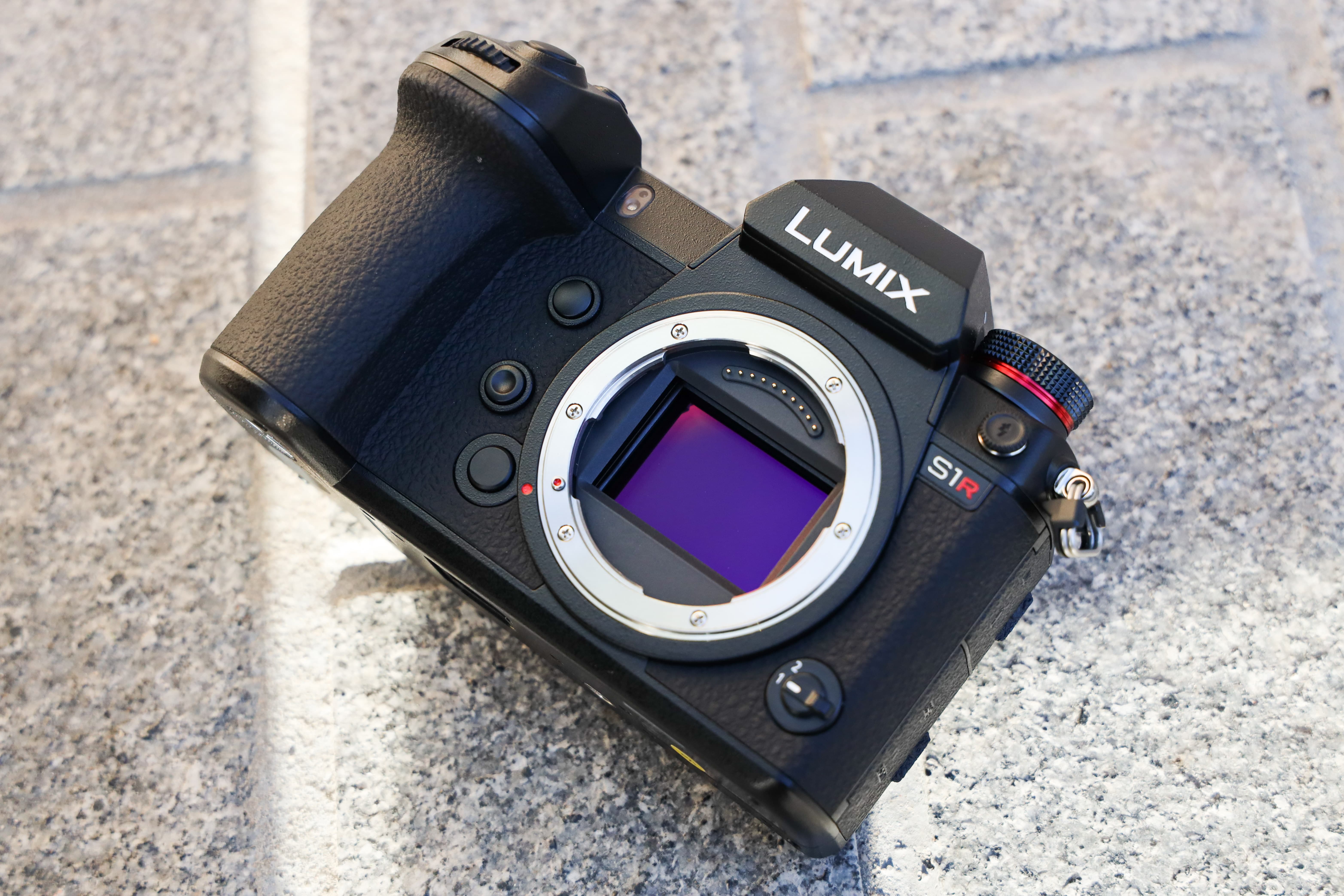 Panasonic Lumix S1R: Resolution
With Adobe Camera Raw and Lightroom yet to support the S1R's .RW2 raw files at the time of testing, Adobe DNG converter was used to convert the files first. A detailed look at the S1R's raw files tells us its 47.3MP sensor achieves approximately 5000 lines per picture height at ISO 50, which is a spectacular result for a full-frame chip and is on par with the figure previously recorded by the Nikon Z 7 at its base ISO 64 setting. This figure drops as the ISO is raised, but detail still remains extremely high. At ISO 3200 and ISO 6400 it resolves an extremely high 4400 l/ph, with 4200 l/ph being resolved at ISO 12800. At the top standard setting of ISO 25,600, the S1R registers in excess of 3600l/ph.
Panasonic Lumix S1R: ISO and noise
Inspecting the S1R's raw files after converting them to .DNG files shows that sensor generates wonderfully clean and detailed images with rich, faithful colour between ISO 100 and ISO 800. When you reach ISO 1600, luminance noise is traced, but is only obvious when images are inspected very closely at 100%. Shots taken at ISO 3200 and ISO 6400 are entirely useable, though I did find myself applying a touch of noise reduction to counteract the increased, but still relatively minor amount of luminance noise. Even the highest standard setting of ISO 25,600 could be used as a last resort with some extra noise reduction applied, but I'd keep ISO 6400 or ISO 12,800 as my upper limit when working in Auto ISO. The extended ISO 51,200 setting should be avoided and I noticed a green tinge starts to appear in the darkest shadowed regions.
Panasonic Lumix S1R: Verdict
With the launch of the Lumix S1R, it's clear that Panasonic is taking its entry into the full-frame mirrorless market very seriously. Rather than testing the water and taking the cautious approach of launching a full frame model aimed at amateurs and enthusiasts, the manufacturer has thrown absolutely everything into making the very best full frame camera they can for serious and professional photographers who are known for being one of the hardest audiences to please.
With stellar image quality from its 47.3MP full frame sensor and highly effective in-body image stabilisation, it falls into the same camp as the Nikon Z 7 and Sony A7R III with the benefit of being able to create whopping 187-million-pixel images using its extremely effective high-resolution mode. There's so much more to like besides its image quality. It has the best EVF of any camera right now, offers resilient build quality, features an informative top plate display, provides twin card slots, a sensitive touchscreen and has a well thought through layout of buttons and dials if you exclude the rather poorly positioned on/off switch.
The S1R is neither small nor lightweight though. It's actually quite the opposite and its big muscular body and heavy lenses offer no practical weight or size advantage over a full frame DSLR setup. Those who are fed up with lumping around a heavy system won't find their answer in the Panasonic Lumix S1R. As good as it is to have a large grip and spacious layout of buttons, the weight of the camera with the heavy Lumix S Pro 50mm f/1.4 lens it was supplied with did take its toll and I looked forward to taking it off my shoulder at the end of a long days shooting.
One other area where the S1R is also at a disadvantage is its focusing ability in poor lighting conditions. It's focus speed just didn't seem to be a match for the phase-detect AF systems employed by many of its rivals.
For a first generation full frame model, the Panasonic's Lumix S1R is a supremely impressive camera. It boasts a mouth-watering spec for serious and working pros whose main concern isn't size or weight, but is about the feel, operation and quality of the images their camera delivers. It doesn't get quite the same rapturous applause that the Sony A7R III or Nikon Z 7 received, but don't let that take anything away from what Panasonic has managed to achieve. If you're not already heavily invested in a full frame system and demand top notch image quality from a well made camera, the S1R is certainly worth exploring and shouldn't be written off just because of its size and weight. To sum up, the Panasonic Lumix S1R is very good indeed, however it's not quite perfect.