Panasonic Lumix GH5 review: Introduction
At a glance
£1,699 body only
£2,199 with 12-60mm f/2.8-4 Leica DG Vario-Elmarit lens
20.3MP Micro Four Thirds Live MOS
5-axis Dual IS 2 in-body stabilisation
3.2in/1.62M-dot vari-angle touchscreen
3.68-million-dot OLED EVF
Twin SD card slots
10-bit 4:2:2 4K video recording
The Panasonic Lumix DC-GH5 succeeds the GH4, which upon its release in 2014 held the distinction of being the first interchangeable-lens mirrorless camera to offer 4K video capture.
The competition has since caught up, however, and the market now offers a good range of 4K-capable cameras to choose from, with the Fujifilm X-T2, Sony A6500 and Olympus OM-D E-M1 II all being notable alternatives.
Panasonic's response has been to up the ante, with the headline addition being the ability to record 4K video at up to 60fps – something none of its competitors can match. The GH5 is also the only mirrorless camera on the market to offer broadcast-standard 10-bit 4:2:2 internal recording at 30fps.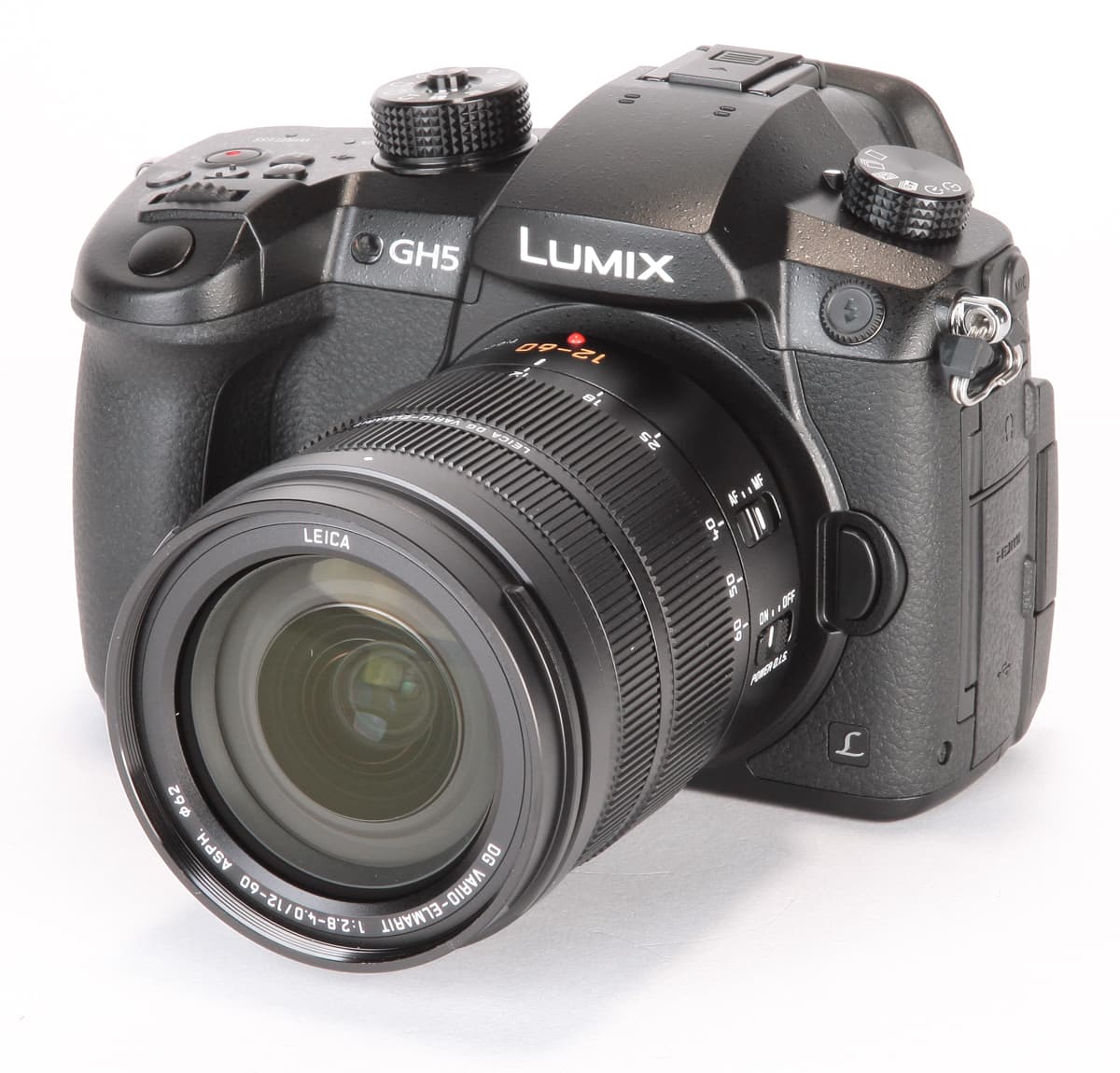 Of course, it's not all about video, and in such a competitive market the GH5 also needs to distinguish itself as a still image camera. To this end, the new model boasts an extensive list of upgrades and additions over the GH4. In fact, there are hardly any areas of the GH5 that haven't seen improvement.
The most headline-grabbing of these include the addition of built-in five-axis image stabilisation, a new 6K Photo Mode that enables you to shoot 18MP still images at 30fps, and an enhanced Depth from Defocus (DFD) autofocus system that employs significantly more contrast-detect AF points than the GH4.
Elsewhere, the GH5 also benefits from a new 20.3MP sensor, a powerful Venus Engine 10 image processor, a class-leading 3.68m-dot electronic viewfinder, a larger vari-angle rear LCD touchscreen and, last but not least, twin SD memory card slots.
Panasonic Lumix GH5 review: Features
The GH5 is built around a new 20.3MP Live MOS sensor and Panasonic's latest generation of Venus Engine 10 image processor. In terms of resolution, 20.3MP represents a step up from the 16MP sensor employed by the GH4 and brings the GH5 much more into line with its main rivals. The GH5's anti-aliasing filter has also been removed in order to increase resolution.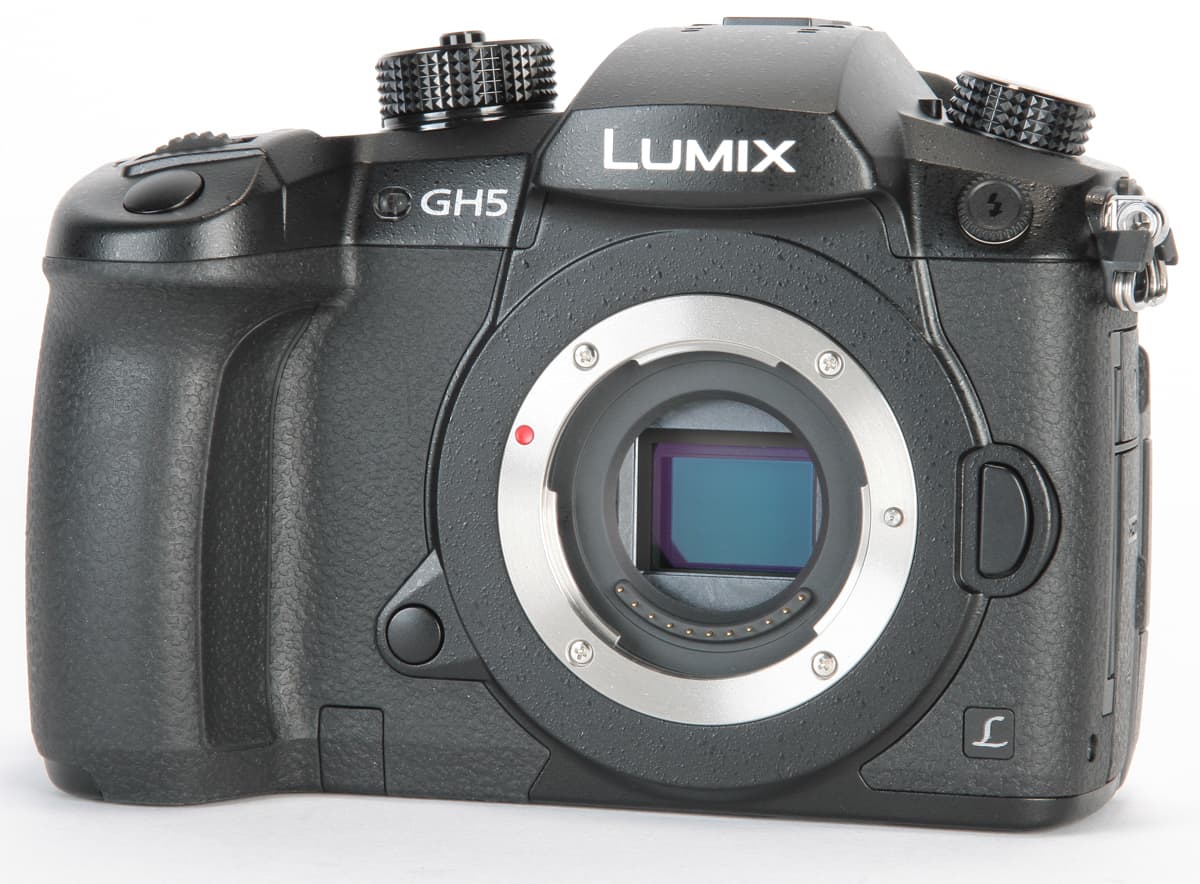 Native sensitivity ranges from ISO 200 to 25,600 with an extended lower setting of ISO 100, while shutter speeds range from 60 seconds to 1/8000sec using the mechanical focal-plane shutter, or 60 seconds to 1/16,000sec using the electronic shutter. The shutter is rated to 200,000 actuations and benefits from a new suspended design that makes it quieter, too.
Exposure modes include the standard PASM quartet, backed up by Panasonic's Intelligent Auto and Intelligent Auto+ mode for point-and-shoot duties. There are also 22 individual Creative Control digital filters plus three Custom settings that can be set up as you want.
Images can be recorded as lossless raw files in the proprietary Lumix .RW2 format, or as JPEGs in a variety of sizes including L (5184×3888), M (3712×2784) and S (2624×1968).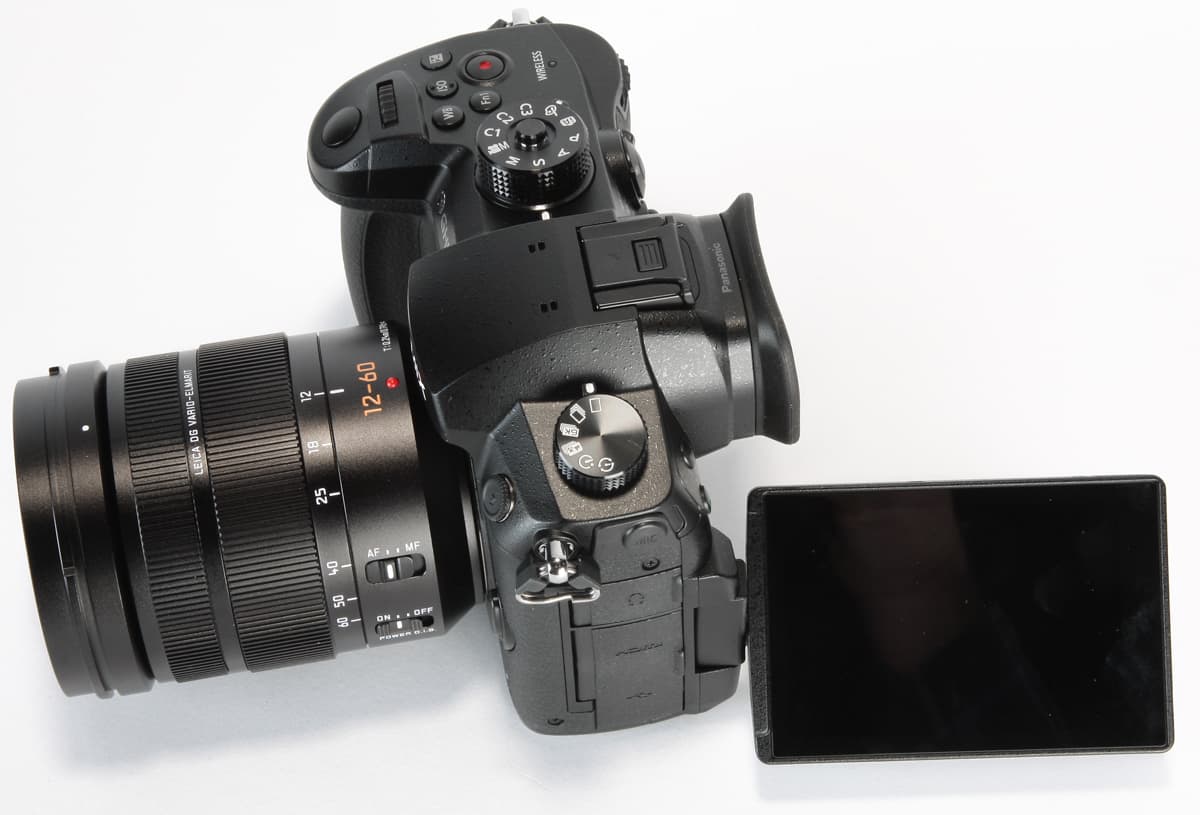 For JPEG shooters, the GH5 provides Panasonic's standard range of Photo Style in-camera JPEG processing options along with a custom setting that can be set up as you wish. Other processing tools include Panasonic's Highlight Shadow feature that allows you to select a custom tone curve, along with the company's longstanding i.Dynamic and i.Resolution tools, which can be used to lift shadows and increase sharpening.
Rounding things off are Long Shutter Noise Reduction, Shading Compensation (vignetting control) and Diffraction Compensation tools. As ever, these tools are only applied to JPEGs processed in-camera.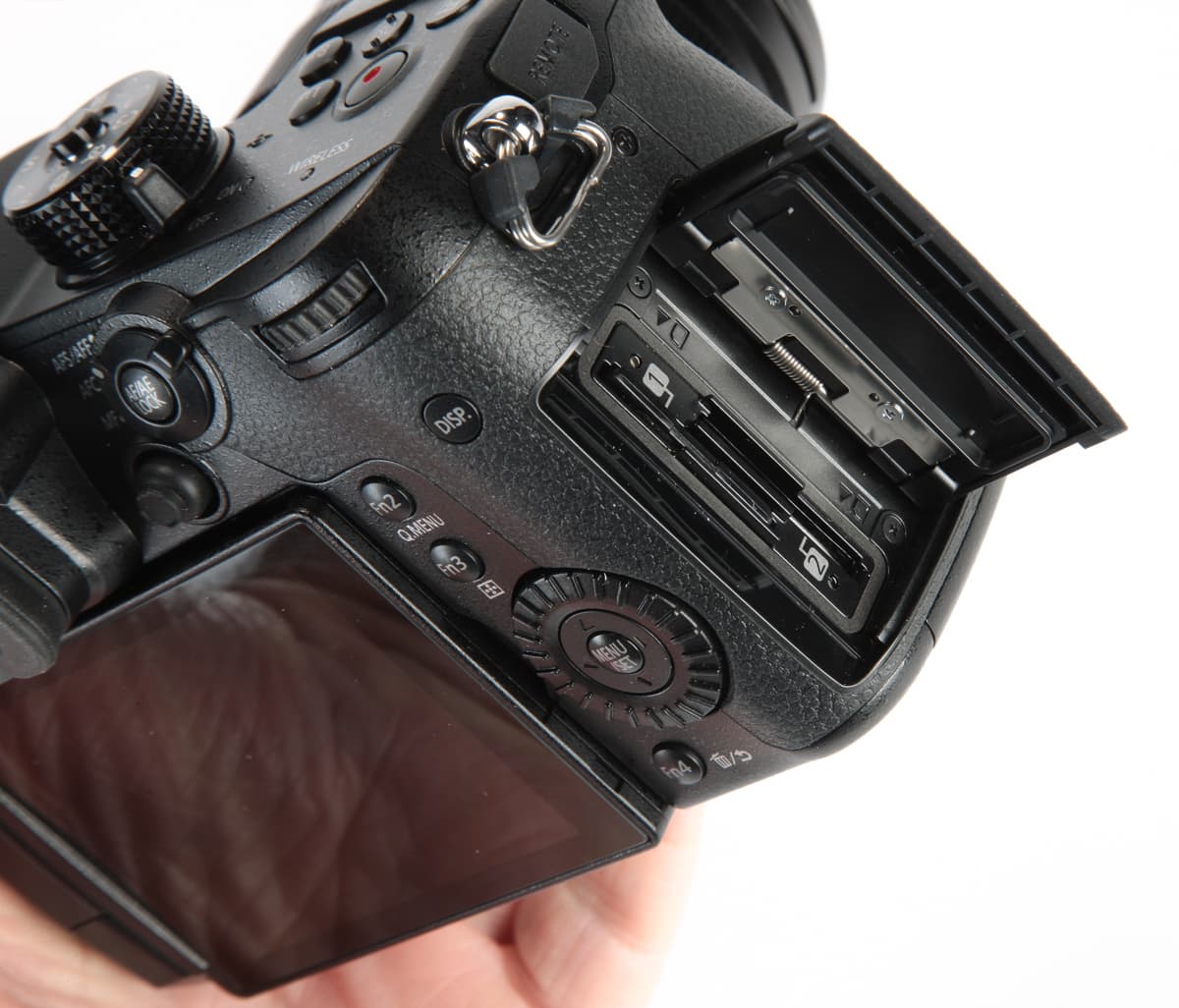 In terms of connectivity, the GH5 gives a nod to its video-centric positioning with the addition of a full-sized HDMI output that can be locked in to prevent accidental disconnections during use, along with dedicated 3.5mm headphone and microphone sockets and a USB 3.1 Gen 1 socket. There's also built-in Wi-Fi and Bluetooth for image transfer and remote control using a smartphone.
Unlike previous GH models there is no built-in flash, but the GH5's hot shoe can accept a range of flashguns and accessories.
Panasonic Lumix GH5 review: 6K Photo mode
One standout new feature of the GH5 that wasn't present in the GH4 is Panasonic's all-new 6K Photo Mode.
This works in much the same way as the 4K Photo Mode, which has become common to many of Panasonic's 4K cameras, with the camera recording UHD video footage (with no upper time limit) before allowing you to extract still images from the captured footage via the Playback menu.
The main difference between the two is that 6K Photo Mode produces 18MP still images while 4K Photo produces 8MP images.
In addition to the new 6K Photo Mode, Panasonic's older 4K Photo Mode also features on the GH5. However, even this has been enhanced with a top burst speed of 60fps now available alongside the standard 30fps. When using 6K Photo, only 30fps can be selected.
Regardless of whether you are shooting in 4K or 6K Photo Mode, there are three modes to choose from: a standard Burst mode that fires off consecutive frames for as long as the shutter button is held down; a Burst Start/Stop that begins recording video the first time you press the shutter button then stops once you press it a second time; and, lastly, a Pre-Burst Mode that captures one second's worth of footage both before and after the shutter button has been pressed, effectively allowing you to effectively rewind or fast-forward in order to extract the definitive moment.
Panasonic Lumix GH5 review: Build and handling
One of the big selling points of the Micro Four Thirds format over the years is that it enables cameras to be made smaller, lighter and therefore more portable. While previous models in the GH range have been an exception to this rule, the GH5 is the largest in the series and easily comparable to an enthusiast-grade or even semi-pro DSLR in terms of overall size.
That said, the camera actually sits very comfortably in the hand, thanks to its deep, ergonomic handgrip. With the 12-60mm f/2.8-f/4 Leica DG Vario Elmarit lens attached, the GH5 also feels really well balanced.
Build quality impresses, too, with the GH5's magnesium-alloy die-cast outer construction giving the camera an undeniably robust and reassuringly weighty feel in the hand. In addition to being sealed against dust and moisture, the GH5 has also been freeze-proofed down to -10 degrees.
Physical controls will be familiar to anyone who has previously handled a Lumix GH camera, although there are some layout revisions over the GH4.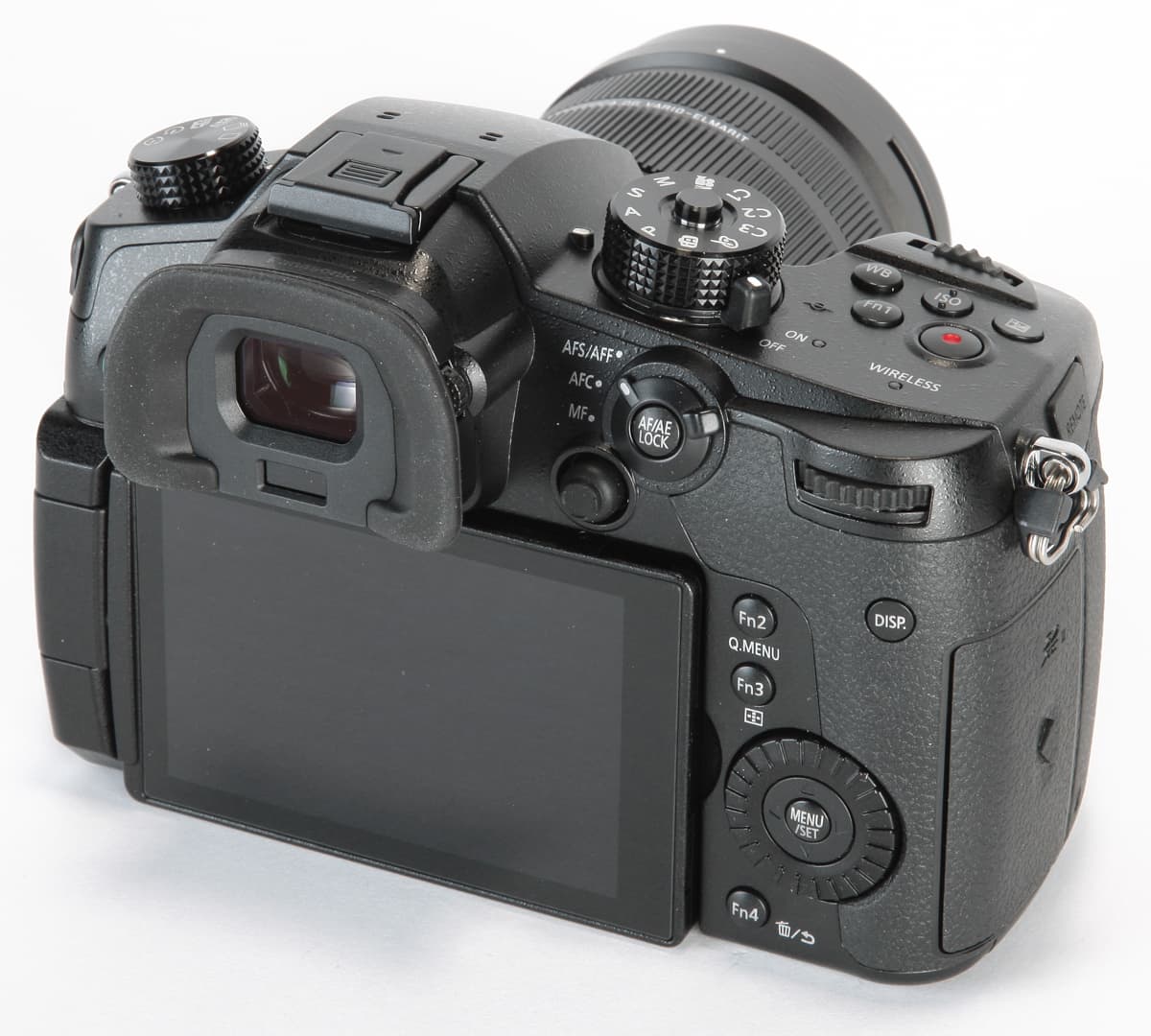 The most noticeable of these is the addition of a joystick on the back, just to the right of the EVF, which is used to control the active AF point(s). This falls within easy reach of your right thumb and allows you to move the focus point(s) around without having to re-adjust your grip and reach for the D-pad as with so many other cameras.
Elsewhere, the GH5 provides six physical Function (Fn) buttons, plus a further five accessed via the right side of the touchscreen. Overall, we found the GH5's controls to be exceptionally well laid out, and we were also particularly impressed with how the touchscreen combines with them to enhance the camera's overall usability.
The GH5's in-camera menu has also been given a refresh, with the addition of a My Menu tab being the most noticeable difference from the GH4. This particular feature can be set up as you want to offer quick access to your most commonly used settings.
Panasonic Lumix GH5 review: Viewfinder and screen
In keeping with the GH5's theme of all-round improvement, both the EVF and rear LCD have been significantly upgraded.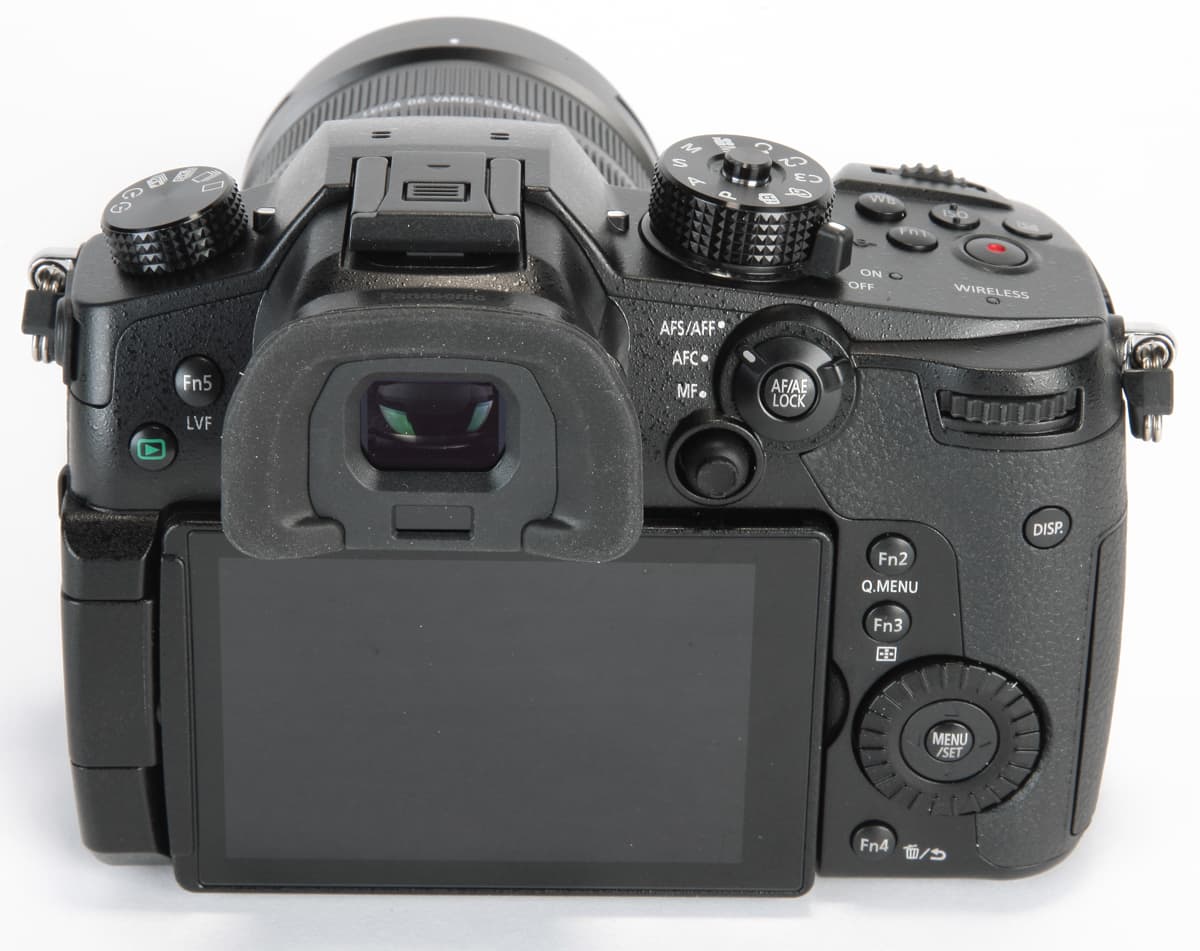 This is especially true of the 3.68m-dot Live View Finder, which is one of the best electronic viewfinders currently on the market. Even optical viewfinder purists will be hard-pressed not to be impressed by the sheer amount of detail and clarity it provides.
In addition, the new EVF also benefits from an increased 0.76x magnification (compared to 0.67x on the GH4).
Below the viewfinder, Panasonic has also upgraded the rear touchscreen LCD display, enlarging it from 3in to 3.2in and boosting resolution from 1.03m dots to 1.62m dots. While this is beneficial for videographers who routinely use the rear display to compose video with, it's also excellent for checking the sharpness of still images.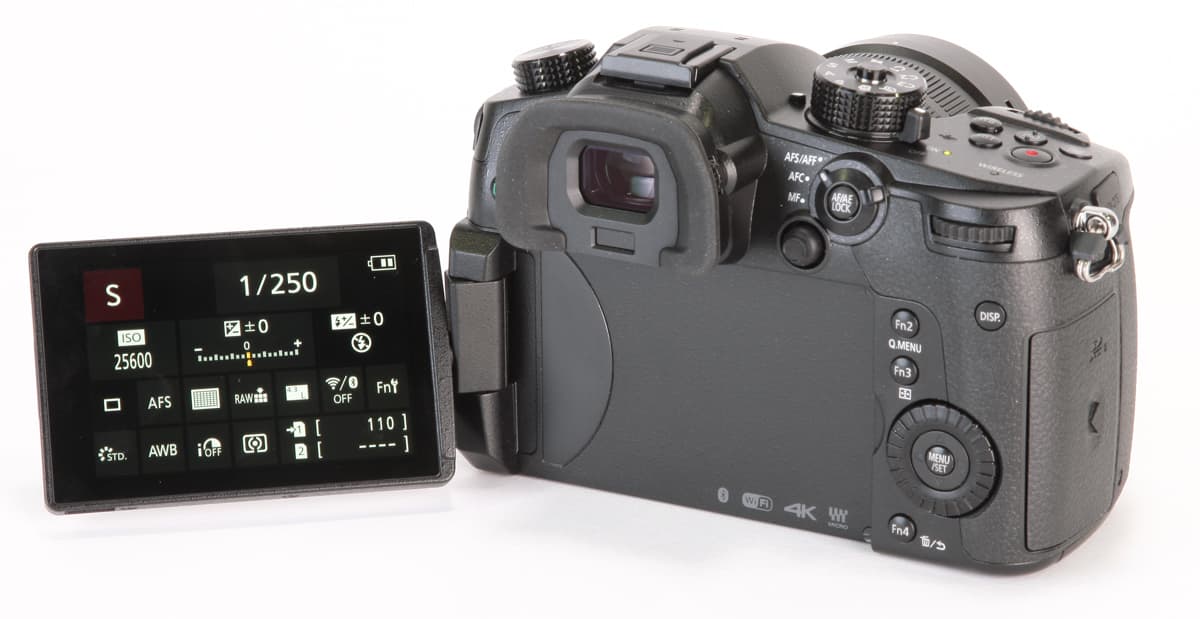 As with previous GH models, the display is of the side-hinged rotating design, which enables you to position it just about any way you choose.
Last but not least, the GH5's capacitive touchscreen is of excellent quality and never once failed to respond to all the jabs, presses and swipes we threw at it.
Panasonic Lumix GH5 review: Autofocus
The GH5 offers 225 AF points spread out across the entire frame, a significant increase on the 49 AF points offered by the GH4.
While the GH5 employs the same DFD (Depth from Defocus) contrast-detect technology of its predecessor, Panasonic claims to have greatly improved the algorithms that underpin it. Combined with the new Venus Engine 10 processor this allows for a claimed focus-acquisition time of just 0.05sec.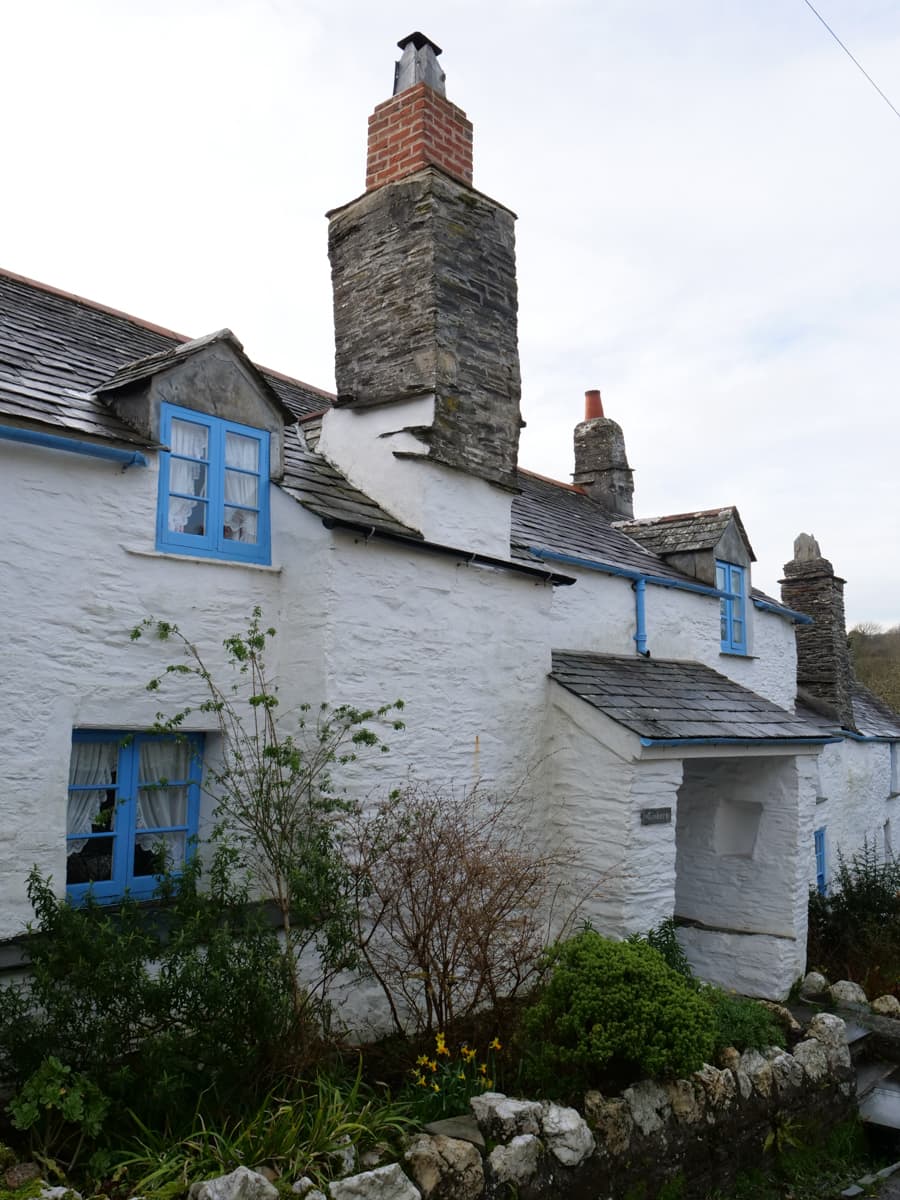 Using the camera in ample light, we found autofocus to be all but instantaneous. Performance under artificial indoor lighting also impressed, with the GH5 giving speedy focus acquisition in well-lit interiors.
The orange AF Assist light is impressively powerful, helping the GH5 to make light work of locking on to nearby subjects when required. Switching the AF Assist light off did cause the camera to struggle in really dim conditions. However, the GH5's AF range is rated down to -4EV, so even then the camera can often acquire focus after some hunting.
Focus mode options include AF-S (Single), AF-C (Continuous), AFF (Flexible) and Manual Focus. Focus Area options, meanwhile, extend to 225-Area, Custom Multi, Single Point, Face/Eye Detection, Tracking and Pinpoint. These are all highly customisable, and again the GH5 makes excellent use of its touchscreen, allowing you not only to move the active AF point/AF zone around the screen, but also expand or retract the size of individual AF points (or zones) via a pinch-to-zoom gesture on the touchscreen.
Overall, the GH5's AF is both impressively speedy and highly flexible, and we can find no real cause for complaint.
Panasonic Lumix GH5 review: Performance
Using a 16GB SanDisk Extreme Pro Class 10/U3 SDHC card, we were able to reach the claimed 12fps maximum continuous shooting speed with AF-S, and 9fps with the camera set to AF-C. Furthermore, the GH5's burst depth has been much improved from the GH4, and during testing we were able to record around 62 consecutive Raw + Fine images at 12fps before the buffer filled.
Switching to raw only, the figure rose slightly to around 65 images, while in Fine JPEG capture, the GH5 recorded approximately 130 consecutive images at 12fps before slowdown. While the GH5 is not really positioned as an action or sports camera, its continuous shooting performance easily falls within the top tier.
Alongside its 4K video recording enhancements, 6K Photo Mode and new sensor/image processor, the other major addition is built-in five-axis image stabilisation. This arrives in the guise of Panasonic's Dual IS 2 and can compensate for pitch, yaw and roll, as well as movement on the vertical Y and horizontal X axis.
The system is compatible with both stabilised and unstabilised lenses to deliver up to five stops of shutter speed compensation. In testing, we found the overall performance of Dual IS 2 to be excellent. Indeed, with the 100-400mm f4-f/6.3 Vario-Elmar lens set to a focal length of 300mm, we were able to shoot a stationary test subject handheld at shutter speeds down to 1/125sec with consistently sharp results. We also managed to get good results at speeds of 1/80sec and even 1/60sec, albeit not with quite the same consistency.
Image quality from JPEGs processed in-camera is very good, with the camera delivering pleasing results in a range of conditions. When faced with even lighting, the GH5 delivers excellent results, with true-to-life colour that is rich but not overly saturated, and with good levels of contrast, too.
When used to photograph high-contrast scenes, however, we found that the GH5 had a tendency to slightly underexpose images. As such, we often found ourselves reaching for the exposure-compensation button. Automatic White Balance was consistently accurate, though, even in mixed lighting conditions.
As expected the GH5 produces neutral-looking raw files that offer much greater processing flexibility than their JPEG counterparts. While out shooting a sunset over Bodmin Moor we deliberately underexposed a number of images to preserve highlights in the setting sun and pink clouds with the intention of reclaiming shadow detail at the post-production stage. Here the GH5's raw files provided a good degree of flexibility, and although some luminance noise is clearly visible in boosted shadow areas we were able to to produce an image we were broadly satisfied with.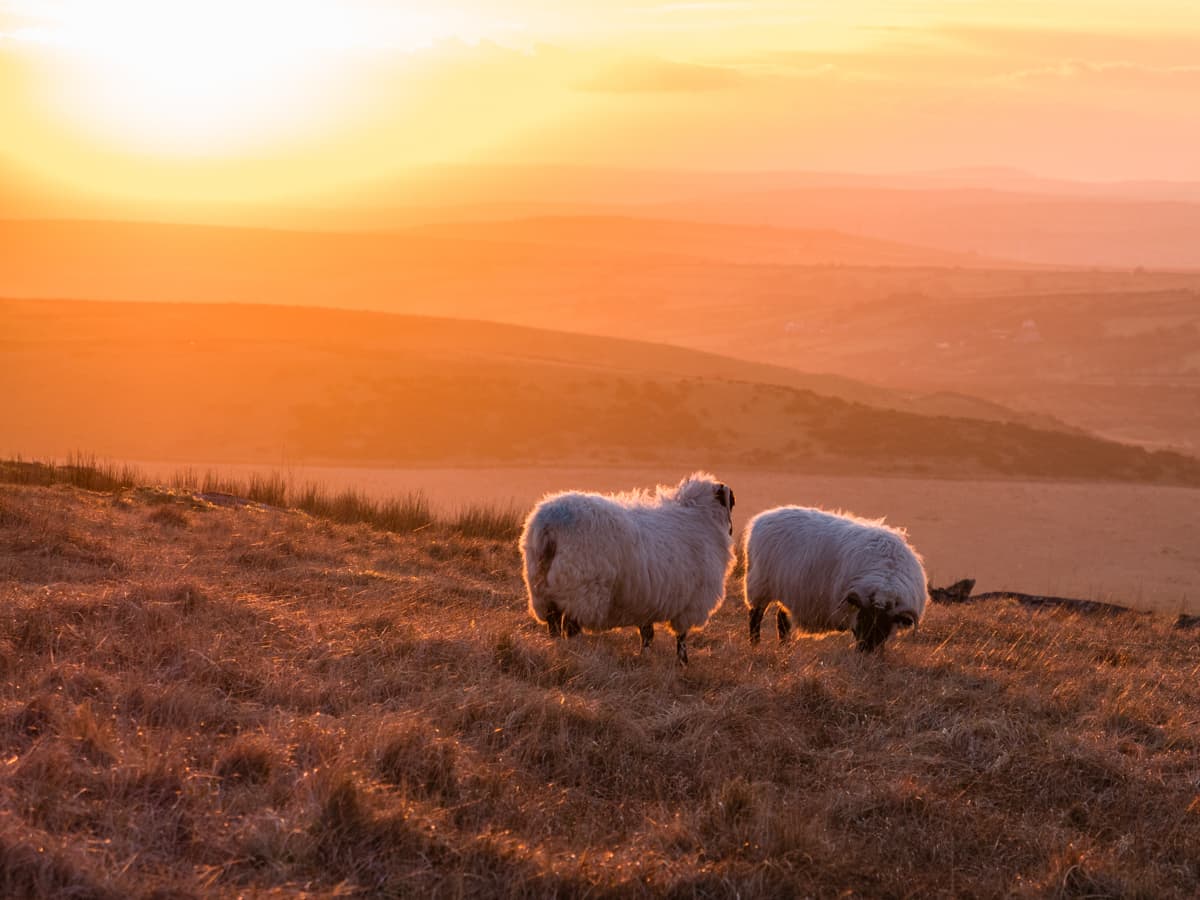 Panasonic Lumix GH5 review: Video
Panasonic's GH series has always been focused on video, and the GH5 pushes this envelope even further, not only with the addition of 4K video footage at 50p/60p, but also with the addition of 10-bit 4:2:2 internal recording at 30fps. In fact, this latter feat is likely to be the GH5's chief selling point for videographers as it provides much greater scope for colour grading. There is no upper time limit on recording time, either.
Footage can be recorded using any of the standard Photo Styles, with two additional video-specific settings in the guise of Cinelike D and Cinelike V. An additional V-Log L profile that extends dynamic range from 10 stops to 12 is also available as an optional upgrade for £80.99. On top of this, Panasonic has also promised future improvements to the GH5's video capabilities via via future firmware updates.
Panasonic Lumix GH5 review: Dynamic range, resolution and noise
Overall, the GH5 produced a very credible set of lab results, showing incremental improvements over the GH4.
While the GH5's smaller sensor is, as expected, prone to showing more noise at higher sensitivities compared to its APS-C rivals, the point at which this becomes detrimental to overall image is generally only around a stop lower.
Dynamic range, meanwhile, is largely on a par with many APS-C sensors, which demonstrates how far MFT sensor technology has come in recent years. Resolution is also very competitive with APS-C rivals, aided the removal of the optical low-pass filter.
Dynamic Range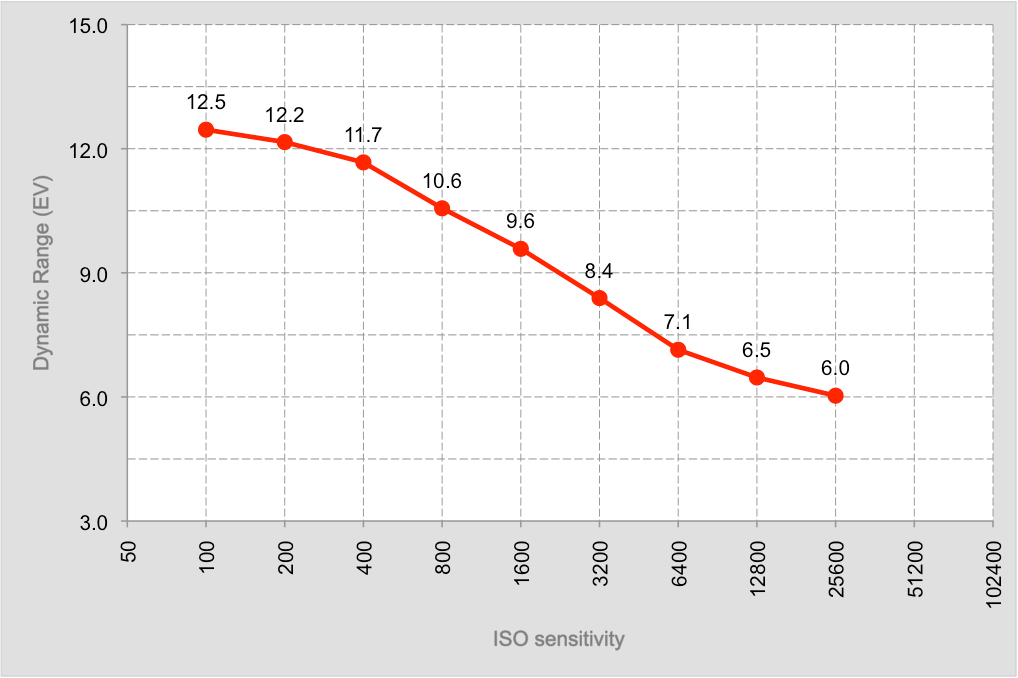 At its extended lower sensitivity setting of ISO 100, the GH5 is able to capture 12.46EV, which is just under half a stop more than the GH4 was capable of. Pushing into the mid-range sensitivity settings, the GH5 remains competitive, returning dynamic range figures above 10EV until you hit ISO 1600, at which point it dips to 9.8EV. As we'd expect at the higher settings, dynamic range does begin to drop off quite markedly with the top two settings of ISO 12,800 and ISO 25,600 both returning results below 7EV – still higher than the GH4, but indicating significant levels of shadow noise.
Resolution
The increase in resolution to 20.3MP enables the GH5 to return some impressive resolution scores from our test charts. It returned figures of 3600l/ph at ISO 100 compared to the 16MP GH4's 2800l/ph. Moving up to ISO 800, resolution only drops fractionally to 3200l/ph. In fact, resolution remains at or above 3000l/ph until you reach ISO 6400, at which point it dips down to 2800l/ph. From here, there's a noticeable tail off in performance with the top setting of 25,600 returning a figure of 2500l/ph.
Noise
Given the smaller area of Micro Four Thirds sensors, noise performance at higher sensitivities has long been a bugbear for the system. But Panasonic claims the new processor gives improved noise control, and the GH5 shows improvements over previous Panasonic cameras, not least the three-year-old GH4.
Both ISO 100 and ISO 200 return especially clean images with excellent detail and no visible noise, and at ISO 400 JPEGs show only a tiny loss of fine detail. Even at ISO 1600 you can expect the GH5 to produce very good images, albeit with a slight smearing of fine detail. ISO 3200 is the cut-off point, however, and above this image quality begins to deteriorate quite rapidly, with the top three settings of ISO 6400, ISO 12,800 and 25,600 increasingly affected by luminance and chroma noise, as well as a wholesale loss of detail particularly in darker areas.
Panasonic Lumix GH5 review: Verdict
Panasonic's GH range has long catered for those with a particular interest in video and the GH5 continues this trend. That said, its still image capabilities have also seen big improvements over the GH4.
The jump in resolution to 20.3MP along with the removal of the optical low-pass filter results in crisp images with excellent levels of fine detail. And while the GH5's comparatively smaller Micro Four Thirds sensor isn't quite able to match its APS-C rivals at higher sensitivities, noise control nonetheless shows a noticeable improvement over previous GH models.
There are undoubtedly better low-light cameras on the market at this price point, but, the GH5 demonstrates how far Micro Four Thirds sensors have come and the differences in overall image quality certainly aren't as big as some critics make out.
Elsewhere, the GH5 is a richly featured camera with numerous useful tools that will benefit stills photography just as much as video. The addition of five-axis image stabilisation is perhaps the most notable; indeed the fact that Panasonic's Dual IS 2 performs exceptionally well in real-world use adds an extra dimension to the GH5 and greatly increases its overall flexibility.
The addition of 6K Photo Mode is also welcome, even though we suspect it is something that will appeal more to casual users than enthusiasts. Meanwhile, the 3.68m-dot EVF is one of the very best we've yet encountered on a mirrorless camera, which makes using the GH5 at eye-level a much more pleasing experience overall. Overall handling and build quality are hard to fault, too, with the GH5 shining in both departments.
So far, so good, then. Our only slight reservation with the GH5 is that at this price point, the market is exceptionally competitive – especially for those for whom 4K video capture is a useful but far from critical consideration. In this respect, the overall appeal of the GH5 will be almost entirely dependant on your shooting preferences and what you require from a camera.
But, while there are perhaps better cameras at this price point for stills, the GH5 remains the leader of the pack for those with a specific interest in videography.