First Look
Panasonic has historically been serious a serious player in the 'enthusiast compact' market, having revived the sector back in 2008 with its Lumix DMC-LX3 and thereby establishing a blueprint for small cameras with ultra-fast lenses and lots of manual control.
However in 2012 Sony's RX100 changed everything, with its large 1-inch type sensor in a compact body, and along with its successors has led the market ever since.
Now Panasonic has struck back with the Panasonic Lumix DMC-LX100, which along with the Canon PowerShot G7 X is one of the first serious competitors to the RX100 series thanks to its fast lens and large sensor.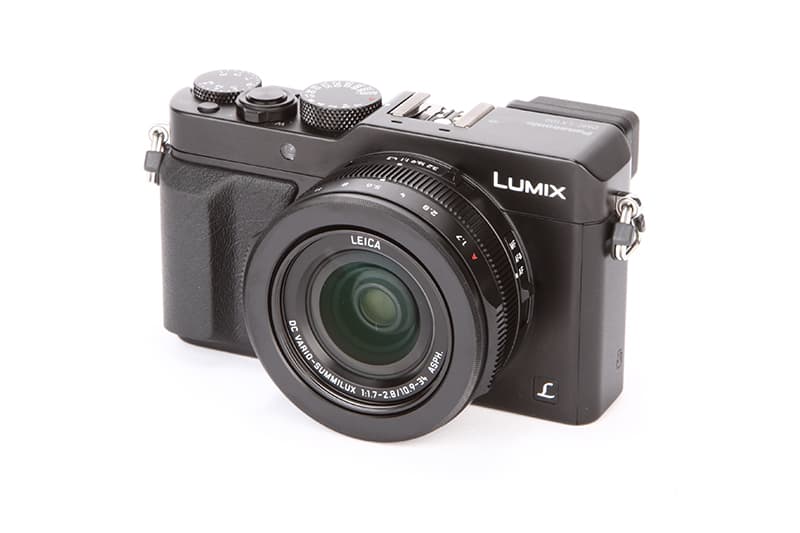 The LX100 uses a large Four Thirds-type sensor, but with a slight catch; it only ever uses a crop of the total sensor area, giving 12-million-pixel images from a 16-million pixel sensor. The advantage of this approach is that it can offer multiple aspect ratios (16:9, 3:2, and 4:3) with the same diagonal angle of view and approximately the same resolution.
The lens covers a 24-75mm angle of view, with a maximum aperture of f/1.7-2.7, naturally including optical image stabilisation. Thanks to the maximum shutter speeds of 1/16000sec, photographers using the LX100 will be able to shoot wide open in bright light.
It's capable of burst shooting at up to 11fps, and uses Panasonic's Depth From Defocus technology to deliver fast, accurate autofocus, using 49 AF points and (Panasonic claims) working in -3EV lighting situations.
The LX100 also features built-in Wi-Fi, including NFC for easy pairing with similarly-equipped smart devices.
Build and Handling
The Panasonic Lumix DMC-LX100 fully embraces the current vogue for analogue controls, with a design that harks back to the company's classic LC1 from 2004. It has dials for shutter speed, aperture and exposure compensation, along with a manual focus ring, and switches on the lens for focus mode and aspect ratio. Indeed in many ways it could be seen as a zoom lens alternative to Fujifilm's much-loved X100 series, with essentially the same control layout.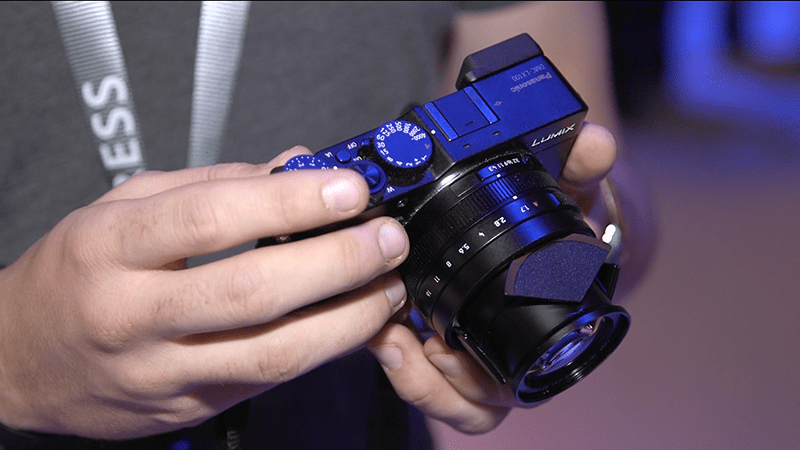 The LX100 lacks a built-in flash. Instead it has a hot-shoe for external units, and a small clip-on unit is included in the box. Of course a range of larger, more powerful units can also be used.
It's worth noting that the larger sensor and the built-in EVF (more on that later) do make the LX100 a little bulkier than some of its rivals, notably the Canon G7 X. However in some respects this works in the camera's favour; more bulk to the body means more space for a big battery, and accordingly the LX100 can pack a battery that'll give it 300 shots per charge.
The LX100's build  quality is superb, and in your hand it feels like a truly premium piece of kit. With its solid metal body it's the kind of camera that simply begs to be picked up and used, and the wealth of analogue controls should encourage creative experimentation with the exposure settings.
LCD and Viewfinder
The LX100 has a fairly standard 921-thousand dot 3" LCD, but crucially it also includes a high quality electronic viewfinder. This is a 2.76-million dot unit that offers 100% coverage and an image size similar to the optical viewfinder of a full frame SLR (equivalent to 0.7x magnification).
4K video
Video is one area where the Panasonic Lumix DMC-LX100 has a clear advantage over its competition; it's one of just a few cameras to offer 4K movie recording. Panasonic has also kitted it out with software tools designed to make it easy to extract 8MP still images from the footage, referred to as '4K Photo Mode'.
The manufacturer has also made it easy to switch from stills to video at a moment's notice with a dedicated button on top of the camera's body that lets you instantly start recording video.
Also available in Leica
Leica has had a long-running partnership with Panasonic, and announced its own version of the LX100 at photokina. The Leica D-Lux (Typ 109) shares identical specifications with the LX100, but with revised cosmetics and the ability to record Raw files in DNG format. Most notably it loses the handgrip, and the back buttons are rectangular rather than circular. The £825 price tag represents a small premium on the Panasonic version.
First Impressions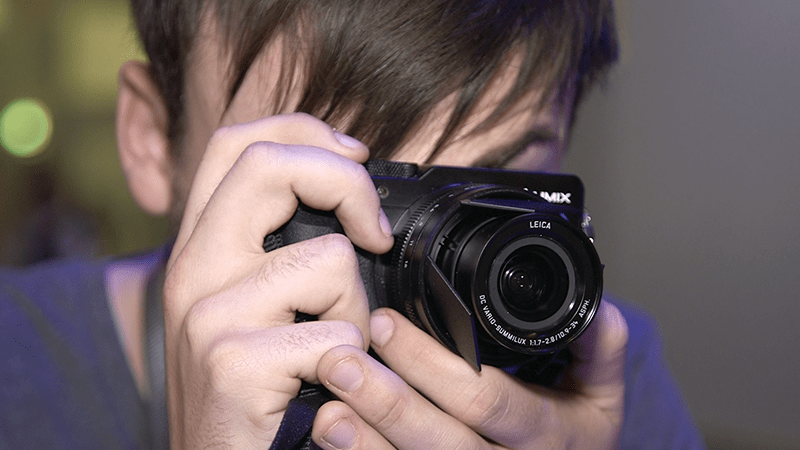 The LX100 was certainly one of the most-admired cameras at Photokina this year, and it's easy to see why. With its ultra-fast zoom lens and larger-than average sensor, coupled with built-in EVF and traditional analogue controls, it looks like it should be a great travel camera for enthusiast photographers. In particular that lens and sensor combination promises low-light capabilities beyond anything we've previously seen from a camera with a fixed zoom lens.
Given its potential to appeal to those with a penchant for analogue controls, we could see the LX100 being an enticing prospect to photographers who've been tempted by the Fujifilm X100 series, but would prefer to have a zoom lens. It should also be appealing to videographers, as the smallest 'proper' camera capable of recording 4K video.In any case, we're definitely excited to see more cameras that finally promise some serious competition to the Sony RX100 series. Time to start saving.
The Panasonic Lumix DMC-LX100 comes with a recommended price of £699.99.