Panasonic's LX series is one of the most-loved lines of enthusiast compact cameras. Yet while the LX3 reinvented the sector in 2008 with a fast lens in a compact body design, by 2012 the line seemed to have lost its way, with the LX7 offering little to distinguish itself from the crowd. Now Panasonic has reimagined the concept using a much larger four thirds sensor and built-in electronic viewfinder. However the LX100 still manages to include a fast f/1.7-2.8 zoom lens with a 24-75mm equivalent range, plus a huge array of external controls. Almost every conceivable photographic feature has been thrown in, too.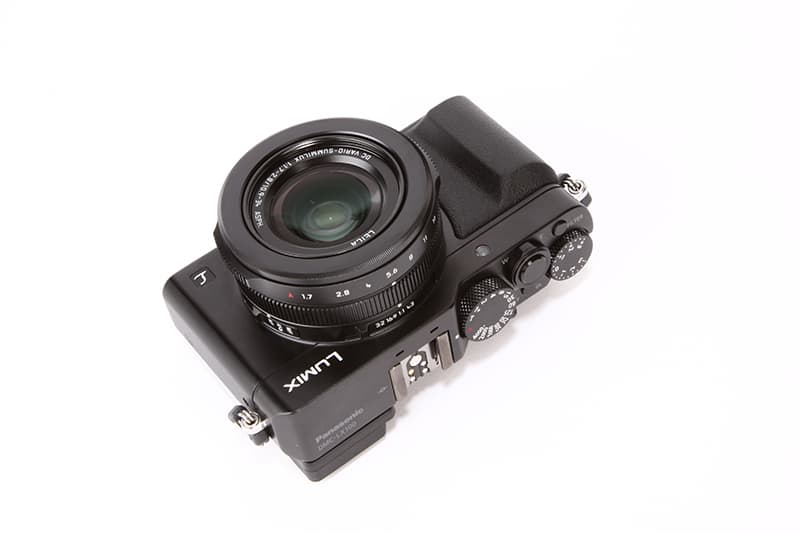 Features
At the Lumix DMC-LX100's core is a 16.84-million-pixel Four Thirds type sensor. This is larger than that used by almost any other camera with a built-in zoom lens, and should therefore offer better image quality, especially at high ISOs. The camera doesn't actually use the entire sensor area at any given time, but instead has a multi-aspect ratio design that offers 16:9, 3:2 and 4:3 formats with the same diagonal angle of view (there's also a 1:1 setting that's a crop of 4:3). The effective resolution is 12.8 million pixels in 4:3 crop, and the standard sensitivity range runs from ISO 200-25,600. An ISO 100 setting is also available, but is more likely to clip highlight detail.
Continuous shooting speeds are particularly impressive, with the LX100 capable of 11 frames per second with focus and exposure fixed, or 6.5 frames per second with continuous autofocus and live view between frames. I found that these rates drop to if you shoot raw files as well as JPEGs, to around 8.7fps and 5fps respectively, but for a compact camera this is still pretty fast. Buffering is also impressive, allowing you to shoot 24 raw+JPEG frames in a burst, or to capture JPEG images indefinitely at 6.5fps.
The 24-75mm equivalent zoom range of the lens includes a very useful wideangle, but I often found that the long end was a little limiting. The remarkable f/1.7-2.8 maximum aperture, though, is a revelation – getting similar low-light capability from an interchangeable-lens camera requires either a bulky fast zoom or having to carry several primes. Combined with the LX100's impressive optical image-stabilisation system, which I found allowed handholding at shutter speeds at least as low as 1/2 sec at wideangle, I was able to shoot handheld in low light, such as indoors or after sunset, without having to use high ISOs.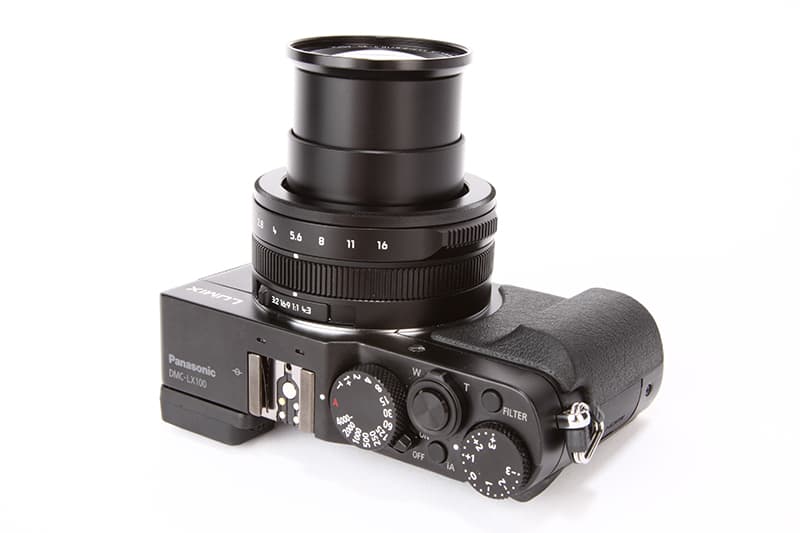 This fast lens is also good for selective focus work, allowing increased background blur when shooting portraits compared to most similar cameras. Large apertures can even be used in bright sunlight, thanks to Panasonic's clever hybrid electronic and mechanical shutter system, which enables speeds up to 1/16,000sec. Like other lens-shutter type cameras, the LX100 is also near-silent when shooting.
For videography, the LX100 is one of a select group of cameras that offers high-resolution 4K recording. However, the camera lacks an external microphone socket for recording sound, which limits its appeal for serious video use. The LX100 does have a new '4K Photo' mode that's designed to simplify the extraction of 8-million-pixel stills from video footage, which can be a useful tool when shooting subjects that are moving unpredictably.
Panasonic has also added a range of photographic features, including panoramic shooting, high dynamic range, time-lapse movie creation and even a stop-motion animation feature. I found all these easy to use, and they worked very well. The LX100 doesn't have a built-in flash, though. Instead, Panasonic includes a tiny unit with a guide number of 7m @ ISO 100 that slides onto the hotshoe.
Build and handling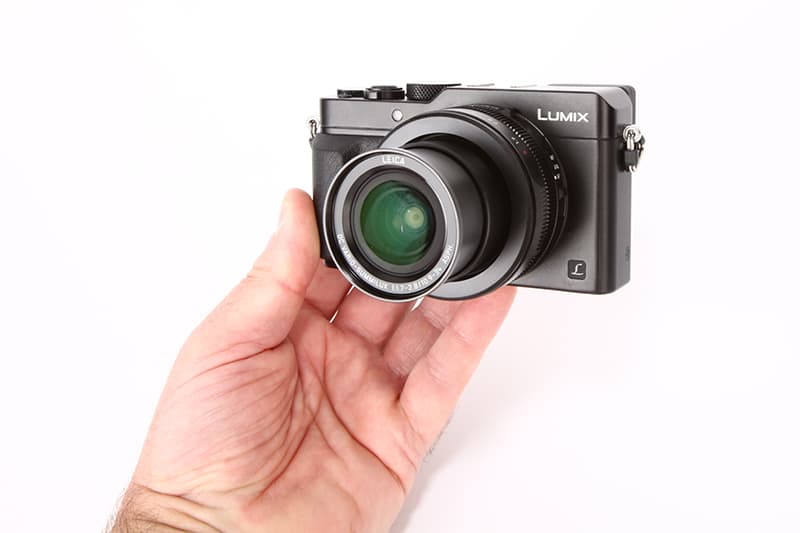 With a price tag of around £700, the Lumix DMC-LX100 is clearly a premium product, and fortunately it both looks and feels the part. The construction quality is excellent, with most of the body and controls crafted from metal. It feels solid in the hand and built to last, without being overly heavy. It's not really small, though; it will fit into a coat or jacket pocket, perhaps, but not a shirt pocket like the Sony Cyber-shot DSC-RX100 Mark III or the Canon PowerShot G7 X.
With dedicated dials for shutter speed, aperture and exposure compensation, the LX100 positively encourages you to experiment with the main settings, and all their effects can be previewed live on screen or in the viewfinder, including image brightness and depth of field. The camera can even preview motion blur from the selected shutter speed, by enabling the constant preview setting.
The slight caveat here, though, is the viewfinder, which isn't as good as it could be. It's sharp and detailed, but much too contrasty, and colours are oversaturated and inaccurate. I found I had to occasionally force myself to ignore the EVF's rendition while taking pictures, and trust my judgement that certain images which looked wrong in the viewfinder would actually turn out OK.
In contrast, the rear LCD is much more true to the image that will be recorded. However, it's a little disappointing that the screen is fixed, compared to the tilting units found on the LX100's competitors. It's also not touch-sensitive, which would be useful for moving the focus area and changing settings.
Many of the controls can be customised to the photographer's preferences. For example, I set the four-way controller to move the AF point around the frame directly, which I found worked better with the camera to my eye. I then reassigned the manual-focus ring to control ISO (at least while the camera was set to AF), and set up the on-screen Q menu to give quick access to other functions. The camera offers enough flexibility that most photographers should be able to set it up to their liking. For when you'd rather point and shoot, the iA button on the top-plate sets the camera to Intelligent Auto mode.
Performance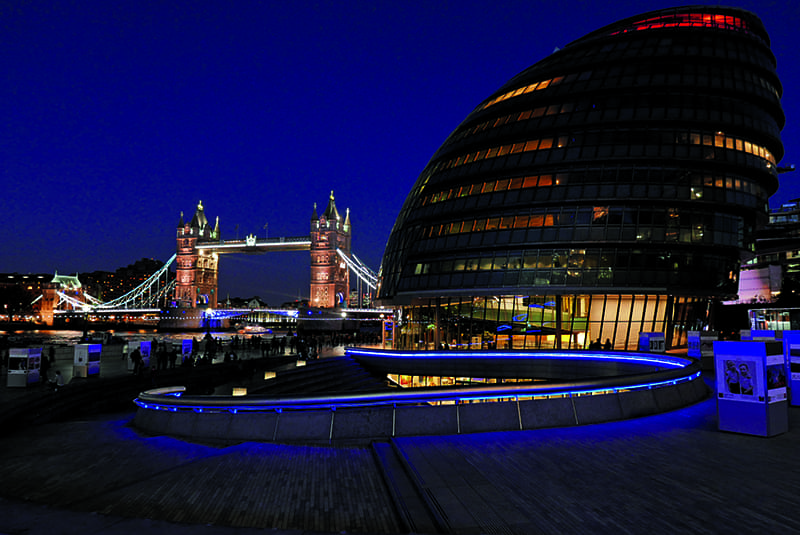 With its four thirds sensor, the Lumix DMC-LX100 has one of the largest imagers in any current zoom compact. Because larger sensors generally give better quality at any given ISO setting, this means the LX100 produces unusually good images for a camera of this type. I found it produces good-looking JPEG files straight out of the camera at sensitivities up to ISO 1600 at least, with low noise and excellent levels of detail.
Thanks to the exceptionally fast lens and effective image stabilisation, I could keep sensitivities surprisingly low a lot of the time. This is a real advantage, as it means you can use lower ISOs compared to shooting with an SLR and a slow kit zoom, reversing any advantage of a larger sensor.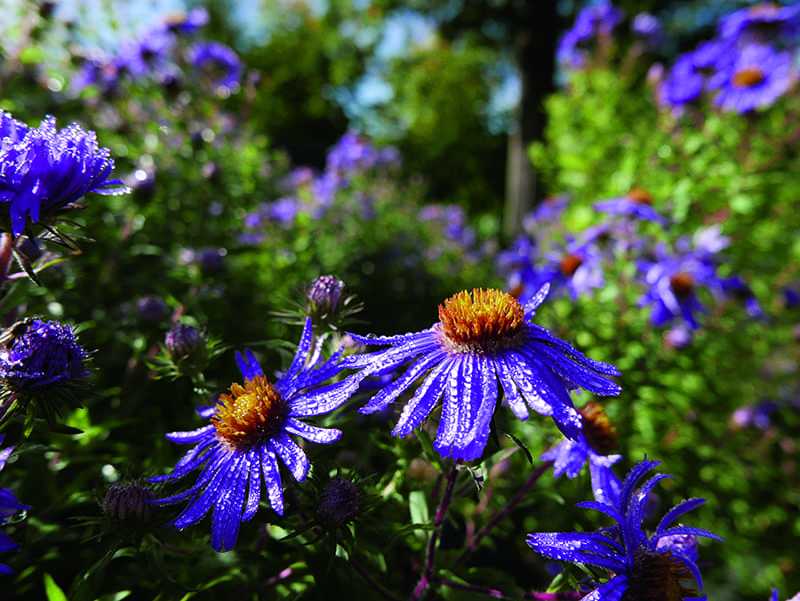 The lens is a decent performer, although not surprisingly it is a little soft towards the edges at large apertures, so you'll want to close the aperture down a stop or two when sharpness across the frame is paramount. Its can give intense purple flare in some situations, which could be a concern if you like to shoot into the light.
Colour rendition has not historically been Panasonic's strong point. However, the LX100 brings something of a change to all that – it renders skies in a richer blue, and brings more natural-looking skin tones. The auto white balance gets things right more often than not, and if it doesn't, a well-implemented in-camera raw-conversion module lets you produce corrected versions without needing a computer.
The LX100 is a remarkably fast camera in most respects. The one small fly in the ointment, though, is start-up time. I found that the camera takes a second or two to fire up and be ready for shooting. Compounded by a slightly awkward positioning of the power switch, this could possibly result in some missed shots.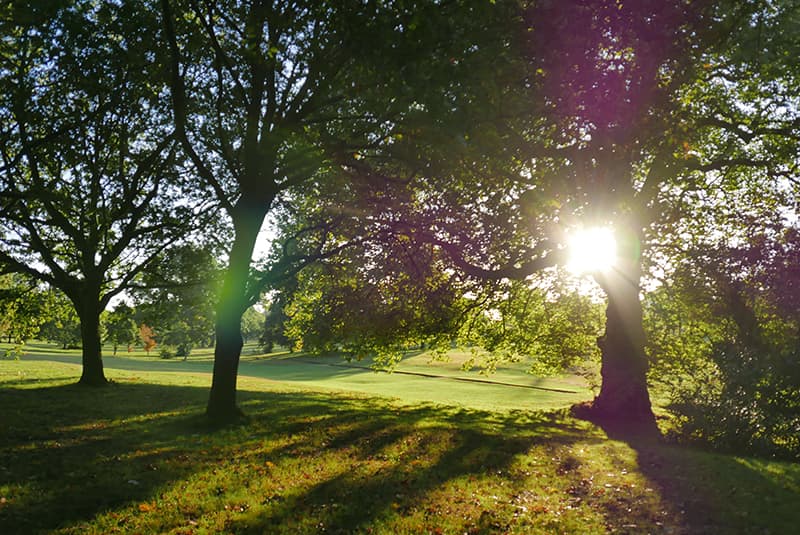 Budding movie-makers will be pleased to hear that the LX100's video quality is excellent, giving exceptionally detailed footage in 4K mode. Indeed, it's disproportionately better than the camera's full HD output, meaning you'll get better 1920×1080 movies by shooting in 4K and downsampling. The specialist 4K Photo mode works well, too, recording at the user-selected aspect ratio, rather than just 16:9, and providing an easy-to-use interface for extracting still images.
Autofocus
In a way, there's not much to say about the Lumix DMC-LX100's autofocus system, simply because it works very well indeed. Focusing is fast and silent, and focus tracking on moving subjects works unexpectedly well for a fixed zoom camera, aided by Panasonic's DFD (depth from defocus) technology. The photographer can move the focus area manually to almost any point in the frame and change its size to match the subject. Overall I found the AF system never gets in the way of shooting.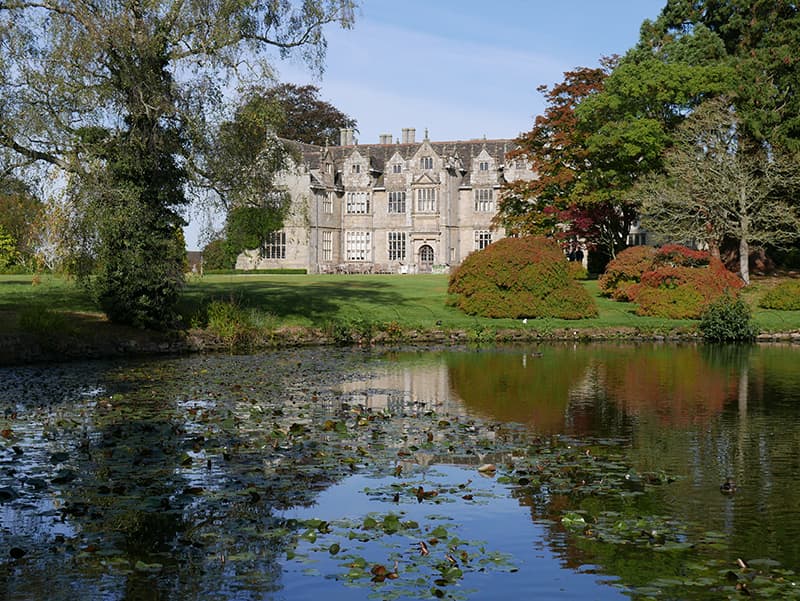 Image Quality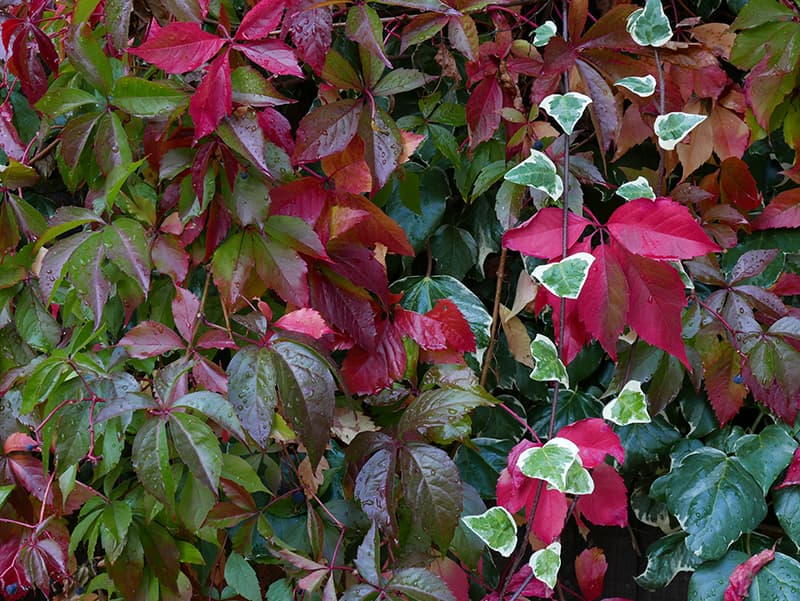 The Panasonic Lumix DMC-LX100's four thirds sensor is unusually large for a camera with a built-in zoom lens, and this confers a distinct image quality advantage, especially at higher sensitivities. Image quality holds up very well to ISO 1600, with noise and noise reduction artefacts starting to become obviously visible at ISO 3200. Even ISO 6400 is quite usable, but the highest settings of ISO 12,800 and ISO 25,600 are essentially best used for emergencies only.
With its 12.8-million-pixel effective resolution, the LX100 records measurably less detail compared to cameras that use smaller 20-million-pixel, 1in-type sensors, such as the Canon PowerShot G7 X and the Sony Cyber-shot DSC-RX100 III. However, it's still fully capable of making detailed A3+ (12 x 18in) prints. It offers less flexibility for cropping, though, which could be a concern given its short zoom.
The impressive dynamic range measurements of the LX100 match most interchangeable-lens cameras, and are slightly ahead of its competitors with 1in-type sensors. This means that overall the LX100 is right at the top of the class among fixed-zoom cameras. The ultra-fast lens helps  make the most of the sensor's capabilities, too.
Resolution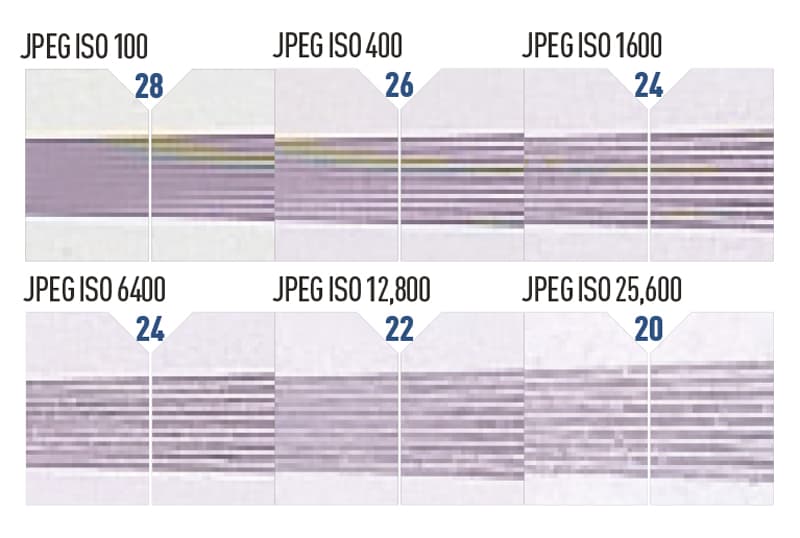 The LX100 resolved a maximum of around 2800l/ph on our applied imaging test chart. Strong aliasing around the Nyquist frequency (the theoretical maximum the camera can resolve), along with false detail beyond it, suggest that the sensor has no optical low-pass filter. Resolution drops slowly as the ISO is increased, to around 2400l/ph at ISO 1600, 2200l/ph at ISO 12,800 and 2000 l/ph at ISO 25,600. This was tested at 60mm and f/4, which we found gave best results from the LX100's lens.
Dynamic Range
Impressively for a fixed zoom compact, the LX100 gives an excellent dynamic range of 12.5EV at ISO 100. This holds up well to ISO 400, but then starts to drop, although ISO 1600 offers a still very acceptable 10EV. The very limited range at the top sensitivities, however, confirms their relatively poor image quality. Overall, though, this is slightly ahead of the LX100's competitors, and Panasonic's iDynamic function also helps users exploit this dynamic range to the full.
Colour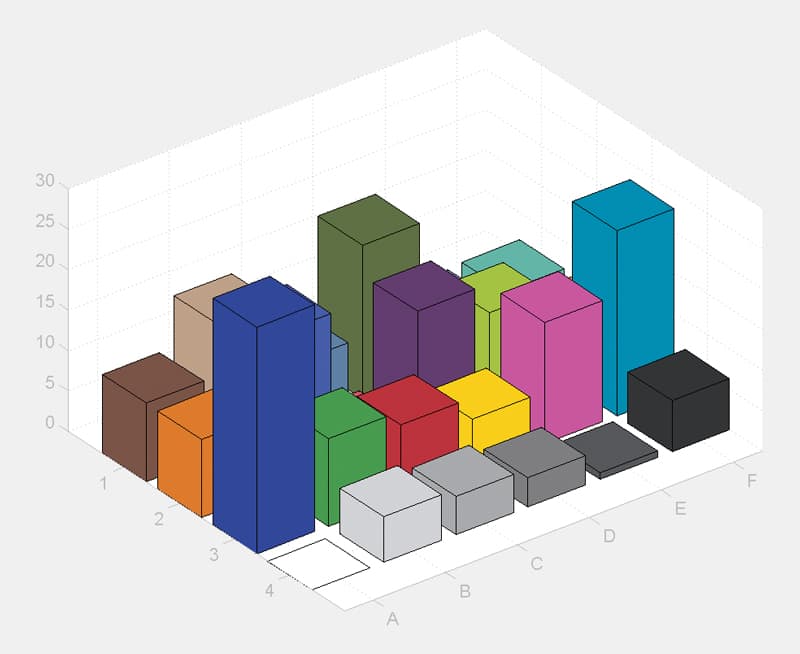 This 3D graph compares the colour shift from the reference colour to the photographed chart: the higher the peak, the greater the shift from the original colour. In the default JPEG colour setting, colours are rendered evenly across the range, with some degree of emphasis on the greens and blues, which should be good for landscapes. Colour settings can be adjusted in the Photo Style menu, with modes tailored for such things as scenery and portraits.
Noise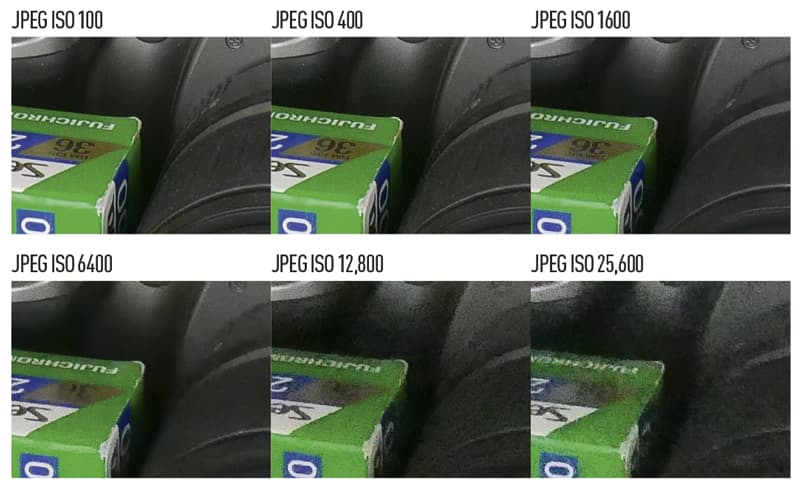 The images above are printed at 300ppi, reflecting a full-resolution print size. The LX100 gives clean images up to about ISO 800, but at ISO 1600 luminance noise becomes clearly visible in its JPEG output. At higher sensitivities noise becomes increasingly visible and shadow detail blocks up, but ISO 3200 and ISO 6400 are still capable of giving acceptable results for non-critical purposes. The highest two ISOs are best avoided.
Adobe Camera Raw wasn't capable of reading the LX100's raw files, so we examined them using SilkyPix Developer Studio supplied with the camera. Colour noise starts to become visible in raw images at ISO 800, mainly in the shadows, and it becomes distinctly intrusive at ISO 6400. The top two ISOs are very noisy, underlining their status as emergency settings.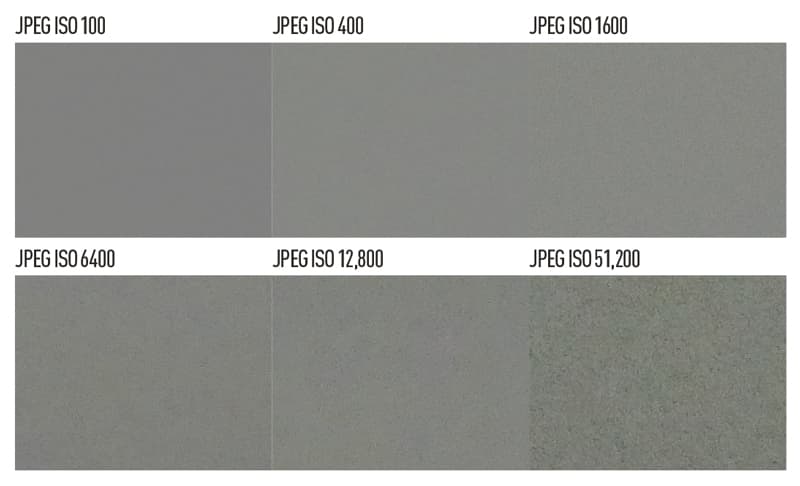 The grey-card images above are JPEG files shot with the LX100's default noise reduction and colour settings applied. The 300ppi images are shown at 100% magnification to reflect the noise that would be experienced when printing.
The results show that the LX100 gives clean images at its lowest sensitivities, with luminance noise starting to show in the JPEGs at about ISO 1600. Luminance noise becomes increasingly pronounced as the ISO is raised further, and is pretty overwhelming at the top settings. In raw, colour noise starts to show up ISO 800, and again becomes very intense at the highest sensitivities.
Verdict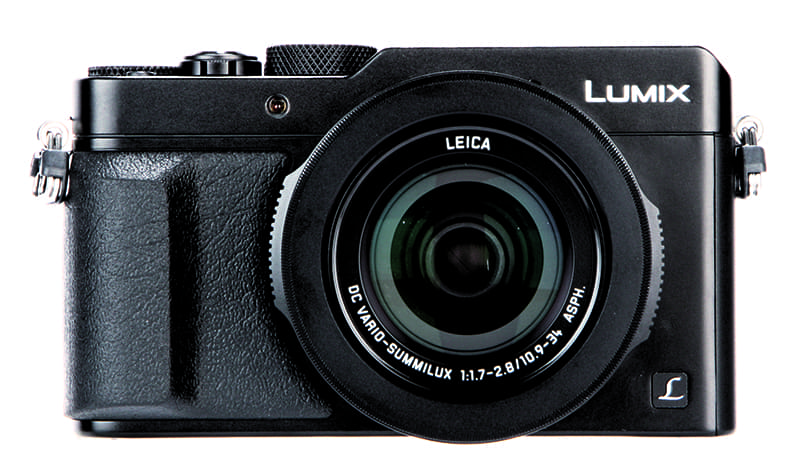 The Panasonic Lumix DMC-LX100 is one of the most exciting new cameras to appear this year, and I've found that in real-world use it more than lives up to its considerable promise. Indeed, it has perpetually surprised me by just how well it works in almost every aspect of its operation. The sturdy body and intuitive control layout mean that it just begs to be picked up and used, and the electronic viewfinder is useful when shooting in bright sunlight. Most importantly, image quality is very impressive, especially in low light, aided by that ultra-fast zoom lens.
Perfection is hard to come by, of course, but finding fault with the LX100 rather feels like nitpicking in the face of its very considerable strengths. The electronic viewfinder isn't the best, and its exaggerated colour and contrast can sometimes discourage you from taking a perfectly good shot. The lens range is a little short, too, making the LX100 a less-good choice for portraits than cameras like the Canon PowerShot G7 X.
Some might be put off by the LX100's relatively low resolution compared to its 20-million-pixel competitors, most notably the G7 X and the Sony Cyber-shot DSC-RX100 III. However I rarely felt short-changed by its 13-million-pixel output, which personally I find quite sufficient for most purposes.
Perhaps the LX100's biggest disadvantage is that it's rather larger than genuinely pocketable alternatives like the G7 X and the Sony Cyber-shot DSC-RX100 III. If you're looking for a camera to slip into a shirt pocket, the LX100 isn't it. However, it's arguably a more engaging – and more complete – camera than either of these more portable models.
Overall, the LX100 is a camera I've thoroughly enjoyed using, and I've been pleased with its output too. It's difficult to ask for more.
First Look
Panasonic has historically been serious a serious player in the 'enthusiast compact' market, having revived the sector back in 2008 with its Lumix DMC-LX3 and thereby establishing a blueprint for small cameras with ultra-fast lenses and lots of manual control.
However in 2012 Sony's RX100 changed everything, with its large 1-inch type sensor in a compact body, and along with its successors has led the market ever since.
Now Panasonic has struck back with the Panasonic Lumix DMC-LX100, which along with the Canon PowerShot G7 X is one of the first serious competitors to the RX100 series thanks to its fast lens and large sensor.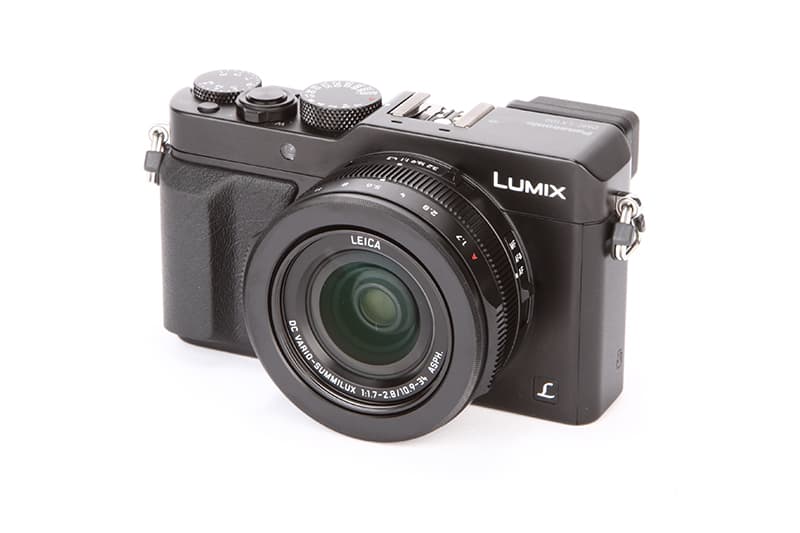 The LX100 uses a large Four Thirds-type sensor, but with a slight catch; it only ever uses a crop of the total sensor area, giving 12-million-pixel images from a 16-million pixel sensor. The advantage of this approach is that it can offer multiple aspect ratios (16:9, 3:2, and 4:3) with the same diagonal angle of view and approximately the same resolution.
The lens covers a 24-75mm angle of view, with a maximum aperture of f/1.7-2.7, naturally including optical image stabilisation. Thanks to the maximum shutter speeds of 1/16000sec, photographers using the LX100 will be able to shoot wide open in bright light.
It's capable of burst shooting at up to 11fps, and uses Panasonic's Depth From Defocus technology to deliver fast, accurate autofocus, using 49 AF points and (Panasonic claims) working in -3EV lighting situations.
The LX100 also features built-in Wi-Fi, including NFC for easy pairing with similarly-equipped smart devices.
Build and Handling
The Panasonic Lumix DMC-LX100 fully embraces the current vogue for analogue controls, with a design that harks back to the company's classic LC1 from 2004. It has dials for shutter speed, aperture and exposure compensation, along with a manual focus ring, and switches on the lens for focus mode and aspect ratio. Indeed in many ways it could be seen as a zoom lens alternative to Fujifilm's much-loved X100 series, with essentially the same control layout.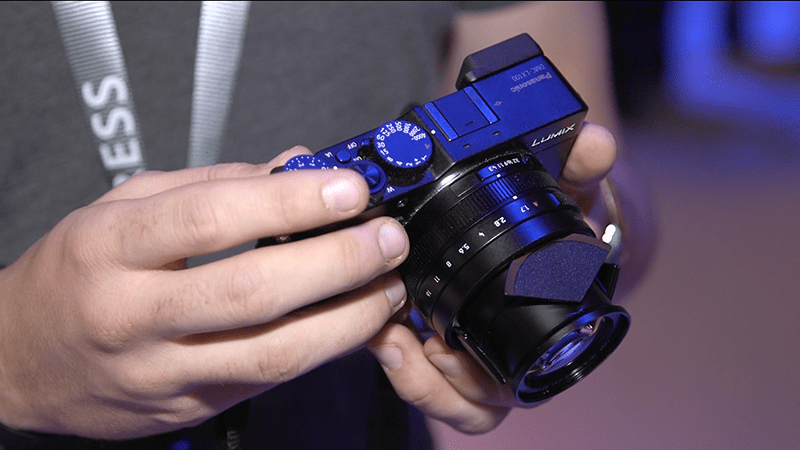 The LX100 lacks a built-in flash. Instead it has a hot-shoe for external units, and a small clip-on unit is included in the box. Of course a range of larger, more powerful units can also be used.
It's worth noting that the larger sensor and the built-in EVF (more on that later) do make the LX100 a little bulkier than some of its rivals, notably the Canon G7 X. However in some respects this works in the camera's favour; more bulk to the body means more space for a big battery, and accordingly the LX100 can pack a battery that'll give it 300 shots per charge.
The LX100's build  quality is superb, and in your hand it feels like a truly premium piece of kit. With its solid metal body it's the kind of camera that simply begs to be picked up and used, and the wealth of analogue controls should encourage creative experimentation with the exposure settings.
LCD and Viewfinder
The LX100 has a fairly standard 921-thousand dot 3" LCD, but crucially it also includes a high quality electronic viewfinder. This is a 2.76-million dot unit that offers 100% coverage and an image size similar to the optical viewfinder of a full frame SLR (equivalent to 0.7x magnification).
4K video
Video is one area where the Panasonic Lumix DMC-LX100 has a clear advantage over its competition; it's one of just a few cameras to offer 4K movie recording. Panasonic has also kitted it out with software tools designed to make it easy to extract 8MP still images from the footage, referred to as '4K Photo Mode'.
The manufacturer has also made it easy to switch from stills to video at a moment's notice with a dedicated button on top of the camera's body that lets you instantly start recording video.
Also available in Leica
Leica has had a long-running partnership with Panasonic, and announced its own version of the LX100 at photokina. The Leica D-Lux (Typ 109) shares identical specifications with the LX100, but with revised cosmetics and the ability to record Raw files in DNG format. Most notably it loses the handgrip, and the back buttons are rectangular rather than circular. The £825 price tag represents a small premium on the Panasonic version.
First Impressions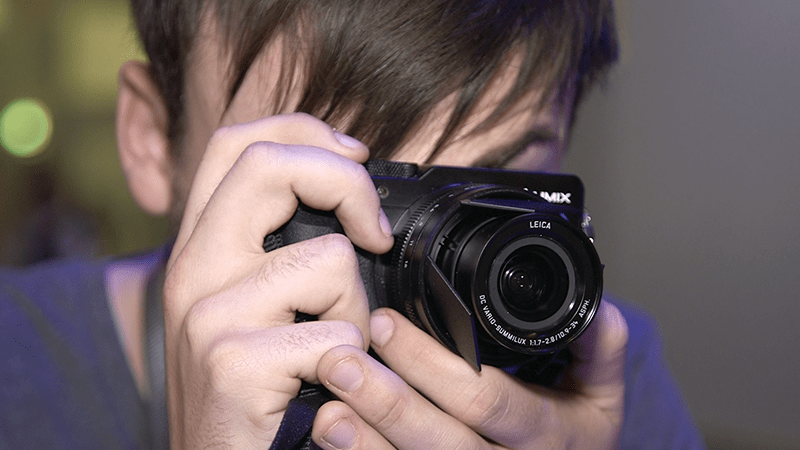 The LX100 was certainly one of the most-admired cameras at Photokina this year, and it's easy to see why. With its ultra-fast zoom lens and larger-than average sensor, coupled with built-in EVF and traditional analogue controls, it looks like it should be a great travel camera for enthusiast photographers. In particular that lens and sensor combination promises low-light capabilities beyond anything we've previously seen from a camera with a fixed zoom lens.
Given its potential to appeal to those with a penchant for analogue controls, we could see the LX100 being an enticing prospect to photographers who've been tempted by the Fujifilm X100 series, but would prefer to have a zoom lens. It should also be appealing to videographers, as the smallest 'proper' camera capable of recording 4K video.In any case, we're definitely excited to see more cameras that finally promise some serious competition to the Sony RX100 series. Time to start saving.
The Panasonic Lumix DMC-LX100 comes with a recommended price of £699.99.
Panasonic Lumix DMC-LX100 Review – Specification