Superzoom/bridge cameras are a popular option for photographers looking for the flexibility of an 'all-in-one' compact camera that offers an extended focal range, advanced controls and a wealth of useful shooting features. Panasonic's FZ range is well established within this genre and the Lumix DMC-FZ330 is the successor to the FZ200 from 2012.
Panasonic Lumix DMC-FZ330 at a glance:
Price $447 / £449
Sensor 1/2.3in, 12.1MP High Sensitivity MOS
Output size 4000×3000 pixels
25-600mm equivalent Leica DC Vario-Elmarit lens with f/2.8 constant aperture
Shutter speeds 60-1/4,000sec (1-1/16,000sec electronic shutter)
ISO 100-6,400
Exposure compensation ±3EV in 1/3EV steps
Drive mode 12fps continuous shooting (60fps in AF-S Super High)
LCD 3in vari-angle LCD with 1.04 million dots
Viewfinder 0.39in with 1.44 million dots
Video 4K (3840×2160), Full HD (1920×1080)
Memory card SD, SDHC, SDXC
Power DMW-BLC12E battery (up to 380 shots)
Dimensions 131.6×91.5×117.1mm
Weight 691g (with battery and card)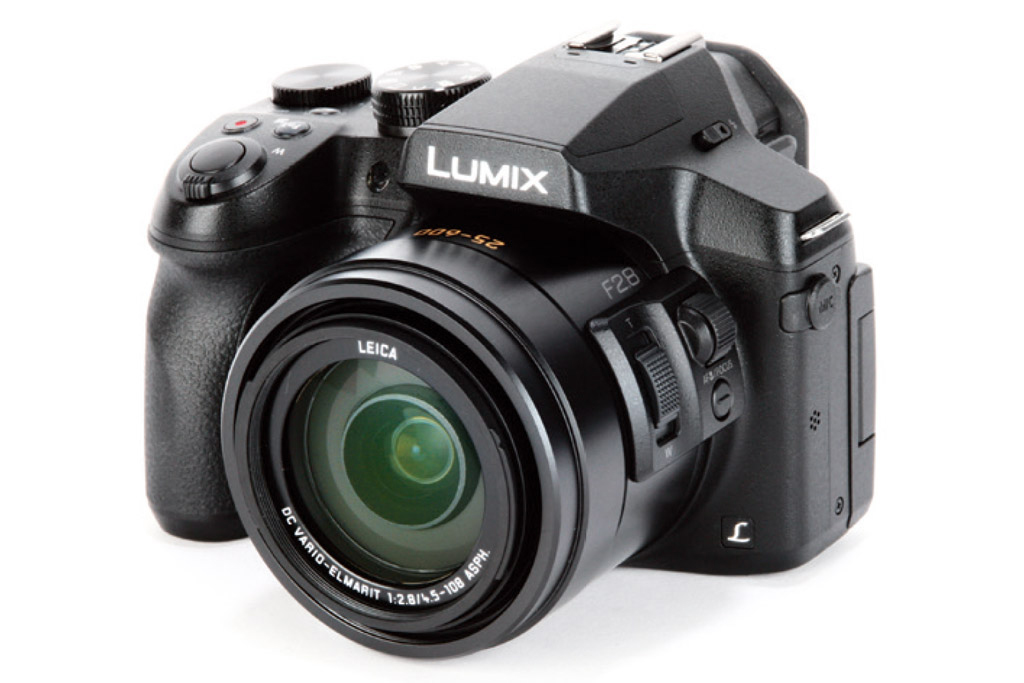 Panasonic Lumix DMC-FZ330 Features
At first glance, the Panasonic Lumix DMC-FZ330 appears to retain many of the core components found inside the FZ200. For example, it employs the same 1/2.3in, 12.1-million pixel Live MOS sensor, and the same 24x Leica DC Vario-Elmarit optical zoom that provides the 35mm equivalent of 25-600mm along with a constant maximum aperture of f/2.8. The FZ330 does, however, benefit from an improved version of Panasonic's Venus Engine image processor.
The faster processor is actually a key upgrade that enables the FZ330 to deliver a range of features not found on the FZ200. Chief among these is the ability to capture 4K/UHD video (3840×2160 pixels) at either 25fps or 24fps in MP4 format, along with a generous range of 1080p full HD, 720p HD and 640×480 VGA capture options in both the direct-to-HDTV AVCHD format and more computer-friendly MP4 format.
High-speed video recording options of 100fps at 720p HD and 200fps at VGA quality are also provided. In addition to 4K video capture, the FZ330 comes equipped with Panasonic's innovative 4K photo mode technology that allows you to capture bursts of 8MP still images in a variety of ways.
There are three options to choose from: 4K burst captures 8MP still images at 30fps for as long as the shutter button is held down, with just under 30mins total recording time available; 4K burst S/S (start/stop) mode also shoots at 30fps, but enables you to take your finger off the shutter button while images are being recorded, with a second press terminating the capture process; and 4K pre-burst mode makes use of the camera's internal memory buffer to capture 30 frames from before the shutter button is pressed and a further 30 afterwards for a total of 60 frames.
In addition, you can also 'grab' 8MP still images from pre-recorded 4K video footage in playback mode. The FZ330 also incorporates an electronic shutter that increases shutter speed from the maximum 1/4,000sec available via the mechanical shutter to 1/16,000sec in electronic mode. Sensitivity has been boosted too, with the FZ330 providing a native range of ISO 100-6,400, compared to ISO 100- 3,200 on the FZ200.
JPEG images can be captured in a choice of three sizes (12MP, 8MP or 3MP), as well as two quality levels (standard or fine) and in a variety of aspect ratios. Raw capture is provided and the recent Adobe Camera Raw 9.1.1 update supports the .RW2 files. Users can process raw images in-camera too, although the options are limited compared to specialist editing applications.
In keeping with its superzoom/bridge camera status, the FZ330 offers a generous range of exposure options, including the PASM quartet of semi and fully manual modes alongside Panasonic's ever-reliable fully automatic iAuto mode and 24 individual scene modes.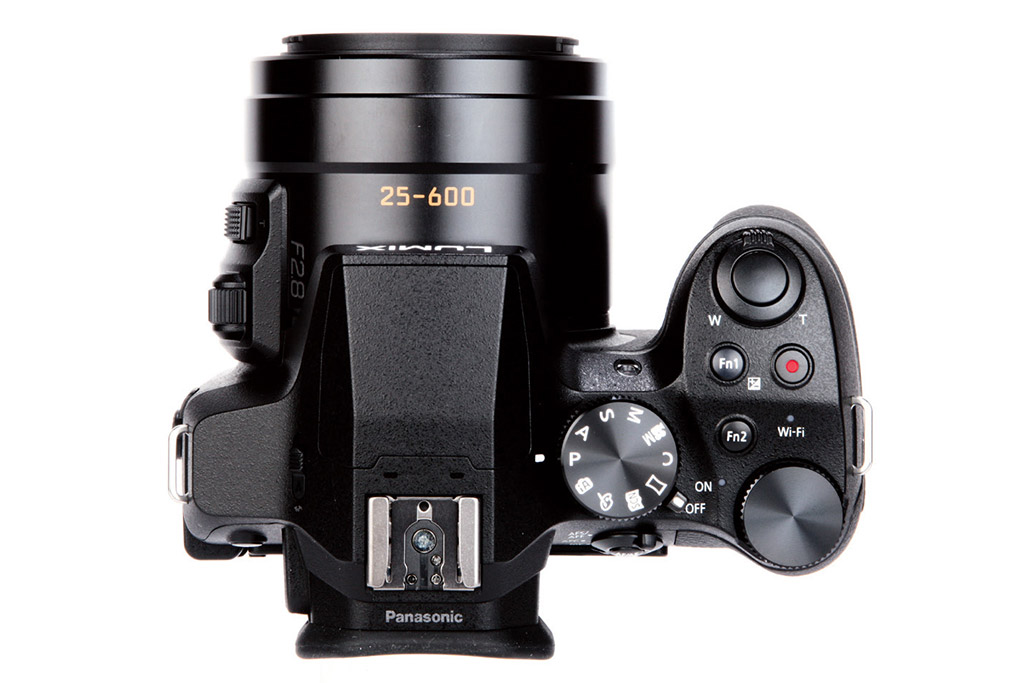 Panasonic Lumix DMC-FZ330 Build and handling
Unlike its predecessor, the FZ330 is dustproof and splashproof, which means it can be used with confidence in inclement weather. The general build quality is impressive, with the metal lens barrel and polycarbonate outer shell giving the camera a robust feel in the hand. At 691g with a card and battery, there's a reassuring weight to it too. The ergonomic handgrip provides a secure grip, which is further aided by a sculpted thumb rest on the back of the body.
Dials and buttons are plentiful, and are well spaced to prevent accidental selections. In addition to the usual array of direct-access buttons (such as WB, ISO, drive mode and AF/AE lock), the FZ330 features four physical function (Fn) buttons, plus another five Fn buttons on the right-hand side of the touchscreen, all of which can be customised to suit your requirements.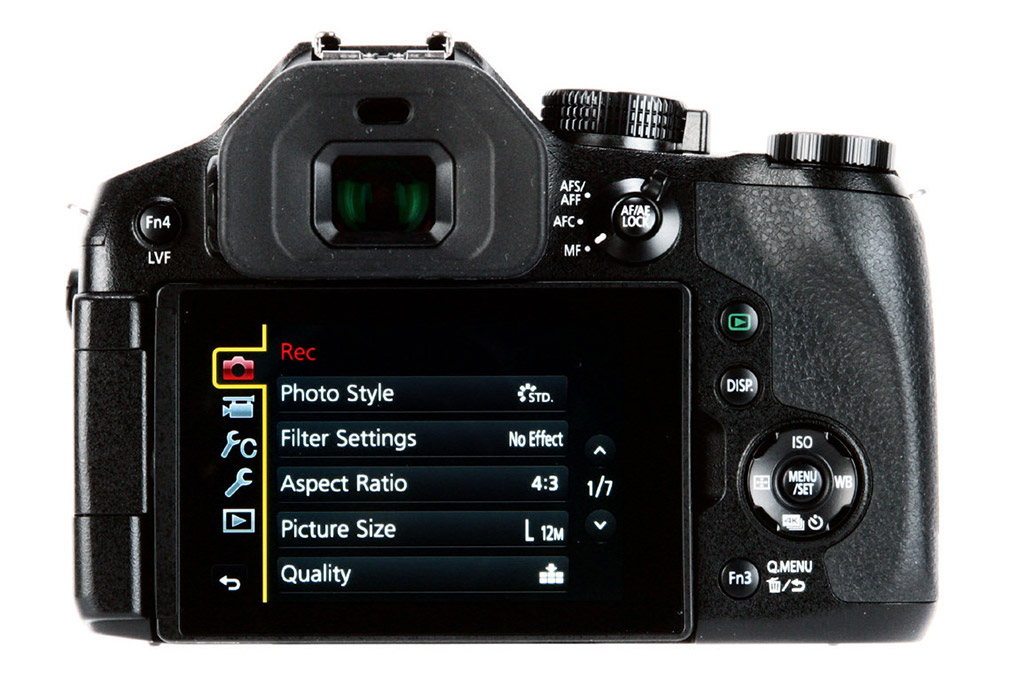 On the back, the 3in, 1.04-million-dot LCD display represents a big upgrade and offers a generous degree of touchscreen control over the camera – something the previous model lacked. The EVF has also received a boost, with resolution up from 1.3 million to 1.44 million dots, and magnification is now 0.7x compared to 0.46x on the FZ200. While the automatic eye sensor is undoubtedly a welcome addition, one small niggle I found while operating the camera in 1-area autofocus mode was that my nose was prone to moving the autofocus box to the right-hand side of the screen while holding the camera at eye level.
Of course, it's possible to reposition the side-hinged vari-angle touchscreen so that it faces inwards to prevent this. Failing that, you can always turn off the touch AF function or switch the entire touchscreen off. Other than this, the FZ330 provides an extremely flexible way of controlling the camera, and for more advanced settings the main in-camera menu offers a comprehensive and neatly signposted set of options and customisations.
Panasonic Lumix DMC-FZ330 Performance
The 24x zoom takes 2.5secs to travel through the entirety of its 25-600mm range, and can be controlled by the zoom switch that encircles the shutter button, or via the secondary zoom toggle on the left-hand side of the lens barrel. Lightly feathering the zoom, it's possible to make very small incremental jumps of 1mm at the wideangle end, although this becomes more difficult at the telephoto end, where the incremental jumps tend to be around ±10mm.
Thanks to the speedy new Venus Engine processor, image-processing times are very impressive. Used in single-shot drive mode with a Class 10 SDHC card inserted, it only takes a fraction of a second for the FZ330 to process and write image data to the card. Set to 12fps high continuous mode, it's possible to capture 100-130 frames before the buffer fills and the camera begins to slow down.
Autofocus performance is similarly quick, with the combination of Panasonic's Light Speed AF and Depth from Defocus technology resulting in claimed focus acquisition times of just 0.09sec. In real-world use, focus acquisition times are certainly speedy. In good light, focus feels almost instantaneous, while in dimmer conditions the FZ330 still manages to maintain impressive AF speeds. Some focus hunting occurs in extremely dark conditions, though.
The FZ330 offers a choice of AF-S, AF-C and AFF modes, with the latter designed to adjust focus to compensate for unexpected movements. For more erratic subjects, the subject-tracking AF mode works well, while face and eye-detection AF modes are also provided.
Resolution
Our resolution chart results reveal that the FZ330 resolves 2,400l/ph at ISO 100, dropping to 2,200l/ph at ISO 800. These resolution figures are fairly low, but they're in keeping with the level of detail we'd expect to be recorded by a 1/2.3in sensor. At ISO 1,600 the sensor resolves 2,000l/ph, but there's another drop at ISO 6,400 where 1,800l/ph is recorded.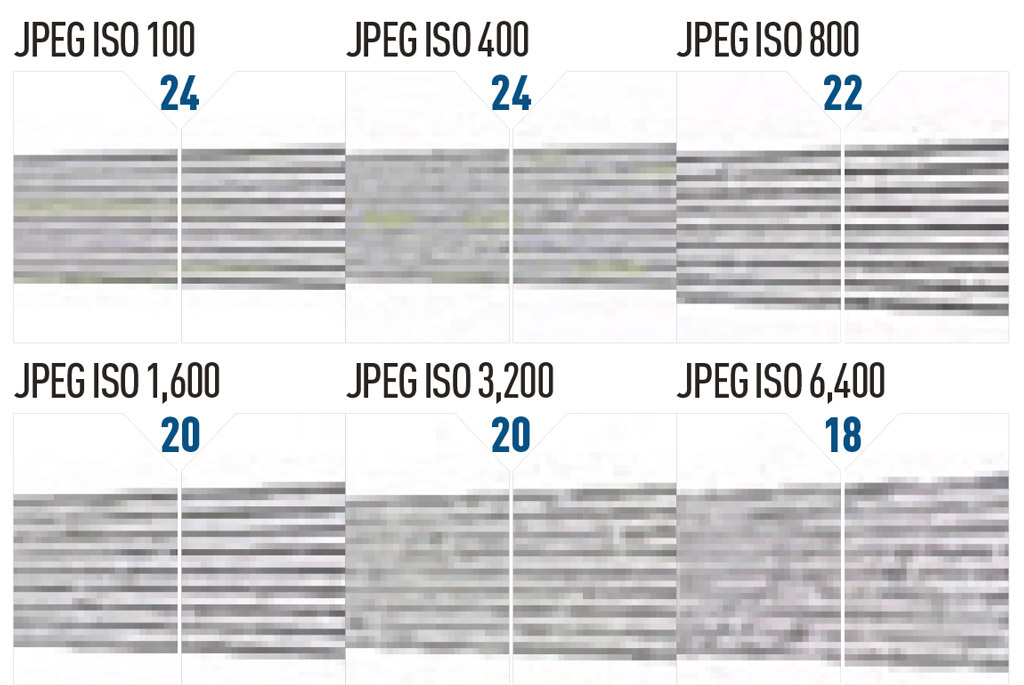 Dynamic range
The FZ330 is let down a little by its dynamic range performance. The 10.5EV readout at ISO 100 is no match for the 12.2EV result recorded by the Lumix FZ1000 – a model that benefits from a larger 1in sensor – although it's reasonable enough for a 1/2.3in sensor. Pushing to ISO 3,200 and ISO 6,400 sees the figure drop to 6.8EV and 6EV respectively.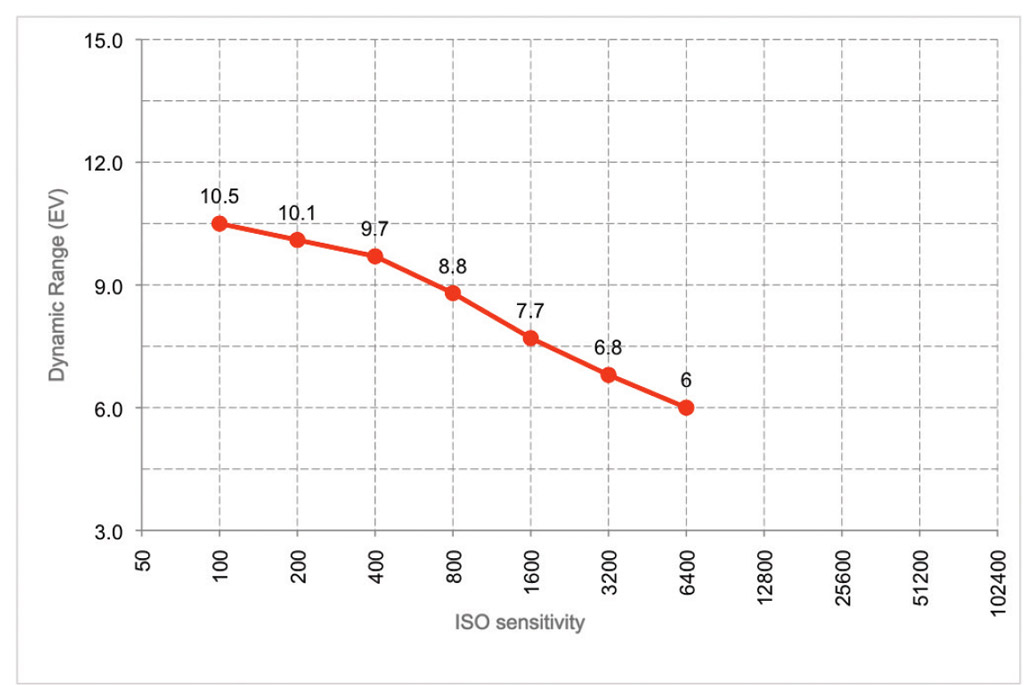 Noise
The noise-reduction that's automatically applied to JPEGs has the effect of smoothing out the finest details, so we'd advise FZ330 users to shoot in raw for the best results. A close study of our raw files revealed luminance noise starts to creep into images as early as ISO 200. By the time you reach ISO 800 luminance noise is much more obvious, with ISO 1,600 being the limit we'd happily push to regularly.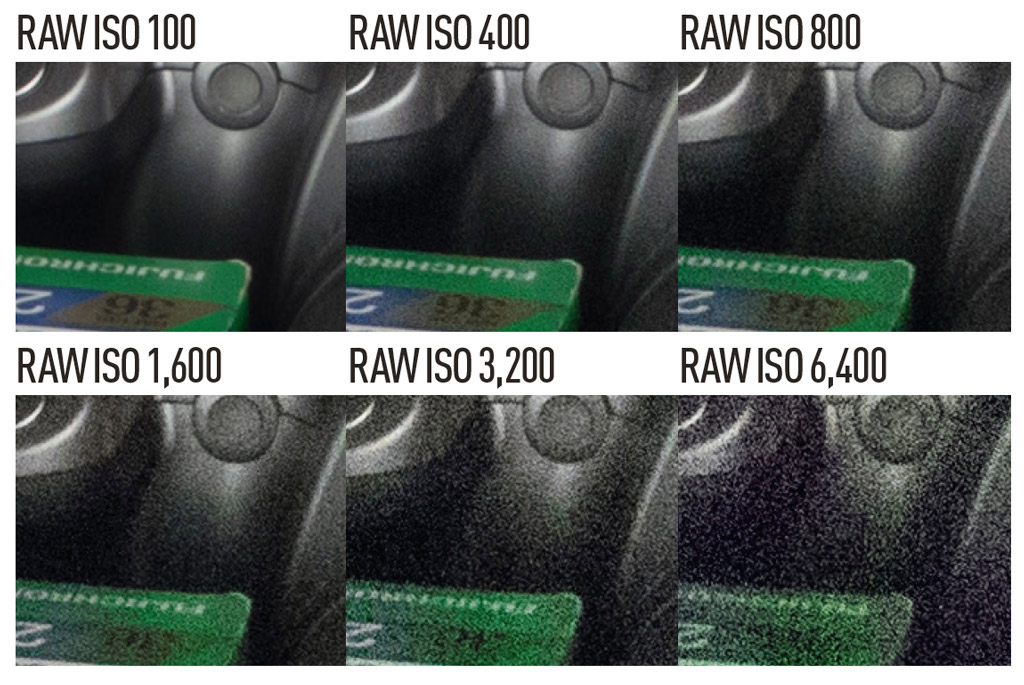 Panasonic Lumix DMC-FZ330 Focal Points
Panasonic Image App – The FZ330 comes with built-in Wi-Fi connectivity that enables it to be paired with a smartphone or tablet via Panasonic's Image App (free in Google Play and the Apple App Store). The app can also be used to control the camera remotely.
AF macro/focus – The FZ330 comes with some pretty impressive macro abilities. This includes a minimum focus distance of 1cm in regular macro mode, along with the ability to use the zoom for extreme close-ups in macro zoom mode.
Lens – While the 25-600mm (35mm equivalent) lens of the FZ330 isn't the widest focal range on the market, the constant f/2.8 aperture is a big plus as it allows more light into the camera. This in turn allows the use of faster shutter speeds in low light.
Vari-angle LCD display – The FZ330's side-hinged vari-angle LCD display pulls out from the body by 180° and can be rotated through 270°. In addition to making low-level and overhead shooting easier, it facilitates easier self-portraits.
Manual focus – The manual-focus switch is located to the right of the EVF. Once selected, the camera will display an enlarged box of the focus area on the rear display/EVF, with focus adjusted via the small dial on the side of the lens.
Panasonic Lumix DMC-FZ330 Verdict
The Panasonic Lumix DMC-FZ330 is a big upgrade over the FZ200, and has many useful new features. Judged against its main superzoom/bridge camera rivals, there's certainly a lot to like about the newer model. First, it handles really well and feels solid enough to survive a few accidental knocks and bumps, with the added bonus of being splashproof for use in wet weather. The addition of touchscreen controls alongside a generous selection of physical buttons adds a good deal of flexibility to its operation too.
While build quality, handling and operation all score highly, image quality is undoubtedly held back from realising its full potential by the small 1/2.3in sensor. However, that's not to say image quality is poor. Under the right circumstances (for example, in plentiful and relatively even light), the FZ330 produces vibrant, eye-catching images that would easily survive being blown up to A4 or (at lower ISO settings) A3 size.
When faced with high-contrast scenes, though, the limited dynamic range of the compact-sized sensor does result in clipped highlights and/or dark shadow areas devoid of detail. Similarly, shooting in low light or raising the sensitivity beyond ISO 800 produces images where noise becomes more obvious.
While image sharpness impresses considering the wide focal range provided, the FZ330's 12.1-million-pixel sensor can struggle with fine detail and produces the 'smudged' effect that is an all-too-common trait of small-sensor compacts. The FZ1000, with its larger 1in sensor, provides far better image quality and is currently only a little more expensive.
Ultimately, while the FZ330 handles well and packs in plenty of appealing features to make it an attractive proposition, it can't match the image quality produced by competitors with larger sensors.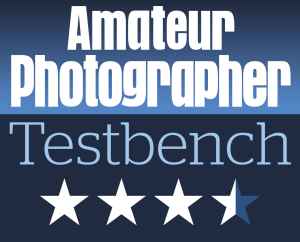 Find more great options in our guide to the best ultra-zoom bridge cameras, or have a look at the best compact cameras.
---
Follow AP on Facebook, Twitter, Instagram, YouTube and TikTok.