Nikon D7500: hands-on first look
Rated 4.5 stars in our full Nikon D7500 review.
At a glance:
£1299.99 body only
20.9MP DX CMOS sensor
ISO 100-51,200
51-point AF
8 frames per second
3.2in, 922,000-dot tilting touchscreen
£1599.99 with 18-140mm f/3.5-5.6 lens
While Nikon is without doubt one of the most respected names in photography, it has had something of a bumpy ride over the past year. It was forced to embarrassingly cancel the DL range of 1-inch sensor compact cameras that it announced at the start of 2016, and some users felt let down by the lack of any major announcement at Photokina later that year. Instead we saw just a series of KeyMission action cameras that seem far-removed from Nikon's traditional focus on stills photography.
Diehard fans should therefore be delighted to find that Nikon's first new product of 2017 – let's not forget, the firm's centenary year – is exactly the kind of enthusiast-focused high-performance DSLR that the company does best. The new D7500 marries elements of the existing D7200 and the top-end D500 to produce something mid-way between the two, in terms of both features and price. Indeed with its body-only tag of £1300, it won't replace the £850 D7200 in the firm's line-up, but instead complement it.
In essence, the D7500 takes the superb 20.9-million-pixel DX sensor from the D500 and drops it into a rather smaller and more portable body based on the D7200, while adding in a tilting touchscreen and many of the most important updates we saw in the D500. With a tough weather-sealed design and an impressive specification sheet, it looks set to be an extremely capable all-rounder for serious enthusiasts.
Features
With Nikon's Expeed 5 processor on board, the D7500 offers a standard sensitivity range of ISO 100-51,200, which is extendable up to a jaw-dropping ISO 1,640,000. I'd approach those hugely extended ISOs with a pinch of salt, as on the D500 they sounded much better on paper than the pictures appeared in reality. But that shouldn't mask the fact that this sensor still delivers the best high-ISO image quality of any non-full-frame model to date.
For continuous shooting, Nikon says the D7500 can run at 8 frames per second and keep going for 50 raw frames or 100 large JPEGs in a burst, which should be ample for all but the most trigger-happy of action shooters. This being a DSLR, it can track focus at full speed using its 51-point autofocus system, which uses the same phase detection module as the D7200. The AF array covers most of the viewfinder, and is specified as being sensitive down to -3EV (in other words, it should continue to work in moonlight). The D7500 gains the group-area AF mode previously seen on the D500 which allows multiple AF points to be used for keeping track of a moving subject, and which has proven to be very effective on previous models. Users can match their specific lenses to their camera with the Auto AF Fine Tune function to give the best possible focusing accuracy.
Metering employs a 180K-pixel RGB sensor, which also is used for face detection and subject recognition, while feeding information into the AF system to help the camera understand how a subject is moving around the frame. Alongside the usual matrix, centre-weighted and spot modes, the D7500 gains Nikon's highlight-weighted metering. This aims to avoid clipping bright areas of the image to white, which in turn allows the user to make the most of the sensor's immense dynamic range when post-processing raw files.
Video shooters will find both 4K and Full HD recording to be available, but while the latter uses the full width of the sensor, 4K reads from a 3840 x 2160 pixel region in the centre, which imposes a 1.5x crop. In-camera electronic image stabilisation is included to compensate for shake when shooting hand-held: this has the advantage of being able to correct for rotation around the lens axis, which is important for video but something in-lens stabilisation simply can't do. It also works with every lens – not just optically stabilised ones.
Perhaps surprisingly, the D7500 has just a single SD card slot, unlike either the D7200 or the D500. Better news is that its pop-up flash can work with Nikon's radio-controlled Advanced Wireless Lighting system to operate off-camera Speedlights wirelessly. Built-in Wi-Fi and Bluetooth allow connection to a smartphone driven by Nikon's Snapbridge app, and in-camera raw processing allows you to tweak images before sharing them. Nikon says the EN-EL15a battery should provide 950 shots per charge.
Build and handling
For this price you'd expect Nikon to deliver a solid-feeling, ergonomically-sound camera, and with the D7500 that's exactly what you get. It has a deep grip with a thick rubberised coating that feels extremely secure in your hand, and a weathersealed body that's compact without being cramped. The control layout is based around the D7200's, but with one very welcome addition in the shape of a sensibly-placed ISO button immediately behind the shutter release. This comes at the expense of the D7200's metering mode button, which has relocated to the camera's back, but personally that's a price I'd be very happy to pay.
Overall the layout is typical Nikon, with an exposure mode dial on the left shoulder and a drive mode dial underneath, both of which lock in position to prevent accidental changes. Front and rear electronic dials change the main exposure settings, while the d-pad on the back is used to move the focus area. One omission compared to the higher end D500 is that the D7500 doesn't have a joystick multi-controller for this job. The body measures 135.5 x 104 x 72.5 mm and weighs 720g – a little heavier than the D7200.
Viewfinder and screen
A befits a £1300 DSLR, the D7500 has a nice large, bright optical viewfinder with 0.94x magnification and 100% coverage of the lens's field of view. As well as displaying all the important exposure data in a panel beneath the focusing screen, it's also possible to overlay gridlines to aid composition. A sensor above the eyepiece automatically switches off the rear screen when you're using the viewfinder.
The screen itself is an impressively slim unit that tilts up and down, but adds little extra to the depth of the camera. To be honest I'd prefer a fully-articulated design like on the D5600, but I guess this approach allows Nikon to retain the column of five buttons down the left side of the screen. It's now possible to operate menu selections using the touchscreen, alongside touch focus and touch shutter release in live view and video modes.
First impressions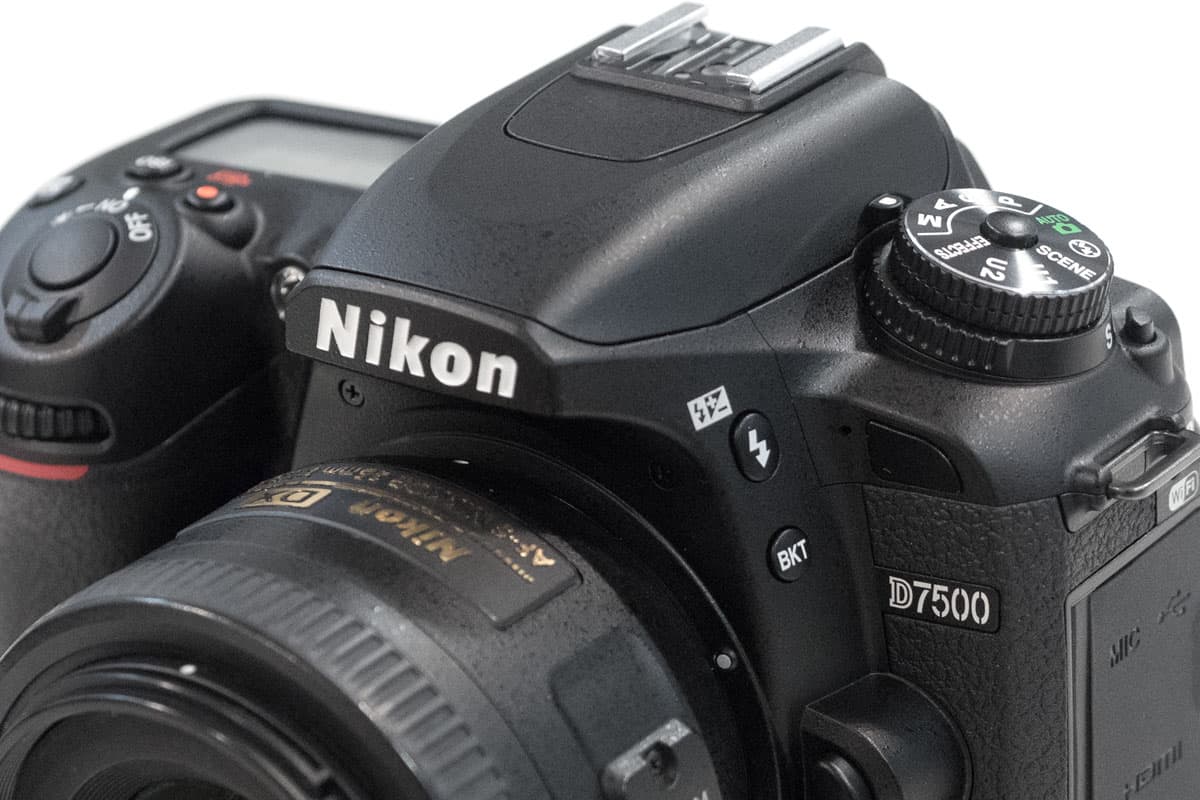 We've not had much time yet to assess the D7500, but first impressions are really very positive. As the numbering might suggest, it feels very much like a DX-format version of the D750, with an extremely refined design and well-chosen feature set. It's possible some prospective buyers might wonder why the pixel count has been lowered compared to the D7200, but 20.9MP is still more than capable of giving enough detail for critically-sharp A3 prints. More importantly the overall image quality should match the superb results we got from the D500.
Indeed the D7500 looks like it should be an very capable camera that's likely to satisfy the needs of almost any enthusiast photographer. With its strong spec sheet and compact body it seems almost purpose-designed to go head-to-head with the Fujifilm X-T2 – one of the most popular and  highly-regarded cameras of last year. Rated 4.5 stars in our full Nikon D7500 review.