Nikon D750 Review – Introduction
It feels like the dust has only just settled on the announcement of the Nikon D810, and now Nikon has announced a fifth addition to their current full frame DSLR line-up.
The new Nikon D750 occupies a space between the D610 and the D810. Nikon says this camera is targeting enthusiast photographers and is designed with the aspirational and hobbyist photographer in mind.
The D750 has the same 24.3-million-pixel resolution of the D610 but also inherits many of the great new features we saw on the D810, such as highlight protection metering and flat video recording. The D750 adds a few unique features of its own too, bringing quite a few full-frame firsts such as a tiltable LCD screen and a newly developed autofocusing module.
On paper, the D750 is an enthusiast DSLR smattered with some eyebrow-raising professional standard specifications and a host of neat features.
Features
At the heart of the Nikon D750 is a 35mm full frame FX CMOS image sensor with a resolution of 24.3-million-pixels. This is the same resolution boasted by the Nikon D610, although Nikon says this is a newly designed sensor. Unlike the Nikon D810 and the D750's DX sensor stablemates, the D750 has an optical low-pass filter which will prevent moiré patterning at the expense of some finer detail.
The D750 features the latest Expeed processor, the Expeed 4, and Nikon claims improvements to the Automatic White Balance accuracy and the in-camera processing of JPEG images have been made. The Expeed 4 also allows for a respectable shooting speed to 6.5 frames per second at full resolution. For those who'd like to gain more reach from their lenses, the D750 also has a 1.5x DX Crop mode as well as a 1.2x Crop Mode. Utilising the former reduces the image size to 3936×2624 pixels (a resolution of 10.3-million-pixels), whereas the 1.2x crop mode has the effect of reducing the resolution to 16.7 million-pixels from 24.3 million-pixels, with a maximum image size of 5008x3336pixels.
One of the perks with the D810 was that by shooting in the DX crop mode and adding a battery grip it was possible to shoot at 7 frames per second. The trade-off though was that only a x1.5 preview could be seen in the viewfinder and the crop resulted in a 15.4-million-pixel resolution image. Even though the D750 is 0.5 frames per second slower than the D810, the advantage of a 24.3-million-pixel resolution image with full viewfinder field of view is likely to be far more appealing to the enthusiast wildlife and sports photographer.
The native ISO sensitivity of the D750 is ISO 100-12,800 and there are a further three extended settings: Lo-1 which is ISO 50, Hi-1 which is ISO 25,600 and Hi-2 which is ISO 51,200. This is a full stop higher native ISO and a full stop extended ISO above the D610.
The D750 breaks new ground, being Nikon's first full-frame DSLR to have built-in Wi-fi connectivity. Previously, non-Wi-fi-enabled Nikon DSLRs relied upon an additional Wu-1a adapter ,which would cost around £45 extra. It's encouraging to see this added into a Nikon camera by default.
Using an Android or iOS smartphone or tablet coupled with the Nikon Wireless Mobile Utility app, users can browse through their pictures, download images and then send or share them quickly and easily. The connectivity also extends to remote-controlled shooting, which allows users to see live view from their smartphone or tablet.
Lots of features we saw in the Nikon D810 have made their way to the Nikon D750, particularly in the area of video. It's great to see Zebra Striping has been passed down. This is a tool to warn users when areas of highlight detail are blown out in video by displaying stripes over the affected areas. Also, the Flat Picture Mode allows users to record video with minimal processing in order to maximise it for sharpening and colour grading in post-production.
Video can be captured in full HD 1940×1080 with a choice of 60, 50, 30, 25 or 24 fps. 

For users looking to record video through changing exposures there's Power Aperture and Auto ISO. In Auto ISO, the ISO sensitivity changes gradually and Power Aperture opens the lens iris seamlessly during live view. As a result the exposure transition is very smooth and doesn't change suddenly in full stops like on some cameras.
In addition to the Wi-fi functionality the D750 also supports EyeFi Cards for quick and easy file sharing with a mobile device. Thanks to its dual SD card slots, two SD cards can be used at the same time, allowing for different file types written to each.
If you use the D750's Wi-Fi by connecting directly to its broadcast ID using a smartphone or tablet, it's important to set a password to secure your connection. This is done from the Wireless Mobile Utility app – tap the cog icon top right, and set a password in the 'WMA Settings' submenu. See here for our step-by-step guide.
Build and Handling
Nikon D750 Review – Build and Handling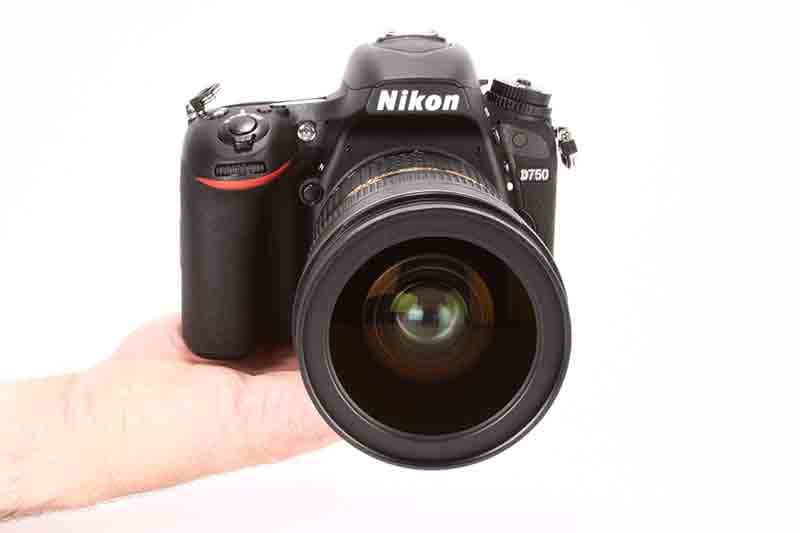 "Rugged and highly agile" were the words used by Nikon to describe the D750 at its launch. It's a fair summary, as the D750 features a monocoque body design like we have seen on the Nikon D5300 and Nikon D3300. The front of the camera is constructed from a mix of thermoplastic and a lightweight carbon fiber to reinforce it. The rear and top – the places most likely to take a knock – are reassuringly made from magnesium alloy which brings the weight to 840g with battery and card. This is still quite heavy, especially when compared to some of the polycarbonate DSLRs available, or compact system cameras. However, users can be assured of the sturdiness and high level of build quality offered by the D750.
When developed, a lot of the internal components of the D750 had to be moved around to fit inside the monocoque body structure. The benefit of this is reduced size; measuring just 140.5 x 113 x 78mm, the D750 is 4mm slimmer than the D610, despite its tilting screen.
Although it's smaller in size than some of its stablemates, the D750 still feels very balanced. This is largely thanks to the very deep grip on the front of the camera. I found when I was walking with the camera coupled with the Nikon f/2.8 70-200mm lens that it still felt very secure in hand.
Many of Nikons pro-orientated cameras, such as the D810 and the Nikon D4s, feature no mode dial and instead have buttons for core camera settings in its place – namely ISO, White Balance, Picture Quality and Metering. However, Nikon D750 is more akin to the enthusiast photographer's range of cameras and strikes similarities with the D610 for control layout.
With a mode dial featured on the top left, most of the controls of core settings are taken care of by the buttons running down the left side of the LCD, and adjusted using the front and back scroll wheels. 

Unlike the D810 there is no AF-ON button that is usually found positioned next to the AF-L/AE-L button – this is instead controlled by a half pressed shutter button. One of the benefits of this button is customisable and is very useful for locking focus or engaging the continuous AF, and it's a touch disappointing not to see it included on the D750. However, this is perhaps to be expected on a non-professional camera.
Performance
Nikon D750 Review – Performance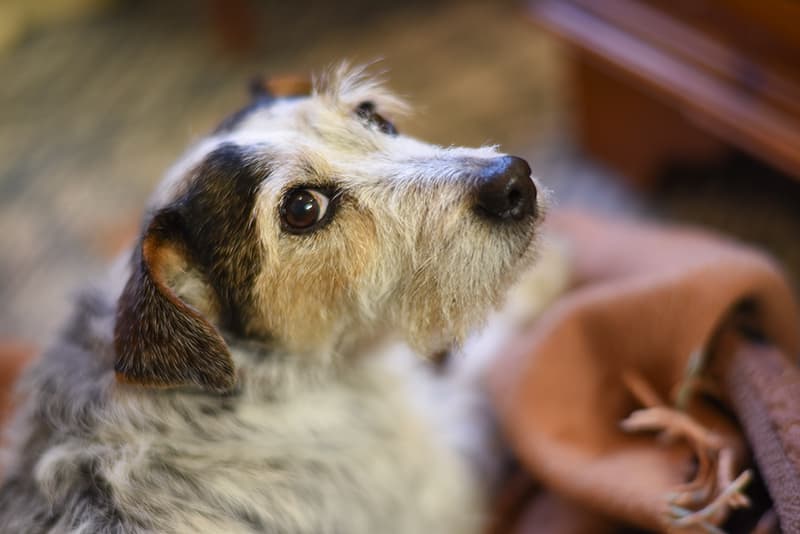 See more images taken with the Nikon D750 in our sample image gallery
Inside the D750 is a newly designed Multi-Cam 3500FX Mark II Autofocusing module. With this AF module comes the ability to focus at -3EV, whereas the Mark I version used in the D810 is only sensitive down to -2EV. Put simply, some of the D750 focus points are sensitive enough to focus in near darkness.
Like the D810, the D750 offers a total of 51 autofocusing points. Fifteen of these are cross-type points and 11 points sensitive to f/8 – intended for use with lens and teleconverter. 

In AF-S users can select Auto Area AF (51 points), Single Point AF and Group Area AF. Using the D-pad at the back it's quick and easy to position a single point of group of AF points around the scene while looking through the viewfinder.
In AF-C continuous focusing users can select 9, 21 or 51 points, Auto Area AF (51 points) Group area AF and 3D tracking. There's a level of intelligence added to the AF tracking thanks to the 91,000-dot colour sensor. This helps the D750 stay locked onto moving subjects with increased accuracy.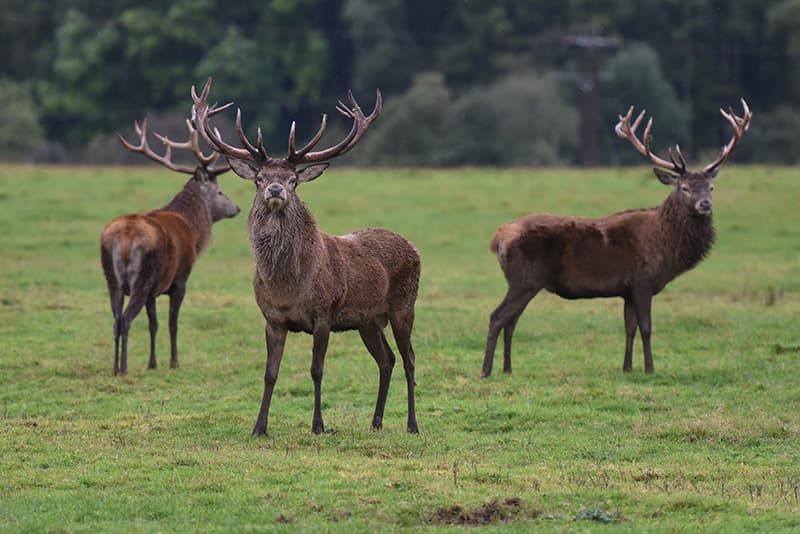 Thanks to the new AF module, the autofocusing is incredibly fast even in low-light situations. Also, in live view the contrast detection AF does a good job of finding focus reasonably quickly. It's absolutely brilliant to see a professional grade AF system on an enthusiast DSLR.
The 91,000 pixel RGB colour and metering sensor from the D810 is carried over to the D750, along with the Highlight Metering Mode which prioritises the areas of highlight and specifically meters to ensure highlight detail isn't blown. This has been a popular feature with wedding photographers in order to avoid blown out highlights on wedding dresses, and I found it to be equally useful when shooting sunsets, using it to maximise highlight detail and then bringing up the shadows in post-production.
In spot and evaluate modes the metering performs well, giving accurate exposures even in challenging conditions. Due to the large array of focus points the spot metering works particularly well.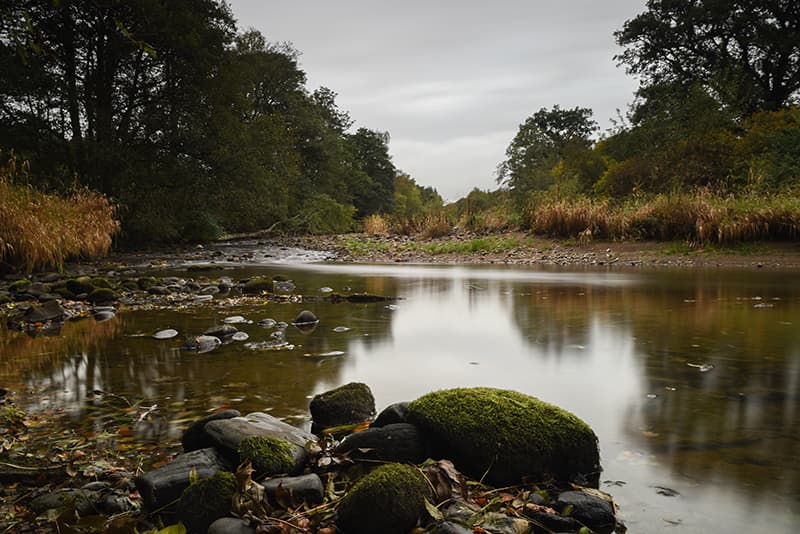 With the same colour sensor as the D800E and D810, the D750's colour rendition is similar to those fantastic cameras. Shooting across a variety of subjects, I found the colours to be well-saturated, punchy and totally rich.

 One feature that's been added to the D750 is the ability to perform spot white balance adjustment in live view. This is very useful for videographers, as they can quickly and easily be assured the white balance is correct for their scene.
Resolution, Dynamic Range and Noise
Nikon D750 review – Resolution, Dynamic Range and Noise
The D750 uses a 24-million-pixel full frame sensor that includes an optical low pass filter, although residual maze-like moiré in the resolution charts indicates that the low-pass filter is relatively weak. This means that in terms of resolution the D750 is similar to the D610 that sits below it in the range, but obviously it can't deliver as much detail as the 36-million-pixel D810.
Dynamic range is very impressive at low ISOs, which means you can extract lots of detail from deep in the shadows in raw processing, or using the Active D-Lighting controls in JPEG. The camera's highlight metering mode can help to get the best exposures for raw shooters, by minimising clipping in bright areas of the image.
Image quality is excellent at sensitivities up to ISO 1600, but at higher ISOs it naturally deteriorates. However ISO 3200 and 6400 are absolutely fine for less-critical purposes, especially when carefully-processed from Raw. At the highest ISOs JPEGs suffer from strong colour noise and detail loss, and while better results can be had from Raw, this will usually come at the cost of colour saturation. Overall the D750 is a very strong performer, and bettered only by much more expensive cameras.
Resolution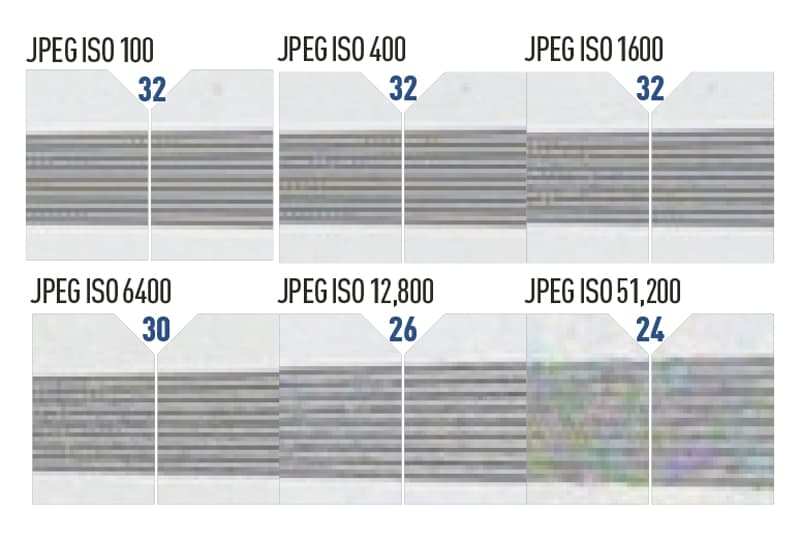 The D750 resolved around a maximum 3200 l/ph on our Applied Imaging test chart, which is about what we'd expect for its pixel count. At ISO 6400, the resolution drops only slightly, to around 3000 l/ph. But at higher sensitivities noise reduction inevitably reduces the sharpness, giving approx 2400 l/ph at ISO 51200. This test was shot with the Sigma 105mm f/2.8 macro lens, which we use for all our testing and have in all available fittings, at f/5.6 which is the best performing aperture for the lens.
Dynamic range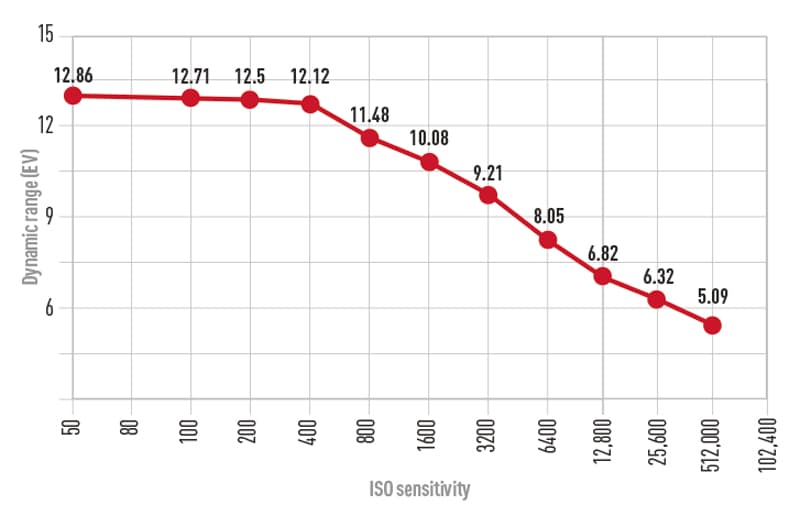 The D750's sensor delivers excellent results, on a par with the D810. At ISO 50, the peak dynamic range is 12.9EV, and the sensor is still performing well at ISO 3200 with a range of 9.7EV. This means that the D750 can record lots of detail deep into shadow areas, which can be recovered from raw files or by using Active D-Lighting. It's still important to avoid highlight clipping though, to reap the full benefits of this impressive dynamic range.
Colour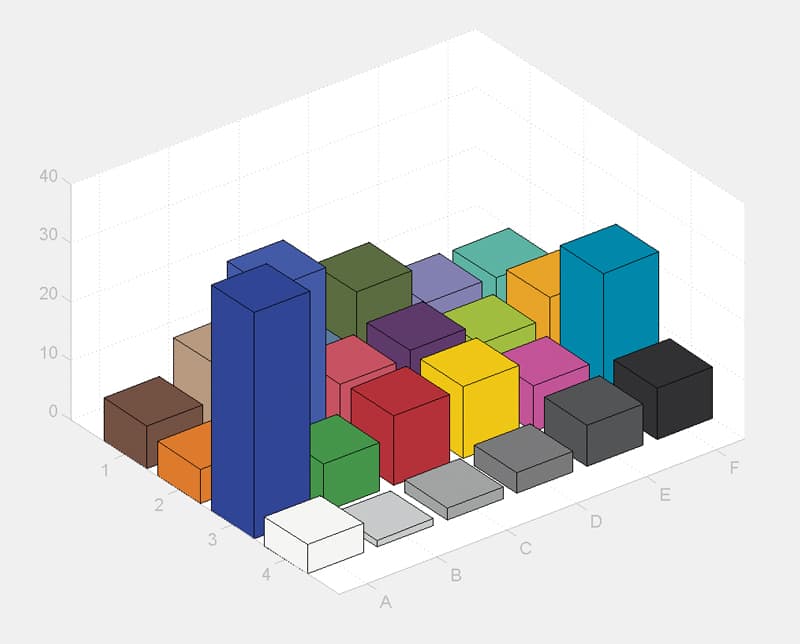 This 3D graph compares the colour shift from the reference colour to the photographed chart: the higher the peak, the greater the shift from the original colour. In the default JPEG colour setting, colours are well rendered across the range, with slightly enhanced greens and notably strong blues. Test images display generally natural colour rendition in standard JPEG mode, with pleasing saturation and contrast; the accentuated blues should be particularly good for scenic shots. Colour settings can of course be adjusted in the Picture Control menu settings.
Noise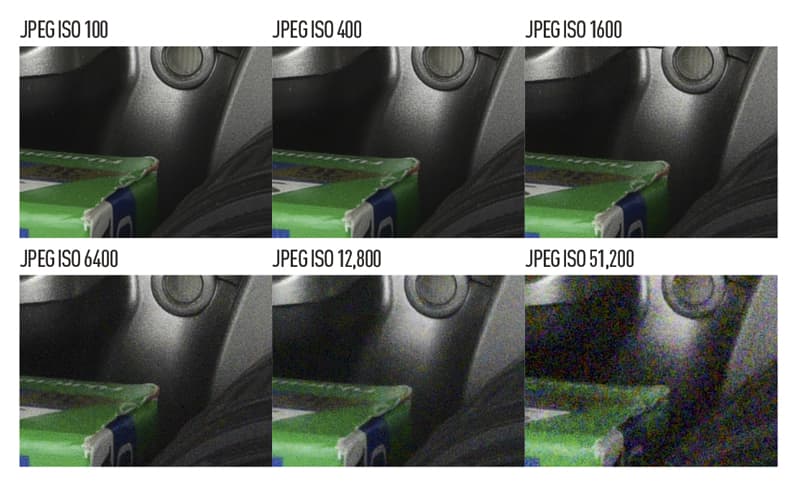 Both Raw and JPEG images taken from our diorama scene are captured at the full range of ISO settings. The camera is placed in its default setting for JPEG images. Raw images are sharpened and noise reduction applied, to strike the best balance between resolution and noise.
The images above have a resolution of 300ppi and are shown at 100% magnification, reflecting a full-resolution print size.
The D750 produces clean, detailed images up to ISO1600. At ISO 3200 and above chroma noise starts to appear in the JPEGs, especially in shadow regions. However this can be removed in Raw processing with little impact on detail. The penalty, however, is pronounced luminance noise coupled with a loss of colour saturation. Images are still quite useable at ISO 6400, and even at ISO 12800 with careful processing. As we'd expect the extended higher ISO settings come with serious image quality penalties in terms of noise and detail loss.
The grey-card images above are JPEG files shot with the D750's default noise reduction and colour settings applied. The 300ppi images are shown at 100% magnification to reflect the noise that would be experienced when printing an image at maximum size.
The results show the D750 is almost noise-free up to ISO 400, and still gives impressively clean images at ISO 1600. Noise starts to become obvious at higher settings, and by ISO 12,800 both colour and luminance noise are starting to kick in, with ISO 25,600 and ISO 51,200 a lot worse. However, there will always be situations where the extended settings will obtain shots not otherwise achievable.
Verdict – Nikon D750 review
Nikon has covered almost every feature likely to appear on the wish-list of an enthusiast photographer and added a few extra for good measure. It's great to see Wi-fi inside a high-end DSLR and a host of video-based advancements. The build quality of the camera is very good and it strike a great balance between the size and weight. Thanks to the large grip at the front the D750 feels incredible in hand. The D810 was praised for its good handling but for me, the D750 has the edge for comfort, particular when walking around with larger lenses. With the mode dial, button lay-out and menu system being akin to Nikon's entry-level DSLRs, the amateur photographer upgrading to full-frame should feel right at home.
Resolution of the D750 is of course not as good as cameras such as the D810/D800E but for the vast majority of photographers the 24.3-million-pixel sensor should adequately quench the thirst for megapixels. Landscape photographers might like more, but the D750 should be perfectly capable of making detailed A2 (16"x24") prints.
One of the biggest highlights of the D750 is the autofocusing system. In all conditions it performed brilliantly, finding focus quickly and accurately.
Nikon have created a camera that has all the fundamentals right and as a result, the D750 is one of the best all around DSLR cameras currently available.
How does the D750 compare to its stablemates? Check out our D610 and D810 reviews.
First Look
With its 24.3 million pixel, full frame sensor, Nikon is pitching the D750 as an SLR for serious enthusiasts. Compared to the D610, which continues in Nikon's lineup as the next model down, the most eye-catching additions are a tilting rear screen and built-in Wi-Fi. The camera also incorporates many of the improvements we previously saw in the D810, including its 51 point AF system. The Nikon D750 will be available from 23rd September for £1799.99 body only, £2249.99 with a 24-85mm f/3.5-4.5 lens, or £2349.99 with 24-120 mm f/4 lens.
Sensor
The D750's 24-million-pixel full frame sensor offers an ISO range of 100 to 12800, which is expandable to 50-51200. Nikon calls it 'newly developed' but it's likely to be similar to the D610's. In concert with the EXPEED 4 processor, the D750 can shoot at 6.5 frames per second; a small improvement on the D610. Its 51-point autofocus module is similar to the one used in Nikon top end SLRs, with 15 cross-type sensors, and 11 that work at f/8 for shooting with teleconverters. But it now works in low light down to -3 EV, which on paper is pretty impressive.
Inherited from the D810, a highlight-weighted metering setting is available, which is specifically designed to avoid blowing out detail in bright areas of the image. This is also useful for making the most of the sensor's dynamic range, making it easy to expose for the highlight and pull up shadow detail in post-processing.
Screen
The 3.2inch 1.3 million dot LCD is the first articulating screen we've seen on a full frame SLR. It tilts 90 degrees upwards and 75 degrees downwards, to help when shooting at awkward angles. An unusually complex three-point hinge mechanism allows it to face vertically down without interfering with a tripod head. We'd have preferred a fully articulating version that could swivel as well as tilt, but the advantage of D750's arrangement is that it's very slim.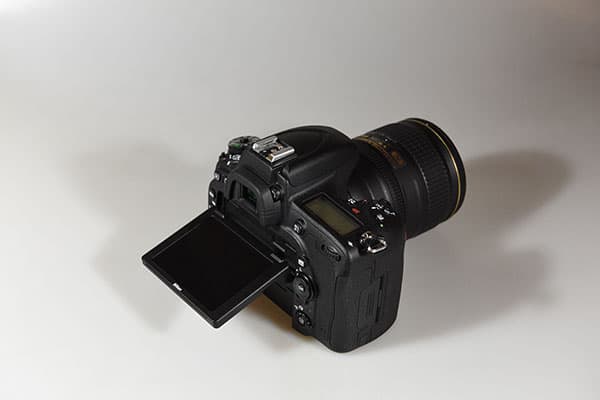 The LCD panel uses an RGBW arrangement, with an additional white display dot at every pixel location in addition to the usual red, green and blue. This allows the screen to be brighter for higher visibility in strong light, without significantly increasing power consumption. We were impressed by how well this worked on the D810,  so it's nice to see it again here.
Live View and Video
High definition video (1920 x 1080 pixel resolution) can be recorded at up to 60 frames per second. The D750 has built-in stereo microphones, along with an input for an external stereo microphone, and a headphone socket for monitoring the recorded sound. It can record simultaneously to the camera's internal memory card, and an external recorder connected via HDMI.
One significant advantage for videographers compared to the D610 is the addition of 'power aperture'. This means that the camera can adjust the aperture diaphragm in live view to reflect the current setting (in contrast other Nikon DSLRs, apart from the high-end professional models, stay stuck at the aperture which was set when entering live view). This feature is also helpful to stills photographers who shoot in live view, as it allows the lens to be set wide open for precise manual focusing.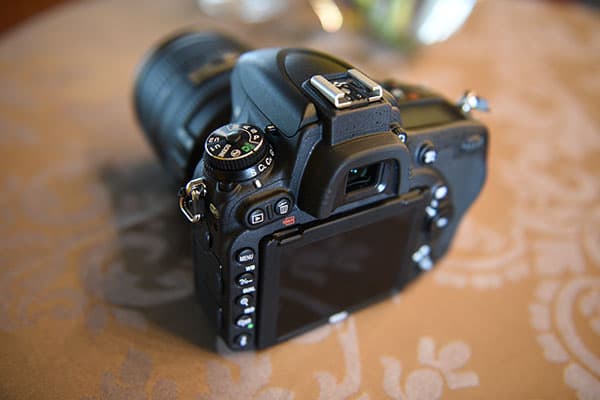 The D750 includes a spot white balance setting option for live view and video that allows the user to specify a small area of the frame which the camera should render white or grey. In principle this reduces the need to use a grey card to set a custom white balance in difficult lighting conditions.
Other improvements include the addition of a 'zebra pattern' display that warns of possible overexposure. A 'Flat' Picture Control setting maintains maximum dynamic range in the recorded footage, offering the greatest flexibility for colour grading in post-production. Again both of these are inherited from the D810.
Body and Design
The carbon fibre and magnesium alloy body is designed to be compact and lightweight, with a monocoque construction (as previously seen on the D5300) that's designed to keep it as small as possible. The control layout is very similar to the D7100 and D610, with twin control dials and a comprehensive set of direct access buttons for commonly-changed functions. Anyone used to shooting with a recent Nikon SLR should feel right at home here. In-hand the body feels pretty solid, with a decent rubberised covering extending all round the handgrip, including the memory card door.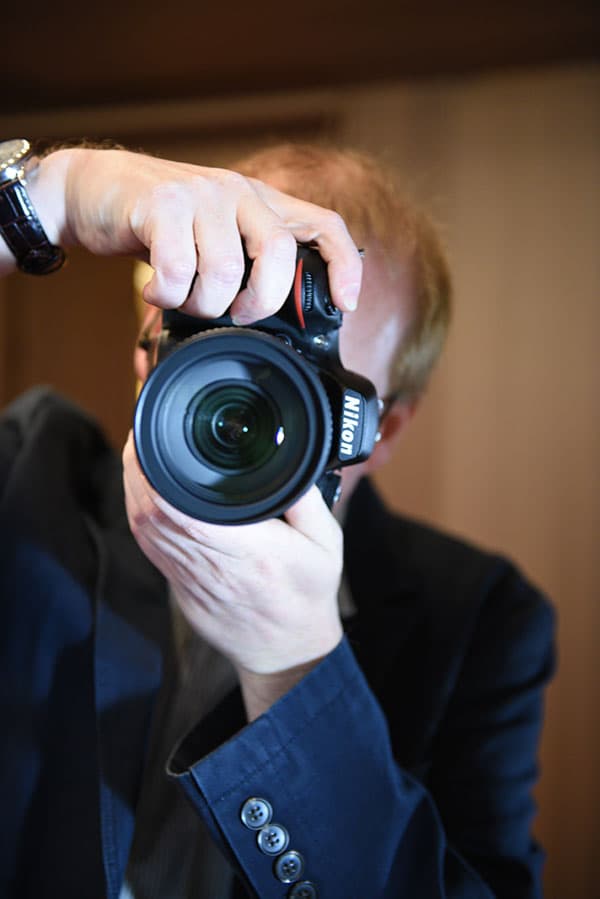 The D750 has twin SD card slots, which can be used in a variety of ways; for example the second can act as overflow storage when the first is full, or as a backup so all shots are duplicated across two cards. Alternatively Raw files can be recorded to one card and JPEGs to the other, or videos to one and stills to the other.
Nikon is claiming impressive stamina from the EN-EL15 battery. According to CIPA standard testing it should give 1230 shots per charge; if the flash isn't used, that figure increases to fully 4420 shots. Bear in mind though that both these figures will be reduced significantly by the use of Wi-Fi or live view. Alternatively the battery will support 55 minutes of video recording.
Wi-Fi connectivity onboard
The built-in Wi-Fi is another first for a Nikon full frame SLR, allows connection to a smartphone for remote control of the camera, or easy sharing of images. For more demanding use the D750 is also compatible with the WT-1 wireless transmitter, and Eye-Fi cards can be used, too.
First Impressions

At first sight the D750 might look a little underwhelming; there's nothing really new here that we haven't seen before. But while it may appear to be just a D610 with a tilt screen and Wi-Fi, the inclusion of much of the D810's guts, including that sophisticated AF system, means that it's likely to be very capable indeed. But what it doesn't quite do so well, perhaps, is satisfy Nikon users still waiting for a 'true' replacement for the D700 or even the D300S. In particular it lacks 'pro' control features such as an AF-ON button.
At around £1800 body only, £2250 with a 24-85mm lens, or £2350 with 24-120 mm lens, the D750 is aimed very much at serious enthusiasts. For these users it looks, on paper at least, like it should still be an excellent all-rounder capable of taking on a wide range of subjects. We're looking forward to trying it out so see whether it lives up to this promise, which we'll cover in our full review.
Read more: 7 Cool Things You Didn't Know About The Nikon D750
Nikon D750 Review – Specification