Huawei Mate 20 Pro at a glance:
Android smartphone
16mm ultra-wideangle lens
27mm standard lens
80mm optically-stabilised telephoto lens
DNG raw recording
£899
Huawei Mate 20 Pro – Introduction
Over the past couple of years, we've been watching Chinese smartphone maker Huawei's progress with increasing interest. The firm's meteoric rise has seen it jump from virtually unknown just a couple of years ago to claiming second place in global smartphone sales, despite being effectively locked out of the huge US market. Its ongoing partnership with Leica has also seen the firms co-develop some genuinely exciting new camera technology.
With its latest model, the Mate 20 Pro, Huawei has taken the already-excellent camera used by its P20 Pro and developed it further. Most importantly, it has replaced the dedicated monochrome module with a 16mm equivalent lens. In concert with the existing 27mm and 80mm lenses, this makes for a unique photographic device: no other camera of any type allows you to switch from ultra-wideangle to short telephoto optics, simply by tapping a button.
It's not just the lenses that stand out, though; the Mate 20 Pro also provides an impressive array of useful tools in its camera app. So you get DNG raw shooting with full manual control of exposure, alongside the latest computational-photography features such as shallow depth-of-field simulation and hand-held night shooting. Yet this camera will fit into your shirt pocket, and as a side-line can also be used to browse the web, keep in touch with your family and friends, and buy old lenses on eBay. For serious photographers, there's nothing else quite like it.
Huawei Mate 20 Pro – Photographic Features
The Mate 20 Pro's three lenses are arranged in a square on the device's back, alongside a Dual Tone flash that aims to match the colour of both sunlight and artificial light. Its 16mm equivalent ultra-wideangle camera has an aperture of f/2.2 and a 20MP sensor, and can focus as close as 2.5cm in super-macro mode. Meanwhile the main 27mm camera combines an f/1.8 aperture with a 40MP sensor; unlike the other two, this uses a 1/1.7in type sensor that's larger than average for a smartphone (although still fingernail-sized, at 7.4 x 5.6mm). Finally the 80mm telephoto module only has an 8MP sensor, but its f/2.4 lens includes optical image stabilisation.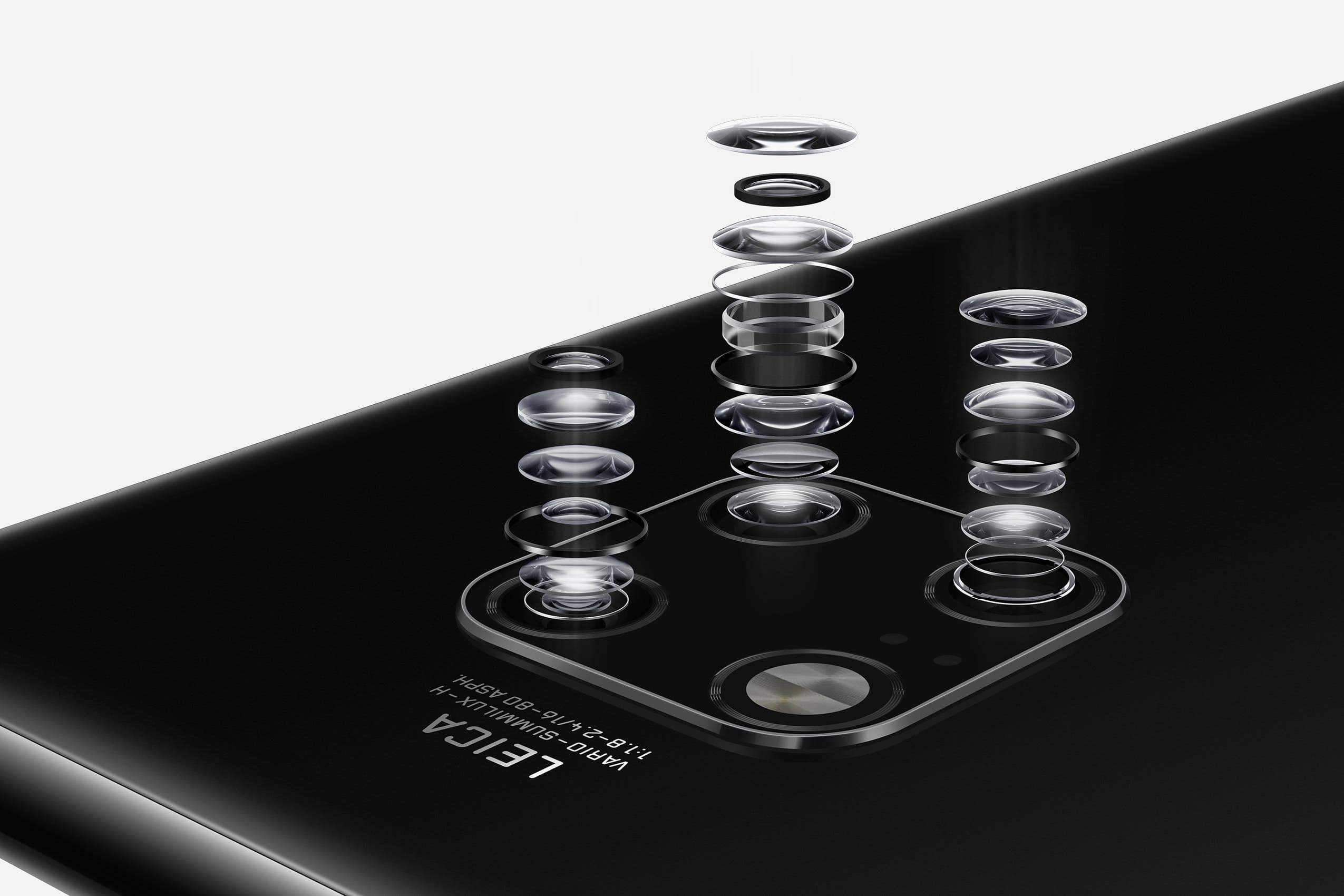 As with its other recent flagship phones, Huawei has made extensive use of Artificial Intelligence throughout the device, and its latest Kirin 980 HiAI processor now has twin neural processing units optimised for different kinds of tasks. As a result, the Mate 20 Pro can supposedly recognise 1500 different photographic scenes and scenarios, and tailor the image processing to match. It also sports AI 4D predictive focus, which is designed to recognise subjects as they move around a frame and precisely track focus on them.
Huawei's camera app is both impressively well-featured and intuitive to use. Alongside the basic point-and-shoot Photo mode, you get an Aperture mode for shallow depth-of-field effects, Night mode that allows hand-held exposures up to 8 seconds, and a Portrait mode including various relighting and bokeh-simulation effects. But I suspect many enthusiast photographers will quickly gravitate to using Pro mode, which gives full manual control and the ability to record DNG raw files from all three cameras (previously this was limited to the main camera). Other options include Panorama, Monochrome, HDR and Time-lapse modes.
Huawei Mate 20 Pro – Design and Handling
While it's similar in size to previous Huawei flagship devices, at 157.8 x 72.3mm and just 8.6mm thick, the Mate 20 Pro uses a distinctively different design. It's based around a 6.39in OLED HDR screen that's gently curved towards the edges, with 3120 x 1440 px resolution and a 19.5:9 aspect ratio. It's the first smartphone to have a fingerprint reader embedded beneath the screen, while the 24MP front camera system is now capable of more secure 3D facial recognition. There's a wide notch at the top of the screen, but thankfully it can be hidden, with various status icons then displayed either side on a black background to give a cleaner, more elegant appearance.
Power is provided by a huge 4200mAh battery, which can charge from empty to 70% in 30 minutes, with wireless charging also available at a slower rate. It's easily capable of lasting a day of intensive use and can even be used to top up other devices wirelessly, albeit very slowly. Other features include IP68 water-resistance, and a single USB 3.0 port for charging, data transfer and audio out. The device is compatible with a new NanoMemory card format that fits into the dual-SIM tray to expand the 128GB of built-in memory, with a 128GB card costing £55. This could be handy when shooting lots of raw files.
The Mate 20 Pro comes in a choice of four colours: Midnight Blue, Emerald Green, Twilight, and Black. The blue and green models have an attractive 'Hyper Optical Pattern' surface finish, with extremely fine ridges designed to make them more resilient to fingerprint marking and provide a better grip. My Emerald review sample was certainly a lot more secure in-hand than the notoriously slippery P20 Pro.
On balance the Mate 20 Pro handles as well as can be expected for a phone. It's speedy in operation, with apps opening in the blink of an eye. The sub-screen fingerprint reader isn't as lightning-fast as the separate scanners found on Huawei's previous phones, and I mostly used face detection for unlocking instead. A bigger problem is that with the screen extending right to the edges of the device, it's easy to get 'false touches' that result in unpredictable operation. But this can be substantially alleviated by adding a case.
Huawei Mate 20 Pro – How wide is 16mm?
Just to illustrate how much more you can get in the frame with the 16mm wideangle lens, here's a set of comparison pictures taken with each camera. First up is the 27mm, which is pretty typical of the main camera found in most mainstream smartphones right now.
Next is the ultra-wideangle lens, which let me include far more of the tree from the same shooting position.
Finally the 80mm telephoto, which allowed me to home in on the smaller scene within the overall view.
This gives a range of compositional flexibility that no other phone can match. In fact, no other camera of any type can match it without changing lenses. (Curiously, the while Leica labels the camera as 16-80mm on the device itself, in the EXIF the telephoto lens is reported as 81mm.)
Huawei Mate 20 Pro – Image quality
When judging the Mate 20 Pro's camera, it's important to understand what it's trying to do. At heart, it's a point-and-shoot that's designed to take pictures that will look great on Facebook or Instagram, with image-processing to match. Despite what any hyperbolic advertising might claim, it isn't going to replace a DSLR for most enthusiast photographers. But it might just complement one rather nicely.
In general the device produces good-looking images with attractive colour, aided by accurate autofocus and extremely well-judged auto white balance and exposure. Like previous Huawei models, the AI processing in the basic Photo mode can get over-enthusiastic with the colour saturation, but my impression is that it's been dialled back slightly from the cartoonish extremes of the P20 Pro. However if you still don't like it, you can switch the AI off, or simply switch to Pro mode for more realistic colour output.
Examining the images in detail reveals just how much compromise has been made to fit such a diverse range of focal lengths into such a thin device. Not surprisingly, the main camera is the best of the three, thanks to its fast aperture and larger sensor. It delivers strong levels of detail across almost the entire image, with barely any distortion. However if you intend to process raw files, you'll need to correct cyan-coloured corner shading.
The wideangle optic resolves plenty of detail in the centre of the frame, but gets much softer towards the edges. It also shows marked moustache distortion, meaning that lines along the edges of the frame that should be straight appear wavy instead. Raw files reveal massive vignetting of almost 3 stops, plus a little lateral chromatic aberration.
The telephoto camera is the weakest of the three, in part reflecting the fact that its 8MP sensor output is upsized to 10MP by default. However this is compounded by the fact that the smaller aperture means that it needs to use higher ISOs more often, with noise and noise reduction then degrading fine detail. Raw files again exhibit colour shading in the corners.
This might all sound like a whole catalogue of image-quality problems, but it's important to keep things in perspective. I'd be perfectly happy making A4 prints of many of the images I shot with the Mate 20 Pro, and with minimal post-processing.
Unless you're shooting raw, it's possible to select intermediate focal lengths, or additional zoom up to 10x (270mm equivalent). But this involves digital zoom with an inevitable loss of detail, which gets more extreme the further away you get from the base camera's focal length. It's not a problem if you're only going to be using the images on social media, but becomes readily visible if you examine image files up close.
The various special features mostly work well, too. Night mode gives entirely usable images in situations where you'd normally need a tripod, while the Aperture mode is getting more accurate and convincing all the time. Unfortunately Huawei's Panorama mode is pretty poor: it can give very obvious stitching artefacts and struggles to deal with brightness changes across the scene, meaning it lags a long way behind competing devices from Apple and Google.
Huawei Mate 20 Pro compared to Samsung Galaxy A9
Superficially, the Mate 20 Pro's triple-lens camera looks similar to the setup on the Samsung Galaxy A9. However, the A9's ultra-wideangle lens has a much wider 120° field of view, and suffers from strong fisheye-like distortion. At the other end of the range, its telephoto is described as a 2x zoom, making it 56mm or thereabouts; the Huawei's 80mm telephoto should be better for portraits.
As a result the Mate 20 Pro's camera setup looks more appealing to serious photographers. On the other hand the A9 is considerably cheaper, at £549.
Huawei Mate 20 Pro – Our Verdict
Huawei is on an extraordinary run of form right now. While other phone makers have often been happy with tweaking the camera software on their new models, it's introduced major hardware improvements every six months. With its additional ultra-wide lens, the Mate 20 Pro brings a whole new perspective compared to its main competitors.
Alongside its stablemate the P20 Pro,  the Huawei Mate 20 Pro is surely the top option for photographers right now, with the choice depending mainly on whether you're more likely to shoot at ultra-wide angles or in black & white.