Hawkesmill Marlborough shoulder bag at a glance
Measures 40x28x12.7cm
Weighs 2.25kg
Made from Superdry canvas
Waterproof and dustproof
Price £550
Website www.hawkesmill.com
---
If you own some high-end camera kit, it makes sense to invest in a high-quality bag that will give it the best possible protection. If the bag looks good, too, so much the better. Naturally, high quality tends to mean expensive but that's entirely justifiable if you're buying a bag that should last for many years.
However, there's expensive – and there's really expensive. Firms such as Billingham and Gillis sell lovely canvas-and-leather bags in the £200-£300 range, but British maker Hawkesmill wants £550 for its classically styled, ultra-premium Marlborough shoulder bag. Can this possibly make sense?
Hawkesmill's justification is twofold: not only is the Marlborough handmade in the UK but it's also constructed from top-notch materials. The exterior is crafted from Scottish-made canvas with extra- thick vegetable-tanned leather trim, while the chunky metalwork is nickel plated for corrosion resistance and durability. Pick up the Marlborough and this quality shines through.
The interior is impressively capacious with space for an enthusiast DSLR, along with four or five lenses and a flashgun. If necessary, you can even fit two DSLRs side by side. In principle, a telezoom as large as a 70-200mm f/2.8 can be accommodated, but this will be a tight squeeze if you keep its hood attached (even when reversed). A full-width divider forms a pocket that will take a 13in laptop, or it can be removed to create more space for your lenses.
I have a few gripes, though. The choice of buckles to secure the straps that hold the main flap closed makes access to your kit quite awkward, with most other bags being quicker to open. Fortunately, the flap can also be held closed using a twist-lock fastener while you're shooting, although Hawkesmill warns that you shouldn't then try to carry the bag by its grab handle. Also, most of the inside organiser pockets are flat, meaning you have to squeeze anything that's more than a few millimetres thick into the two front pockets, which are themselves relatively small. I prefer the larger pleated front pockets found on some similar bags.
---
Hawkesmill Marlborough shoulder bag – key features
Clip-in organiser
A slimline organiser slips into the bag's rear pocket and has three flat pockets for holding documents or a 10in tablet.
Front pockets
Two flat pockets cover the front of the bag and can hold small accessories such as batteries, memory cards and filters.
Camera insert
Although the camera insert is well padded and soft lined, small items can be hard to find in its deep, black interior. It can be removed for everyday use.
Grab handle
This can be used to carry the bag, but only with the front straps secured since the secondary twist fastener isn't strong enough on its own.
---
Hawkesmill Marlborough shoulder bag – our verdict
I was sceptical about the Hawkesmill Marlborough at first, since it's difficult to justify spending so much money on a camera bag. But it's impossible to argue with the quality of materials and construction, and it looks great, too. To me, the Marlborough is perhaps a couple of design tweaks away from being absolutely superb but it's still very nice indeed.
SCORE: 4.5 out of 5
---
The Hawkesmill bag range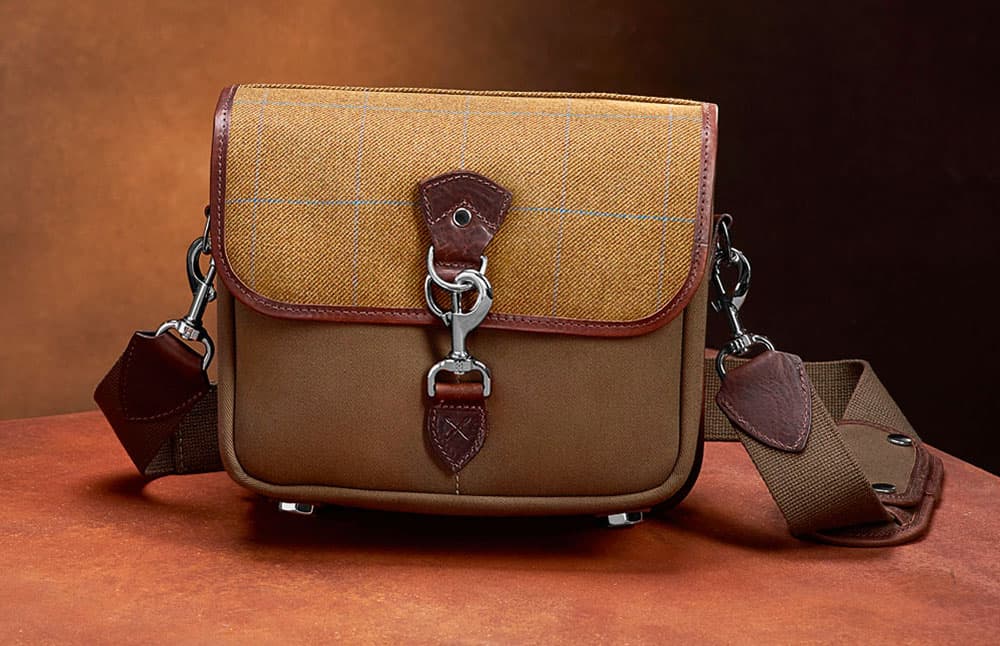 Alongside the Marlborough, Hawkesmill sells essentially the same design in different finishes. The Bond Street is made from black canvas, the Jermyn Street uses classic Harris Tweed and the Sloane Street uses charcoal Harris Tweed. Smaller versions of each bag are also available, designed for mirrorless or Leica kit: this (above) is the Small Jermyn Street.