Action camera specialist GoPro has taken the wraps off its most powerful lineup of HERO cameras ever made. Comprising three new models, the GoPro HERO 4 Black edition is the latest flagship action cam, building on the success of the HERO 3+ Black edition by supporting cinema and broadcast quality 4K video at 30fps, 2.7K video at 50fps, with the option to shoot Full HD video (1080p) at a blistering 120fps for quick turnaround slow-motion effects. GoPro put together a pretty spectacular video trailer for the new HERO 4, which you can watch in 4K if you're equipped to do so:
In addition, the HERO 4 Black features an entirely new audio system that's claimed to capture enhanced sound with 2x the dynamic range of previous models. For those interested in rattling off stills as well as video, it has the ability to shoot 12-million-pixel still images at a blistering 30fps. Other noteworthy improvements include an updated user-interface, 50% faster Wi-fi connectivity and LED strips beside the LCD screen, which offer a clearer visual indication as to when the camera is recording or connected wirelessly.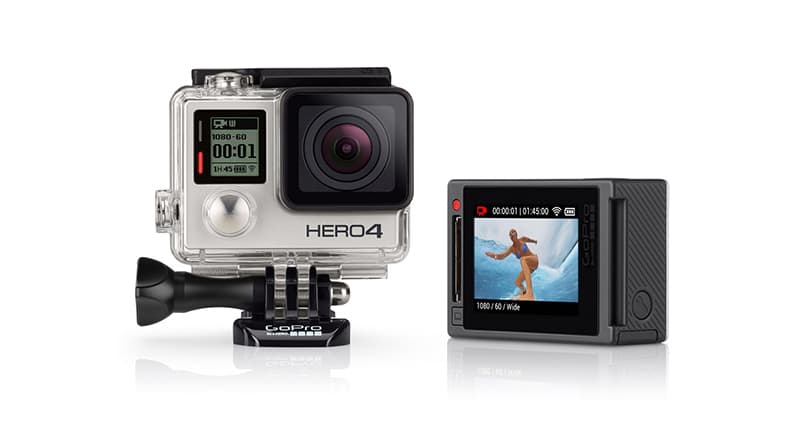 Equally as impressive is the GoPro HERO Silver edition. Although it lacks 4K like its big brother, professional video is captured at 2.7K (30fps), 1080p (60fps) and 720p (120fps). The real standout feature is its built-in touch display. Up until recently, users wishing to compose via the camera instead of the app and watch footage back in playback mode have required an LCD Touch BacPac accessory (£59), which has always incurred additional expense. Now, with the touchscreen, this is no longer necessary. The HERO 4 Silver also shoots 12MP still images at 30fps, features GoPro's improved menu interface and faster Wi-fi.
Just as noteworthy is the debut of the HERO – the manufacturer's first entry-level GoPro aimed at attracting a consumer who's after the perks of shooting video and stills in extreme environments on a budget. As a simplified model it shoots 1080p footage at 30fps or 720p at 60fps, and comes supplied in rugged, waterproof housing. All three models are available for pre order now, costing £369, £289 and £99 respectively.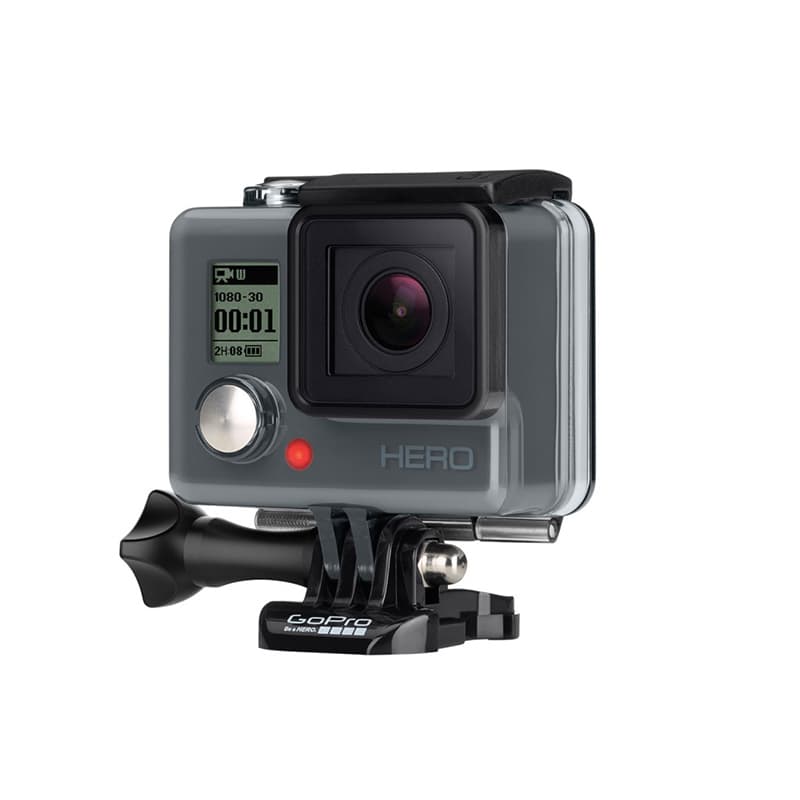 First Impressions
Although we're yet to get hands on with GoPro's latest releases, the introduction of the HERO 4 Black edition – the first GoPro to feature 4K – is going to cause a stir among those out to shoot the highest quality video footage. The real benefit here of course is the opportunity to scrub back through 4K video footage to pull out 8.3 million-pixel still images, something we explored recently in our Find Out How 4K Video Will Revolutionise Photography feature.
Visually and in terms of its design, the HERO 4 Black looks similar to the HERO3+ Black edition, albeit with a slightly cleaner look thanks to those LEDs bearing their new position beside the LCD rather than beside the front power/mode button. The model we like the look of most however is the HERO 4 Silver. Yes, we know it's not 4K equipped, but that built-in touch display is bound to set a new precedent for convenience and ease-of-use out in the field.
We're also quite excited by the improvements GoPro has made to other areas of the HERO 4 Black and HERO 4 Silver. Protune mode, whereby users are given control of colour, sharpness, ISO limit and exposure control for both photo and video capture, is improved, and the Night Photo and Night Lapse modes now allow users to capture scenes with an exposure of up to 30 seconds – time to dig out your GoPro tripod mount!
There's also a new rating facility. Hit the on-camera button while recording and the still image or video file are made easier to find in GoPro Studio or when viewing via the GoPro app – a rather nice idea that's a bit like rating your shots on a DSLR to make the best ones easier to find when you're editing in Lightroom. We can also see the QuikCapture mode being particularly useful for wildlife, action and sports users where spur-of-the-moment opportunities present themselves all the time.  A simple tap of a button and the GoPro will fire up and start recording instantaneously.
As well as announcing three new GoPros, three new accessories for the product have arrived in the form of a new Smart Remote that allows users to control a HERO 4 GoPro from 183m away, a compact floating handgrip named The Handler, and a new and improved Battery BacPac that provides almost twice the battery power over the camera's internal battery alone. We'll look to bring you more on the GoPro HERO 4 Black and GoPro HERO 4 Silver when our review samples arrive.
For more GoPro action see The 8 Greatest Things that Recently Happened to a GoPro and 8 Creative Things To Do With A GoPro at Home.

If you're curious as to how the GoPro Hero3 + stacks up against its action camera competition, our sister title What Digital Camera has done an in-depth comparison group test.