Fujinon XF 35mm f/2 R WR Review – Introduction
Fujifilm has always been open about its plans for future lenses and the development of new optics. The manufacturer's roadmaps offer a great clue as to what we can expect to see in the future and one lens we've been eager to get our hands on ever since the first rumours started circulating is the XF 35mm f/2 WR. As many X-series users will be aware, Fujifilm already has a wide-aperture 35mm lens in its range of XF prime lenses, which begs the question, why the need for another?
You'll instantly notice that the XF 35mm f/2 R WR has a different design compared with the three-year-old XF 35mm f/1.4 R. Although the maximum aperture is a stop slower, the lens is lighter and has been made smaller to make sure it's a good match with all cameras in Fujifilm's X-series, including the smallest entry-level models. As anyone who owns or has tried out the older XF 35mm f/1.4 R will know, it'll take something truly special to beat this stellar lens, which at the time of writing has dropped below £300 thanks to a recent Fujifilm cashback promotion. With the XF 35mm f/1.4 R at a tempting price and the arrival of the XF 35mm f/2 R WR, X-series users searching for a 35mm prime lens have a tough decision to make.
Fujinon XF 35mm f/2 R WR Review – Features
The attraction of the XF 35mm f/2 R WR is its focal length, which presents a natural perspective. With the 1.5x crop factor taken into consideration, the lens is equivalent to 53mm in 35mm film terms, which sees it slot in-between the manufacturer's superb XF 23mm f/1.4 R and XF 56mm f/1.2 R lenses, which are equivalent to 34.5mm and 84mm respectively. As briefly touched upon, the aperture range doesn't open as widely as the older XF 35mm f/1.4 R, but the motive behind making the front element smaller and limiting the maximum aperture to f/2 has played its role in making sure it's compact and lighter, if only by a meager 17g.
The construction of the lens is made up of nine elements in six groups, with two elements being the aspherical type. This is a more complex arrangement than the eight elements in six groups as found within the XF 35mm f/1.4 R. It features a greater number of diaphragm blades, too (nine as opposed to seven), which should see it render rich circular bokeh when the lens is used at wide apertures.
On the underside of the barrel, you'll find that it's labelled a weather-resistant lens. This is one of the key attributes of this lens and its weather-resistant design is made up of eight seals to protect it from rain, dust and humid environments that can often force us to stow our kit away to prevent damage. This also allows it to be used in temperatures as low as -10ºC.
Like other Fujinon primes, it doesn't feature optical image stabilisation. This shouldn't be frowned upon, as optically stabilised 35mm lenses are fairly uncommon and it's a feature that's not always deemed entirely necessary on such a wideangle lens where minor movements of the camera cause fewer disturbances. Compare the minimum focusing distance of this lens to the XF 35mm f/1.4 R and it's the latter that has the edge. While this lens has a near-focus limit of 35cm, the XF 35mm f/1.4 R can focus slightly closer, to within 30cm.
The internal focusing system prevents the front element from moving and the fact it accepts filters and adapters via a small 43mm thread means that any accessories you do buy for it are likely to be slightly cheaper. The lens comes supplied with a lightweight and compact circular lens hood that screws into the front of the lens, but for those who'd prefer a more robust one there's also a stylish metal hood (LH-XF35-2) available for around £40. Both hoods are designed in such a way they allow the front lens cap to be used when they're attached.
Fujinon XF 35mm f/2 R WR Review – Autofocus
The focusing performance on this lens is far superior to the XF 35mm f/1.4 R. Internal focusing prevents the front of the barrel protruding like it does on the older lens and, unlike the XF 35mm f/1.4 R, which is renowned for making some rather loud whirring noises as it focuses, this newer lens is much, much quieter.
It's not just quieter – it's faster, too. Switching back and forth between old and new revealed the focusing speed on this lens is in an entirely different league. When partnered with the X-T10, it latched onto subjects accurately and responsively in a fraction of the time that it took to find focus using the XF 35mm f/1.4 R. Fujifilm has rated the autofocus acquisition speed at 0.08secs and it feels just as rapid as this in use.
Fujinon XF 35mm f/2 R WR Review – Build and handling
Fujinon primes have a reputation for being engineered to a high standard and the XF 35mm f/2 R WR is no exception. It's a solidly made optic and its metal and glass construction gives it the sort of premium feel you should always look for from a lens that you want to last. There's a difference in diameter between the rear and the front of the lens, resulting in the aperture ring being slightly larger than the manual focus ring in front. The lens looks smart attached to X-series cameras and doesn't look or feel out of place when it's coupled to the smallest entry-level models such as the X-A2. Our review sample was supplied in black, but those who chose their X-series camera in a silver finish will be glad to know this lens is also available in silver to match.
The quality doesn't just lie in its appearance; it's a lens that operates precisely and smoothly, too. The aperture ring clicks through its range in 1/3-stop increments and rather than having little rotational resistance like there is on the XF 35mm f/1.4 R, there's a firmer feel to it when it's turned. The same can be said about the manual focus ring. It's not as free turning as the 35mm f/1.4 and just feels that little bit more refined despite it being smaller. One possible explanation for the improved feel of both the aperture and manual focus rings could be the addition of internal weather seals; when you uncouple the lens from the camera, you'll also notice a rubber ring at the rear that effectively seals it against the metal lens mount.
Rotating the aperture ring anti-clockwise to its further point will set it to its 'A' setting, and glancing down at the lens from above you'll notice the focal length is marked on the barrel, which wasn't on the older 35mm f/4. The absence of switches on the barrel preserves a clean and minimalist appearance and though it is a smaller and more compact lens, I found the difference in weight to be negligible.
Fujinon XF 35mm f/2 R WR Review – Image quality
There will be Fujifilm X-series users out there looking at this lens wanting to know how well it fares against the XF 35mm f/1.4 R. I'm glad to report that it's an optically sound lens that delivers some seriously decent results. Running a series of comparison tests with both 35mm lenses set to the same aperture revealed the XF 35mm f/2 R WR produces fractionally sharper results in the centre of the frame when the aperture value is set to f/2. The excellent level of sharpness that's resolved at the maximum aperture is welcome news for those who'd like to like to create a super-shallow depth of field. That said, corner sharpness struggles to match the same level of sharpness as the centre, so it's worth remembering to compose subjects as central to the frame as possible when shooting at f/2. Repeating the comparison process after stopping both lenses down to f/4 and f/5.6, I found my results to be comparable and as sharp as each other across the frame. Diffraction starts to soften the finest detail at f/11 and f/16, so to preserve optimum sharpness from edge-to-edge users will ideally want to shoot between f/4-5.6 on this lens.
The lens vignettes slightly more than the XF 35mm f/1.4 R wide open, with corners appearing approximately 0.9EV darker than the centre at f/2. Even at f/2, the vignetting isn't overly offensive and is quickly removed by stopping the lens down to f/2.8. Chromatic aberrations are handled reasonably well, with only minor purple and green fringing being traced along some high-contrast edges. Both vignetting and chromatic aberrations should be a quick one-click fix as soon as a lens profile is created for the lens and made available as part of an Adobe update.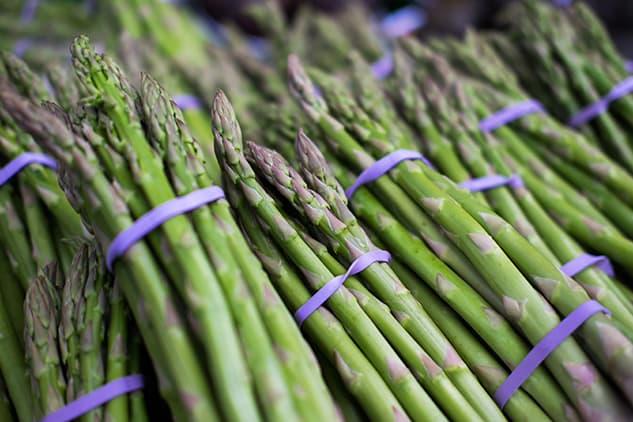 Distortion was well controlled on the older XF 35mm f/1.4 R, so how does it compare on this newer lens? Whereas the older 35mm f/1.4 is prone to producing modest barrel distortion, this lens produces a negligible amount of pincushion distortion. This was corrected for in JPEG files thanks to the X-T10's effective in-camera processing. Though it's not immediately obvious in real-world raw files, users will want to correct for it by applying the relevant lens profile in the future.
Fujinon XF 35mm f/2 R WR Review – Test Results
Resolution
The lens produces excellent sharpness in the centre of the frame wide open at f/2, and continues to get sharper when the aperture is closed down by a few stops. There's a jump in sharpness by stopping the lens down to f/2.8 and the centre of the frame remains consistently sharp up to f/8. The sweet spot of edge-to-edge sharpness is found at f/5.6 and it's only when you begin to push beyond f/8 to f/11 and f/16 that diffraction gradually starts to have an affect on the level of sharpness.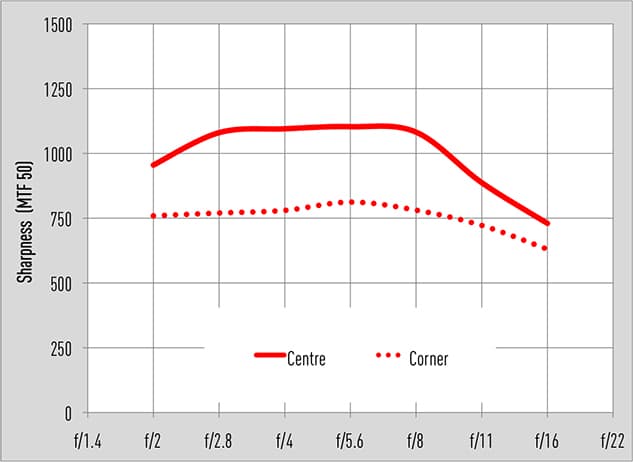 Shading
Vignetting is apparent in images taken at f/2, with corners appearing approximately 0.9EV darker than the centre of the frame. Corner shading improves very quickly and by stopping the lens down to f/2.8 the edges appear less than 0.5EV darker than the centre, which I discovered to be barely noticeable in my real-world images. We're currently still awaiting a lens profile to be made available by Adobe for Lightroom, Photoshop and Camera Raw.
Curvilinear distortion
A study of our distortion chart revealed the lens exhibits signs of pincushion distortion, whereby straight lines towards the edge of the frame bow inwards. This isn't a major issue, though, as you'll be hard pushed to notice it unless you go looking for it. Interestingly this is a different result to Fujifilm's XF 35mm f/1.4 R lens, which produces a negligible amount of barrel distortion in its images.
Fujinon XF 35mm f/2 R WR Review – Verdict
Having extensively tested this lens, I can say with confidence that it's up there as one of my favorite X-series lenses. Yes, it's a stop slower than the XF 35mm f/1.4 R, but its petite size is perfectly matched to X-series cameras such as the X-T10 and X-T1. The fact it's less bulky makes the camera feel just that little bit more comfortable to carry around, and the tactile feel of the aperture and manual focus rings makes it pleasing to operate.
Centre sharpness and bokeh is magnificent at f/2, and it goes about its business of focusing in an ultra-quiet and super responsive manner. Add weather-resistance to the mix and you've got an incredibly powerful lens that looks great, feels great and has the performance to match. It's a multi-purpose lens that's perfect for street, portraiture and reportage photography, and at £300 it's a fantastic entry point for X-series users looking to purchase their first prime lens. Unless you really need the extra stop that the XF 35mm f/1.4 R provides, I'd settle for this lens ahead of it.