Canon PowerShot G7 X Review – Introduction
Compact is becoming the most fiercely contested market in the world of photography for two reasons in particular. With cameras on smartphones threatening to steal ground from compacts as they get more sophisticated, and interchangeable lens compact system cameras challenging DSLR quality, compact cameras now face the most immediate threat to their existence.
However, Canon's PowerShot series is long established as one of the market leaders and the new G7 X joins the Japanese camera giant's range to shore things up, just above the 1/1.7in sensor PowerShot S120 and G16, and sitting below the G1 X Mark II which has a larger, 1.5in sensor.
This is the first time that Canon has offered a 1-in sensor product of this type, finally providing some direct competition to Sony's award-winning RX100 series. While the smaller cameras in Canon's range are better suited to short trips and party pictures, the G7 X is intended to be a perfect all-rounder for people who want a capable camera with raw shooting and other DSLR-like capabilities in their pocket, whatever the occasion.
Features
A 1-inch type 20.2-million-pixel Canon CMOS sensor sits at the heart of the G7 X. This is almost three times larger than the 1/1.7in sensor featured inside the PowerShot G16, providing significantly more light-gathering surface area. This larger sensor is better equipped for producing images with less noise than smaller sensor products, particularly at the higher end of its native ISO sensitivity range, which goes from ISO 125-12,800.
Featuring Canon's HS system and latest Digic 6 processor, the G7 X can shoot a continuous series of images at 6.5fps, although this lags behind the 10fps and 11fps performance offered by the Sony Cyber-shot RX100 Mark III and Panasonic's Lumix DMC-LX100 announced at Photokina. Canon has stated that the G7 X should be able to maintain 6.5fps shooting for up to 692 frames, obviously card depending.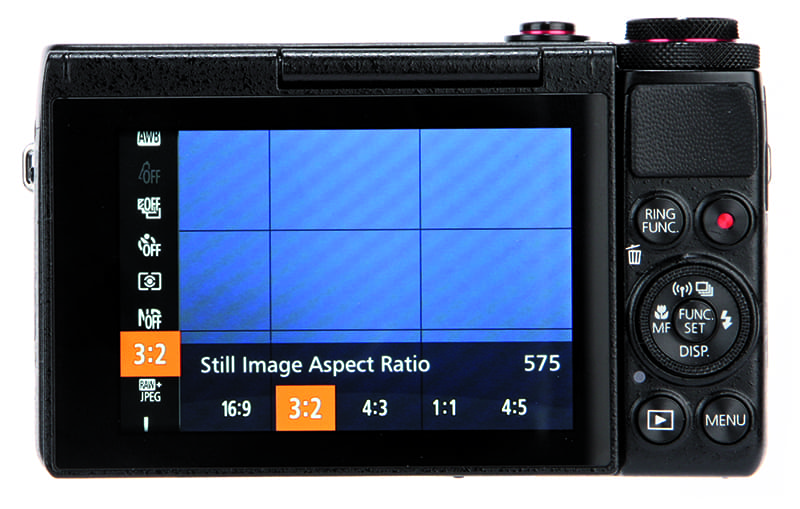 Continuous autofocus across 31-points covering a large area of the frame with subject tracking is possible at a reduced 4.4fps, but at this frame rate, there is just as much merit in anticipating the shot yourself and nailing it in one frame, of course some will appreciate the cushion of an extra couple of frames.
The G7 X also features a built-in ND filter which makes it possible to shoot with the aperture wide open in bright light to give maximum background blur for portraits. It also enables the user of slower shutter speeds in broad daylight, making it easier to capture smooth flowing water, trailing motion or shallow field portraits on sunny days.
The combination of HS System and new processor should also deliver images with greater detail in low light but I've found in practise that when shooting jpeg images, Canon's own noise-handling algorithms in the G7 X are a touch too aggressive for my liking, rendering the images slightly softer than they appear compared to what you can do with the raw versions of the same shots.
But for me the marquee feature on this camera has got to be its fast f/1.8-2.8 lens with optical image stabilisation, better equipping it for handheld lowlight shooting as well as creating strong separation between subjects and the background. The lens also has 4.2x optical zoom giving it an equivalent focal range of 24-100mm, covering a wide variety of photographic applications, including landscape pictures and portraits. It also has a close minimum focusing distance of 5cm from front of the lens at 24mm, ideal for macro subjects.
During video recording, 5-axis movie stabilisation kicks in to try and keep footage smooth and steady, and it does a good job of anticipating and countering camera shake. Other great video features include MP4 codec full HD 60p movie recording with stereo audio, manual focus peaking, adjustable shutter speed control and manual aperture control during filming that can be adjusted using the touch screen on the rear of the camera to avoid camera movement.