https://link.brightcove.com/services/player/?bctid=5327392757001
Canon EOS 77D & Canon EOS 800D: At a glance
Canon EOS 77D £829 (body only), Canon EOS 800D £779 (body only)
24.2-million-pixel APS-C CMOS sensor
EF/EF-S lens mount
DIGIC 7 image processor
ISO 100-25,600 (expandable to ISO 51,200)
45-point all-cross-type autofocus system
3in, 1.040k-dot vari-angle touch screen
6fps continuous shooting
Wi-fi, NFC, Bluetooth connectivity
In the same year Canon celebrates its 30-year anniversary of the EOS system, it's fitting to see the manufacturer launching two new DSLRs to its lineup in the form of the EOS 800D and EOS 77D. Just like the EOS 760D plays sister model to the EOS 750D, the new Canon EOS 77D arrives as a slightly more advanced model to the Canon EOS 800D.
To clear things up and avoid any confusion with Canon's model numbering, the EOS 800D will replace the EOS 750D, whereas the EOS 77D is the EOS 760D's successor and sits just below EOS 80D in Canon's enthusiast EOS DSLR range. Normally we'd focus on one model in our first look, but with both DSLRs being so alike in terms of their specification it's best to look at them as a pair. Let's first study the similarities before revealing their subtle differences in design.
Features
The EOS 800D and EOS 77D use the same sensor technology that we've seen before in the Canon EOS 80D. The key difference is that their 24.2-million-pixel APS-C CMOS sensors now team up with Canon's latest DIGIC 7 image processor – a pairing that promises improvements to both image quality and speed of performance. Whereas the EOS 750D and EOS 760D offered a sensitivity range of 100-12,800 (expandable to ISO 25,600), the EOS 800D and EOS 77D can now shoot between ISO 100-25,600, with the option to expand as high as ISO 51,200.
Another benefit of the DIGIC 7 processor is its ability to process image information 14x faster than Canon's older DIGIC 6 image processor. This allows the EOS 800D and EOS 77D to record unlimited JPEGs or 27 raw files at up to 6fps – a notable step up from the EOS 750D and EOS 760D that previously managed to sustain a burst of up to 940 JPEGs or 8 raw files at 5fps.
Both DSLRs hold the title of having the world's fastest autofocus in Live View mode (0.03secs) among interchangeable-lens digital cameras with APS-C sized sensors and phase-difference detection AF. This is made possible by uniting the new DIGIC 7 processor with Canon's Dual Pixel CMOS AF technology that filters down from more advanced EOS models such as the Canon EOS 80D, Canon EOS 7D Mark II and Canon EOS 5D Mark IV.
For those unfamiliar with the term Dual Pixel CMOS AF, it refers to the manufacturer's sensor-based, phase-detection autofocus system that works by splitting all the effective pixels on the surface of the sensor into two individual photodiodes – one for left and one for right. Each of these photodiodes can be read separately, allowing faster phase-detection autofocus while simultaneously being used for image capture. It's a system that's beneficial to both photographers and videographers who'd like to shoot quickly without having to put up with a sluggish autofocus performance. In the case of the EOS 800D, it's the first time we've seen this technology introduced onto a Canon triple-digit entry-level EOS DSLR.
The improvements to autofocus don't end here, with both cameras inheriting the same 45-point all-cross-type AF system from the EOS 80D. Out of the 45 AF points on offer, 27 are f/8 compatible, with the centre point being sensitive down to f/2.8. The working range of the AF system is -3EV-18EV, suggesting it should perform just as well as the EOS 80D when it comes to acquiring focus in low light.
Metering is left in the capable hands of the tried and tested 7,560-pixel RGB+IR metering sensor. To counteract the rapid on/off pulsing of certain artificial lights the EOS 800D and EOS 77D also feature Canon's Flicker Detection technology that made its debut in the EOS 7D Mark II. Similarities between the two models extend to their optical viewfinders, which provide 95% coverage and offer 0.82x magnification. Just below you're presented with a 3in, 1040k-dot vari-angle touch screen, which responds to the lightest of touches and provides extremely precise control.
On the subject of video, both cameras allow users to shoot Full HD (1920×1080) movies at up to 60p and provide a 3.5mm port at the side to plug in an external microphone. In an effort to make handheld videos smoother and more professional looking, there's also 5-axis in-camera digital stabilization on board. Video footage can be stabilised even when non-IS lenses are used, and the electronic stabilisation can be combined with optical stabilisation when using compatible EF-S or EF lenses.
Wi-fi and NFC connectivity is built into both cameras, offering photographers the freedom to control them from a smartphone or tablet that's running Canon's Camera Connect app. There's also constant Bluetooth wireless control, which ties in with a new BR-E1 remote controller (£39).
Design differences
With identical specifications, we have to look at the body of each camera carefully to identify the differences. Looking at both cameras from the rear, you'll notice the EOS 800D's mode dial and on/off switch is positioned to the right of the viewfinder, whereas the EOS 77D's lockable mode dial is found on the top left shoulder of the body. This frees up space for the EOS 77D to house an LCD panel on the top plate – a valuable feature for glancing at current exposure settings without having to raise the camera to the eye or glance at the screen.
Differences are also be spotted at the rear. The EOS 800D sticks to buttons only but has a dedicated movie record/live view control and gives you direct access to exposure settings, white balance, drive mode, AF, picture styles as well as a button that can bring up a quick menu on the rear screen.
In contrast, the EOS 77D leans further towards the needs of an aspiring enthusiast photographer with more advanced controls such as a four-way control dial that enables independent control of aperture and shutter speed adjustments in manual mode. The EOS 77D also presents an AF-ON button, eye sensor for the viewfinder, as well as a sliding lock to prevent the rear dial from being accidentally adjusted.
Those with an eye for detail will also notice a new wireless connection button beside the quick menu button that takes away the hassle of having to dig around in the main menu to initiate a connection between a mobile device and the camera. Like we've seen in the past, the EOS 800D and EOS 77D both provide a single SD card slot, a hot shoe to attach a Canon Speedlite, as well as a built-in pop-up flash.
Canon EF-S 18-55mm f/4-5.6 IS STM
Alongside the cameras, Canon has also released a new kit lens. The EF-S 18-55mm f/4-5.6 IS STM is the smallest non-retractable DSLR kits lens of its focal range. This will be available to buy at the same time the Canon EOS 77D and Canon EOS 800D hits the shelves and online stores in April. Purchased on its own, the Canon EF-S 18-55mm f/4-5.6 IS STM will cost £219.99.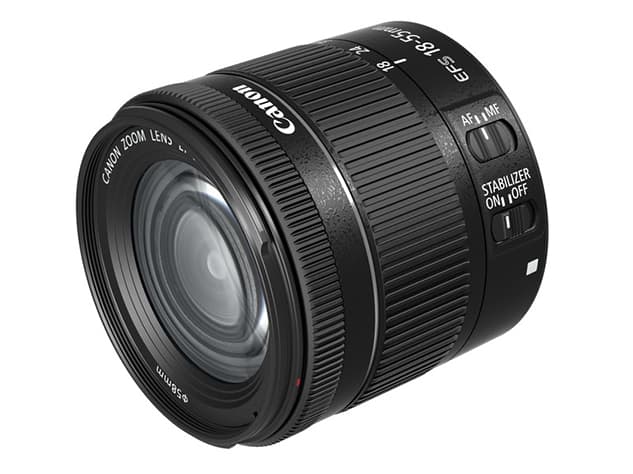 The Canon EOS 77D with the EF-S 18-55mm f/4-5.6 IS STM will cost £919.99, while the Canon EOS 800D with the EF-S 18-55mm f/4-5.6 IS STM will cost £869.99.
First Impressions
The EOS 800D and EOS 77D are essentially the same camera packaged inside different bodies to complement different users requirements. Those coming from a smartphone or compact looking to start their DSLR journey are likely to find the EOS 800D best for their needs. It's a slightly less threatening camera for novices than the EOS 77D, which is positioned more towards the aspiring enthusiast who may have already bought into the EOS system and would like an up-to-date body that allows them to take finer control.
It's good to see Canon introducing a new guided user interface on both cameras too, which can be used to learn more about how camera settings work as you shoot, but can be switched off when it's not required. In the hand you get the sense the EOS 800D is the more basic of the two models, with the EOS 77D feeling just that little bit more advanced and rather like a lighter version of the Canon EOS 80D.
We've seen Canon release very similar models in the past – the EOS 750D and EOS 760D being a good example. With the EOS 77D and EOS 800D Canon sends out the message that the company believes there is a camera for every level and type of photographer. We'll have to wait a few weeks before we lay hands on our review samples and look forward to testing them as soon as they arrive.