Canon EOS 6D at a glance:
20.2-million-pixel, full-frame, CMOS sensor
ISO 100-25,600 (extends to ISO 50-102,400)
Built-in Wi-Fi and GPS
Lightweight at 755g, including battery and card
Street price around £1,399
Canon EOS 6D review – Introduction
Full-frame DSLRs used to be priced for and targeted at professional photographers. However, such guidelines no longer strictly apply. Like Nikon's D600, the Canon EOS 6D is an 'affordable' full-frame DSLR aimed squarely at the enthusiast, but which may also find popularity with professionals who want a lightweight back-up model. In the case of Nikon's camera, it even goes in the company's consumer range, sitting below the APS-C-sized D300S, which is in the professional line. It is actually in certain key areas, such as the autofocus and metering systems, and in particular build quality, that we now find the main differences between professional and enthusiast models. The EOS 6D is the smallest and lightest full-frame camera from Canon, and is partly constructed from magnesium alloy.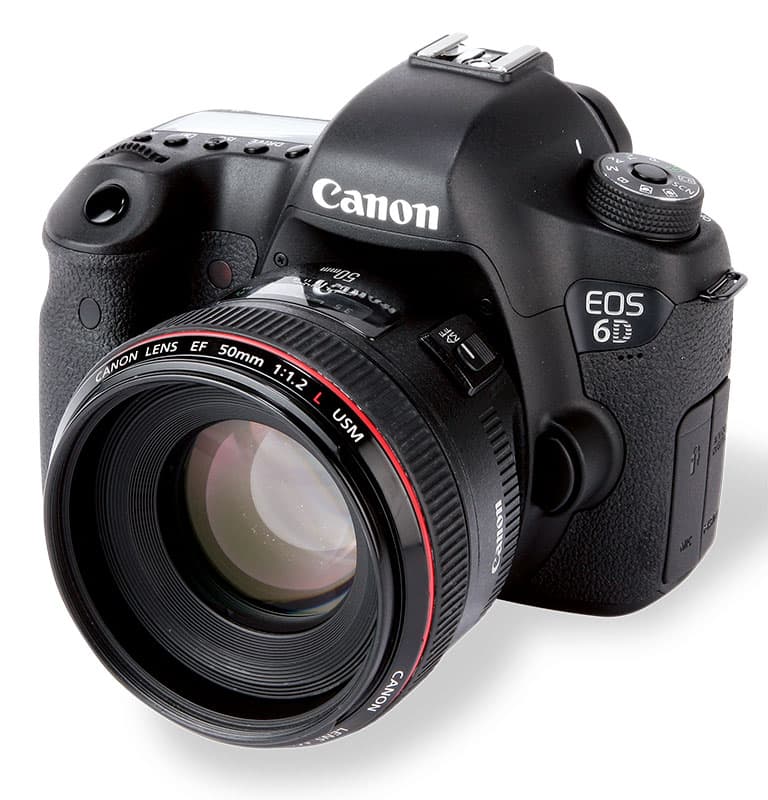 To accommodate those considering an enthusiast full-frame camera for the first time, we are beginning to see smaller and more lightweight full-frame lenses being announced – for example, the Canon EF 24-70mm f/4L IS USM lens. So there is in effect a whole new full-frame system being created for enthusiasts.
Interestingly, the target audience for the Canon EOS 6D allows Canon greater freedom to try new things and market it in different ways than it does with its professional models. For instance, the company says that built-in GPS and Wi-Fi make the EOS 6D an ideal travel camera. However, while these are the EOS 6D's stand-out functions, the camera also features a new imaging sensor and inherits reliable aspects, such as its metering system, from previous Canon DSLRs.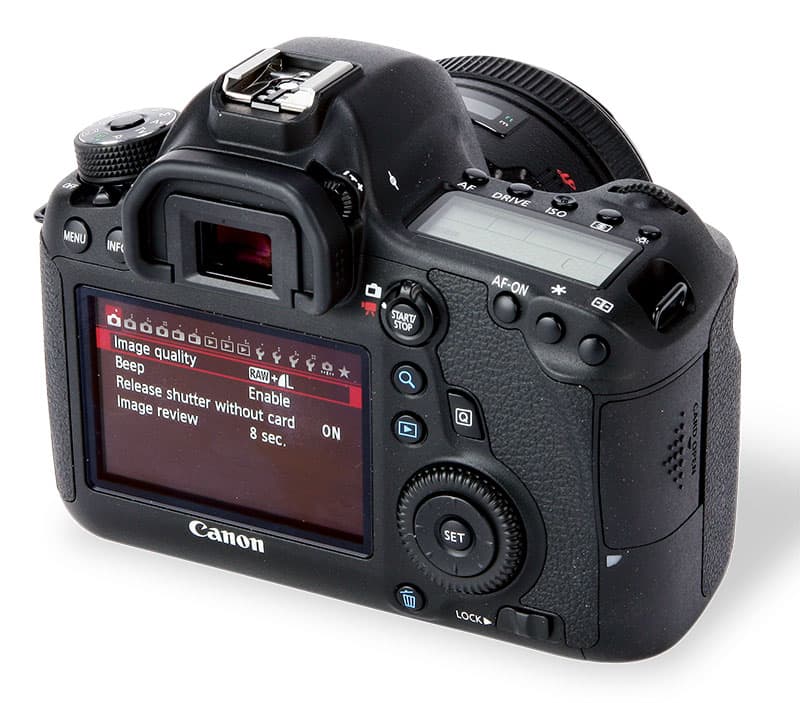 Canon EOS 6D review – Features
The EOS 6D's key selling points are its 'affordability', and Wi-Fi and GPS functionality in a small, lightweight body – hence the 'travel-friendly' tag. It is the first DSLR to have Wi-Fi and GPS built in, with most other cameras at this level requiring separate units for these functions. In use, the EOS 6D's Wi-Fi and GPS are sophisticated. I have gone into much more detail on the Wi-Fi functionality in the Features in use section on page 46, especially the remote shooting possibilities.
As for GPS, images can be given location tags, recording longitude, latitude, elevation and time. Canon's Map Utility is a useful tool to view these locations, and with the GPS logger enabled, the route taken during a day's shooting can be mapped out. Certainly, for those who note their locations on images when sharing or selling them, GPS can save a lot of time.
The EOS 6D uses a new 20.2-million-pixel, full-frame, CMOS sensor, while 14-bit raw capture is possible in three sizes: 20, 11 and 5 million pixels. Like the EOS 5D Mark III, raw and JPEG files are processed using Canon's latest Digic 5+ processor, which in this case enables shooting at up to 4.5fps in the continuous high-speed drive mode. However, this frame rate is unlikely to satisfy keen action photographers, especially with what on paper is a basic 11-point autofocus system. In JPEG format, though, it is possible to record more than 300 frames at this rate.
Image: Detail is sharp in this image taken with the Canon 50mm f/1.2L USM lens
Other notable shooting modes include HDR and multiple exposure. HDR mode is available in JPEG-only format, and offers up to a ±3EV extension to the dynamic range, captured over three frames. Despite the frames being recorded consecutively, the auto-align feature means that a tripod is not always necessary, as the scene can often be captured handheld.
Multiple exposure can be used to combine up to nine frames, and the first frame can be selected from any image already existing on the memory card. Handily, each exposure in the sequence is displayed immediately after capture, and it can be deleted and shot again, if desired. The latest version of the picture can also be displayed when lining up the next frame in the sequence.
All in all, the EOS 6D is a powerhouse when it comes to features, and for all but action photographers offers pretty much everything that is needed.
Canon EOS 6D review – Wi-Fi
The Canon EOS 6D us the first DSLR to feature built-in Wi-Fi, and it has a transmission range of up to 30m. There are six separate functions: image transfer between cameras; EOS Utility remote control via a computer; printing from a Wi-Fi-enabled printer; uploading to the online Canon Image Gateway; viewing on DLNA devices; connecting to a smartphone. This last option is particularly helpful and opens up the camera to new uses. It works via Canon's EOS Remote app, which is available for Apple iOS (5.0 or later) or Android OSs (2.3.3 or later) smartphones. Other smart devices, including tablets, will no doubt be made compatible in the future.
Once the smartphone and camera are synced using the app, images stored on the camera's memory card can be viewed and shared via email or uploaded to the phone's image reel. Remote shooting is also possible, with the level of control as good as I have seen, and it is addictively fun to use. The usual touch control of the shutter and autofocus is possible, but exposure adjustments can be made via the touch panel, too, according to the setting on the camera's shooting-mode dial. Furthermore, live view can be controlled, and when it is activated the phone becomes a live view remote. This is particularly useful for wildlife shots and family group photos.
What is crucial to the effectiveness of remote shooting and control is a rapid response time, and the EOS 6D reacts almost instantly to changes made on the smart device. All in all, then, a scene can be viewed and captured accurately through EOS Remote, which is very impressive given that this is Canon's first DSLR with built-in GPS.
Canon EOS 6D review – Build and handling
Measuring 144.5×110.5×71.2mm and weighing 755g with battery and card inserted, the EOS 6D is the smallest and lightest full-frame Canon DSLR – a fraction smaller than even the EOS 7D. These factors can make quite a difference when considering a long day out shooting, and I found it perfectly comfortable lugging around the EOS 6D for extended periods. Unlike professional models, however, the camera is only partly constructed of magnesium alloy – its front and rear panels – while the top cover is made from polycarbonate. That said, the body feels well made and durable, and is weather-sealed to repel dust and moisture.
As for the design and layout, the EOS 6D is most similar to the EOS 5D Mark III, although it also shares many of the same buttons as the older EOS 7D and 60D models. A large portion of the body is covered with a grippy leather-effect finish, and the handgrip has an understated groove to fit the hand. There are numerous buttons on the exterior, each beautifully dampened, and between them covering most of the key controls. There is no joystick, which is instead incorporated into the rear wheel as a multi-controller. This is an excellent design feature that we have seen before in the EOS 60D.
Most cameras at this enthusiast level feature a built-in flash, so it is something of a surprise that the EOS 6D does not. Instead, the camera has a standard hotshoe to fit an external flash unit. The maximum flash sync of 1/180sec is a little disappointing, but this is also the case with the Nikon D600. Also, both cameras have a top shutter speed of 1/4000sec, which is 1 stop slower than most professional and enthusiast-level cameras. A nice touch in the bulb mode is that the length of capture is continuously displayed on the top LCD screen.
Mirror lock-up is controlled separately to the drive mode, so both mirror lock and timer mode can be used together to ensure a steady, tripod-mounted camera for landscape shots. Furthermore, a port allows a remote trigger to be attached, which is necessary for crisp images when shooting in bulb mode.
A good degree of in-camera editing, such as exposure adjustments, is possible via the raw-image processing menu, while navigation of the playback menu is intuitive. The zoom control is quick to work, with image scrolling and navigation operating independently via the multi-controller and  rear wheel. There is no rating button on the camera's rear, but each image can be rated instead in a menu that is accessed by the quick menu button when in playback mode.
Like the EOS 7D and EOS 5D Mark III, the EOS 6D uses an LP-E6 battery, which in this case is claimed by Canon to supply a n excellent 1,090-shot life. However, the battery life is reduced when GPS is activated, especially with the GPS logger switched on, because it is continuously at work even when the camera is switched off.
Canon EOS 6D review – White balance and colour
Image: This portrait was taken in end-of-day light with the camera set to ISO 3200 and AWB. The colours are still punchy, if a touch on the cool side
Canon DSLRs have rightly gained a good reputation when it comes to colour rendition, and there is no real difference in the EOS 6D.
In the standard picture style (colour mode), colours are punchy yet realistic. Provided that raw is used, adjustments to the picture style can be made post-capture in the raw image processing menu.
In the monochrome mode, any of four filter effects can be applied, as can one of four toning effects. Up to three user-defined picture styles can be saved for quick access to favourite settings. For example, it is well worth creating a monochrome mode with red filter and increased sharpening for shooting landscapes.
In bright conditions, the AWB maintains the warmth of colours, although in dull, overcast situations it can render them a little cold.
A suitable solution is auto white balance bracketing, which works over three frames and can be applied to either the blue/amber axis or red/magenta axis. The former is ideal to ensure the correct warmth of tone is achieved, while the latter works well in scenes dominated by green like landscapes, where AWB typically produces overly magenta results.
Image: (No edit left, in-camera edit right) There is a good selection of in-camera edits that can be made. The original colour image was flat, with the scene more suited to black & white. A colour conversion has been made here, with adjustments to the brightness, distortion corrections and lighting optimiser
Canon EOS 6D review – Metering
Every Canon DSLR since the EOS 7D (reviewed in AP 7 November 2009) uses the same 63-zone Focus Colour Luminance (iFCL) metering system. Evaluative metering uses data collected from the AF system, as well as the colour and the luminance of the scene, to determine a 'correct' exposure. As such, the results of evaluative metering are influenced by the active AF points. If spot AF is selected, then the metering largely takes on the behaviour of spot metering. This is by no means a bad thing because the subject is usually metered for correctly, but it can lead to blown-out highlights should the brightness of the subject in the frame be darker than the overall scene, such as land in an overcast landscape. In the three and a bit years since the EOS 7D was launched, we have seen more improvements from the likes of Nikon when it comes to metering – the 91,200-dot metering sensor used in high-end models like the Nikon D800, for instance.
In most situations, however, we struggle to notice the real benefit of more metering zones when it comes to evaluative metering, and the 63-zone iFCL metering system still holds its own today. All in all, the metering is very predictable, which makes it one less thing to worry about when out shooting.
Canon EOS 6D review – Noise, resolution and sensitivity
Image: Luminance noise is evident in this raw image taken at ISO 12,800, but detail is still relatively crisp
A 20.2-million-pixel resolution provides a maximum 5472×3648-pixel output, which equates to prints of approximately 18.24×12.16in when the print resolution is set to 300ppi. So, for those who do not regularly print much larger than A3-size, the EOS 6D is more than capable.
With the camera set to the largest file size, it is capable of resolving up to the 30 marker on our resolution charts. There is actually an impression of detail all the way to the end of the charts, which is particularly impressive. The ISO 100-25,600 range can be extended to ISO 50-102,400, which is class leading. Even in the extended high settings, the level of resolved detail is up to the 24 marker. This is no doubt thanks to what is a relatively low pixel count and the work Canon has put into the performance of the sensor in low light.
So while the resolved detail in good light is not class leading, the low-light performance stands out.
Luminance noise becomes evident in images taken at ISO 1600, but of several portraits taken in fading daylight at ISO 3200 detail is still crisp when viewed at 100%. Furthermore, colours are still bold, which shows just how uniform the luminance noise is in these portrait images. From ISO 6400 upwards, luminance noise steadily increases and by ISO 25,600, detail is more patchy. The extended settings are best used as a last resort, but to have the option in the first place of shooting at ISO 102,400 is no mean feat. In short, the EOS 6D is an able performer.
Canon EOS 6D review – Autofocus
On paper, the 11-point AF system is modest, especially when compared to the 39-point set-up of the Nikon D600 or even the 19-point system used by the EOS 7D. However, the central cross-type point in the EOS 6D is sensitive down to -3EV, which means it should operate in conditions as dark as moonlight. Certainly, in such conditions it is vital to have the subject covered by this sensitive central point in order to achieve an accurate and sharp focus. The speed of focus when the central point is in use is snappy, even in low light, but at times it can be hit and miss when under moonlight. In bright conditions when capturing static subjects, AF is as quick as I would expect, and as fast as is necessary for general use.
The AF system is not designed for fast action, though. Compared to a camera designed for sports, such as the firm's own EOS-1D X, the AF modes on the EOS 6D are basic and designed for everyday shooting – for which the camera caters perfectly well. When recording fast action, it is wise to select speed priority over focus priority to ensure that the camera keeps up with the subjects, and that it continues to trigger during the sequence.
Canon EOS 6D review – LCD, viewfinder and video
It is a little disappointing that the optical viewfinder has a 97%, rather than 100%, field of view, as this means that the entire scene is not visible. However, when compared to the likes of the EOS 60D and EOS 7D, it is clear that the EOS 6D's display is brighter and more easily viewed in low light. In this respect, it is a pleasure to use.
The same can be said for the 3in LCD screen. Its 1.04-million-dot display is notably brighter, even outside its brightest output setting. Given the camera's unique features, Canon could, in the future, even introduce an articulated screen like that in the EOS 650D and it would not feel out of place.
Full HD 1080p video recording is possible at 30fps, 25fps and 24fps. There is a port to connect an external microphone, and sound levels can be manually adjusted and monitored. Of course, AF in live view mode for video recording is significantly more sluggish and clumsy than when the viewfinder is in use, so it is best to stick with manual focusing.
Image: It has been possible to use the viewfinder when shooting this long exposure (15secs), and achieve a sharp capture without needing a remote trigger, because mirror lock-up and timer drive mode can be operated independently
Canon EOS 6D review – Dynamic range
All the way up to ISO 400, the EOS 6D has a dynamic range of around 12EV, which drops to 11EV at ISO 1600. This is not quite to the standard set by cameras like the Nikon D600 or Pentax K-5 II (both 14EV), but it means that images still have a wide range of tones. Not unusually, though, the EOS 6D has an HDR mode that extends the dynamic range up to ±3EV, while autoexposure bracketing works over a maximum of seven frames up to ±8EV. To choose HDR mode, JPEG-only capture must first be selected. This would be needless if the camera could only change the image size automatically, which would allow the HDR mode to be selected directly from raw capture.
The other function to note is auto lighting optimiser, which works within the constraints of the dynamic range to make shadow and highlight detail more obvious. This control, as well as brightness adjustments up to ±1EV, can be made post-capture to raw files in the raw-image processing menu.
Image: In this high-contrast scene, use of the HDR mode brings back a lot of highlight detail to reveal the clouds in the sky
Canon EOS 6D review – The competition
Image: Nikon D600
Canon and Nikon's 'budget-level' full-frame DSLRs go head to head, and a side-by-side comparison of the Canon EOS 6D and the Nikon D600 shows clear advantages to each system. The D600 has a higher-resolution 24.3-million-pixel sensor, slightly larger LCD screen, twin card slot and an optical viewfinder with a 100% field of view. However, the EOS 6D has both GPS and Wi-Fi built in, while the D600 requires separate units for these functions.
If cost is the main reason to consider a more affordable full-frame camera, it might be just as well to consider the Canon EOS 5D Mark II. The camera has been replaced by the EOS 5D Mark III, but is still widely available and at a significantly reduced price. The camera features a 21.1-millon-pixel sensor, so there is unlikely to be a big difference in image quality in good light, but the performance of the EOS 6D in low light is notably improved.
Image: Canon EOS 5D Mark II
Canon EOS 6D review – Our verdict
Like the EOS 650D, which has a touchscreen and hybrid AF system, Canon has been bold again in introducing new technology into one of its DSLRs, in this case GPS and Wi-Fi to the EOS 6D. Thankfully, both features work very well and enhance the day-to-day use of the camera.
Intuitive handling, compact size, and a light and solid build make the EOS 6D a pleasure to use over the course of a day. Thankfully, the camera's image quality does not disappoint, either. The resolution may well be low compared to the competition, but the camera's low-light performance is particularly impressive. It should be noted that the basic yet effective AF system and modest continuous shooting speeds are not designed to cater for action photographers. For all others, though, the EOS 6D is an innovative and reliable camera.
Canon EOS 6D – Key features
Live view
The start/stop button controls live view when the switch is set to still capture, but when in video mode it acts as a record button, so long as Wi-Fi is disabled.
AF-points
This button controls the AF mode, which can be switched between auto selection and manual single-point selection.
*Button
As a default, this button is set to exposure lock, which handily only needs to be pressed once to remain active even over a number of frames.
Quick menu
In the quick menu a number of controls can be found that do not have a direct access button, including a custom controls menu where the function of most of the direct buttons can be altered.
Multi-controller
Like the EOS 60D, the EOS 6D has a multi-controller within the rear wheel rather than including a separate joystick.