Canon EF 11-24mm f/4L USM review: Michael Topham tests Canon's ultra-wide angle EF 11-24mm f/4L USM zoom lens to see if it's one of the best Canon EF lenses available.
Canon EF 11-24mm f/4L USM – Introduction
When it comes to choosing a wideangle lens, photographers using a Canon full-frame DSLR have one of the best ranges available. For those working to a strict budget there's the very respectable EF 17-40mm f/4 L USM, while for those who can justify the cost there's the superb EF 16-35mm f/4L IS USM, which benefits from having a built-in optical image stabiliser – a feature Canon's similarly excellent, but the EF 16-35mm f/2.8L II USM and EF 16-35mm f/2.8L III USM don't have. If these zooms aren't wide enough, there's also the EF 8-15mm f/4L Fisheye USM and the EF 14mm f/2.8L II USM to consider, not forgetting Canon's wideangle tilt-and-shift TS-E lenses, plus third-party options from the likes of Sigma, Tamron and Tokina.
See our Canon EF 1-24mm f/4L USM sample gallery
Although it's hard to fault this range of wideangle zooms available for full-frame landscape or architectural shooters, there has always been a demand for a zoom lens that covers a wider focal range than 16-35mm and delivers similar, if not better image-quality performance to Nikon's highly respected AF-S Nikkor 14-24mm f/2.8G ED. For this reason, in February 2015, Canon introduced the EF 11-24mm f/4L USM reviewed here. Its price tag is $2,899/£3,099.
The widest full-frame rectilinear lens currently available for Canon R-series mirrorless cameras is the RF 14-35mm F4L IS USM ( $1,499/£1,7949).
Take a look at the best Canon EF lenses 
Canon EF 11-24mm f/4L USM – Features
Unlike a fisheye lens that produces a distinctly curvilinear wideangle result, where straight lines often appear curved, the EF 11-24mm f/4L USM is a rectilinear lens yielding images in which straight features, such as the walls of buildings, appear straight as to the human eye. Such is the time and effort put in by Canon's engineers to ensure this lens displays minimal barrel or pincushion distortion, that at the time of its launch in 2015, it had the widest angle of view ever to be achieved by a rectilinear full-frame DSLR lens. That honour has now been passed to the Laowa 9mm f/5.6 FF RL lens, but to put Canon's achievement into perspective, the angle of view of the 11-24mm lens (126° 5') is so wide that there was the odd occasion when my tripod legs would creep into shot when composing in the portrait format.
Turning our attention to the construction, the lens employs a 16-elements-in-11-groups arrangement, with four aspherical elements, one being the ground aspherical type to help tackle distortion. As to be expected from an L-series lens, ultra-low dispersion (UD) and super ultra-low dispersion elements also feature, as do three different types of lens coatings to guard against aberrations, ghosting and flare.
The USM abbreviation indicates that this lens uses Canon's Ultra Sonic Motor technology to drive the autofocus system, and with full-time manual-focus override present, users can adjust the focus manually at any time without needing to flick the AF/MF switch to manual. With claims of a near-silent AF performance, the lens focuses with a low-frequency whirr that's not picked up by the camera's microphone, unless you record video in silence with no ambient sound.
Canon EF 11-24mm f/4L USM – Build and handling
Given the price of this lens, you'd expect exceptional build quality and that's exactly what you get. In true Canon L-series fashion, the construction and overall finish are sublime, while the size of the lens and its enormous, bulbous front element really make it feel as though you're holding onto something special.
The space between the zoom ring and focus ring is home to the lens's focal distance indicator and AF/MF switch, with the latter being positioned off to the side of the barrel and ever so slightly pronounced to make it easier to locate from behind the camera. The zoom and focus rings offer an almost identical level of fluidity as they're rotated, with the zoom ring operating across its range in just under a quarter of a turn.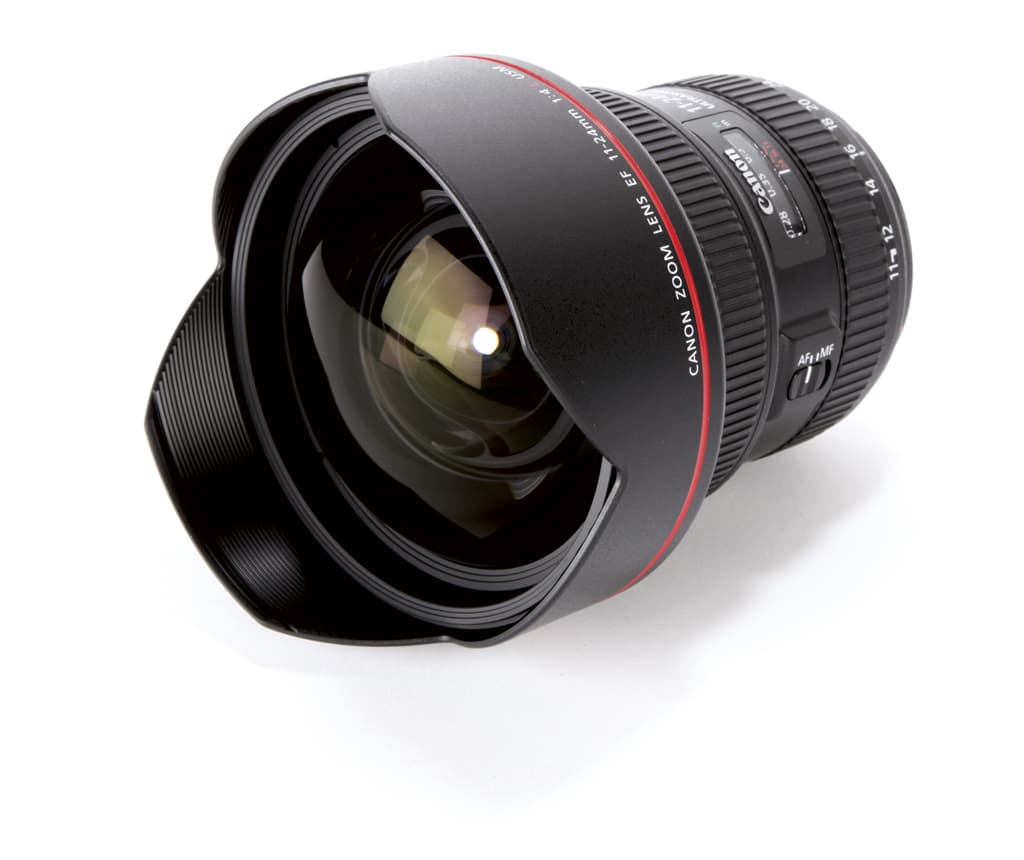 To keep the lens protected from knocks and scrapes, the design incorporates a fixed petal-shaped hood that's made from strengthened moulded plastic. In use, this hood took quite a battering, helping to shield the glass from accidental impacts that could have otherwise resulted in a costly repair bill for the front element. When not in use, the bespoke lens cap adds further protection, but as we'll come to shortly, a UV filter cannot be fixed to the lens as an extra precautionary measure.
In similar fashion to some of Canon's other wideangle zooms, the lens's design accepts rear-insert-type gelatine filters, which can be cut to size and inserted behind the rear lens element. Attaching filters to the front element is not as straightforward, however, with the bulbous front element declining the screw-in type of filter. Regrettably, no filter adapter was available at the time of testing, but Lee Filters makes an adapter that enables its SW150 filter holder to be used on the lens. This holder accepts 150 x 150mm and 150 x 170mm filters.
Canon EF 11-24mm f/4L USM – Image quality
Architectural and landscape photographers looking at this lens will be glad to read that it puts in a truly remarkable image-quality performance. For the finest wideangle results, users will want to use the lens at its 16mm setting and dial in an aperture of f/8-f/11 where sharpness is at its optimum. Inspecting the corners of images at this focal length reveals virtually no trace of barrel or pincushion distortion, and although the sharpness in the corners at f/4 isn't quite what it is at f/8, it remains impressively sharp and is by all means usable when a faster shutter speed is required.
As is to be expected, pulling back the lens to its 11mm setting demonstrates some barrelling, but considering the generous width of this lens, I expected this barrel distortion to be far more severe. At the opposite end of the focal length, there is some evidence of pincushion distortion at 24mm, but this was more noticeable in our lab tests than in real-life images, and should be easily fixed by applying a lens profile as soon as one becomes available from DxO or Adobe.
Inspecting the corners of the frame did reveal signs of vignetting – most noticeable at the widest end of the zoom with the aperture opened to its maximum. Unlike some lenses, though, the effect of this vignetting is tasteful and helps to draw the viewer's eye gradually to any central subject in the image. Closing the aperture from f/4 to f/8 removed all signs of vignetting at 11mm, while at 16mm it was less visible once closed down to f/5.6.
Studying images for chromatic aberrations did bring my attention to some purple and green edges along high-contrast edges. However, these faint fringes of colour are well controlled and aren't obvious unless images are viewed at a magnification of 100% or more. Again, these aberrations should be fixed relatively easily by applying a specific profile for the lens in raw conversion software, as soon as they become available.
Canon EF 11-24mm f/4L USM – Resolution
Subjecting the EF 11-24mm f/4L USM to a thorough lab test revealed that it produces a very impressive set of curves, with the sharpest results being recorded at 16mm with an aperture of f/8. These stunning sharpness figures continue at 24mm. The greatest fall-off from edge to centre sharpness was found at the widest end of the zoom, but the results remain very impressive for a lens so wide.

Canon EF 11-24mm f/4L USM – Shading
Our shading graphs show that the lens exhibits most vignetting when it's used at its widest focal length, but the situation improves through the focal range. At 11mm there's obvious vignetting at f/4, but this reduces by f/8. With the focal length set to 16mm, users will find they'll only need to close the lens by 1 stop (f/5.6) to remove vignetting.
Canon EF 11-24mm f/4L USM – Curvilinear distortion
At 11mm barrel distortion is present in images, but as the zoom is gradually extended it soon dies away. At 16mm there's virtually no trace of distortion whatsoever and only a faint sign of pincushion distortion at 24mm. Considering how wide this lens is, this is an astonishing distortion performance that's up there with the very best.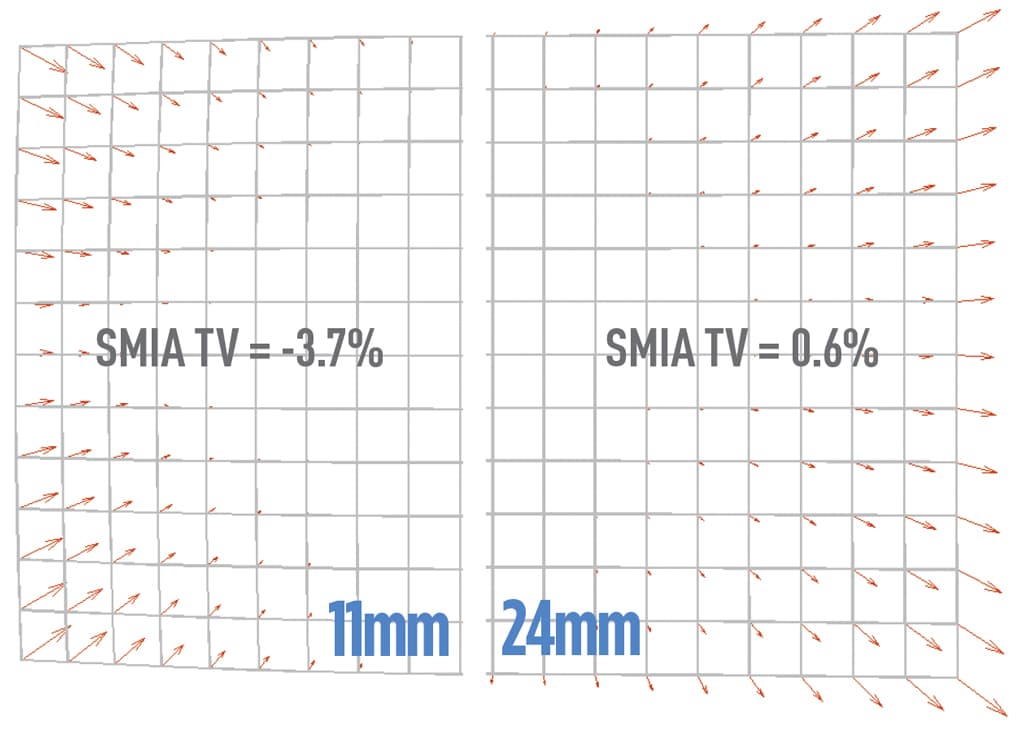 See our Canon EF 11-24mm f/4L USM sample gallery
Canon EF 11-24mm f/4L USM – Our verdict
Canon and its engineers must be praised for constructing one of their finest L-series lenses, and for the way they've created one of the best, if not the best, rectilinear wideangle zooms ever made. If you're a full-frame user who specialises in landscape, architectural or interior photography, and demand a lens that's not only capable of squeezing as much of your surroundings as possible into the frame, but does so with exceptional optical performance, this is one to add to your wish list. The lens's price tag is likely to be more than most can justify, which means it will probably creep into more pros' bags than enthusiasts'. That said, the ability to hire lenses means it's not entirely out of reach for a one-off shoot with an absolutely outstanding piece of glass.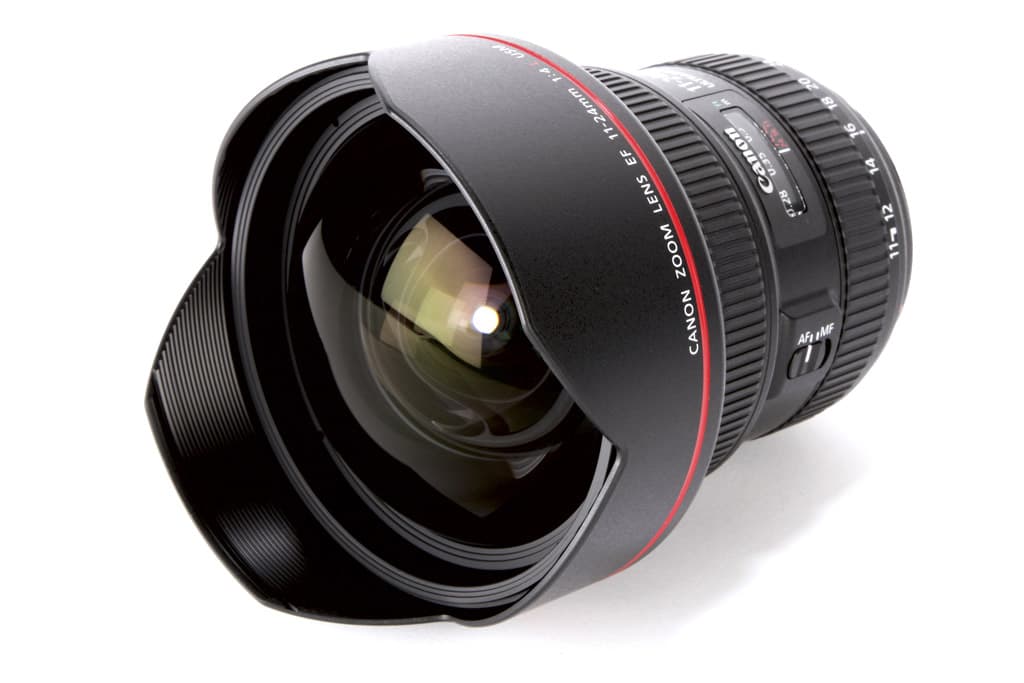 Canon EF 11-24mm f/4L USM at a glance:
•    16 Elements in 11 Groups
•    9 Diaphragm blades
•    28cm minimum focus distance
•    Dimensions: 108x132mm
•    Weight 1180g
•    $2,899/£3,099