Billingham Weekender at a glance:
Dimensions 55x35x25cm (WxDxH)
Weight 0.92kg
1 internal net pocket
Made in England
Five-year guarantee
Website: www.billingham.co.uk
---
If you like going away for a few days with your camera, you'll probably need a supplementary bag to carry all those essential but unrelated photography items. Billingham's latest travel and leisure bag collection has been designed exactly with this in mind.
The largest of the new bags is the Weekender, which, as its name suggests, is intended for one or two nights away, or as complementary hand luggage for longer trips. It meets today's strict airline hand-baggage requirements and comes with a durable shoulder strap made from shuttle-woven spun polyester with solid brass fittings. The main compartment is accessed via the central zip that can be unzipped along the entire length of the bag, and its turnover-top design allows the sides to be peeled back creating an extremely wide opening to make packing a little easier.
On the inside you get a large open net pocket with leather edging detail that's great for partitioning valuable items such as keys, passport, phone or a tablet from clothes or other items. Supplied for review with the optional high-strength foam base pad (£20), I found this helped give the bag extra structure along its length, while still allowing the body to flex around its width.
Billingham bags have a reputation for being superbly crafted with great attention to detail and the Weekender is no exception. You get the lovely signature Billingham logo embossed into leather on one side, the satisfying green label on the other stating it's made in England and reinforced leather handles that are contoured for comfort when being carried with one hand. The rest of the bag is made from hardwearing, yet lightweight, water and heat-resistant FibreNyte canvas. If the illustrated black-and-tan finish isn't for you, the bag is also available in sage and chocolate, khaki and chocolate, or all black.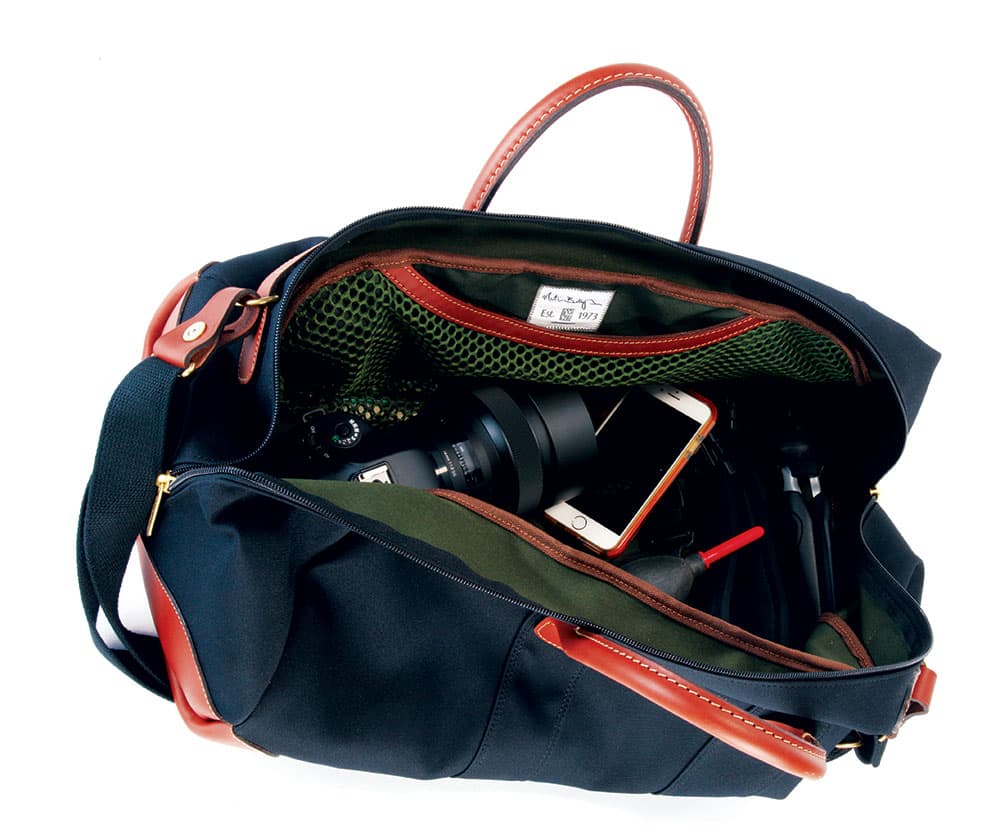 Billingham Weekender – Our verdict
I used the Weekender to carry clothes and day-to-day essentials for two photography trips. It's one of those bags that holds more than you think it will. When it's thrown around like most travel bags are, you're reassured by the strengthening leather on the bottom corners, which takes the brunt of any wear and tear. This fine example of a weekend bag from Billingham is a great choice for any photographer who likes to travel light and in style.
---
Also in the range
The other bags that make up Billingham's new travel and leisure bag collection are the Overnighter (£185) and Thomas briefcase/laptop bag (£225). Slightly smaller than the Weekender, and ideal for a short break, the compact Overnighter provides generous capacity for everyday essentials. It has shorter external dimensions of 40x30x30cm (WxDxH) and weighs 0.79kg. The Thomas briefcase (41x9x31cm) features three deep internal pockets to organise a host of accessories, and has been specifically designed for those wish to carry a 15in laptop or MacBook around safely and securely.