Sony has launched four new FE-mount lenses, along with two adapter lenses for one of them. This expands the range available for its Alpha 7 series of cameras to a total of 11, with more promised later this year.
As I got an early look at the new optics, Sony was keen to point out that with the existing 16-35mm f/4, 24-70mm f/4 and 70-200mm f/4 lenses, the 16-200mm range is covered with f/4 lenses. The firm is now expanding other areas of the system, starting with the six new optics I saw.
Zeiss Distagon T* FE 35mm F1.4 ZA
Thie new Distagon T* FE 35mm f/1.4 brings the largest aperture to the FE-mount system, and has all the class you would expect from a Zeiss lens. It is heavy, weighing 630g, and measures 78 x 112mm. It has 12 elements arranged in eight groups, with a Direct Drive (DD) Solid State Motor (SSM) moving a three-element internal focus goup. The Piezo motor that operates the focusing expands or contracts five million times a second, meaning that focusing is both fast and gives high positional accuracy.
All of the technical wizardry aside, it is the simple things about this lens that photographers will like, such as the manual aperture ring (a first for a Sony FE lens), and the fact that its click stops can be turned on or off, allowing for silent adjustment when shooting video.
In my short time with the lens, I was very impressed by it. It feels lovely to use, particularly the aperture ring, while its focus is quick and its build quality is typical of Zeiss. It does weigh a fair amount, but the grip of the Alpha 7 II on which I used it meant that the lens still felt comfortable to hold – though there was a little less balance when used with the Alpha 7, 7R and 7S. This is also true of the 90mm and 24-240mm lenses that I saw.
Sony FE 90mm F2.8 Macro G OSS
Every system should have at least one macro lens, and the new FE 90mm f/2.8 G OSS is the first for the Alpha 7 series. The G designation denotes it as one of Sony's premium lenses, with the optical design aimed at giving smooth, attractive bokeh. The lens handles beautifully with some nice touches, such as a push/pull focusing ring to switch between manual and autofocusing, a distance/magnification ratio scale and a focus distance limiter switch.
Optically, the lens has a fairly complex design, with ED, Super ED and aspherical lenses. A floating focus system is employed to achieve good image quality throughout the focus range. As well as this, the lens features optical image stabilisation. Owners of the Alpha 7 II will also be able to take advantage of the camera's five-axis stabilisation, which is especially useful for macro photography. And the 90mm focal length makes it a good option for portrait photographers.
Sony FE 24-240mm F3.5-6.3 OSS
Travel zoom lenses tend to get a bad press for compromising image quality too much in favour of convenience, but improvements in lens design mean that the latest designs are optically a lot better than you might expect.
Sony's 24-240mm f/3.5-6.3 is a big lens for the Alpha 7 series, in every sense. It weighs 780g and has 17 elements in a series of 12 groups. Five of these lenses are aspherical, and there is one ED lens. The minimum focus distance is 0.5-0.8m, depending on the focal length.
For those that want a one-for-all lens, this could be it. It may not be the smallest or lightest optic in the range, but to be able to travel with just a single lens with a 10x focal range is extremely convenient. Add to this that the lens offers some protection against dust and moisture, and it should find its way into many photographers' bags.
Sony FE 28mm F2 and Dedicated Fisheye and Ultra-wide Converters
With a basic but elegant design, the FE 28mm f/2 is similar to the Zeiss 35mm and 55mm lenses that were released at the launch of the Alpha 7 cameras. The lens is formed of nine lenses in eight groups, with a minimum focus distance of just 25cm.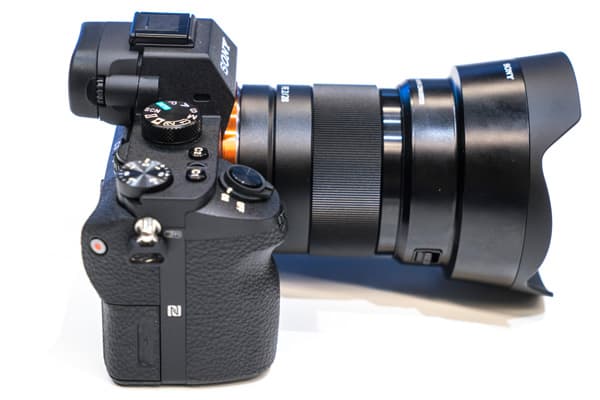 What is more interesting about the 28mm f/2 lens is that two convertor lenses will be available to use with it. The first of these is an Ultra Wide Converter, a 0.75x lens that converts the 28mm lens to a 21mm f/2.8 optic. The second is a 0.57x Fisheye Converter , which gives a 16mm f/3.5 optic offering a 180° diagonal view. The reason for the reduction in maximum aperture is to help improve the image quality in the corners.
The convertors attach to the end of the 28mm lens via a bayonet fit. A magnet-based connection communicates with the camera so that it can apply appropriate lens corrections to images, while also allowing the image stabilisation of the Alpha 7 II to operate correctly.
In hand, the converters feel heavy, like proper lenses in their own right. When attached to the 28mm lens, they form a solid combination. The design works well and makes you feel like you are using a single lens rather than an adapter.
The ultra-wide converter has four optical elements, while the fisheye converter has five elements in four groups. Because they have been specifically designed to work with the 28mm lens, they should be optically superior to generic adapters.
As well as being sold on its own, the 28mm lens will also be sold in kits with either the ultra-wide or the fisheye converter. Prices and availability are yet to be confirmed.
Final thoughts
These new lenses are welcome additions to the FE range, and they should go some way to addressing photographers' current concerns about the lack of native lens options for Alpha 7 users.
There are elements that I like about each of these lenses, and the only criticism is that it would be nice to see them all put together on just one lens. For example, it would be good to have the manual aperture ring of the 35mm f/1.4 lens combined with the push/pull AF/MF selection of the 90mm Macro in one optic. At the very least we'd like to see some attempt at standardising features across lenses – all the Zeiss lenses having aperture rings, for example.