PNY Outdoor Charger at a glance:
7800mAG capacity
2.1A output
Price: £19
Website: www.pny.eu
---
Powerbanks are hugely useful devices for photographers. Not only do they keep your phone topped up but they can also be used to recharge an increasing number of cameras when you're out in the wilds with no recourse to mains power. This is especially handy with the latest breed of power-hungry compact and mirrorless cameras that only manage a couple of hundred shots per battery charge.
There's any number of such devices available, so it's going to take something a little different to attract our attention. The PNY Outdoor Charger is unusual in that it's specifically designed to be used in more challenging environments, with dust and water resistance to the IP65 specification. It has a chunky plastic shell with blue silicone rubber end-pieces, so you shouldn't be afraid to use it in situations where it might get knocked around a bit. It can also be clipped to a belt or bag strap using the supplied carabiner.
With its 7800mAG capacity and 2.1A output, the device packs plenty of juice for charging even high-power devices such as tablets. For example, it should be able to provide two or three full charges for a smartphone, or up to five complete charges for the NP-FW50 battery used by Sony's mirrorless cameras. It could also be used for long time-lapse sequences with cameras that can be powered over USB. Short micro USB and mini USB cables are supplied in the box, and a row of four small LEDs indicates the current charge status.
However, the icing on the cake is a built-in LED flashlight. Activated by holding down a large button on the unit's side for a second or so, it's considerably brighter than the flashlight on a smartphone. With all these features, this charger should be a very handy accessory for photographers who work outdoors. The only disadvantage is that it's large for its capacity.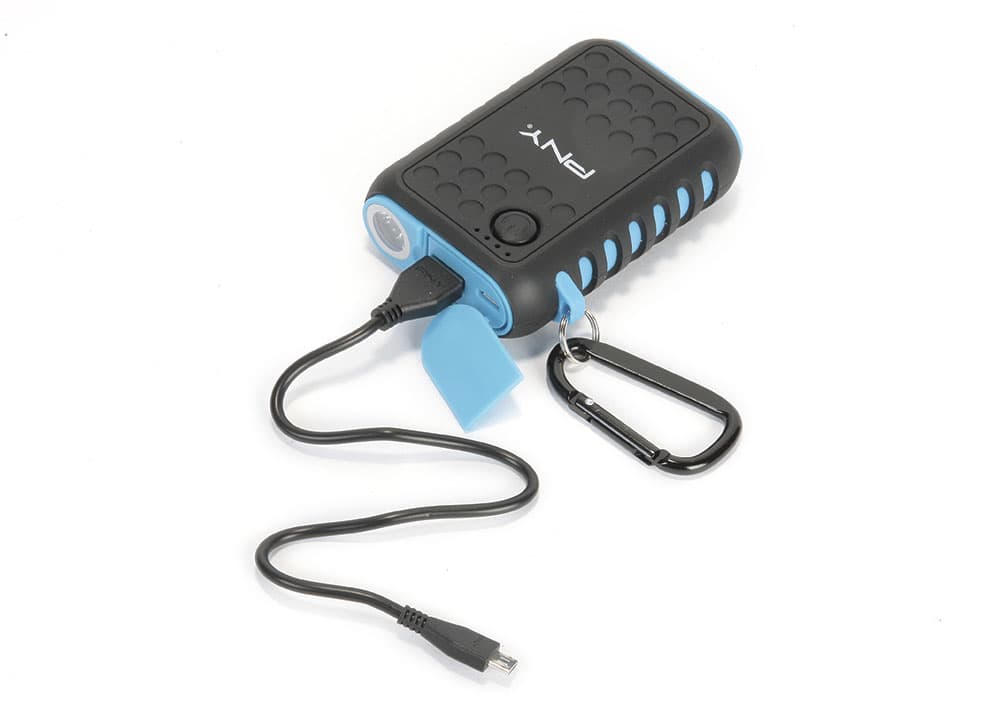 SCORE: 4.5 out of 5