Meike Speedlite MK320 at a glance:
Bounce and swivel head
TTL or manual control
For most camera systems
Price: Around £55
---
Recently there's been a clear trend for cameras to shrink in size. In response, flash manufacturers have started to make petite but well-featured flash units to match.
Chinese firm Meike's Speedlite MK320 is one of the smallest around, with a low-profile design that's achieved by placing the battery compartment adjacent to the flash tube. Despite this, it's reasonably well-featured, most importantly with a head that bounces and swivels to avoid the dreaded unflattering direct- flash look. It's also surprisingly cheap, costing less than £60 from Amazon or eBay.
Despite this, the feature set is pretty strong. The MK320 supports TTL flash metering (with +/-3EV compensation), manual output setting down to 1/128 power, and two optical slave modes, including one that ignores metering pre-flashes. There's even a stroboscopic setting for multiple exposures of moving subjects. This is all controlled by an easy-to-use, intuitive interface of eight small buttons that surround the small LCD display on the back.
Meike Speedlite MK320 – key features
Accessories
A stand and a somewhat flimsy plastic diffuser are included, and fit into the drawstring carry pouch.
Locking shoe
A rotary collar locks the metal hotshot onto the camera
USB charge
NiMH batteries can be recharged internally via the Micro USB connector.
Power
The unit is powered by two AA-size batteries that live behind a sturdy sprung plastic cover.
LED lights
Three small LEDs above the flash tube can be used for AF assist or as supplementary video lighting, controlled by pressing the power button.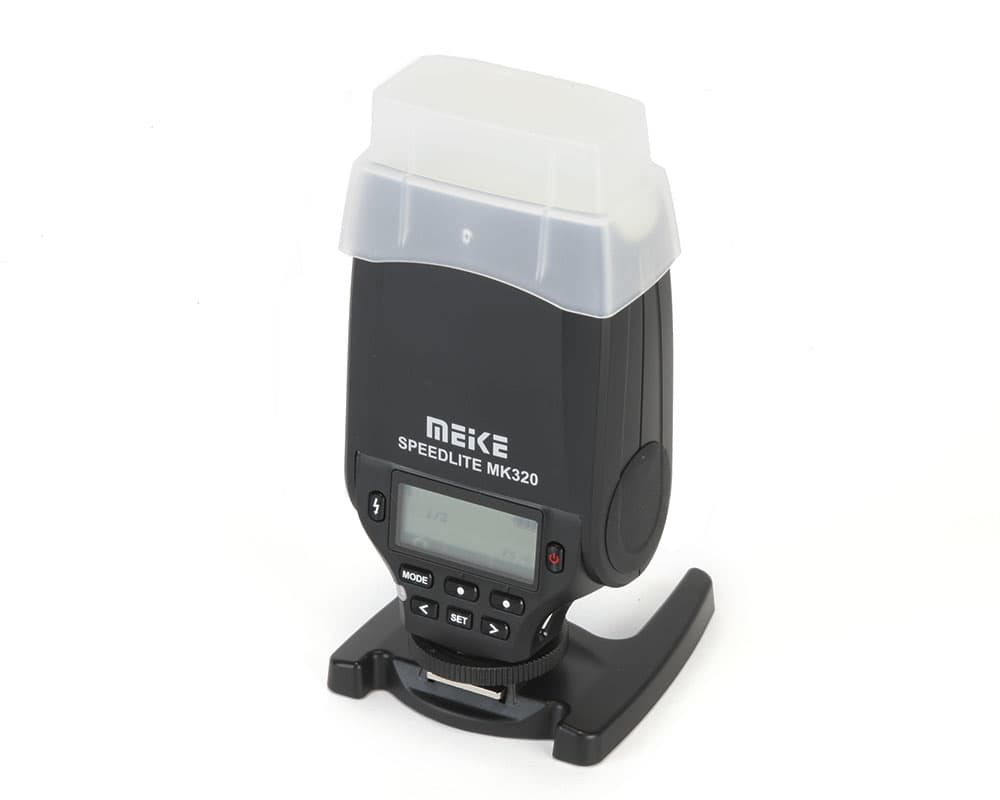 Meike Speedlite MK320 – our verdict
It may be inexpensive but the MK320 doesn't feel cheap. It's nicely made and the head clicks firmly into position as it's rotated. Meike claims a guide number of 32m at ISO 100 but this is hopelessly optimistic, with the real figure being about 20m. However, that's still entirely sensible for a unit this small.
Illumination is impressively even with lenses of 28mm equivalent, with just a little corner darkening appearing if you zoom wider to 24mm. I found TTL metering gave accurate exposures for either direct or bounced flash, and all the other modes worked as expected, too. For the price, it's an absolute steal.
SCORE: 4.5 out of 5
---
Brand compatibility
Dedicated versions of the MK320 are available for Canon, Fujifilm, Nikon, Sony, and Olympus/Panasonic cameras. All have the same core feature set but the Canon and Nikon models add compatibility with the firms' off-camera wireless flash systems, with both master and slave modes available. I tested the Panasonic/Olympus version.