Billingham Hadley One at a glance:
External dimensions: 37x14x28cm
Weight: 1.38kg
Available in seven colours (sage, navy, burgundy, khaki/tan, khaki/chocolate, black/tan, black)
Price: £288
Website: www.billingham.co.uk
Billingham is one of the best-known names in British photography, having produced its top-quality canvas-and-leather camera bags since 1973. All of its products are still handmade at its Cradley Heath factory in the West Midlands, using a combination of traditional and modern manufacturing processes.
Its Hadley range of satchel-style camera bags – inspired by classic fishing bags – has been in production for almost two decades, with little change to the original design. Now the three current sizes have been joined by a new model, the Hadley One. With its soft-sided, slimline design it's recognisably part of the same family but inside has been rethought to meet the demands of today's digital photographers. The main changes are the addition of an internal padded compartment for a 13in laptop, and the adoption of a more flexible interior partition system.
Billingham Hadley One – key features
Accessories: Leather attachment points at each end of the bag accept add-on pockets
Rear pocket: This will hold A4 documents and has a protective leather flap over a water- resistant zip
Trolley strap: A canvas strap across the back can be slipped over the handle of a wheeled suitcase
Grab handle: The handle on the lid now has a sculpted leather grip that makes it more comfortable to carry
Removable strap: The wide webbing shoulder strap offers generous length adjustment and can be removed completely

Billingham Hadley One: Design
At its heart the Hadley One is a rather simple bag, designed to protect your gear against the vagaries of the British weather, while providing quick access to your kit. Aside from the main compartment, there's an almost full-width document pocket on the back and a pair of generously deep 'dump' pockets on the front. Two adjustable leather straps secure the top flap using Billingham's signature 'clogball' fastenings. They are quick to use and, in a welcome contrast to the Velcro used in many other bags, completely silent.
Deceptively capacious, the Hadley One sits between the existing Pro and Large models in terms of sizes. It's meant to be more of an everyday bag, with space to take other items alongside your camera. Key to its appeal is the new half-width insert that comes as standard, leaving the rest of the bag free. This insert is large enough to fit an Olympus OM-D E-M5 Mark II with a 12-40mm f/2.8 zoom onboard and a 7-14mm f/2.8 underneath, or alternatively a Canon EOS 5D Mark IV with a 70-300mm telezoom attached. Using a system of press-studs it can be secured at either end of the bag leaving the other half free, or centrally, which gives (unpadded) space for extra lenses or accessories either side.
Additional half-width inserts will be available to buy separately, and two can fit into the bag side-by-side. Billingham tells us it will also make a more conventional full-width insert and showed us a prototype version. This will be capable of holding a full-frame DSLR with a trio of f/2.8 zooms (wideangle, 24- 70mm and 70-200mm) at least.
The Hadley One is impeccably made from premium materials including canvas, leather and brass, and comes with a five-year guarantee. Indeed, the quality of the FibreNyte triple-layer waterproof canvas means there's simply no need for a separate rain cover of the type beloved by other brands.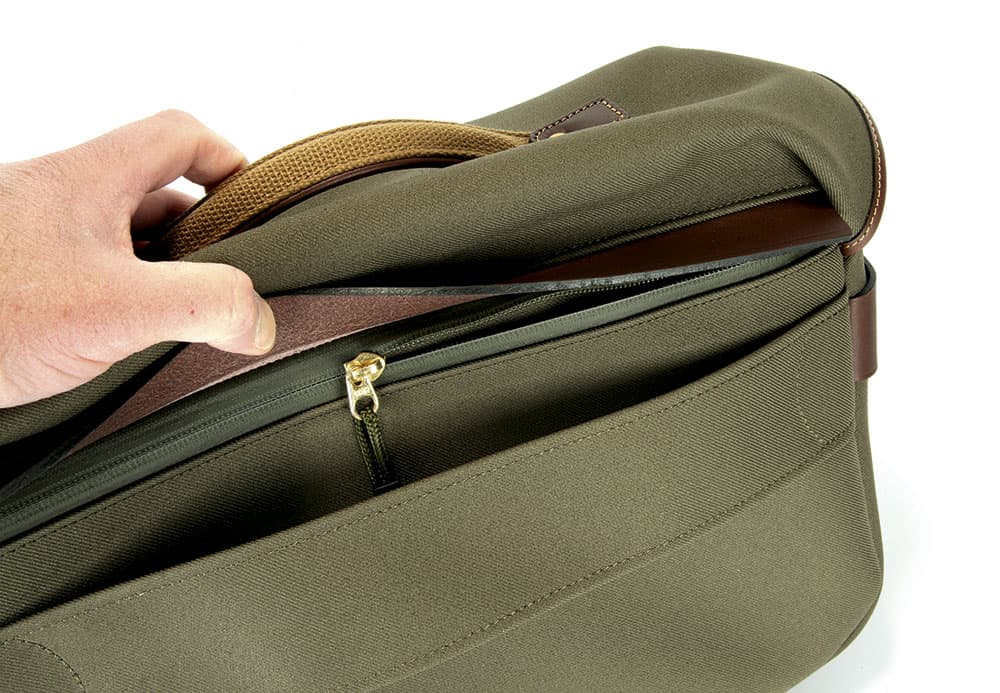 Billingham Hadley One: Our verdict
There's no getting away from the fact that £265 is a lot of money to pay for a camera bag, especially when you can buy some very nice alternatives for a lot less. But Billingham bags are superbly made and will last for decades,while providing excellent protection for your equipment. After all, if you've spent thousands of pounds on your camera and lenses, it makes sense to invest in top-quality protection. The laptop compartment and flexible partitioning make it equally useful as a work or overnight bag. So yes, it's expensive, but in the long term it should end up being money well spent.

---