Across the wilds of Mongolia, nomadic people live in harmony with the rhythm of the natural world. They rise with the sun, hunt the land, harvest the riches of the earth, and commune with the spirits of the wildlife and landscape. Golden eagles perch upon their masters' arms before soaring off into the icy wind in order that they may return with fox and hare gripped within their powerful talons.
These nomadic shamans, horse- breeders, eagle masters and hunters of Mongolia are as much a part of the natural world as the vast mountains and dirt beneath their feet, but as is often the case they are a people in decline.
Mongolia is the stomping ground of the Turik, Mongolian and Tugusic people, but they are a people who have come under real threat. The iron hand of Communism has done much to shatter the ancient practices of shamanism and Buddhism. As a result, the nomadic tribes of Mongolia have been persecuted and their numbers reduced.
Dark Heavens, the result of photographer and filmmaker Hamid Sardar's exotic adventure, is more than a simple ethnographic study. There's something deeply personal about the whole affair. While Sardar admits to an academic motivation, he also seems to be exploring what it means for a person to lose contact with the natural world.
Sardar, theoretically, is no stranger to the exploration and documentation of the kinds of nomadic cultures he represents within Dark Heavens. He is a documentary filmmaker and photographer with a PhD in Inner Asian languages and cultures under his belt. Furthermore, his career in filmmaking has seen him exploring the Himalayas as an associate of the Harvard Film Study Centre and as a National Geographic explorer.
Sardar is a photographer following in the tradition of a variety of filmmakers and photographers. Back in 1922, Robert J Flaherty produced his hugely influential silent documentary Nanook of the North, a film that documented the day-to-day existence of the Inuit people (actually, it would be better to call the film a 'docudrama' containing as it does several staged sequences).
Later, we find Edward Sheriff Curtis and his epic quest to document the Native American people. Peter Beard's work is notable for its dedication to capturing the character of the Serengeti. Most recently, we have British photojournalist Jimmy Nelson who documented 35 indigenous tribes across the world (he is yet another artist in trouble for apparently presenting a false and damaging picture of tribal people).
Cultural immersion
Suspicions tend to arise when any photographer takes it upon himself, or herself, to 'document' a people. But let's be clear about something: Dark Heavens is no mere casual approach to the subject. Sardar actually journeyed with these tribes for eight years, beginning in the year 2000. His speciality is telling the story of endangered cultures that maintain a spiritual dialogue with the natural world, and here we see it represented to its fullest.
As a result of this epic immersive journey, we find a full and rich account of the tribes. We witness their everyday activities, many of which to Western eyes appear almost alien in their ancient traditions.
The most familiar of these is the use of birds for hunting – something that has been amply represented in recent times by numerous photographers and writers, both at home and abroad (read Helen Macdonald's H is for Hawk for a good example). But here we see the event firmly lodged within the context of ancient nomadic practice.
The images are served perfectly by the generous text that appears within the book. In this respect we receive not just a history lesson and ethnographic study, but also a plea to recognise and witness the last vestiges of a culture than will, sadly, in time simply be a whisper of Mongolian culture.
Sardar's book is exciting, adventurous, admirable and, above all, necessary. It's a book filled with utterly stunning imagery and absorbing history. It is a book that's highly recommended for anyone with an interest in vanishing cultures.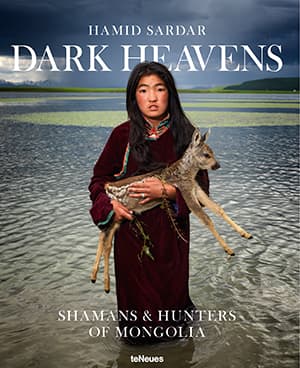 Published by TeNeues
Price £65, 272 pages, hardback
ISBN 978-3-83273-408-4