It's not unusual to have preconceived ideas about Afghanistan. The contemporary media landscape is hell-bent on offering up a particular version of events in order to slot neatly into government mandate and foreign policy. The reality, however, is never quite so clear-cut, as Afghanistan is a country that, as the title of this volume suggests, lies in the grey area between hope and fear. East and West have pulled the land apart at the seams in order to seize control and deliver their own brands of democracy and freedom. Caught within this, of course, are the Afghan people, a community pulled by both arms while staring into an uncertain future.
Paula Bronstein, an award-winning American freelance photojournalist, is a photographer notable for her dedication to place herself on the front line in order to cut through the red tape and media- sanctioned purview. Paula's focus in this book is to address head-on the communities affected by the invasion of foreign forces, and it asks the question: 'What now?' The democratic policies installed by these forces are, on the surface, a good thing, but can they survive the gradual withdrawal of the military? This is a strong question.
But what it actually asks is what happens when the world loses interest in Afghanistan following such a violent and devastating incursion? Paula's work ably highlights this ambiguity. No one knows what will happen. It's a project that forces us to face the fragility of society. How would we react? How would we feel if the tables were turned? Realistically, how meaningful are words like 'freedom'?
Images that tell a story
Many of Paula's images are, on the surface, extraordinarily beautiful. Her use of location, light and composition are the mark of a photographer who knows exactly how to grab a viewer's attention. We can see that Paula has taken great pains to ensure that each image justifies its existence within the overall context of the photo essay. Every image tells a story – one that is often melancholic, heartbreaking and sometimes difficult to look at. But there's that word in the title – 'hope'. Not every image forces us to face hardship. Many are invested in the fact that, despite what has occurred, the community marches on in solidarity and gets on with their lives.
Books like this are vital in reminding us that those abstract little figures we see on the news are human. They feel and think and live. That's the key to the book. It reminds us all that we are a global community. It's not just a matter of 'over there'. It's everywhere.
SCORE: 4 out of 5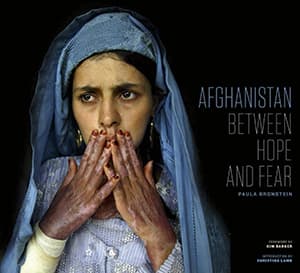 Published by: University of Texas Press
Price: £45, hardcover, 228 pages
ISBN: 978-8-47730-939-1