In our collection below we bring you some of the best photography books from 2017.
From personal projects to epic retrospectives, there have been some incredible books launched in the past 12 months.
So, if you're stuck for a christmas present for the photography lover in your life, hopefully this list will provide you with some inspiration.
Remembering Rhinos by Wildlife Photographers Limited
£45, Envisage Books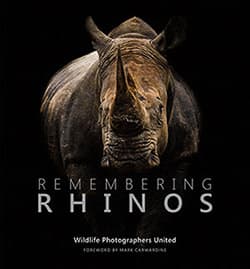 A few years ago Margot Raggett saw a poached elephant in Kenya. Like most of us she was horrified at the sight, but unlike most of us she did something about it. Raggett came up with the idea of producing a book that would raise funds and awareness of their plight. The result was Remembering Elephants, a beautiful hardback that raised more than £135,000 to support projects across Africa. This time the team turned its attention to rhinos with a powerful message 'we simply cannot let extinction happen on our watch'. Once again a Kickstarter campaign funded production of Remembering Rhinos, allowing all proceeds from sales of the book to go towards protecting the animals in Africa and Asia. This is more than a mere vehicle for fundraising, however, because the finished article is absolutely beautiful, with images donated from the likes of Mark Carwardine, Will Burrard-Lucas and Greg du Toit. It is stunning and saddening in equal measure.
---
The Topography of Tears by Rose-Lynn Fisher
£15, Bellevue Literary Press

According to scientists, tears fall into three main categories: basal, reflex and psychic tears. Basal tears are the natural lubricant our bodies produce to assist movement of lid over eye; reflex tears are a response to outside irritants such as cutting onions; and psychic tears are triggered by emotions such as fear. During a period of intense grief, Rose-Lynn Fisher began to wonder what tears might look like through a microscope, and whether the types of tears differed. To satisfy her curiosity she decided to study her own tears, as well as those of others, in a multitude of situations. During the project she was struck by the way the magnified tears looked like aerial views of a landscape. "The patterning of nature seems so consistent, regardless of scale", she explains. "Each one of our tears carries a microcosm of the collective human experience, like a drop in the ocean." It's an incredible book, and despite being a modest softback it lingers long in the mind.
---
Chasing Light by Stefan Forster
£29.95, teNeues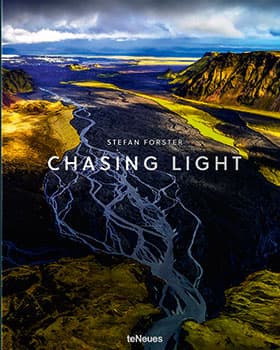 Travel and landscape photographer Stefan Forster is one of those people gifted with the ability to visit a location and get to the true heart of its beauty. He has taken long solo kayak trips along Greenland's west coast, hopped from island to island in Micronesia, and slogged through the swamps of Louisiana and Texas to find the area's most beautiful cypress trees – all the while dodging alligators. The images range from rainstorms in the world's driest desert to shots of the Northern Lights shimmering through icebergs. They are the kind of pictures you could gaze at for hours. This epic collection is a great primer in Forster's awe-inspiring output of images and well worth the shelf space in any travel fan's book collection.
---
Really Good Dog Photography by Lucy Davies
£35, Hoxton Mini Press and Penguin Books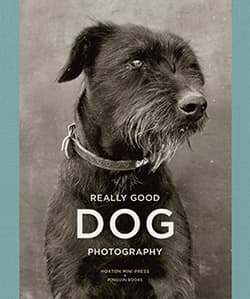 This excellent book features such luminaries as Elliott Erwitt, Alec Soth and Tim Flach. As well as an erudite introduction on the history of the genre, each photographer gets a page to talk about his or her background and approach. The dog is represented as a dignified, intelligent and noble being, and our relationship with this faithful animal is fully explored and respected. There are some glorious portraits of dogs and their owners here, though the absence of Elke Vogelsang, one of Europe's nest and most popular dog photographers, is regrettable. Otherwise, this is an entertaining collection, and contains work that rises way beyond mere pet snaps.
---
Steve McCurry: Afghanistan by Steve McCurry and William Dalrymple
£59.99, Taschen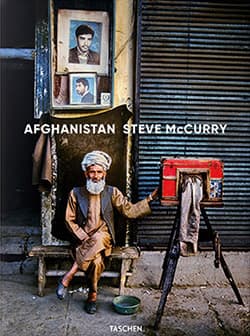 Afghanistan has often been defined by its tumultuous history and relationship to the West. When you think of the country, it's difficult not to conjure up images of conflict. But that is merely a caricature, and here Taschen is showcasing a selection of images by Steve McCurry in an attempt to illustrate the multi-faceted landscape. McCurry's work concerning other nations is often accused of being picture-postcard perfect: too clean, too aesthetic. That's perhaps to miss the point. His work is subjective and about his attraction to colour, light and people. He's not necessarily trying to show you an accurate portrait of a nation. It's more that he's travelling the globe to find the beauty in everyday scenes. This book is a masterclass in travel photography.
---
50 Years of Rolling Stone by Jann S Wenner
£45, Abrams Books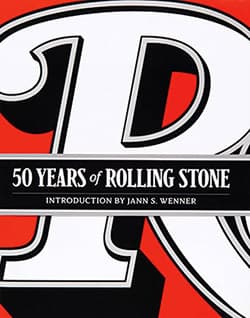 This book is a lavishly illustrated history of the longest-lasting publication from the Summer of Love. It's not only full of interviews, but is also a history of rock-and-roll photography. It's fascinating to see how the style of Rolling Stone's photographers developed, from Baron Wolman's early gig shots of Pete Townshend and the Grateful Dead, through to the elaborately staged portrait sessions set up by Annie Leibowitz and her successors. Founder Jann Wenner reveals how photography was vital to the style of Rolling Stone from the get-go. Very influenced by European photo magazines, Wenner realised that rock and roll was also about the 'look'. This book reminds us of the power of photography to influence, excite and enchant.
---
Bystander: A History of Street Photography by Joel Meyerowitz and Colin Westerbeck
£50, Laurence King Publishing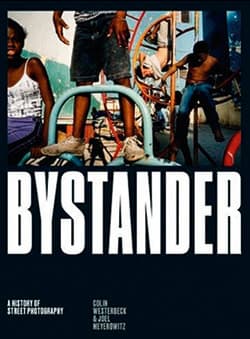 Anyone with a passing interest in street photography should check out this updated edition of a classic work. It serves as a who's who of names in street photography. The authors are a dream team, and the book is packed with advice. Some of the earliest photographs feature urban scenes, and indeed, the rise of photography coincided with the rise of the modern megacity – first in Europe, then in the US and now Asia. For early innovators, taking candid shots of the city reminded the viewer that photography was a democratic art, one that celebrated ordinary people. So essentially what we have here is a history of photography, rather than just a guide to street photography.
---
Robert Doisneau: The Vogue Years by Robert Doisneau and Edmonde Charles-Roux
£45, Flammarion
Robert Doisneau is best known for his humanistic approach to street photography and as a pioneer of photojournalism. However, this lavish book of black & white photos sheds light on the lesser-known images he created during his time working with Vogue between 1949 and 1965. This includes remarkable images of celebrities of the time, such as Picasso and Jean Cocteau. The book also shows stunning images of post-war French cities and successfully portrays the spirit of the era. To make the most of the pictures it has an open spine binding, which allows it to be laid at. It is a must-have for anyone who appreciates elegance and refined style.
---
Mother by Matthew Finn
£30, Dewi Lewis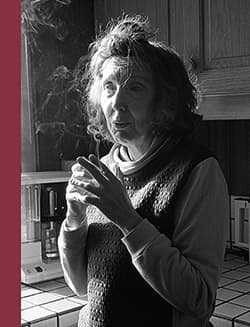 Some of the most affecting recent photography titles have focused on the theme of family. One of particular note was Celine Marchbank's Tulip, a visual record of her mother's last years of life as illustrated by abstract portraits and the seemingly mundane details of her home. In this book, we find another meditation on a parent. This time, photographer Matthew Finn has spent the better part of three decades photographing his mother. In a series of beautiful portraits, Finn captures his mother from middle age to her later life and the eventual onset of dementia. It's a genuinely poignant collection that deals with parentage, ageing and most importantly, love. It's a book of universal themes and one that a great majority of us can relate to.
---
Survivor: A Portrait of the survivors of the Holocaust by Harry Borden
£30, Cassell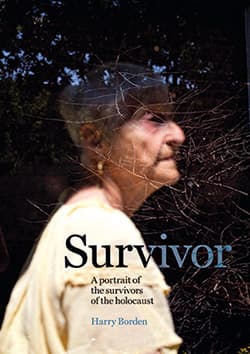 Although famous for his celebrity portraits, Harry Borden's first book is a moving collection of images depicting Holocaust survivors, and is partly an exploration of his own Jewish heritage. Survivor is a personal project, and stories range from those who endured the concentration camps, to refugees rescued and brought to the UK as children. Felix Fibich, a highly regarded dancer and choreographer, is among those featured. Fibich and his family were forced to live in the Warsaw ghetto. He escaped, but they were killed. He emigrated to the USA in 1950 where Borden photographed him more than 60 years later. The book is a moving account of survival against the odds.
---
1001 Photographs: You Must See Before You Die by Paul Lowe
£20, Cassell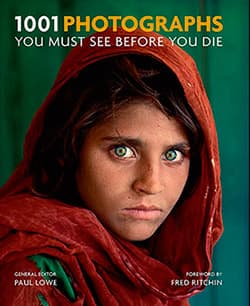 Trying to distil the world's entire photographic canon into 1,001 essential images is a herculean task, but curator Paul Lowe has done a good job. All the usual suspects are represented, from Fox Talbot to Nan Goldin and beyond. Not all the entries will be to everyone's taste. For instance, I'm surprised that Lowe chose a grab shot of Frank Sinatra over Terry O'Neill's superior image of Sinatra and his body double walking past gobsmacked holiday makers in 1966. Further, the choice of photographers veers towards the genres of documentary/reportage/art. There is a lot to like, however. Lowe puts the images in their historical and cultural context and provides illuminating insights into the motivations and approaches of the photographers.
---
Annie Leibovitz: Portraits 2005-2016 by Alexandra Fuller and Annie Leibovitz
£69.95, Phaidon Press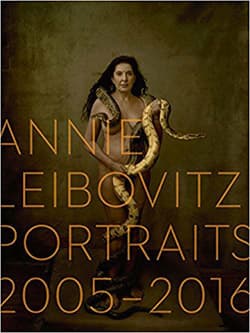 Annie Leibovitz has shot the great, good and not-so-good in the world of music, movies, politics and business. This tome contains plenty of big budget set-piece shots, such as Jack Nicholson posing like a gumshoe in LA at night. Yet it's the more intimate and straightforward portraits that have the most enduring appeal – an endearingly vulnerable-looking Scarlett Johansson, for example. Leibovitz's subjects sometimes get lost amidst her self-indulgent productions, but the masterful lighting, framing and visual reworks remind us of why she is such a legend.
---
The Family Imprint by Nancy Borowick
£30, Hatje Cantz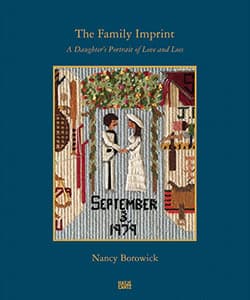 Sometimes a photographic project is so personal that it can feel almost voyeuristic to view it, and The Family Imprint: A Daughter's Portrait of Love and Loss is one such example. In 2013, Howie and Laurel Borowick were undergoing treatments for stage-four cancer. Howie was diagnosed with pancreatic cancer and his wife with breast cancer. Witnessing this was their daughter, Nancy, who began to document what she saw. The result is a series of images that is sometimes so moving that you have to look away, catch your breath and go back in with a clear head. There's a romantic quality to these black & white images. This project is, at its heart, a love story – one that deals with love between a couple in parallel circumstances, and a love between a daughter and her parents.
---
Factory: Andy Warhol by Stephen Shore
£39.95, Phaidon Press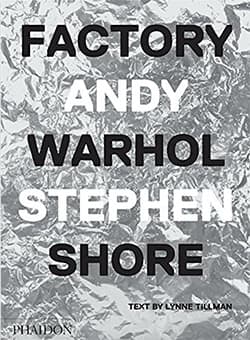 This large book's silver-lined borders makes it a pleasure to leaf through and the images are fascinating. The whole cast of characters are here – Lou Reed, Billy Name, Sterling Morrison, Paul Morrissey, et al. Each of Stephen Shore's images tells a story, and takes you right inside the circus, making you feel for a brief period like you're part of what you're seeing. What's more, we get a series of interviews with some of the key players. All of them give honest insight into what it was like to exist in this space and witness Warhol spinning his magic within the Factory walls. Shore clearly has a reverence for this time, but was apart enough to ensure he never became overwhelmed or too caught up in the spell.
---
Harry Benson: Persons of Interest by Harry Benson and Howard J Kessler
£75, Powerhouse Books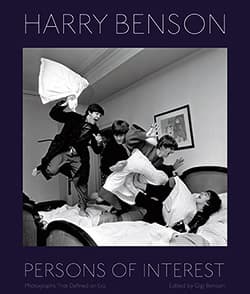 Bursting with iconic portraits and powerful photojournalism, Persons of Interest features pictures taken from 1957 to 2016, and includes 'The Pillow Fight', which shows The Beatles celebrating the news that their single I Want to Hold To Hold Your Hand had reached number one in the USA. During a career that has spanned six decades Benson has photographed 12 US presidents and was at the Ambassador Hotel in Los Angeles when Senator Robert F Kennedy was assassinated in 1968. As with many of Benson's projects, his wife Gigi has made the picture selection here, and her knowledge of his back catalogue is second to none. There's something for everyone.
---
Love, Cecil: A Journey with Cecil Beaton by Lisa Immordino Vreeland
£40, Abrams Books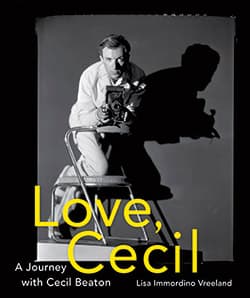 Cecil Beaton was one of the most famous portrait photographers in the world in the pre- and post-war years. There is lots of biographical detail about Beaton here, but the pictures are allowed to do most of the talking, and his best portraits include compelling pictures of the top names of the movie and theatre worlds. It's clear how well regarded he was too, as seen in the handwritten notes from Audrey Hepburn and others. This lavishly produced book provides a fascinating glimpse into a lost age of glamour and style.
---
The Polaroid Project: At the Intersection of Art and Technology by William A Ewing and Barbara Hitchcock
£34.95, Thames & Hudson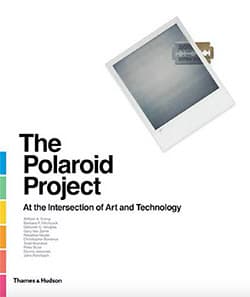 In this volume the authors take readers back to a time when Polaroid was a twinkle in inventor Edwin H Land's eye, and explore the impact of instant film in the years to follow. The format has been endlessly utilised by artists including Andy Warhol and Guy Bordin. The book navigates gracefully between the art and science of Polaroid and is thorough in its scope. It is a great book, not just for those who love Polaroid, but anyone interested in the history of photography.
Continues below…
---
[collection name="small"]
---
World Press Photo 2017 by Rodney Bolt and David Campbell
£18.95, Thames & Hudson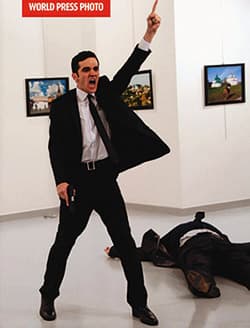 For over 60 years, the World Press Photo competition has highlighted the most dynamic press photography of the past 12 months. Turkish photographer Burhan Ozbilici, who was present during the assassination of Russian ambassador Andrei Karlov, took 2017's winning image. Winners are jury-selected, and the chair of the judges, Magnum photographer Stuart Franklin, voted against the image; in an article for The Guardian he was vocal about his objections, feeling that such widespread re-publication of the image gave oxygen to the extremist groups who perpetuated the murder. The ethics of reportage are always up for debate, making the WPP vital in the discourse of photography.
---
Veterans: Faces of World War II by Sasha Maslov
£19.99, Princeton Architectural Press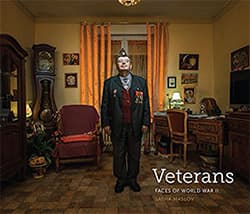 For this beautiful book Ukrainian-born Sasha Maslov set out to interview and photograph the last living participants of World War II. The project took him the best part of six years, and he tracked down more than 100 veterans – support staff, resistance fighters, concentration camp survivors and even a Kamikaze pilot. Maslov's masterful portraits offer the subjects real dignity, and the interviews provide candid accounts of what it means to have experienced, and survived, war. It's a fitting look at the passage of time, and the endurance of the human spirit.
---
Endangered by Tim Flach
£50, Abrams
Endangered features more than 180 images documenting the lives of threatened species. Tim Flach's project took more than two years, and he encountered many rare animals. The saiga, a nomadic antelope whose range extends from Kazakhstan to Uzbekistan, for example, is a survivor from the ice age, and with its long drooping nose looks like something out of the canteen scene in Star Wars. It took two trips before Flach secured a picture of it, and he had to endure a fly-infestation on the first trip and sub-zero temperatures on the second. Above all Flach was looking for stories, and he found these in abundance. The accompanying captions are insightful, and the prologue and epilogue are powerful prompts for change.
---
Industrial Scars: The Hidden Costs of Consumption by J Henry Fair
£30, Papadakis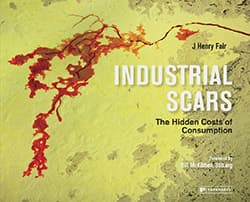 This book by environmentalist and photographer J Henry Fair is a beauty. His aerial images are captivating palettes that appear as if they could be the work of some great, undiscovered abstract painter. Yet, Industrial Scars is a horror story – a true story – where we as Homo sapiens adopt the role of the rapacious antagonist. Lewis Smith, a journalist specialising in science and the environment, gives the images context. Once the initial mesmerism wears off, he is there to explain what we are seeing. If this sounds too heavy the book is doing its job. It's not trying to preach, just force us to face the consequences of our actions.
---
What is Left Behind: Stories from Estate Sales by Norm Diamond
£36.63, Daylight Books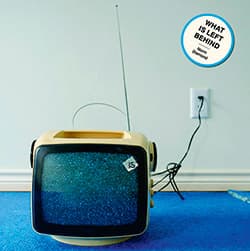 Many of us understand the heartache of either losing a parent or having to move them into assisted living. What follows is the often heart-breaking process of working your way through their belongings. Over the course of a year Norm Diamond attended countless estate sales around Dallas, Texas, and bought objects that were sad, funny, political, telling, or show us a little of American culture. Each object is either photographed in the context of the home in which it was discovered or taken away to be photographed in his studio. This book is a melancholic affair that shows how much of our lives is tied up in the smallest details.