Ask almost any professional photographer what their workhorse lens is and you'll find that many, regardless of the subject they shoot, will cite the 70-200mm f/2.8. Thanks to a versatile focal range and fast maximum aperture throughout, the 70-200mm f/2.8 is the perfect addition to the kit bags of photographers working in wildlife, sport, wedding, portraiture, landscape and fashion etc. The list goes on, and the fact that few lenses transcend so many genres of photography makes the Canon EF 70-200mm f/2.8L IS II USM a strong consideration for all photographers shooting with Canon DSLRs.
As the name suggests the Canon EF 70-200mm f/2.8L IS II USM is the second version of the lens, and was released in 2010 with improvements in all areas of the lens it replaced. The Canon EF 70-200mm f/2.8L IS USM was released in 2001, and this replaced the Canon EF 70-200mm f/2.8L that didn't include Image Stabilisation and was released back in 1995. Alongside the f/2.8 70-200mm, Canon also produces two EF 70–200mm f/4L USM lenses – one with image stabilisation and the other without. The narrower maximum aperture means these lenses are smaller and lighter than their f/2.8 counterparts.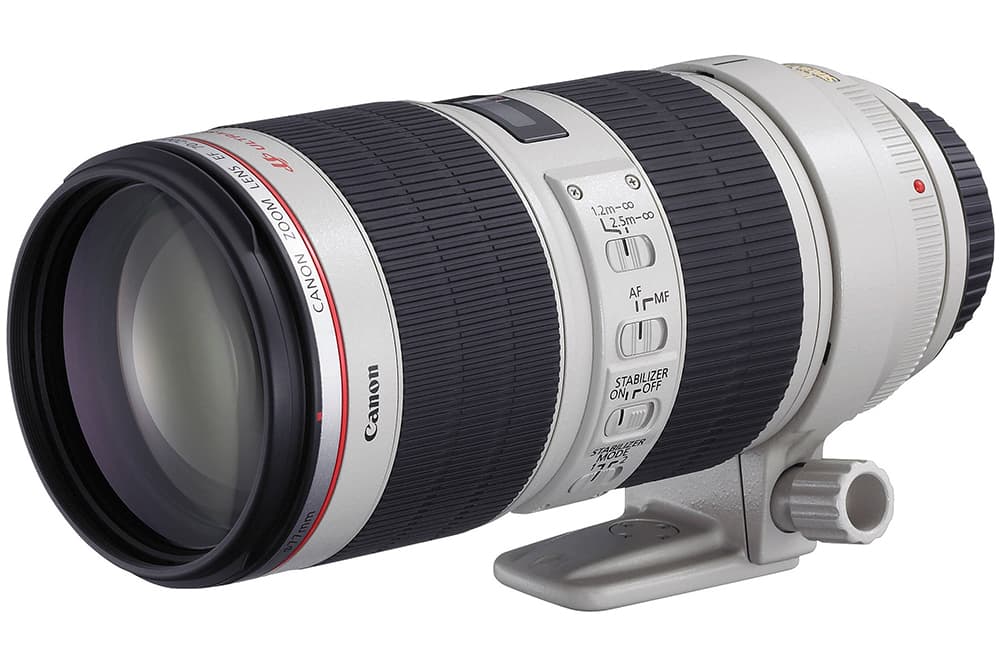 Canon's professional L-series telephoto lenses are instantly recognisable thanks to their off-white colour, black focusing and zoom rings, and of course the signature L-series red ring at the front of the lenses. The EF 70–200mm f/2.8L IS II USM carries this distinctive styling.
In terms of features the Canon EF 70–200mm f/2.8L IS II USM offers everything you could hope for in a professional lens. As an L-series lens, it handles extremely well in the field and offers both dust and moisture resistance allowing you to continue shooting in practically any location and conditions. The IS system allows shutter speeds up to four stops slower than normal to be used without causing camera shake, and the ultrasonic motor delivers fast and indeed quiet autofocus.
Price: £1,899
www.canon.co.uk
Facebook: @CanonUKLtd
Twitter: @CanonUKandIE
Instagram: @Canonuk