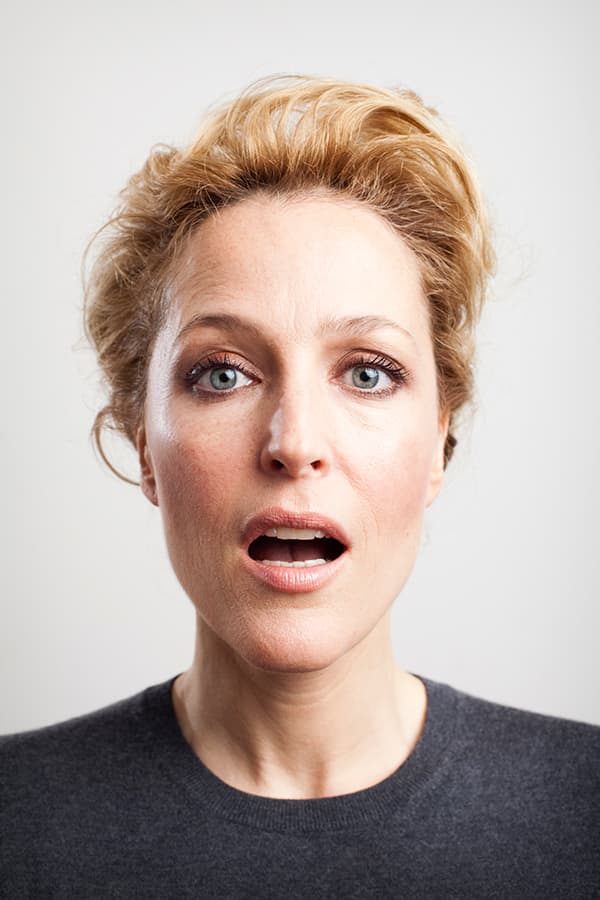 One of my most enjoyable shoots in recent years took place when I photographed the movie, TV and stage actress Gillian Anderson. She has featured in a number of high-profile roles, but is still best known for being FBI agent Dana Scully in cult sci-fi series The X-Files.
When I photographed her, in July 2012, I was obviously aware of the series but had never watched it. This was a good thing, because it meant I wasn't intimidated by her fame.
I was commissioned to shoot her portrait by The Sunday Times, which was running an interview with her to coincide with her role in the film Shadow Dancer. The newspaper had hired a location for the shoot: Six Fitzroy Square, an 18th century town house in London's Fitzrovia. It had a lot of character and offered a range of interior backgrounds as well as an outside area.
Gillian spent some time with a hair and make-up team before we started. She had worked with this team before and they got on well, which helped with the conviviality of the shoot. There was a pleasant, fun atmosphere, which meant she could be relaxed and even playful in front of the camera.
I could sense she was a really interesting presence; she had a clear intelligence and was very charismatic. As she's been so much in the public eye, a lot of people feel they know her, but of course nobody apart from her friends and family really know what she's like. I said to her during the shoot that she's like a canvas onto which people paint their own fantasies. She agreed wholeheartedly.
Sometimes when I'm photographing actors I direct them as if they are on a film set. I ask them to imagine they are in particular situations and then photograph their expressions. With Gillian, for example, I did things like asking her to look startled, or to imagine she was seeing God in the sky. She was brilliant and really got into the idea.
During this part of the shoot, I took some head-and-shoulders shots with her face-on and in profile, some smiling and some expressionless, mouth open or mouth closed. This was when I took my favourite picture of the day, in which Gillian has her mouth open as if she's doing a silent scream.
The image was shot against a white wall in the basement. I used two flash heads to light Gillian. One was a raw flash head, without any modifiers, which I used to backlight her. I put it in an adjacent room and used the door frame to flag it off slightly. I used the other head with a softbox, positioned to the right of my camera. I was shooting with my Canon EOS 5D Mark II and a 50mm lens. The settings for this picture were 1/60sec at f/9, ISO 50.
The other shot below was taken in an outside stairwell. The window with the black frames was actually a toilet and I turned the light on so there was some light bleeding through. That artificial light was mixed with available light coming from the overcast sky. I also put a reflector on the floor to bounce some light up into her face.
Neither portrait was used in The Sunday Times feature, but I posted them on my website. News travels fast among the army of dedicated X-Files fans, and as a result there was a noticeable spike in my website traffic – I got about 10 times my usual number of hits after I posted them. Four years on, it's still the biggest daily hit-rate I've ever had.
The picture with Gillian's mouth open did well in various competitions and was shortlisted in the The Royal Photographic Society International Print Exhibition 2013. It also generated a lot of discussion on Twitter, particularly among women. They were saying they liked the picture because it wasn't retouched and showed her as a woman in her mid-40s, rather than trying to make her look younger.
Looking at it now, the light is quite hard but it's still flattering, and I didn't need to retouch it because she's a beautiful woman. I like the simplicity of the picture and its enigmatic quality. She appears vulnerable, as if momentarily surprised, and it seems like you're witnessing a moment.
In reality, of course, the moment was created, but its ambiguous nature means that everyone can bring their own interpretation to it.
As told to David Clark
Harry Borden – Harry is one of the UK's finest portrait photographers and his work has been widely published. He has won prizes at the World Press Photo awards (1997 and 1999), and was awarded an Honorary Fellowship by the RPS in 2014. The National Portrait Gallery collection holds more than 100 of his images.
Visit www.harryborden.co.uk