Nikon D7200 Review – Image Quality
Nikon D7200 Sample Image Gallery
With a similar 24.2-million-pixel, APS-C-sized sensor to many other Nikon DX-format cameras, image quality is, as expected, very good. In terms of resolution the results are in line with other Nikon DX-format DSLRs, which currently are among the best APS-C sensors for detail capture, and surpassed only by Samsung's 28-million-pixel models.
Dynamic range is very impressive, and any users wishing to expose an image for the highlights will have a lot of leeway when bringing detail up from the shadows, particularly when shooting below ISO 400. Above ISO 1600 the dynamic range falls off, indicating increasing noise, especially in the shadows.
Overall I'd be perfectly happy to shoot up to ISO 1600 as a matter of course, and up to ISO 6400 for less-critical purposes. Above this image quality falls noticeably so I'd only use the higher settings when there was no other choice for getting the image.
Dynamic range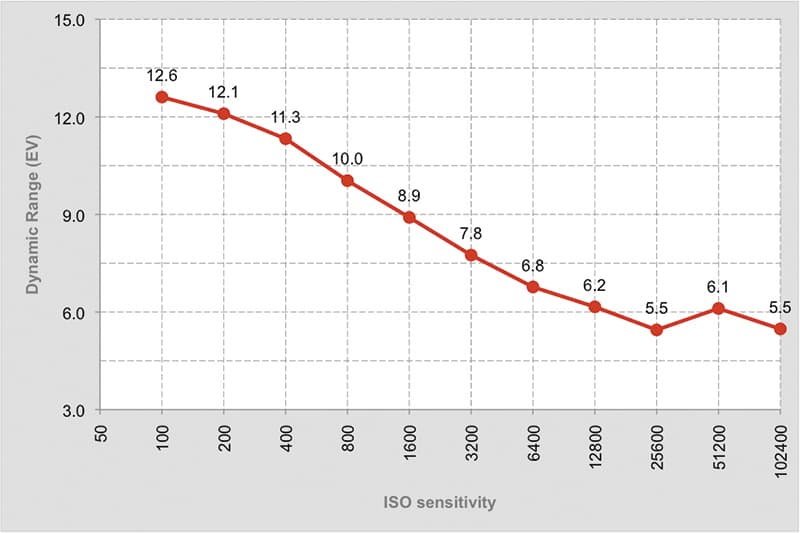 At the lowest sensitivity of ISO 100, our dynamic range results reveal 12.6EV using our Applied Imaging lab test. A fairly good dynamic range is held up to ISO 800 where it measures 10EV. Thereafter, it gradually slopes away by a around single EV with each full stop of ISO sensitivity that's gained. There's no significant drop-off point, although it's best not to push past ISO 6400. The measured DR picks up again the higher two settings, reflecting the fact that they are monochrome only.
Resolution
Studying the Nikon D7200 files revealed that the camera delivers 3400l/ph resolution at ISO 100. This is what we would expect from a 24.2-million-pixel APS-C sensor. The images were shot with a Sigma 105mm f/2.8 lens, which is very sharp at f/5.6. Detail through the ISO sensitivity range holds up well, achieving a result of 3000l/ph at ISO 1600, dropping to 2800l/ph at ISO 6400.
Noise
Both raw and JPEG images taken from our diorama scene are captured at the full range of ISO settings. The camera is placed in its default setting for JPEG images. Raw images are sharpened and noise reduction applied, to strike the best balance between resolution and noise.
Sensitivities of ISO 100-400 give great results with little luminance noise in both raw and JPEG images. At ISO 800 there's some signs of luminance noise, which is well controlled by the Expeed 4 processor in JPEGs. For day-to-day use, this is a comfortable ISO to use.
Pushing it to ISO 3200-6400, detail starts to break down but both settings are still entirely useable. The real drop starts at ISO 12,800, where much of the detail is lost due to the in-camera JPEG processing and noise reduction.
Step up the the highest standard setting of ISO 25,600 and the image is very noisy indeed with barely any detail, especially in the shadows.
At the two extended settings – ISOs 51,200 and 102,400 – the camera only makes monchrome images. They're very noisy indeed, but then again, better then nothing when working in extremely low light.